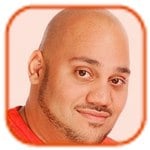 Posted by Andru Edwards Categories: Dinner, Lunch, Quick Meals, Recipes, Grains, Meat, Poultry, Carribean, Southern, Boiling, Frying,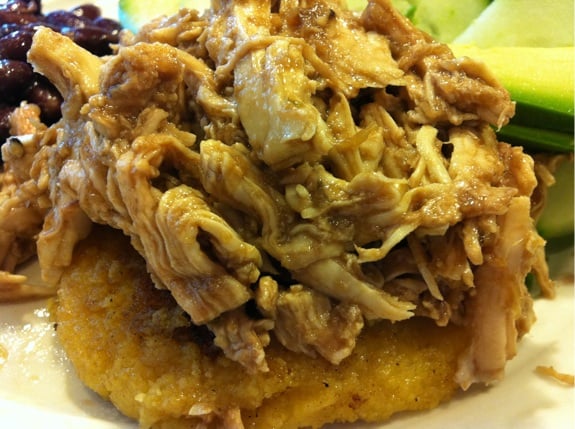 This recipe for tropical chicken polenta cakes is one you can mostly prepare days in advance, making it a convenient mid-week meal. Simply boil the chicken breasts and prepare the polenta, put both in their own sealed containers, and bring them out when you want to make this dish. If you end up with extra polenta cakes, use them to make "grilled cheese sandwiches." Seriously, they're awesome. On to the recipe:
INGREDIENTS:

Tropical Chicken:
3 chicken breasts, shredded (see prep)
1/2 pineapple (2 cups), blended into a puree
2 Tablespoons balsamic vinegar
1 teaspoon lime juice
1/4 teaspoon sea salt
Polenta:
1.5 cups chicken or vegetable stock
1 cups polenta (coarsely ground yellow cornmeal)
1 tablespoon olive oil
Optional: 1/4 cup grated Parmesan
Click to continue reading Recipe: Tropical chicken polenta cakes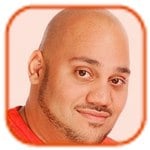 Posted by Andru Edwards Categories: Dinner, Recipes, Fruit, Meat, Poultry, Carribean, Baking,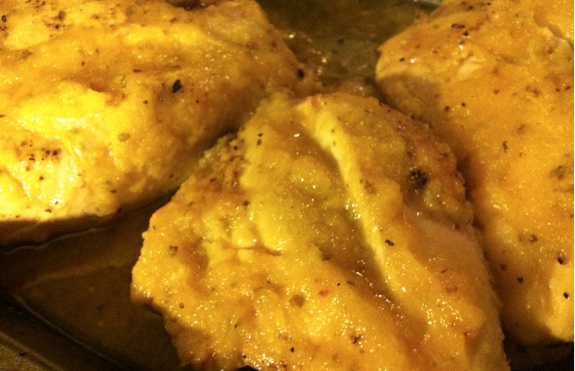 Chicken is a great meat because it holds the flavor of spices really well, while maintaining the original flavor of the chicken itself on the inside. This makes it a great base for recipes like this Pineapple Lime Chicken, where we are using a couple of different fruit acids, along with a few spices, with the end result being a nice, island-y dish. To make this one a little easier come preparation time, you can cut up the pineapple days in advance and keep it inside of a sealed container in the fridge.
INGREDIENTS
Marinade:
1/2 pineapple, chopped into chunks
2 limes (or 1/2 cup lime juice)
2 cloves garlic, minced
1/4 teaspoon ground cumin
1/2 teaspoon dried oregano
1 teaspoon sea salt
Chicken:
4 chicken breasts, bone in with skin
2 Tablespoons olive oil
1/2 teaspoon sea salt
1/2 teaspoon black pepper (freshly ground)
Click to continue reading Recipe: Pineapple Lime Chicken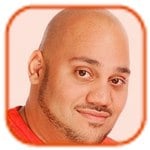 Posted by Andru Edwards Categories: Dinner, Comfort Food, Recipes, Beef, Condiments, Meat, Far East, Braising,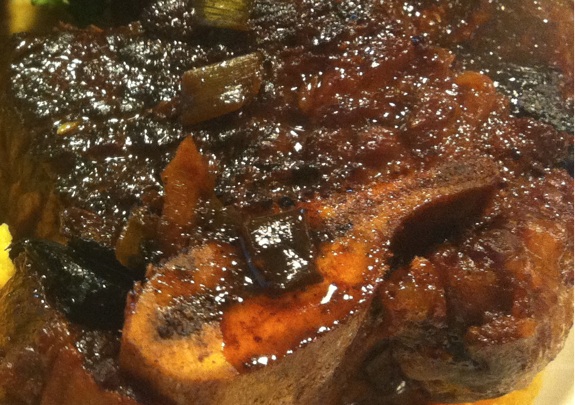 I am a big fan of short ribs, and also enjoy a good marinade. There's just something about the way a few key ingredients can totally enhance the flavor of meat after leaving it to sit for a while in the fridge. Korean short ribs are a prime example. Typically, the marinade has a handful of ingredients, and you can taste each one in the end result. Here's a recipe for Korean-style short ribs, with a great marinade, that tastes absolutely delicious:

INGREDIENTS

Marinade:
1/4 cup reduced sodium soy sauce
2 Tablespoons brown sugar
4 stalks chopped green onion
1 tablespoon olive oil
2 tablespoons sesame oil
3 garlic cloves, minced
2 tablespoons rice vinegar

Short Ribs:
1.5 pounds beef short ribs
8oz chicken or vegetable stock
Click to continue reading Recipe: Korean Short Ribs with Marinade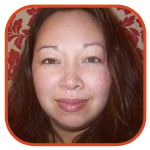 Posted by Monica Edwards Categories: Dinner, Lunch, Restaurants, Product Reviews, America, Carribean, Tropical,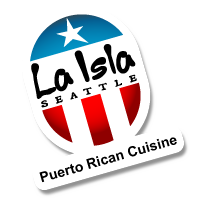 Over the years, my husband and I have eaten at a lot of restaurants, I hesitate to say hundreds because it makes it sound like I never cook at home, but I would not be surprised if it were true. We love food. From shopping for quality ingredients, to preparation, and execution of a great dish. It is all so fascinating, not to mention delicious if said recipe turns out as it was intended. So in order to share my love or hate for a particular restaurant, I will be reviewing these establishments now and then so that the everyday person can go in knowing what to expect and what to order and what not to order should you walk away in disgust.
Today, I will be writing about one of my favorite restaurants in the Seattle area, La Isla, located in Ballard. It is not the easiest place to get to as far as easy freeway access, but so worth the drive. I love Puerto Rican food, as my husband does, and we don't have any other restaurants in this area, for that matter anywhere in this region that we have heard of that offers the dishes that one must have to call themselves an authentic Puerto Rican restaurant. Why is that I wonder? I hope many more will open in this area following in the footsteps of La Isla, but they will have big shoes to fill.
Click to continue reading Puerto Rican Cuisine Done Right: La Isla Restaurant Review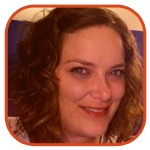 Posted by Jenny Lewis Categories: Dinner, Features, Site Announcements, Holiday Cooking, Summer Cooking, Condiments, Soda, Barbecuing, Grilling,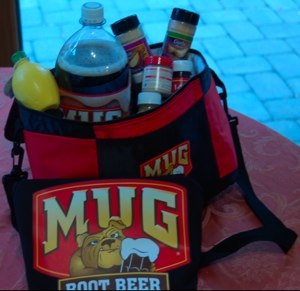 We're less than a week out from Father's day, and I can smell the charcoal already. While some may head out to a nice steakhouse for a special dinner for Dad, tons of us will be gathered around a grill doing it ourselves. My friends at Mug Root Beer want to help make all of this summer's BBQs a culinary triumph for you.
From today until Sunday at 8:00 PM Eastern, comment on this entry about your most memorable "Dad" moment. Did your dad show up to the aforementioned steakhouse in a Hawaiian shirt and flip flops? Maybe your friend's dad stepped in to save the day when a road trip went bad, or your uncle's BBQ went up in a blaze of meat glory. I want to hear about it! I'll be choosing five of the most memorable BBQ stories that you all share and the winners will each receive a prize pack, containing the fantastic recipe for MUG Root Beer Southern Specialty Brew-B-Q sauce (and the sauce is awesome - I was given a copy of the recipe and made some last night) and all of the ingredients to boot, in an insulated MUG bag with a MUG apron.
Lay'em on me guys - I want to hear your Dad stories!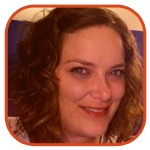 Posted by Jenny Lewis Categories: Dinner, Lunch, Quick Meals, Recipes, Summer Cooking, Poultry, Salad, Vegetables, Mediterranean,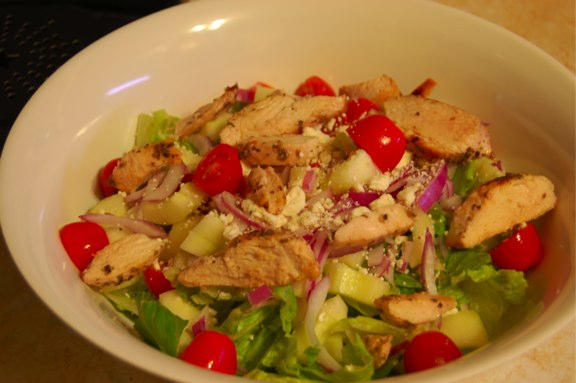 At home one night with plenty of nicely marinated chicken but no pita to be found, I had an epiphany - if souvlaki is basically an undressed Greek salad with chicken on a pita, why couldn't I eat it as a DRESSED Greek salad with chicken without a pita? And thus my new summer standby meal was born - the chicken souvlaki salad. This recipe will feed two very well and leave four wanting more (I suggest getting some baklava for dessert).
Vinaigrette Ingredients
:
1/2 cup plus 2 Tablespoons olive oil
5 Tablespoons red wine vinegar
1 teaspoon lemon juice
1 teaspoon thyme
1 teaspoon oregano
1/4 teaspoon black pepper
Salad Ingredients
:
2 boneless skinless chicken breasts
1 head of Romaine lettuce or 2 hearts of Romaine
2 tomatoes, diced
1 small red onion, diced
1 large cucumber, peeled and de-seeded
2 Tablespoons crumbled Feta cheese
Preparation:
Mix the marinade. Reserve half to dress the salad, and combine the other half in a zipper bag with the chicken. Marinate the chicken for 4 to 24 hours.
Grill (or saute) the marinated chicken breasts. Slice thinly. Prepare the salad vegetables. Top with the chicken and cheese, then the reserved vinaigrette. If you're feeling really saucy, you can use tzaziki as a dressing instead of the reserved half of the vinaigrette. Or you could just use both.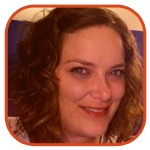 Posted by Jenny Lewis Categories: Dinner, Holiday Cooking, Kitchen Gadgets, Recipes, Grains, Boiling, Parties,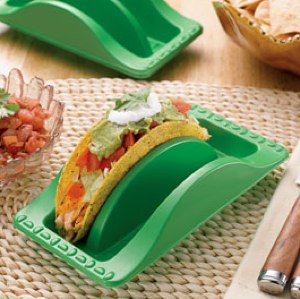 Hopefully you didn't fill up too much on dips and drinks, because I believe I have a beauty of an entree idea and a gadget that is perfectly matched.
"Make your own…" bars are super fun, and incorporating them into a party is always a hit - everyone gets exactly what they want. And a Cinco de Mayo taco bar couldn't be more awesome! Get yourself a meat or two, lettuce, sour cream, cheese, radishes, and some leftover guacamole and pico de gallo, set them all out in bowls with a stack of warmed tortillas for soft tacos and a stack of taco shells. And I recently made the life-changing discovery of these taco plates that keep your tacos upright and your ingredients safely inside the shells.
So what's to serve with the tacos?
Click to continue reading Cinco de Mayo Dinner: Mexican rice recipe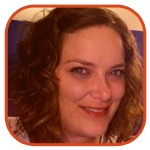 Posted by Jenny Lewis Categories: Dinner, Summer Cooking, Condiments, Meat, Pork, Poultry, Vegetables, Vegetarian, South America, Barbecuing, Grilling,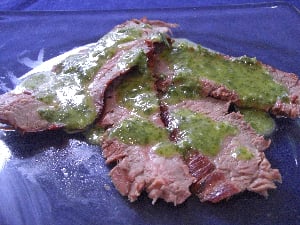 How's the weather, everyone? Summer made its debut in my neighborhood over the weekend, which means one thing: GRILLING. And lots of it. And one of the very best condiments for a nicely grilled piece of meat is definitely chimichurri. Originating in Argentina, chimichurri is a vibrantly hued sauce that is packed full of flavor, and as a bonus in the warm weather, it doesn't require an iota of heat to make!
Ingredients:
2 garlic cloves, peeled
3/4 teaspoon dried crushed red pepper
1 cup (packed) fresh Italian (flat leaf) parsley
1/4 cup (packed) fresh cilantro
1/2 teaspoon ground cumin
1/2 teaspoon salt
1/2 cup olive oil
1/4 cup red wine vinegar
Preparation:
In a food processor, chop the garlic. Add the red pepper, parsley and cilantro and process until the herbs are finely chopped. Add the cumin, salt, olive oil and vinegar. Pulse until the mixture has emulsified and the sauce is bright green. Serve immediately on whatever you just took off the grill.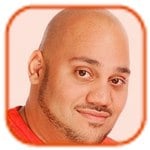 Posted by Andru Edwards Categories: Dinner, Lunch, Side Dishes, Product Reviews, Poultry, America,
Just leave it to Diddy, hip-hop star, fashion mogul, and leader of Bad Boy Records, to bring such a scientific experiment into the forefront of our minds. Why the final word between KFC's fried chicken and that of Popeye's has taken so long to be settled is beyond me, but we need to thank the heavens above that Diddy was able to bring this important issue into light.
Now we won't ruin the results, but we will say that we have to agree with his assessment that says KFC mashed potatoes and gravy beat Popeye's version, while Popeye's beans destroy those of KFC. But really, this is all about the chicken, is it not? Hit the video above for the results - we've kept you waiting long enough.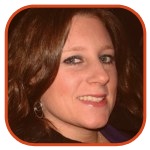 Posted by Vicky Lane Categories: Appetizers, Dinner, How To, Quick Meals, Recipes, Summer Cooking, Shellfish, America, Carribean, Broiling,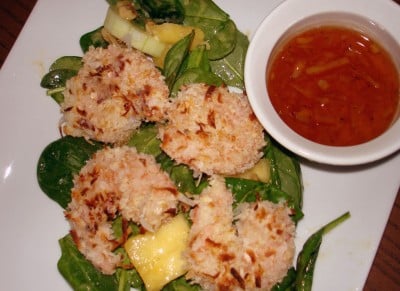 Yesterday in Chicago the weather was sunny and 65… in the middle of February! It was spectacular. I was inspired by the warm weather to create something that reminded me of summer or my favorite warm weather place, the Caribbean.
The first time I ever tried coconut shrimp was at a restaurant I worked at in college. They fried them up and served with a sweet plum sauce. I absolutely loved them and ordered them almost every shift I worked. My version requires no frying and it so easy and quick to make. I also borrowed a great broiling technique from Ellie Krieger from the Foodnetwork, which works every time.
Some people say they are not fans of the texture of coconut, which I can kind of understand. A great tip for flaky coconut is to throw it in the blender or food processor before using, this helps the coconut blend in well with the breading. I did not do this as me and Husband love coconut in any form.

Prep Time : About 15 minutes
Cook Time: 5 minutes
Serves 4
Ingredients
1 pound peeled and deveined shrimp (this just makes life easier)
1/2 cup all purpose flour
1/2 cup shredded coconut, I used sweetened and used a heaping 1/2 cup
3/4 teaspoon salt
1/4 teaspoon pepper
3 egg whites
3/4 panko crumbs (japanes style breadcrumbs, found in almost every grocery store in the Asian section)
1 teaspoon ancho chili powder (which is a milder chili powder)
2 tablespoons canola oil
Nonstick cooking spray
Click to continue reading Recipe: Coconut Crunchy Shrimp
© Gear Live Media, LLC. 2007 – User-posted content, unless source is quoted, is licensed under a Creative Commons Public Domain License. Gear Live graphics, logos, designs, page headers, button icons, videos, articles, blogs, forums, scripts and other service names are the trademarks of Gear Live Inc.