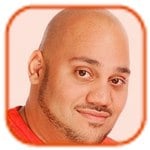 Posted by Andru Edwards Categories: Features, How To, Fruit,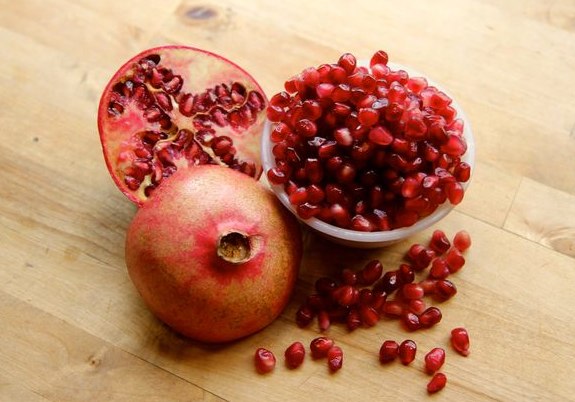 If you've ever eaten a pomegranate, you've likely encountered the frustrating task of removing the seeds--but there's a better way. Rather than fighting a spoon (or your fingers) through the various nooks and crannies, splattering yourself with pomegranate juice stains in the process, try this much easier, faster approach to deseed a pomegranate:
Cut off the ends of the pomegranate, creating two flat surfaces on the ends.
Cut the pomegranate in half, and twist each half a bit to loosen the delicious seeds that are held within
Grab something sturdy like a wooden spoon, and hit the flat part of the pomegranate half that you created in the first step. The seeds should easily fall out, so make sure you have a bowl or container underneath the pomegranate that you're hitting
Enjoy!
Give it a try, and let us know how it works out for you in the comments! If you want more a more detailed tutorial full of pictures, head on over to Instructables.
Read More

| Instructables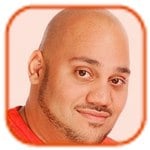 Posted by Andru Edwards Categories: Dinner, Recipes, Fruit, Meat, Poultry, Carribean, Baking,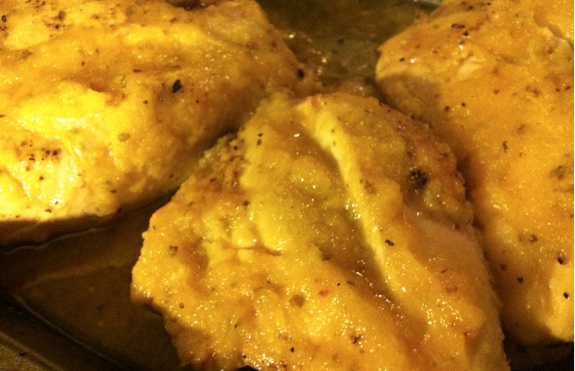 Chicken is a great meat because it holds the flavor of spices really well, while maintaining the original flavor of the chicken itself on the inside. This makes it a great base for recipes like this Pineapple Lime Chicken, where we are using a couple of different fruit acids, along with a few spices, with the end result being a nice, island-y dish. To make this one a little easier come preparation time, you can cut up the pineapple days in advance and keep it inside of a sealed container in the fridge.
INGREDIENTS
Marinade:
1/2 pineapple, chopped into chunks
2 limes (or 1/2 cup lime juice)
2 cloves garlic, minced
1/4 teaspoon ground cumin
1/2 teaspoon dried oregano
1 teaspoon sea salt
Chicken:
4 chicken breasts, bone in with skin
2 Tablespoons olive oil
1/2 teaspoon sea salt
1/2 teaspoon black pepper (freshly ground)
Click to continue reading Recipe: Pineapple Lime Chicken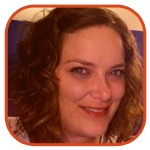 Posted by Jenny Lewis Categories: Dinner, Lunch, Side Dishes, Quick Meals, Recipes, Summer Cooking, Fruit, Salad, Vegetables, Vegetarian,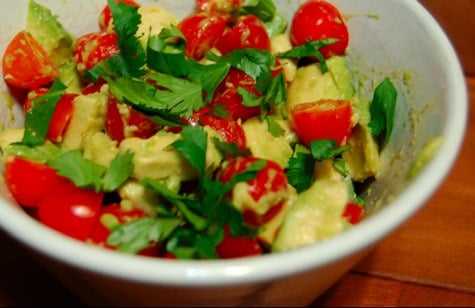 It's summer, and the food lobe of my brain turns to one thing when the weather starts warming up - avocados. Being on the East Coast, avocados are definitely my favorite summertime-only indulgence, and they are well worth the wait in all of their forms. Another recipe from Clean Eating magazine, these Avocado Salad Wraps are fantastic as a light lunch or, when paired with some bread or tortillas, a stove-free dinner on a hot day.
Ingredients:
2 T Dijon mustard
1 medium ripe avocado, diced
1 medium ripe tomato, chopped into pieces the same size as the avocado
1/4 cup cilantro
lime juice (optional)
4 big lettuce leaves (romaine works great)
Preparation:
Combine the first four ingredients in a bowl. If the wraps aren't going to be eaten right away, toss some lime juice into the bowl with the salad.
Divide the salad between the 4 lettuce leaves, wrap and enjoy! Or, if you're like me, eschew the lettuce altogether and eat the salad straight out of the bowl.
Read More

|
Clean Eating Magazine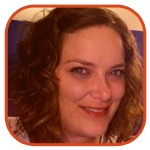 Posted by Jenny Lewis Categories: Breakfast, Dessert, Comfort Food, Recipes, Fruit, Baking,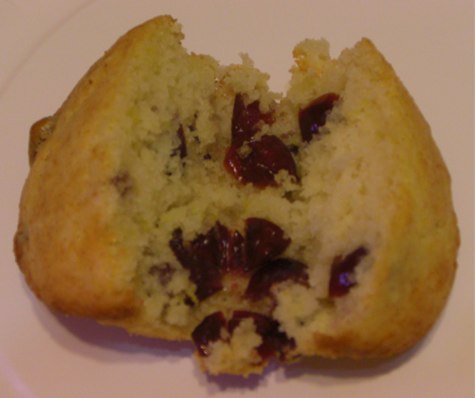 I'm on a personal mission to get you baking, readers! These cranberry lemon muffins, which I've adapted from Nigella Lawson's classic "How To Be A Domestic Goddess: Baking and the Art of Comfort Cooking", are easy, fast, and delish.
Ingredients:
1/4 cup butter
1 1/3 all-purpose flour
2 teaspoons baking powder
1/2 teaspoon baking soda
1/2 cup sugar
1/4 teaspoon salt
Juice and and chopped zest of 1 lemon
Approximately 1/2 cup milk
1 large egg
5 ounces dried cranberries
Click to continue reading Recipe: Cranberry Lemon Muffins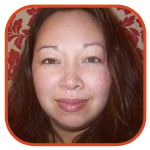 Posted by Monica Edwards Categories: Side Dishes, Health, Recipes, Fruit, Salad, Vegan, Vegetables, Vegetarian, America,
My husband Andru has come to the realization that a lot of the food we eat on a daily basis contains a lot of sodium. Not because I have chosen to dash everything we consume with a bit of salt here and there, but because some foods come into our home with so much added salt through processing. He was fuming about how he had chosen to purchase some soup simply because the label said "Organic" because in our mind set "organic" is supposed to mean good for you, but that is not necessarily true so he went off in a tirade after reading the label and seeing that in a one cup serving of this "good" soup there was 980 mg. of sodium, 41% of the sodium we need for the day in one cup of delicious death. He was very concerned that this percentage was in relation to an adult's body mass, not a 3 year-olds tiny frame. How much sodium can a toddler take before a salt-induced coma? Anyway, to alleviate his worries, he is on a mission to eat more foods that are "living", meaning less meat and processed foods and more fruits and vegetables.
In order to support his new found revelation, I decided one night to come up with a raw fruit and vegetable salad that is delicious despite not being smothered in dressing—and I aptly named it Rainbow Fruit & Veggie salad because after all was said and done, I threw in so many different colors of fruits and veggies, it became a taste sensation for the eyes. I was very tempted to add a touch of sugar to the natural dressing mixed in, but then thought, well that defeats the whole purpose, so instead added some strawberries for that touch of sweetness. Voila…a new recipe was born, and Andru loved it and the kids seemed to like it also, thank you strawberries. It is a great side dish and the recipe can be varied in so many ways, I added raw zucchini when I made it a second time and it was a hit at our Fellowship meal after church. I hope it pleases your taste buds also!
Click to continue reading Recipe: Diced Rainbow Fruit & Veggie Salad

Posted by Jenni Burns Categories: Side Dishes, Snacks, Recipes, Fruit, Organic, Vegan, Vegetarian, America, Slow Cooking,
I love this time of the year, when the weather starts to turn a little colder, and forces us indoors. I love the changing of seasons - it makes me feel creative, as there are so many different fresh food options with each season. In Washington, August through October is the season of bountiful apples, pears, plums, peaches, nectarines, and many other tree ripening fruits. I think that many people buy applesauce because, it's less expensive at the stores, but even more than that, they don't realize how easy it can be to make yourself. If you have apple farmers in your area, take a family trip and buy a box or two of apples, I think you will be surprised how much you will spend. The farmers in this area charge around $.40 a pound for seconds (perfectly edible apples that don't look perfect so they can't sell them in the stores, which are perfect for saucing). I love making applesauce because it makes the house smell delicious all day long. When I first started making applesauce a few years ago I had tried different recipes that all called for sugar. Every time I made the sauce I added less sugar until I realized, it doesn't need any! This is such a simple recipe and such great apple flavor. I try to make it a fun event for the kids as well, they get to help me sauce the cooked apples and of course they get to taste the fruits of our labor!
CROCKPOT APPLESAUCE
Ingredients:
As many apples as you can fit in your Crockpot, quartered (the best sauce is made of 2-3 different kinds of apples, varying in sweetness)
1/4 cup water
Dash of cinnamon to taste
Directions:
Wash and quarter apples, place in Crockpot.
Add water and cinnamon. Cover and let cook on low for 8-10 hours or high for 5-6 hours.
Towards the end I lift the lid and mash up a bit with a potato masher, that way I can see if it's ready or not. It's ready when the apples are very soft and mash easily with the masher, if there are still big chunks you need to cook the apples longer.
When the apples are ready, ladle the cooked apples into a food mill and sauce the apples, leaving behind the apple peels and seeds. If you don't have a food mill you can peel and core the apples and mash with a potato masher for a little chunkier sauce, but very pretty. Be creative with this, if you like more seasoning you can add some allspice or nutmeg, some people like to add sugar and lemon juice, I prefer less sugar.
I always freeze my applesauce, it's so easy. I just ladle the applesauce into quart freezer Ziplock bags and label, that's it! You can thaw in the refrigerator or in warm water if you need it to thaw more quickly, then place the sauce in a jar (or freeze it right in the jar, leaving a 1/2 inch of room at the top for expansion.

Posted by Jenni Burns Categories: Breakfast, Recipes, Fruit, Grains, America,
My kids love it when they hear the Vita-Mix (a high powered blender) grinding wheat in the morning because they know that it probably means I am getting ready to make pancakes! These whole wheat pancakes are delicious. If you are used to white flour pancakes you will be surprised to see how moist and flavorful these taste. I altered this recipe from one of my favorite cookbooks, "The Joy of Cooking," by Irma S. Rombauer and Marion Rombauer Becker. I hope you enjoy them as much as we do!
Whole Wheat Blueberry Pancakes
INGREDIENTS:
3 cups whole wheat flour
2 teaspoons salt
3 1/2 teaspoons baking powder
6 tablespoons sugar (optional-I leave this out)
1 tablespoon cinnamon
2 1/2 cups milk
3 eggs (lightly beaten)
6 tablespoons melted butter
1 cup blueberries
DIRECTIONS:
Sift the dry ingredients into a large bowl.
In a separate bowl mix together wet ingredients. Pour wet ingredients into flour mixture and stir well. Add blueberries and stir until mixed into the batter.
Scoop batter out with a 1/4 cup measure and pour onto greased skillet in rounds.
Cook on one side until bubbly, flip and cook until golden brown.
Slather on the butter and 100% maple syrup and enjoy!
This recipe should make around 18-20 pancakes.

Posted by Jenni Burns Categories: Breakfast, Summer Cooking, Fruit, Vegetarian,
One of the things I really look forward to come summer is all the wonderful fresh produce that we have available to us. During the summer I usually buy most of my produce at open market on the corner of Burlington Blvd and Hwy 20. They seem to have the best prices and the produce is fresh and local. My kids have enjoyed sitting down to a bowl full of nice juicy watermelon for breakfast at least once a week. It's so refreshing to eat just fruit for breakfast, and to be able to eat enough of it to fill you up, you can afford it now because the prices are so good. Take advantage of these opportunities now because in just a few short weeks we are going to be heading (gasp!) into the fall season! Can you believe it?! Well, I'm heading tonight to pick up some of that wonderful juicy watermelon for breakfast tomorrow.
Tip on picking a good watermelon: I was always told that a good tip is to put your ear close to the melon and knock on it. If it is hollow sounding you know that it is juicy. Here is a discussion on choosing a good watermelon. Enjoy!

Posted by Jenni Burns Categories: Summer Cooking, Cheese, Dairy, Fruit, Vegetables, Festivals,
In my searching for lemons the other day I came across something that I thought was really interesting. The Eat Local Challenge, is a 30-day challenge to eat from your local foodsheds as well as preserving September's harvest for the winter months. There is nothing better than eating fresh produce that was grown and picked this week at the farm down the road, except maybe growing it yourself! Another aspect of The Eat Local Challenge is to get the message out about the farmers in your area. You can help advertise locally by blogging about what you've enjoyed and you can add photos you've taken to the flickr Eat Local Pool.
My family and I love to visit our local Farmer's Market on Saturday to drool over all the delicious fruits, vegetables, freshly baked breads, and wonderful cheeses, as well as all the beautifully handcrafted pieces! Then we usually sit down to enjoy a crepe or two while the kids dance to the country music. It's a lot of fun, hopefully we will make it this coming weekend and will post some photos! There is something great about community. I think what I love the most about the local markets is that you can shake the hand who planted the veggies you are going to take home to prepare a delicious meal for your family. So this is just a reminder, go and support your local farmers this September, shake their hand and tell them how much you appreciate all their hard work, because without them most of us would go hungry!

Posted by Jenni Burns Categories: Food Trivia, Fruit, Juice,
I admit. I am addicted to limes, and lemons if I don't have any limes left. I haven't confessed this to many family members but now the word is out. My husband will tell you that we don't tip the waiter if he forgets the lemon for my water (totally just kidding!). I juice raw vegetables almost every day and I always juice with lemons or limes, it really helps cut the "green" taste and just gives the juice such great flavor. The Worlds Healthiest Foods has a great article about the health benefits of lemons and limes and some good history as well. But I will leave you with some other great tips on why lemons and limes are so great and why I personally love them so much…
Lemons/limes have several times more Vitamin C than oranges.
Lemons/limes are known to cure headaches in some people. I personally drink the juice of at least one lemon a day with water and it really helps.
Lemons/limes have properties that can prevent cancer.
Lemons/limes are alkaline so they can be great for someone who is struggling with their pH level.
Lemons/limes have been known to help with asthma.
Lemon/lime juice mixed with water promotes the exiting of one's food in a timely manner.
You can squeeze fresh or bottled lemon/lime juice on your cutting board after you've used it for cutting an onion or garlic, to cut the smell.
Note - if you do decide to become a lemon fanatic like me, invest in some straws as lemon juice can also eat away at the enamel on your teeth, if you drink it with a straw you should be fine!
So how about you? What wonderful uses have you found for these tart treats?
© Gear Live Media, LLC. 2007 – User-posted content, unless source is quoted, is licensed under a Creative Commons Public Domain License. Gear Live graphics, logos, designs, page headers, button icons, videos, articles, blogs, forums, scripts and other service names are the trademarks of Gear Live Inc.