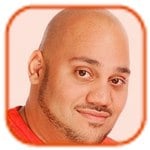 Posted by Andru Edwards Categories: Lunch, Videos, Recipes, Cheese, America, Grilling,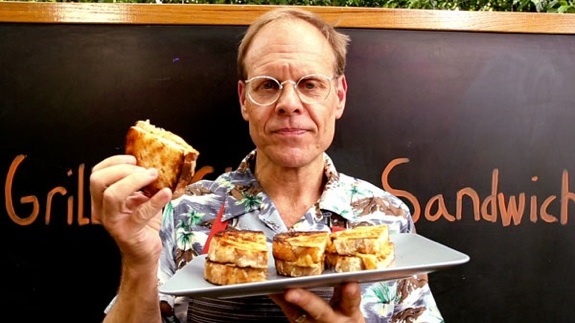 Alton Brown, the lovable and knowledgable food geek and resident cuisine geek, doesn't seem too impressed with the current state of the grilled cheese sandwich. Thankfully, he has decided to share his own recipe for what he refers to as Grilled Grilled Cheese. You see, it's a sandwich cooked on the grill, and the recipe actually involves grilling the freaking cheese.
That's because whenever and wherever people say they're gonna make you a grilled cheese sandwich what they really mean is there gonna make you a griddled sandwich containing some melted cheese. Well not me. Now when I say grilled cheese sandwich, I mean a grilled sandwich containing grilled cheese and here's how I do it.
Look delish though, right? Check out the video after the break.
Click to continue reading Alton Brown presents his sumptuous 'Grilled Grilled Cheese' [Video]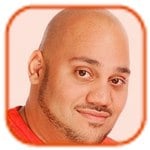 Posted by Andru Edwards Categories: Lists, Trends, America,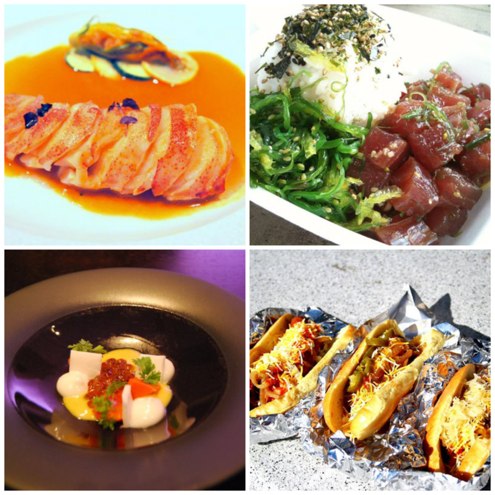 Digging into its wealth of user data, Yelp has compiled a list of the top 100 places to eat in the United States. Mining that data and using the Wilson Score technique, the 100 must-try spots feature a mix of some of the big boys that you've heard of if you're a true foodie, as well as a bunch of hole-in-the-wall spots that the locals try to keep to themselves. We've got the top 20 below, and you can head on over to the Yelp Blog for the full meal deal.
Click to continue reading Yelp names the top 100 places to eat in the US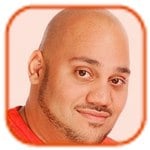 Posted by Andru Edwards Categories: Trends, Strange Food, Condiments, America,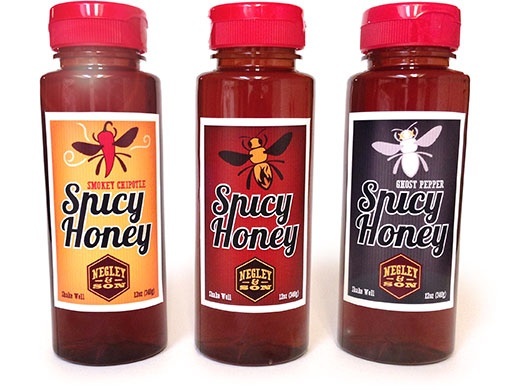 Set your beloved Sriracha aside, and prepare to hit your mouth with some bold, spicy sweetness from Negley & Son. The company offers three distinct flavors, all three of which aim to give your food a perfect kick. You have Classic Spicy, which is made from a secret blend of seven different peppers. Then you have the Smokey Chipotle, which adds smoke-dried jalapenos into the mix. Then, Ghost Pepper--flavored with one of the hottest peppers cultivated on the planet, the Bhut Jolokia. Yep, they've got our attention, too. We'll be looking to check it out soon, and will report back with our thoughts.
Read More

| Negley Honey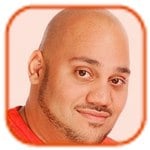 Posted by Andru Edwards Categories: Lunch, Fast Food, America,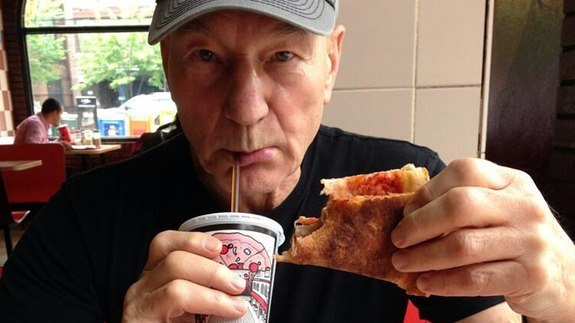 You and Sir Patrick Stewart now have another thing in common if you've ever eaten a slice of pizza. Yesterday, the man who played Captain Jean Luc Picard in Star Trek: The Next Generation admitted on Twitter that he was in the midst of enjoying his first ever pizza slice:
"But nevertheless, this was my first slice of pizza, which I was only eating because my fiancée and I were a little hung-over yesterday morning and she said what we need is pizza and a soothing drink — and she was right. It solved the problem. But, in fact, it was my first slice, and when it was brought over to me, my first comment was 'There's no knife and fork.' Of course, I was mocked for thinking that I could eat a pizza slice with a knife and fork."
Since he grew up in a small town in northern England, Stewart wasn't exposed to pizza much. Not much of an excuse, but Stewart does admit that he has eaten pizza in the past, but they were full pies eaten with knife and fork.
Read More

| Twitter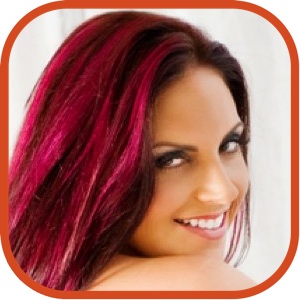 Posted by Taylor Peterson Categories: Recipes, Eggs, Organic, Paleo, Vegetarian, America, Boiling, Sous-Vide,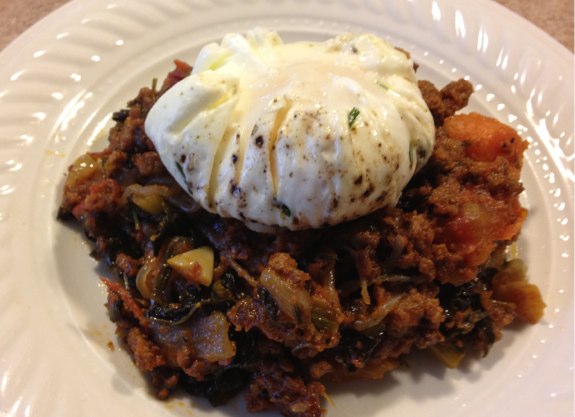 A few days ago I shared a sous-vide poached egg recipe. Since then I've been playing around with it and modifying it to make it even better. Today I wrapped the eggs a little tighter, forcing all the air from the top, thinking that was the key to keeping them from floating and cooking a little more. I also tried to capture a picture of the low level boil in my pot. In the picture from today you can see the difference in the egg white at the top where it was pulled into the pouch format. It left the top just a little more translucent than it was yesterday. I remember a Top Chef episode in which Padma would not even try a contestant's dish because she felt the egg was still a little raw. Today I felt like there was a chance Padma might reject my breakfast, so I popped it on the microwave for about 15 seconds. Tomorrow (yes doing this for a third day - I love these!) I will try to make less of a pouch with the egg. I think the ramekin might be too deep and something more shallow would help.
Click to continue reading Modifying my poached egg sous vide recipe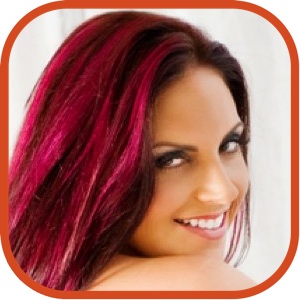 Posted by Taylor Peterson Categories: Breakfast, Comfort Food, Recipes, Eggs, Organic, Vegetarian, America, Boiling, Slow Cooking,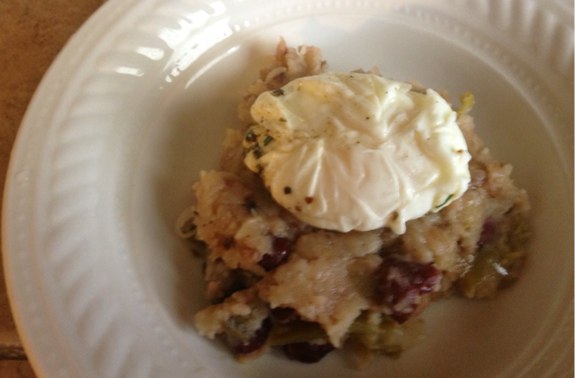 We recently completed the Whole30 challenge and are now settled in to eating a paleo diet. I am not the one that does the cooking in the house but yesterday Andru told me about sous-vide cooking and we actually backed the Nomiku from Kickstarter after watching their video. Shortly after I saw a tweet with a video showing how to sous-vide an egg without buying an $800 machine, and I wanted to know more. I don't regret our Nomiku purchase at all--it wasn't $800--but since it won't arrive until December, I wanted to find something else in the meantime.
Click to continue reading Poached eggs sous-vide recipe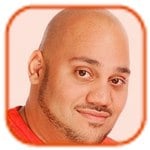 Posted by Andru Edwards Categories: Fast Food, Comfort Food, Recipes, Poultry, Spices, America, Frying,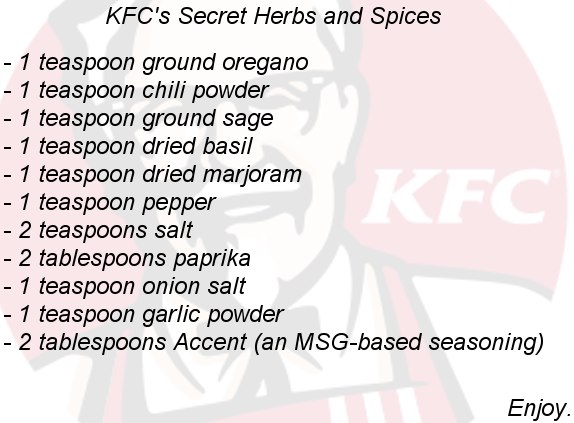 Even the secret KFC recipe for making delicious fried chicken isn't safe from the perils of the Internet, and we've got the recipe here to prove it. Here are the 11 herbs and spices that make KFC "finger-lickin' good." Wait, do they still say that? In any event, the recipe is as follows, and the chicken should be cooked in a pressure fryer:
1 tsp ground oregano
1 tsp chili powder
1 tsp ground sage
1 tsp dried basil
1 tsp dried marjoram
1 tsp pepper
2 tsp salt
2 Tbsp paprika
1 tsp onion salt
1 tsp garlic powder
2 Tbsp Accent (MSG seasoning)
Anyone gonna give it a shot?
Read More

| Internet Today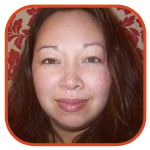 Posted by Monica Edwards Categories: Dinner, Lunch, Restaurants, Product Reviews, America, Carribean, Tropical,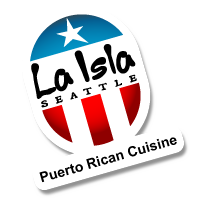 Over the years, my husband and I have eaten at a lot of restaurants, I hesitate to say hundreds because it makes it sound like I never cook at home, but I would not be surprised if it were true. We love food. From shopping for quality ingredients, to preparation, and execution of a great dish. It is all so fascinating, not to mention delicious if said recipe turns out as it was intended. So in order to share my love or hate for a particular restaurant, I will be reviewing these establishments now and then so that the everyday person can go in knowing what to expect and what to order and what not to order should you walk away in disgust.
Today, I will be writing about one of my favorite restaurants in the Seattle area, La Isla, located in Ballard. It is not the easiest place to get to as far as easy freeway access, but so worth the drive. I love Puerto Rican food, as my husband does, and we don't have any other restaurants in this area, for that matter anywhere in this region that we have heard of that offers the dishes that one must have to call themselves an authentic Puerto Rican restaurant. Why is that I wonder? I hope many more will open in this area following in the footsteps of La Isla, but they will have big shoes to fill.
Click to continue reading Puerto Rican Cuisine Done Right: La Isla Restaurant Review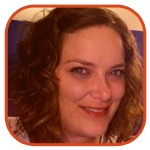 Posted by Jenny Lewis Categories: Beverages, Cocktails, Spirits, Holiday Cooking, Recipes, America, Festivals, Parties,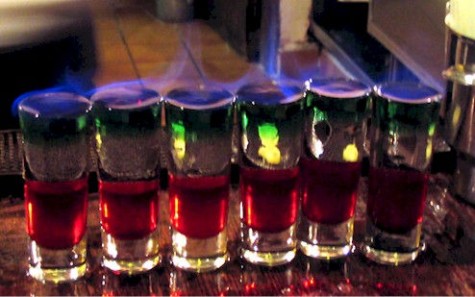 So, in case our horchata recipe wasn't strong enough for you, we've got something with a little more kick for your Cinco de Mayo party. Usually if I'm imbibing tequila, it's in margarita form and I am just fine with that. But the Mexican Flag is consistently great just as it is.
Ingredients:
1 cup of tequila
the juice of 2 1/2 limes
3 tablespoons powdered sugar
Maraschino cherries
Green seedless grapes
Banana
Preparation:
Dissolve the sugar into the lime juice and then mix with the tequila. Pour over ice and garnish with a cherry, a grape and a slice of banana.
Next up in our Cinco de Mayo recipes series, a trio of tasty toppings for tortillas. Okay, really it's three dip recipes, but I love alliteration.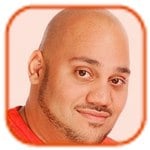 Posted by Andru Edwards Categories: Dinner, Lunch, Side Dishes, Product Reviews, Poultry, America,
Just leave it to Diddy, hip-hop star, fashion mogul, and leader of Bad Boy Records, to bring such a scientific experiment into the forefront of our minds. Why the final word between KFC's fried chicken and that of Popeye's has taken so long to be settled is beyond me, but we need to thank the heavens above that Diddy was able to bring this important issue into light.
Now we won't ruin the results, but we will say that we have to agree with his assessment that says KFC mashed potatoes and gravy beat Popeye's version, while Popeye's beans destroy those of KFC. But really, this is all about the chicken, is it not? Hit the video above for the results - we've kept you waiting long enough.
© Gear Live Media, LLC. 2007 – User-posted content, unless source is quoted, is licensed under a Creative Commons Public Domain License. Gear Live graphics, logos, designs, page headers, button icons, videos, articles, blogs, forums, scripts and other service names are the trademarks of Gear Live Inc.