Posted by Chris Pereira Categories: Action, Adventure, Reviews, Xbox 360,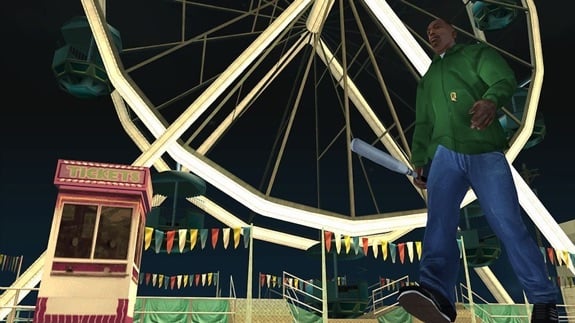 Somehow, 10 years have already passed since the release of Grand Theft Auto: San Andreas--arguably the most innovative game in the series. To coincide with the recent anniversary, Rockstar re-released the game on Xbox 360, replacing the Games on Demand version with a slightly improved version. And while the game itself remains an enjoyable experience, this may not be the best way of revisiting it.
I find myself occasionally in the mood to play one of the classic GTA III-era games (GTA III, Vice City, and San Andreas), which are among my all-time favorite games. I typically ignore this compulsion or simply spend a few minutes with the iPhone version of GTA III; I get my small dose of nostalgia but invariably stop playing because, despite Rockstar's best efforts, these are not games that work well on a touchscreen.
An improved re-release of San Andreas was exciting news for me--while a release on Xbox One or PS4 would have been ideal, a cheap Xbox 360 version with improved graphics, better draw distance, and achievements sounds like a great way to revisit the game.
Click to continue reading Grand Theft Auto: San Andreas is fun, but Xbox 360 HD remaster is rough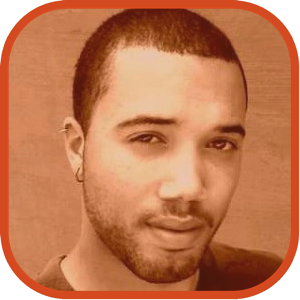 Posted by John Kilhefner Categories: Action, Culture, PC, PlayStation 3, Wii U, Xbox 360,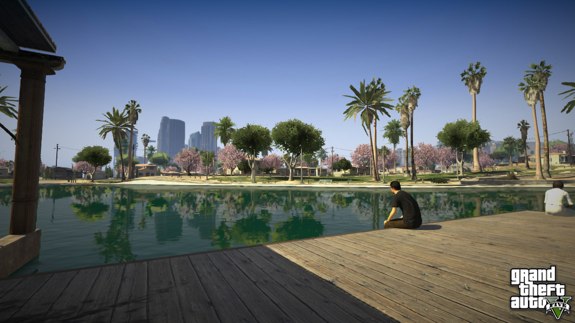 Mike Juliard's petition to get Rockstar to confirm the PC port of Grand Theft Auto 5 has surpassed 47,500 signatures, just 52,500 shy of his 100,000 goal.
From the petition: "GTA games have been a large part of so many peoples lives, and it's a big shame not seeing the newest iteration of the game being released on the most powerful platform."
One of the more pronounced reasons for a PC port is the mod community, as we've been privy to some amazing mods from GTA4 before it: "things like modifications have always been a HUGE part of PC gaming and modded GTA is some of the most insanely fun times you can have."
According to Dan Houser of Rockstar, a PC port is "up for consideration," and this petition should do a lot to make Rockstar realize the PC audience's dedication to the franchise. Grand Theft Auto V is set for a Spring 2013 release.
Read More

| PC Gamer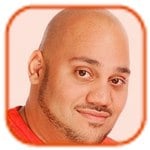 Posted by Andru Edwards Categories: Action, PlayStation 3, Trailers, Xbox 360,
After months of speculation, Rockstar Games on Wednesday released a trailer for Grand Theft Auto V. In a little over a minute and 20 seconds, Rockstar sets the scene for the highly anticipated game and introduces what is presumably the main character.
The trailer answers a few questions. First of all, the game seems to be returning to the fictional state of San Andreas, specifically to Los Santos, a city based on Los Angeles. The narrator of the trailer also seems to be the main character. His voiceover suggests that he is a reformed criminal who has moved back to Los Santos to pursue a life on the straight and narrow.
He said he wanted to "retire ... from that line of work. Be a good guy for once. A family man." Gamers can assume that's probably not going to be the case, as the trailer progresses into clips of car chases and holdups.
But this is all purely speculation at this point.
Click to continue reading Grand Theft Auto V trailer [Video]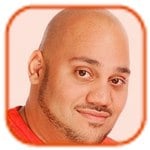 Posted by Andru Edwards Categories: Action, Adventure, Driving, Release Dates, Xbox 360,
If the video above is any indication, and it appears to be genuine, then some stores didn't get the memo that Grand Theft Auto IV isn't to go on sale until April 29. It seems that one Tony Warner was able to purchase his copy a couple of weeks early. In the video, Tony shows off the GTA IV case, the disc itself, as well as the game's intro. If you are completely wanting to get your hands on the game early, we suggest getting out there and looking around. Skip the Gamestop's of the world and head straight to places that are clueless about these things, like your local Wal-Mart. Let us know if you have any luck. Rockstar isn't gonna be too happy about this one.

Posted by Paul Hamilton Categories: Action, PlayStation 3, Release Dates, Third Person Shooters, THQ, Xbox 360,
THQ announced that sequel to the GTA-style next gen game Saints Row is in the works. Saints Row was an Xbox 360 exclusive that followed the criminal underworld/open world model of Rockstar's key franchise pretty closely but included a character generator and several minor improvements that made it a hit with early 360 adopters.
Saints Row 2 takes place years after the original in the same city (Stillwater), but things have changed with the passage of time. As described in the press release, "Saints Row 2 has a much darker and more sinister story that leads your character down a path of betrayal, revenge and redemption against the city that has left him for dead."
Unlike the original, which was a 360 exclusive, Saints Row 2 will be released on PlayStation 3 and Xbox 360 sometime in 2008.
Read More

| Business Wire via GamerNode

Posted by Paul Hamilton Categories: Electronic Arts, PC, PlayStation 3, Release Dates, Xbox 360,
EA's upcoming open-world game Mercenaries 2: World in Flames is being pushed back until 2008, further relaxing the pressure on a still crowded holiday season for games. Speaking to developer Pandemic Studios President Josh Resnick, IGN coaxed out a few more details:
We're adding nothing at this point. Our only goal is to make gamers proud that they own a copy of Mercenaries 2 by making the highest quality next-gen open-world experience the world has ever seen. If that sounds ambitious, then you should see how many cans of caffeine our programming guys have choked down during the past two years of development.
Resnick also complimented Rockstar and said that he wasn't concerned about competing with Grand Theft Auto IV because, as he puts it, "We know gamers are bloodhounds when it comes to sniffing out a quality gameplay experience, and we're hoping that scent leads them directly to Mercenaries 2." He said they were using the extra time to focus on fixing bugs, tuning the physics and working on the mission structures.
The delay was initial rumored because retail outlets adjusted their release dates from late '07 to 2008, forcing Pandemic and EA to confirm the delay. Commenting on the leak, Resnick said, "Those dang sneaky retailers! You just can't seem to keep a lid on something once they hear about it."
Read More

| IGN

Posted by Chris Pereira Categories: Action, PlayStation 3, Trailers, Xbox 360,
In three days, the Internet is set to crash once again when the newest (the second of three) GTA IV trailer sees the light of day. Hopefully we'll be seeing something more action-oriented this time around, as opposed to the first, which was more of a showcase for Liberty City than anything else. The video is titled "Looking for that Special Someone" and a special website is being prepped by Yahoo in order to withstand the insane amount of traffic it will receive once the trailer goes live. Anyone want to place bets on how long it'll take for the site to crash?
Expect us to pick it apart piece by piece once it goes live, and later in the week Kyle and I will be debating over the excruciating details and nuances the trailer presents us with.
As an added bonus, last week, the Turkish Official Xbox Magazine revealed several tasty nuggets about GTA IV. Everyone loves lists, so I present you a list of GTA goodness:
There's a slight vibration with every footstep when you run (sorry PS3 players)
No more HUD (health and armor indicators are gone), and instead everything is visual – if you have armor, you'll see the bulletproof vest and it will visually deteriorates
Flamethrowers and rocket launchers are in the game
Explosions are larger, and the game features a missions where you cause a chain reaction of car explosions
Cars don't explode from crashes or hitting them; you need to actually blow them up
Niko doesn't get tired, he just begins running slower over time
The game is much more time-sensitive. An example that isn't necessarily in the game was a mission where you need to catch a train by a certain time, and if you don't, you don't get to do that mission.
Gore is more prevalent; bullet wounds show, blood appears as you shoot people, they limp when shot in the leg, hold their arm if it's shot, and running people over is "disturbing"
No more eating, working out or having a girlfriend, but skills improve over time
100% completion yields secret vehicles and "plenty of goodies"
The land size is larger than the three cities (sans countryside) from San Andreas
No more girlfriends? Hooray!
Read More

| Xbox Live Addicts
© Gear Live Media, LLC. 2007 – User-posted content, unless source is quoted, is licensed under a Creative Commons Public Domain License. Gear Live graphics, logos, designs, page headers, button icons, videos, articles, blogs, forums, scripts and other service names are the trademarks of Gear Live Inc.