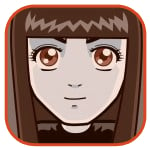 Posted by Sheila Franklin Categories: Downloadable Content, Games for Windows, Hot Deals, Microsoft,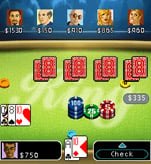 Windows Mobile is using Twitter to give away free games. Head to WM's Twitter to get codes for such games Home 2 Free, Texas Hold'em King 3, Mahjong, Leisure suit Larry and Guitar Hero III. When you get to the Winplay site, it will tell you which cell phones are compatible with the downloads. These single use registration codes work on a first come, first serve basis, so you might want to check Twitter frequently.
Read More

| WM Dev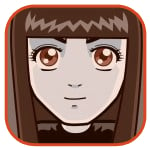 Posted by Sheila Franklin Categories: Games for Windows, PlayStation 3, Simulation, Sports, Xbox 360,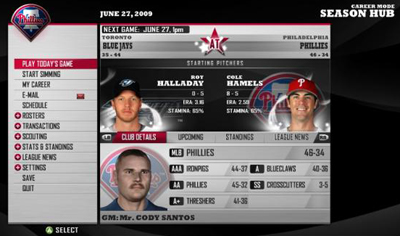 This takes fantasy sports to a whole new level. 2K Sports has released MLB Front Office Manager, a video game with a unique twist. Instead of playing the game, you choose qualities for a general manager, then commence to build a team by scouting and checking out stats. The period of the game starts from the end of the Word Series, just like in real time, and goes through a 30 year career with the GM making behind the scenes decisions. Available today for the Xbox 360, Playstation 3 and Windows Online, the MLB Manager has a MSRP of $39.99.
Read More

| 2K Sports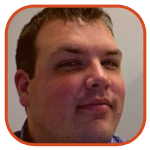 Posted by Aaron Zollo Categories: Action, Downloadable Content, Games for Windows, PC, Role Playing Games,

If you are anxiously awaiting the release of Fallout 3 and want to raise your level of anxiety a notch, you can pre-download Fallout 3 via Steam at this very moment. A few games have done this in the past, the most recent being Spore. Instead of going to the store and getting your copy of the game, you simply purchase the game online through Steam. Steam then allows you to download the game the moment you've paid for it, which will then unlock itself at 12:01 AM October 28th.
All of this is assuming you have a PC, and that this is where you plan on experiencing Fallout 3. If you have an Xbox 360 or PS3, you will have to wait for your local midnight launch party or until the morning of release day to call the game your very own.
Read More

| Steam


Posted by Paul Hamilton Categories: First Person Shooters, Games for Windows, Internet, PC, Release Dates, Strategy,
Timed to sync with the start of PAX and Leipzig, Sierra will release a rather full-featured demo of their upcoming real-time "action" strategy game World in Conflict on Friday containing demos of both the single-player mode via a tutorial, plus one mission as well as multiplayer supporting 16 players. There will be one multiplayer map available to all demo-downloaders that can also be played in solo skirmish mode and a second map playable only by those who pre-order the game. World in Conflict is designed to incorporate first-person shooter elements like speed into the RTS genre and by design requires no resource management. The game is due out September 18th.
In other demo-related news, the PC version of the BioShock demo that Xbox Live users have been enjoying since last week is out in time for the full retail release of the game. Any PC users on the fence about this game can check out the first half hour or so of the game and most likely put it down only long enough to run to the store and buy the full copy.
Read More

| 1Up


Posted by Paul Hamilton Categories: First Person Shooters, Games for Windows, Music, PlayStation 3, Trailers, Xbox 360,

Clive Barker and Codemasters upcoming first-person scare-shooter, Jericho, has a new trailer featuring blood-soaked gameplay and some tantalizing story hints. Codemasters also announced that God of War composer Cris Velasco is attached to the project and his work is featured in the new trailer.
Barker gushed about the addition of Academy of Interactive Arts and Sciences award-winner Velasco, whom he hand-picked, saying, "[His] music for Clive Barker's Jericho is exquisite. Filled with yearning, dark energy, threat and redemption, it is the unstoppable engine in the terrifying ghost train of Jericho."
Jericho is scheduled for a late October release, "just in time for Halloween."
Read More

| Codemasters


Posted by Steve Van Neil Categories: Corporate News, Games for Windows, Games for Windows Live, MMORPG, Release Dates, Xbox 360, Xbox Live,
Age of Conan: Hyborian Adventures, Funcom's highly anticipated PC/Xbox 360 online RPG, is bowing out of the crowded Fall '07 release window. Based on the press release, it sounds like given the scale of the game, the development team just needed more time to polish and perfect the experience.
"We naturally regret that we have to push back 'Age of Conan'. However, after careful consideration, and analysis of recent Beta feedback, we believe that the new release date is in the best interest of the gamers, our company and our owners," said Trond Arne Aas, CEO of Funcom.
You have to respect a developer that delays a game to make it better, and doesn't just shove it out the door for the sake of the company's shareholders. At any rate, MMO players can now look forward to slashing their way through the world and characters of Robert E. Howard on March 25th, 2008.
Read More

| Kotaku


Posted by Steve Van Neil Categories: Action, Adventure, First Person Shooters, Games for Windows, Microsoft, Take2, Xbox 360,
Coming hot on the heels of a truly tremendous Xbox Live demo, 2K Boston/2K Australia (formerly Irrational Games) has posted a free PDF file which contains sixty-odd pages of concept art from the game to be printed out at your leisure. How cool is that? Word of warning, however: Ken Levine's forward to the book contains spoilers, so tread carefully.
BioShock is poised to blow minds on Xbox 360 and Windows in just seven days.
Read More

| 2K Games


Posted by Chris Pereira Categories: Corporate News, Electronic Arts, Games for Windows, Microsoft, Xbox 360,
The man who has really been the face of Xbox for the past several years, Peter Moore, has just resigned as corporate vice president of the Interactive Entertainment Business. (IEB oversees both the Xbox and Games for Windows divisons.) He has decided to leave for personal reasons and will move his family back to the Bay Area. Don Mattrick, former president of Electronic Arts, will take over and lead the IEB division.
"Peter has contributed enormously to the games business since joining Microsoft in 2003 and we are sad to see him go," said Robbie Bach, president of Entertainment and Devices Division at Microsoft. "Since that time, he presided over the global launch of the Xbox 360, spearheaded a revitalized and rebranded Games for Windows business, and helped steer the console's ascent."
1UP initially reported rumors earlier today that Moore was leaving to head up EA Sports. Microsoft denied the rumors, but there has now been a confirmation from both Microsoft and Moore himself that this is indeed the case.
I wonder what he's going to do about those tattoos…
Read More

| 1UP

Posted by Edie Sellers Categories: Action, E3, Games for Windows, MMORPG, PC, Role Playing Games,
Here's a quick rundown of what we learned about Hellgate: London as I got a tour of a few levels with Tyler Thompson, Flagship Studio's director of technology.
Platform: PC
Release date: Still shooting for summer 2007 - which, let's face it, is right now. According to Tyler, "We're still working for that. If it takes a little bit longer, then we'll let it take a little bit longer." In industry speak that means, "If you don't see it by August, you'll see it for the holidays."
Look: Flagship Studios, at its top levels, is populated by ex-Blizzard brains, including Diablo creators Erich Schaefer and David Brevik (and don't forget Bill Roper, who played an integral role in the Warcraft, Starcraft and Diablo series). So, think Diablo, but much, much better looking. Tyler told me that the game is in the alpha stage. I'm used to seeing games in alpha looking a bit rough around the edges. This game was, in the levels he toured me, free of jaggies and visual glitches. The word that comes to mind is "shiny." I found it to be very reminiscent of Diablo in look and feel. Of course, bear in mind the tour was guided, which means I only got to see the best looking areas.
The biggest improvement in look, and, ultimately, playability, is the improved camera from Diablo 2. Gone is the fixed, third-person isometric camera in favor of 360-degree, fully rotational viewing.

More after the break.
Click to continue reading E3 2007: Preview: Hellgate: London

Posted by Chris Pereira Categories: E3, Games for Windows, Microsoft, PC, Trailers, Xbox 360, Xbox Live, Xbox Live Arcade, Xbox Live Marketplace,
There were plenty of releases on the Xbox Live Marketplace this week, and thanks to Major Nelson we can now easily compile it all for you en masse. Demos, trailers, Arcade games – you name it, you got it. Apologies if anything was missed, but there was an insane amount of content. Hit up the comments section if you like this story and would like to see a weekly round-up of downloadable content each week. And just as a warning: if lists irritate you, your head will likely explode if you check out the rest of the story after the break.
Demos:
NCAA Football 08
Blue Dragon
Ace Combat 6 (campaign)
Stuntman: Ignition
The Bigs
Harry Potter OOTP
Click to continue reading E3 2007: This Week's Xbox Live Marketplace Content Update
© Gear Live Media, LLC. 2007 – User-posted content, unless source is quoted, is licensed under a Creative Commons Public Domain License. Gear Live graphics, logos, designs, page headers, button icons, videos, articles, blogs, forums, scripts and other service names are the trademarks of Gear Live Inc.