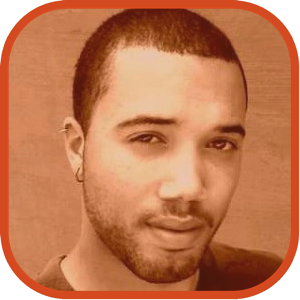 Posted by John Kilhefner Categories: Driving, PlayStation 3,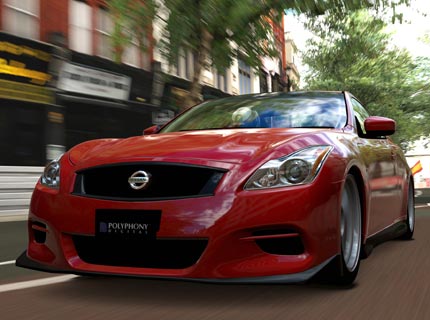 Video games have pushed the boundaries between fantasy and reality since their creation. Each year a game comes along that suceeds in blurring these lines even further - Grand Turismo 5 is one such game. The creators of GT5 even put together a side by side comparison of the actual Nürburgring track and the video game version, and the results are stunning. Check out the comparison video after the jump.
Click to continue reading Gran Turismo 5 looks almost like real life
Read More

| YouTube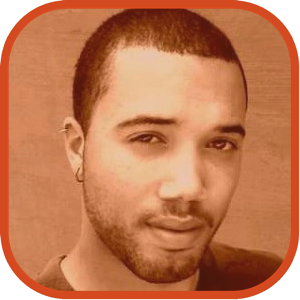 Posted by John Kilhefner Categories: Driving, PlayStation 3,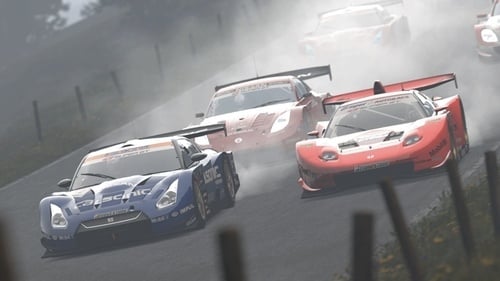 As if Gran Turismo 5 didn't take enough time in development, it seems the popular racing franchise is set on stealing more time - yours. And it is going to get it one way or another.
Note that this installation is optional, and you may still do the basic 256 MB basic installation if you don't have space to spare. But if you do this, then expect to wait longer at loading screens every time you play.
Or you can suck it up and wait the hour and use the 10 GB of space. In the long run you'll probably end up saving yourself time by doing this.
Internet forum scrounger Amar212 received a PAL version of the game and reported that the installation warned that "install of game data can take up to 50 minutes." According to him, it took 40 minutes and used up 6.4 gigabytes, but learned that GT5 continued to unpack itself during playtime and took up even more space.
Read More

| Kotaku via Operation Sports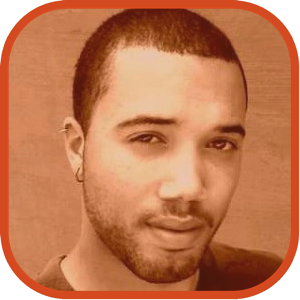 Posted by John Kilhefner Categories: Culture, Driving, PlayStation 3,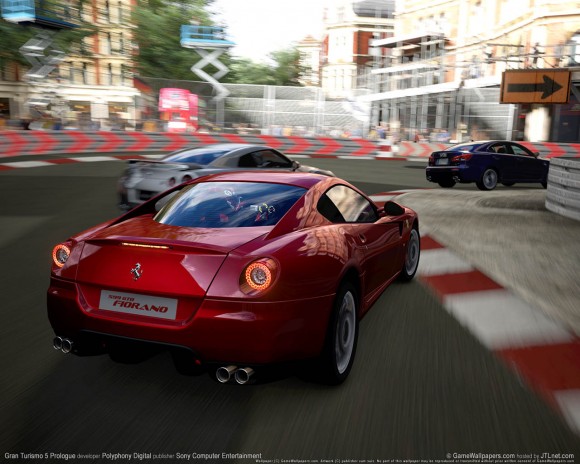 Gran Turismo 5 is causing some controversy in the beautiful Italian city of Siena. How can a racing game spark controversy you ask? Does GT5 feature a new crash mode where tires fly off of vehicles and decapitate prostitutes and police officers? Nope. The reason for the controversy is GT5's use of Siena's city Piazza del Campo as a track in the upcoming game, and more specifically, using the flags and colors of the Palio di Siena without permission. Due to this Siena is threatening to stop the game from seeing the light of day.
Whether or not the flags will be removed is still up in the air, but Kazunori would like to see them remain as they heighten the aesthetics of the Italian course. Gran Turismo 5 designer Kazunori Yamauchi lamented via twitter his hesitation to remove them, "We can remove them in an instant…[though] erasing them is somewhat regrettable."
Read More

| Kotaku via Twitter

Posted by Steve Van Neil Categories: Driving, PlayStation 3, Simulation, Sony,
Fresh off the Games Conference show floor in Leipzig, Jeux-France provides us with some footage of Gran Turismo 5 Prologue in action on the PS3. Check out the game's in-cockpit view, which is looking nice. Also feast your eyes on some spins, crashes, and drifting maneuvers that look, well, like every other racing game ever invented. Ahem…what I mean to say is, Kazunori Yamauchi's multi-million selling racing franchise knows no equal, and this PS3 iteration looks to be following in the footsteps of its illustrious predecessors.
Read More

| NeoGAF

Posted by Chris Pereira Categories: Driving, PlayStation 3, Sony,
The latest Famitsu magazine has an interview with Gran Turismo producer Kazunori Yamauchi, and 1UP has highlighted some parts of the story. Among other things, Gran Turismo 5 Prologue will include two online modes – one with chat and one without. There will be "about" 40 cars and four courses with eight different layouts for those courses. (I smell reversed courses.) The game will feature 16 cars in offline races, but the number may potentially be only 12 when racing online.
For more details on the game's integration with PlayStation Home and the My Page feature, check out the 1UP story.
Read More

| 1UP
Posted by Kyle Ulrich Categories: Driving, E3, PlayStation 3, Sony, Trailers,
Lost in the sea of hype surrounding Sony's press conference at this year's E3 was none other than Gran Turismo 5 Prologue. Rubbing shoulders with other heavy hitters at the keynote, Polyphony Digital's new entry in the vaunted sim-racer franchise is already looking masterful. You'd think that there were only so many ways to make cars look good and realistic; it seems Sony's in-house developer has found a new bag of tricks. Forza 2, eat your heart out.

Posted by Chris Pereira Categories: Action, Activision, Adventure, CAPCOM, Corporate News, Driving, E3, Electronic Arts, First Person Shooters, Hardware, Internet, LucasArts, MMORPG, Mods/Hacks, Music, PlayStation 2, PlayStation 3, PSP, Release Dates, Role Playing Games, SEGA, Sony, Special Editions, Sports, Trailers, Ubisoft,
I'm going to come right out and say it: I'm coming away from Sony's presentation more impressed than I was either Nintendo's or Microsoft's. They were very straightforward and showed exactly what we all wanted to see: the games.
In fact, this was one of the more impressive E3 press conferences in recent memory – check inside to find out why.
Click to continue reading E3 2007: Sony's Press Conference Recap And Impressions
Posted by Christopher Sasaki Categories: Driving, Hardware, Internet, PlayStation 3,
European owners of the PS3 have been able to get a rumble-enabled version of Gran Turismo HD since launch. Now, US owners can get the free update from the PlayStation Store, according to IGN. The update adds a world-wide ranking system, so US gamers can now compare their times with others across the world and adds rumble support for owners of Logitech's Driving Force, Driving Force Pro, and Driving Force EX wheels. The quick addition of rumble support gives hopes to PS3 gamers that rumble support in other PS3 games as well as in new controllers will be coming soon.
Read More

| IGN
Posted by Christopher Sasaki Categories: Driving, Internet, PlayStation 3,
North American Playstation 3 users will also get to enjoy Gran Turismo HD Concept along with their Japanese counterparts on December 24th. The "concept" edition of Gran Turismo will be offered for free via the Playstation Store, and will includes the Eiger Nordwand course, and ten cars. The cars include both a standard and a tuned model:
1995 Suzuki Cappucino
1989 Mazda Eunos Roadster 2004 Honda Integra TYPE R
1996 Mitsubishi Lancer Evolution IV GSR
2006 Infiniti G35 Coupe
2005 Mitsubishi Lancer Evolution IX GSR
2005 Lotus Elise 111R
1994 Nissan SKYLINE GT-R Vspec II
1995 Toyota Celica GT-FOUR Rally Car
2006 Ferrari 599
Gran Turismo HD will offer both a time trial and drift trial mode, online rankings, and replay upload and download. While the official release date is December 24th, but some users are reporting that the download is available now.
The full press release continues below.
Click to continue reading Sony Offers Gran Turismo HD To North America
Posted by Christopher Sasaki Categories: Culture, Driving, PlayStation 3,
Word from Kazunori Yamauchi, creator of the Gran Turismo series, indicates that gamers may end up shelling out a lot of money if they want to have a complete set of cars and tracks in the upcoming Gran Turismo: HD. According to translations posted on the Beyond3D forums, Yamauchi spoke to Famitsu about the implementation of micro-transactions in the new game. There will apparently be two versions of the game: Gran Turismo HD: Premium, which will include 2 courses and 30 cars. Another version, Gran Turismo HD: Classic will start with no cars; cars can be purchased for 50 – 100 Yen, and each course will cost 200 – 500 Yen. The game will include 750 cars and 50 tracks, meaning that a gamer looking at getting all the available content would be spending hundreds of dollars. Should this information turn out to be correct, it would appear that Sony has definitely taken the microtransaction economic model to heart.
Read More

| Beyond3D Forums
© Gear Live Media, LLC. 2007 – User-posted content, unless source is quoted, is licensed under a Creative Commons Public Domain License. Gear Live graphics, logos, designs, page headers, button icons, videos, articles, blogs, forums, scripts and other service names are the trademarks of Gear Live Inc.