Posted by Steve Van Neil Categories: Action, Adventure, Corporate News, PlayStation 3, Ubisoft, Xbox 360,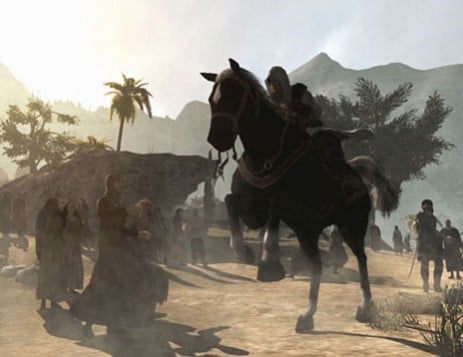 The game that nobody thought would actually come out this year is officially done and on its way to be pressed, boxed, and shipped out to game stores. Yes, that's right. Assassin's Creed, the long-in-development Crusades sandbox epic has gone gold for production.
"We've been working very hard for nearly four years to make Assassin's Creed a reality and now there is a confirmed date when players will get to experience the results of our efforts," shared Jade Raymond, producer of Assassin's Creed. "This is a huge event for the team. Our biggest reward will be everyone having a lot of good solid fun."
Assassin's Creed hits the Xbox 360 and PS3 on November 13th.
Read More

|
Ubisoft

Posted by Steve Van Neil Categories: Action, Adventure, PC, PlayStation 3, Trailers, Ubisoft, Xbox 360,
The developers of Assassin's Creed have always boasted of their game's high level of environmental interaction. They claim that every wall, object, or person in their highly anticipated Xbox 360/PS3/PC action-adventure game can be scaled, moved, or shoved. And now here's the video to prove it. Watch Altair (the game's featured assassin) try to escape the city's guards by running, climbing, and jumping all over this Middle Aged playground, and kindly ignore the futuristic glitches and flashes that hint at a more mysterious storyline that Ubisoft will not divulge. Gape at the mind-boggling geometry that for once actually does permit the level of interaction promised by its enthusiastic creators. Raise an eyebrow at the anachronistic Hans Zimmer-esque musical score. Breathe a sigh of relief that this long in development game looks like it could conceivably hit that once nigh-unhittable November release date.
Read More

| IGN
Posted by Edie Sellers Categories: Activision, Announcements, Corporate News, Culture, E3, Electronic Arts, First Person Shooters, Microsoft, MMORPG, Music, Nintendo, Nintendo DS, PC, PlayStation 3, Politics, Portable/Mobile, PSP, Release Dates, Reviews, Role Playing Games, Rumors, Sony, Sports, Third Person Shooters, Wii, Xbox 360, Xbox Live, Xbox Live Arcade, Xbox Live Marketplace, GamerAndy,
Finally, now that the dust has settled from E3, we have finally found the time to get our thoughts in order and give you an extra-long episode of GamerAndy Live!
This week, Edie and Hawkes chat up all that happened before E3, during E3, and after E3, including:
OUR E3 COVERAGE
- How Edie spotted Slash, missed Ron Jeremy and got groped by China Doll;
- Edie defends why she thinks Nintendo "won" E3 this year;
- Why Hawkes wasn't as impressed at Killzone 2 as many others;
- Burnout Paradise;
- John Woo's Stranglehold;
- Fallout 3;
- Hellgate: London;
- Katamari Damarcy;
- PGR4;
- Assassin's Creed;
- Why Activision will get sued over Guitar Hero III;
- The big scoop we
almost
had;
- Rumor that E for All may not happen
NEWS
- Peter Moore chucks MS job for EA Sports;
- EA Sports: Hockey-less in '08;
- Chocolate Rain;
- Bully revamped for release on 360 and Wii;
- Wii Fit
- MGS4 coming to 360?
- Shoutouts and Shoutats;
- Problems for Unreal Engine?
- X07 gone;
- Xbox extended warantees;
- PS3 price drop…er, clearance sale;
- The Jaime Kennedy Embarassment;
- South Park's WoW episode nominated for Emmy
Enjoy!

Posted by Chris Pereira Categories: E3, Games for Windows, Microsoft, PC, Trailers, Xbox 360, Xbox Live, Xbox Live Arcade, Xbox Live Marketplace,
There were plenty of releases on the Xbox Live Marketplace this week, and thanks to Major Nelson we can now easily compile it all for you en masse. Demos, trailers, Arcade games – you name it, you got it. Apologies if anything was missed, but there was an insane amount of content. Hit up the comments section if you like this story and would like to see a weekly round-up of downloadable content each week. And just as a warning: if lists irritate you, your head will likely explode if you check out the rest of the story after the break.
Demos:
NCAA Football 08
Blue Dragon
Ace Combat 6 (campaign)
Stuntman: Ignition
The Bigs
Harry Potter OOTP
Click to continue reading E3 2007: This Week's Xbox Live Marketplace Content Update
Posted by Edie Sellers Categories: Casual, Corporate News, E3, Editorial, Hardware, Microsoft, Nintendo, Nintendo DS, PC, PlayStation 2, PlayStation 3, PSP, Wii, Xbox 360,
It always seems a bit silly to declare a "winner" of E3. It's just so juvenile. This is a complex industry that can't be distilled down to the simple question of "who beat whom."
But we just can't help it, can we?
Comparing the three keynotes this year, however, really is a grab-bag of possible outcomes. All three offered something interesting, and picking a single "winner" this year more than ever depends how you define "winning."
My rundown is after the break.
Click to continue reading E3 2007: The Big Three: Who "Won" E3?

Posted by Chris Pereira Categories: Accessories, Action, Activision, Adventure, Bungie, CAPCOM, Casual, Corporate News, Driving, E3, Electronic Arts, First Person Shooters, Hardware, Microsoft, Party Games, PC, Puzzle, Release Dates, Retro, Role Playing Games, SEGA, Simulation, Special Editions, Sports, Strategy, Survival Horror, Take2, Third Person Shooters, Trailers, Ubisoft, Xbox 360, Xbox Live, Xbox Live Arcade, Xbox Live Marketplace,
Unfortunately, I wasn't able to attend E3 this year – instead, I'm on vacation in Cape Cod, using awful hotel Wi-Fi to watch streamed press conferences. Not the most glamorous way to take it all in, but exciting announcements, great games and new details are welcome no matter how you hear about them.
Here's my personal transcription (in very brief form) of all the announcements and showings, along with some reflection on what Microsoft had to show.
Click to continue reading E3 2007: Microsoft's Press Conference Recap And Impressions
Click to continue reading E3 2007: Live Notes From Microsoft Media Briefing

Posted by Chris Pereira Categories: PC, PlayStation 3, Release Dates, Special Editions, Ubisoft, Xbox 360,
The highly anticipated Prince of Persia-like Assassin's Creed has finally been given a timeframe for release; the Xbox 360, PlayStation 3 and PC versions will all be released in November. Naturally, a limited edition will be available for what is becoming the standard price of $69.99 (unless your name happens to be Grand Theft Auto or Halo), and includes the following:
Tin box
Penny Arcade comics
Altair figure
Mini strategy guide
Trailers, documentaries, other videos
Normally I'm ready to pounce on the fact that every single game nowadays has some sort of Limited Special Collector's Edition, but Assassin's Creed is one of the most highly anticipated games of the year; this one looks like it deserves an LE.
Posted by Michael Cardiff Categories: Action, PlayStation 3, Rumors, Xbox 360,
Looks like Assassin's Creed may be taking a chunk of time out of your beginnig-of-quarter studying schedule, for all you gamer-students out there. If Amazon.com's listing is correct, the game will be launching on September 25th this year. Currently, you can pre-order the Ubisoft game for either Xbox 360 or the Playstation 3, from Amazon's website, for $59.99. Interestingly, there's also an Assassin's Creed DS listing over at Amazon, but we're not going to give that too much credibility.
Personally, I can't wait to see if there's any difference between the 360 and PS3 versions of the title. Given that the game was one of the most visually impressive demonstrations of the PS3 hardware, it'll be interesting to see how the worst-kept non-exclusivity secret in gaming plays on supposedly inferior hardware.
Read More

| Amazon.com
Posted by Christopher Sasaki Categories: Adventure, PlayStation 3, Xbox 360,
Ubisoft Montreal recently previewed the Xbox 360 version of Assassin's Creed for IGN recently, and while the games are "virtually identical" on the Playstation 3 and the Xbox 360, there are a couple of differences that have the Internet buzzing. In almost a throw-away line after discussing the control schemes and detailed animations of the game, Jade Raymond, when detailing some of the changes gamers will see in the Xbox 360 version, claimed that the focus was on achievements, plus "the hardware also allows for improved threading, which will improve even further the crowd AI." Without further details, it is hard to make a real conclusion about what this means, even within the context of the game. Having better crowd AI would certainly seem to improve a gamer's interaction with the game world, but doesn't seem like something that would be a deal breaker in terms of platform support. But it does seem to highlight that there will be differences in the game experiences gamers will get on the Xbox 360 and the Playstation 3 above and beyond the look and the sounds of the game. It will be interesting to see how the base architectures of the machines will change gameplay for each console.
Read More

| IGN
© Gear Live Media, LLC. 2007 – User-posted content, unless source is quoted, is licensed under a Creative Commons Public Domain License. Gear Live graphics, logos, designs, page headers, button icons, videos, articles, blogs, forums, scripts and other service names are the trademarks of Gear Live Inc.