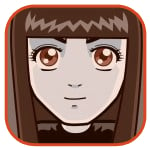 Posted by Sheila Franklin Categories: Corporate News, PC, Portable/Mobile, Wireless,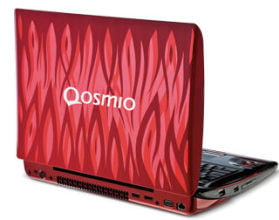 We found the ultimate gaming laptops for the hardcore player. Toshiba's Qosmio X305-Q706 and X305-Q708 are filled with three NVIDIA GPUs, one GeForce 9400M and two 9800M GTSs. To help save energy and battery power, the user can turn off the 9800Ms. Both have 17-inch displays, Bluetooth availability and Harman Kardon stereo speakers plus a sub-woofer. The X305-706 features a Core 2 Duo P8400 CPU and comes at a price of $1,999.99. Move up to the X305-Q708 and you get a Core 2 Extreme QX9300 CPU, a DVD burner, a 1.3MP webcam, and a second 128GB SSD at a price of $4,199.99. Both are available at Toshiba Direct.
Read More

| Yersys Technology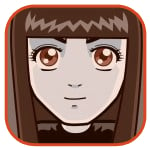 Posted by Sheila Franklin Categories: Activision, Music, PlayStation 2, PlayStation 3, Special Editions, Wireless,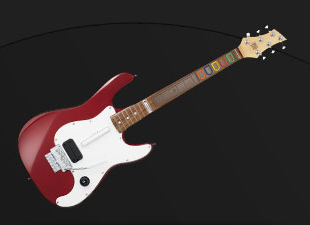 Logitech has announced their Wireless Guitar Controller, Premiere Edition for the Playstation 2 and 3 Guitar Hero. The neck and quiet fingerboard are made of wood and the frets and tuning peg handles are metal. The device has a 2.4GHz wireless USB receiver and a battery life of "hundreds of hours." The controller has a range of up to 30 ft. and a bonus gig bag with pockets for accessories is included. Pre-order the nifty device for $249.99 for a December delivery.
Read More

| Logitech


Posted by Paul Hamilton Categories: Accessories, Downloadable Content, Features, Hardware, Microsoft, Music, PlayStation 3, Wireless, Xbox 360,
The Official Xbox Magazine's podcast has an interview this week with Harmonix co-founder and president Alex Rigopulos about their upcoming game Rock Band. In the interview he talks about the game bundles, although light on concrete details he does confirm a band-in-a-box bundle that will include a guitar, drum kit and microphone. However, he goes on to say that the PlayStation 3 version will include a wireless guitar controller while the Xbox 360 version will have to include a wired guitar because Microsoft's wireless technology is too expensive to make the bundle reasonably priced. Since the 360 also has only two USB ports, the 360 Rock Band bundle will also be packed with a USB hub.
Rigopulos goes on to discuss the game's career modes a little, saying there will be both solo career mode that progresses in a linear fashion similar to what Guitar Hero players are used to, but they are also including a less linear band career mode. In this mode you traverse to various venues trying to build up your fan base and in some cases return to previously played locations to maintain your fame there. Also it's worth noting that the solo career mode will not include a bass career track so your options are vocals, guitar and drums in solo career mode. But Rigopulos did reveal that the finale songs for each career path (and therefore likely the difficulty distinctions throughout) will be different for each instrument, and he even said that at this point the drum finale will be The Who's "Won't Get Fooled Again."
Click to continue reading Harmonix Co-Founder Answers Questions About Rock Band
Read More

| KOXM Podcast


Posted by Chris Pereira Categories: Accessories, Activision, Electronic Arts, PlayStation 2, PlayStation 3, Wii, Wireless, Xbox 360,
Frankly, I don't really care what the guitar looks like when I jam out in Guitar Hero. On account of the fact that there are colored buttons near the end of it, the realism of the rest of it doesn't strike me as particularly important. But for those interested, above you can see the Les Paul model, which will be what's used on next-gen versions of the game. Below is the Kramer for PlayStation 2 owners. And for those wondering, you'll need to drop your Wiimote into a slot in the back of the guitar to play – don't ask me why they couldn't just develop a wireless guitar.
Read More

| Gaming Today


Posted by Chris Pereira Categories: Corporate News, Nintendo, Nintendo DS, Wireless,
Since its launch in November 2005, over five million DS owners have connected to the dual-screened system's online gaming service. More than 60 games make use of it, some even featuring VoIP communication – most notably, the recent Pokemon Diamond/Pearl. Nintendo of America president Reggie Fils-Aime is excited with the news, stating, "The milestones represent millions of hours of fun and camaraderie despite miles between players."
Reggie also went on to tout the fact that it's a free service that allows for global competition. He didn't happen to mention the inevitable frustration the system's friend codes have caused, but we'll let that slide for now, especially when you look at the figure for total number games played: more than 200 million.
Read More

| GamesIndustry.biz

Posted by Michael Cardiff Categories: Action, PlayStation 3, Portable/Mobile, PSP, Wireless,
Sony's big little handheld that could has been getting precious little coverage recently, so we're happy to see that Sony is working on some Good Things for the widescreen wonder. The latest and greatest this week is the 3.50 firmware update which will allow you to remotely access your PS3's harddrive from any wireless access point using the PSP. That opens up a lot of possibilities, including streaming games, movies, and photos to your PSP. Assuming, of course, you already have a small inheritance
PSP and PS3.
PSP Fanboy has the file just waiting on their site, so we'll point you their way! Enjoy!
Read More

| PSP Fanboy


Posted by Chris Pereira Categories: Accessories, Internet, Release Dates, Wireless, Xbox 360, Xbox Live, Xbox Live Arcade, Xbox Live Marketplace,
The long-awaited Spring Update is finally set for launch tomorrow (Wednesday), with the headline feature being all-new Xbox Live integration with MSN/Windows Live Messenger. This is the third such major dashboard update in the life of the Xbox 360, and contains a long list of new features – but it's ultimately the weakest of those three releases.
Being able to instant message while gaming, watching movies or doing whatever else on the 360 is certainly a nifty feature, but isn't going to be worth taking advantage of for the average user – at least not until the mini-QWERTY keyboard is released. USB keyboard support is being added, but unless you're sitting fairly close (or wireless keyboards are supported), you'll be stuck typing with the virtual keyboard. And from having sent hundreds over messages over Live, let me say that using that is nothing short of an exercise in patience.
In addition to the IMing capabilities included in the update, the following features have been added:
On-screen pop-ups that immediately display the name and gamerscore value of a just accomplished Achievement, allowing gamers to see their progress without leaving or pausing the game.
An even safer way to communicate through Xbox LIVE with enhanced family settings that enable different default settings for video chat and voice chat.
A new, standalone Xbox LIVE Marketplace blade houses all Xbox LIVE Marketplace content in one easy to navigate space.
Xbox LIVE Arcade enhancements that showcase what games friends are playing directly from the friends list. Boasting about high scores, comparing progress and checking out leaderboards are all easier now as well.
Faster access to free, trial version of Xbox LIVE Arcade games through an improved Auto Downloads feature.
The ability to fast-forward, pause and rewind video as it is being downloaded on Xbox LIVE Marketplace.
Owners can now set their consoles to turn off after downloading content from Xbox LIVE Marketplace to help save energy, and download speeds have been increased.
The Marketplace blade will certainly be useful, but what Microsoft is really trying to do is simply make it as easy as possible for you to hand over those Microsoft Points. But the new Achievement notification will be sure to go over well, especially with me, as I'm the type of person who always checks out what achievement I just unlocked - even if I'm in a multiplayer game.
For more details on the free download and a full list of features, check out this page on Xbox.com.

Posted by Chris Pereira Categories: Internet, Nintendo, Wii, Wireless,
Google Reader has always been a personal favorite of mine among online RSS readers. It's light, is a part of your Google account, and works well – can't really ask more than that. While porn and gaming sites have been quick to implement Wii-friendly versions of their sites in order to garner more traffic, Google has now done the same with their RSS reader.
4 Color Rebellion found the page, which has an adjusted resolution and improved functionality for the Wiimote. As Google says, "Google Reader can take advantage of the buttons on your Wiimote, letting you navigate easily from the comfort of your couch." The controls are as follows:
up/down: scroll up/down
right/left: next/previous item
1 button: show subscriptions
2 button: show links
When showing subscriptions:
up/down: previous/next subscription
right: select current subscription
left: close
-/+: collapse/expand folder
The page can be found here. The number of reasons to actually move from the chair in front of you TV is dwindling.
Read More

| Google Reader Wii via 4 Color Rebellion
Posted by Christopher Sasaki Categories: Nintendo, Nintendo DS, Role Playing Games, Wireless,
Coming this Sunday April 22, Pokemania will officially hit the US again. The fourth generation Pokemon game, Pokemon Diamond and Pearl is set to be unleashed on the gaming public, nearly nine years after the first North American release. While initially considered a fad, a generation of gamers has literally grown up with the Pokemon franchise. Today Nintendo revealed that the two games have received over 533,000 pre-orders, twice those of the previous release. Early feedback seems to indicate that the games balance the tried-and-true battle gameplay of the originals with appropriately updated graphics and strong Wi-Fi support. Expect this title to easily hit one million sold, and continue to drive the DS juggernaut in the US.
Read More

| Reuters

Posted by Michael Cardiff Categories: Corporate News, Internet, Music, Wii, Wireless,
Careful, RedOctane, careful!! Guitar Hero II hasn't been out for very long, and already you're talking of Guitar Hero III? You do realize it's going to get harder to make people buy a new copy of (essentially) the same game with every iteration, don't you? Now that GH2 is out for the 360 featuring downloadable content lovin', it's hard to see why 360 owners would upgrade to a new game.
Still, this announcement is going to be very exciting for Wii owners… that's right GH3 will be the first game in the series to be available for the Nintendo Wii, and it'll feature online multiplayer and downloadable music (hopefully to the SD card?) to boot! Wii owners will also be getting a guitar peripheral, though it'll be interesting to see how it incorporates the Wiimote… will the little remote be used for some sort of motion sensing? For now, your guess is as good as ours, though IGN promises to update this story later today.
Update: Looks like the interview's already posted! Check out the link here
Read More

| Wii.ign.com

© Gear Live Media, LLC. 2007 – User-posted content, unless source is quoted, is licensed under a Creative Commons Public Domain License. Gear Live graphics, logos, designs, page headers, button icons, videos, articles, blogs, forums, scripts and other service names are the trademarks of Gear Live Inc.