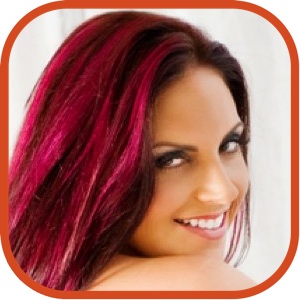 Posted by Taylor Peterson Categories: How To, Kitchen Gadgets, Recipes, Dairy, Organic, Paleo,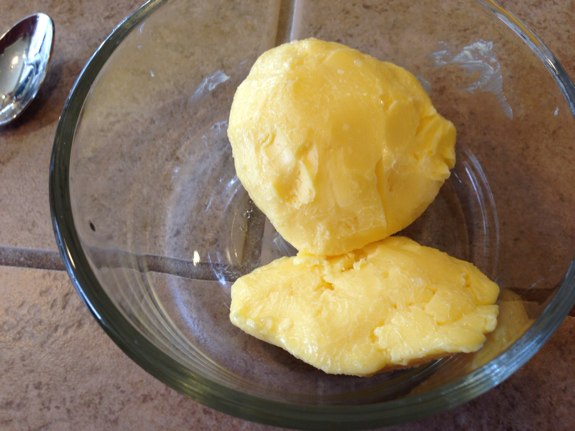 This weekend we purchased a KitchenAid Professional 5 mixer. I have wanted one of these mixers for years, but they're expensive and I didn't want to spend the money. As it turns out, we purchased this used on Craigslist for $130 (which excites me enough to add it to this post.) It was originally listed for $200 (and retails for over $400,) and I'm very proud to have negotiated (with some assistance) to the final price.
After we got the mixer and brought it home, we felt like we needed to immediately start using it due to the excitement. However, we needed to do some shopping and didn't have a lot of time right then. I remembered that we had some heavy cream in the refrigerator that Andru purchased for our coffee. We normally follow a Paleo diet and this cream, from grass fed cows, is an acceptable part of the program. That said, this month I'm following the Whole30 program, and that doesn't allow any dairy except butter from grass fed cows. I knew butter that butter is made by churning cream, but I thought for sure there was more to it than that.
Click to continue reading How to make homemade butter (recipe!)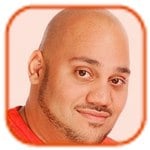 Posted by Andru Edwards Categories: Dessert, Recipes, Dairy, Grains, Vegetarian, Boiling,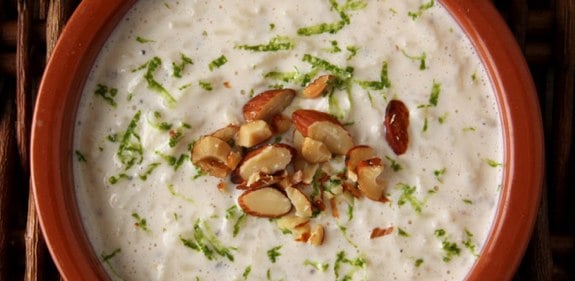 I'm an absolute sucker for rice pudding, mostly because I've found it to always be pretty delicious, regardless of the source. Whether it's something ordered at a New York diner, an Indian restaurant, or bought at the supermarket in a Kozy Shack plastic tub, if I see it as an option, I'm usually getting it. This rice pudding recipe is adapted from Monica Bhide, who suggests serving it with fresh mango. While that is good, the recipe does stand up on its own as well, as the coconut and cardamom bring something nice and different to the table, without changing the overall goodness.
Click to continue reading Coconut Cardamom Rice Pudding Recipe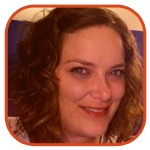 Posted by Jenny Lewis Categories: Beverages, Milk, Holiday Cooking, Recipes, Summer Cooking, Dairy, Parties,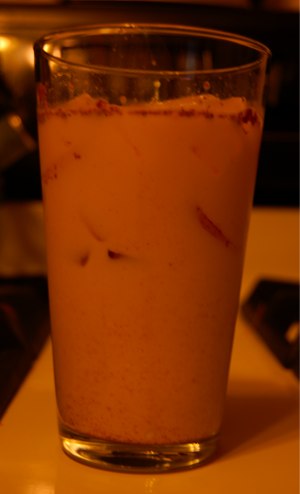 Cinco de Mayo is here! And if you're not hip to the actual reason the fifth of May is celebrated, let me clue you in! On May 5, 1862, 4,000 Mexican soldiers defeated the French army and an army of traitor Mexican soldiers to regain control of the country in Puebla.
Anyone can go to their local Mexican joint to celebrate. But WHY? Over the course of today, I'm going to lay out easy recipes to cover your celebration, from drinks to dessert. First up, horchata!
Click to continue reading Cinco de Mayo drinks: Horchata recipe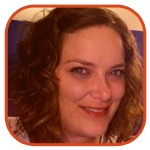 Posted by Jenny Lewis Categories: Appetizers, Snacks, Recipes, Condiments, Dairy, Mediterranean,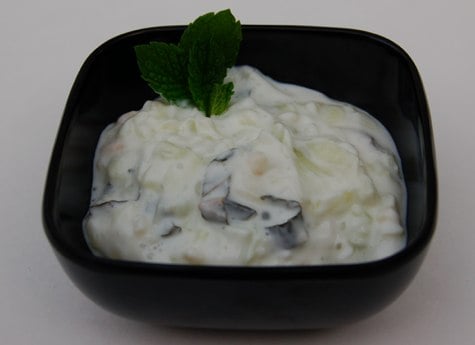 I can't even come up with words to properly convey my feelings for tzaziki. Cool, creamy, and fantastic with everything from vegetables to steak. It's incredibly easy to make, and incredibly easy to customize to your own taste.
Ingredients:
2 cups plain yogurt (this can be regular yogurt or Greek yogurt, fat free or as fatty as you'd like, as long as it's plain)
1 cucumber, peeled and seeded
1 or 2 pinches of salt
1/4 cup fresh mint
3 cloves of fresh garlic or 1 tablespoon of pre-minced garlic from a jar
Click to continue reading Recipe: Tzaziki

Posted by Jenni Burns Categories: Summer Cooking, Cheese, Dairy, Fruit, Vegetables, Festivals,
In my searching for lemons the other day I came across something that I thought was really interesting. The Eat Local Challenge, is a 30-day challenge to eat from your local foodsheds as well as preserving September's harvest for the winter months. There is nothing better than eating fresh produce that was grown and picked this week at the farm down the road, except maybe growing it yourself! Another aspect of The Eat Local Challenge is to get the message out about the farmers in your area. You can help advertise locally by blogging about what you've enjoyed and you can add photos you've taken to the flickr Eat Local Pool.
My family and I love to visit our local Farmer's Market on Saturday to drool over all the delicious fruits, vegetables, freshly baked breads, and wonderful cheeses, as well as all the beautifully handcrafted pieces! Then we usually sit down to enjoy a crepe or two while the kids dance to the country music. It's a lot of fun, hopefully we will make it this coming weekend and will post some photos! There is something great about community. I think what I love the most about the local markets is that you can shake the hand who planted the veggies you are going to take home to prepare a delicious meal for your family. So this is just a reminder, go and support your local farmers this September, shake their hand and tell them how much you appreciate all their hard work, because without them most of us would go hungry!
Posted by Janie Franz Categories: Dessert, Snacks, Features, Recipes, Dairy, Baking, Parties,
No tea table should ever be without scones. If you haven't had one before, think of them as delicate, sweet biscuits. There are also lots of variations for making Devonshire Cream. This one is super easy.
SCONES
Ingredients:
2 cups flour
1 tbsp sugar
3 tsp. baking powder
½ tsp. salt
1/3 cup butter
1 egg, beaten
½ to 3/4 cup milk

Heat oven to 425 degrees. In a large bowl, mix together flour, sugar, baking powder, and salt. Grate the butter into the flour mixture and combine until it is the consistency of coarse corn meal. Add egg and ½ cup milk. Stir until a dough forms. If it is too dry, add more milk, a tablespoon at a time. Turn onto a floured board and knead 10 times. Roll out ½ inch thick and cut with a 2-inch cookie cutter. Put the scones on a greased baking sheet and brush with milk. Bake 12-14 minutes.

DEVONSHIRE CREAM:
Ingredients:
3 oz. cream cheese, softened
1 tbsp. sugar
1/8 tsp. salt
1 cup whipping cream
Preparation:
Cream sugar, cream cheese, and salt. Stir in whipping cream. Beat with an electric mixture until stiff. Refrigerate before using.
© Gear Live Media, LLC. 2007 – User-posted content, unless source is quoted, is licensed under a Creative Commons Public Domain License. Gear Live graphics, logos, designs, page headers, button icons, videos, articles, blogs, forums, scripts and other service names are the trademarks of Gear Live Inc.