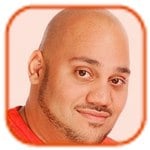 Posted by Andru Edwards Categories: Lunch, Videos, Recipes, Cheese, America, Grilling,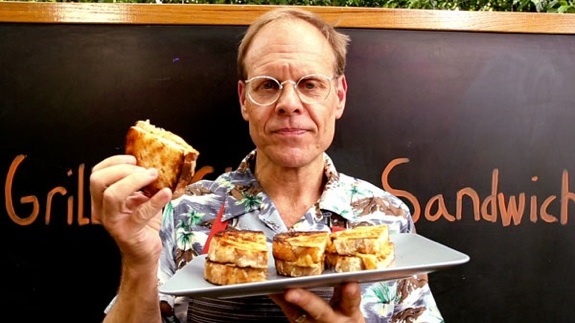 Alton Brown, the lovable and knowledgable food geek and resident cuisine geek, doesn't seem too impressed with the current state of the grilled cheese sandwich. Thankfully, he has decided to share his own recipe for what he refers to as Grilled Grilled Cheese. You see, it's a sandwich cooked on the grill, and the recipe actually involves grilling the freaking cheese.
That's because whenever and wherever people say they're gonna make you a grilled cheese sandwich what they really mean is there gonna make you a griddled sandwich containing some melted cheese. Well not me. Now when I say grilled cheese sandwich, I mean a grilled sandwich containing grilled cheese and here's how I do it.
Look delish though, right? Check out the video after the break.
Click to continue reading Alton Brown presents his sumptuous 'Grilled Grilled Cheese' [Video]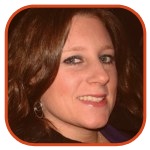 Posted by Vicky Lane Categories: Cuisine, Cheese, Fish, Shellfish, Dinner, Lunch, Side Dishes, Comfort Food, How To, Product Reviews, Recipes, America,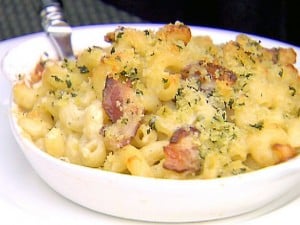 As a Foodnetwork addict I am constantly experimenting with great recipes from from my favorite shows. On Easy Entertaining with Michael Chiarello on an episode entitled "Pot luck challenge", Jan Birnbaum, chef and restaurateur, caught my eye with an upscale, hearty mac n' cheese.
The original recipe called for shrimp, which I was all about, but after visiting the seafood counter at Whole Foods, husband and I couldn't resist the lobster meat (shrimp vs. lobster? no contest). So we splurged justifying that this would be our Superbowl Sunday feast.
Here is my adaptation of Jan's recipe:
Ingredients
1 box medium shell pasta
2 tablespoons extra-virgin olive oil
1 cup tasso ham or bacon (I used bacon)
5 large shallots, minced
1 clove garlic, mined
1 1/2 tablespoons all-purpose flour
1 cup white wine (see review below)
2 cups cream
1 cup grated fontina
1/2 cup grated Cheddar (I prefer mild but sharp would be great too)
2 tablespoons grated Parmesan
6-8 oz lobster meat cut up in good bite size chunks (we bought the precooked tub at the seafood counter)
2 cups gently packed spinach
Kosher salt and ground white pepper
Hot pepper sauce, to taste (recommended: Tabasco)
1/2 cup bread crumbs ( I used panko, my new favorite thing)
1/4 cup chopped Italian parsley leave
Click to continue reading Recipe: Lobster Macaroni and Cheese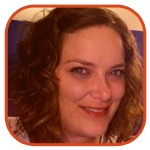 Posted by Jenny Lewis Categories: Dinner, Lunch, Side Dishes, Recipes, Summer Cooking, Cheese, Salad, Vegetables, Vegetarian,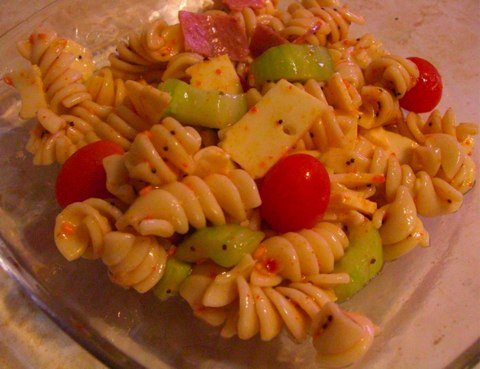 This pasta salad is one of my favorite potluck contributions. Because of the fact that the pasta has to be completely cool - at most room temperature - before assembling the salad, it's a great dish to start at night and finish the next day. Here's a recipe for a great Summer Pasta Salad:
Ingredients:
1 Lb smallish, shaped pasta (rotini, farfalle, macaroni, anything small and easily fork-able)
1/2 bottle of Italian dressing (not creamy)
4 T Salad Supreme
1 12 to 14 inch cucumber or two smaller ones, peeled and seeded
1 pint cherry or grape tomatoes, washed and halved
4 ounces Provolone cheese (this is usually 4 slices of prepackaged sliced cheese)
4 ounces salami (again, usually 4 slices of prepackaged sliced meat, but this can also be 4 ounces from a whole salami)
Click to continue reading Recipe: Summer Pasta Salad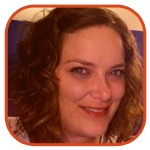 Posted by Jenny Lewis Categories: Breakfast, Side Dishes, Snacks, Comfort Food, Recipes, Cheese, Vegetarian, America, Baking,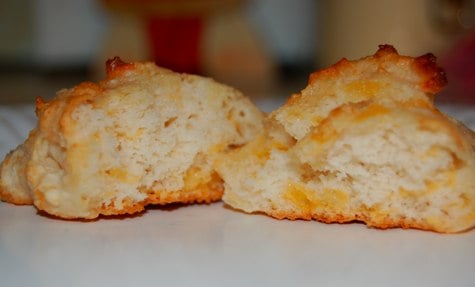 Seafood is not that big a thing around Gear Live's virtual offices. And while I can't speak for the other editors, I've been known to hit up the neighborhood Red Lobster solely for the biscuits. Unfortunately, the staff at the ol' RL didn't take kindly on a person who goes in alone and has nothing but biscuits, a side salad and water. That left me trying to recreate the little starchy wonders at home.
Ingredients:
1/4 cup margarine or butter
1/4 teaspoon garlic powder
2 cups of baking mix (I use Bisquick)
2/3 cup milk
1/2 cup shredded cheddar cheese
Click to continue reading Recipe: Copycat Red Lobster Biscuits

Posted by Jenni Burns Categories: Summer Cooking, Cheese, Dairy, Fruit, Vegetables, Festivals,
In my searching for lemons the other day I came across something that I thought was really interesting. The Eat Local Challenge, is a 30-day challenge to eat from your local foodsheds as well as preserving September's harvest for the winter months. There is nothing better than eating fresh produce that was grown and picked this week at the farm down the road, except maybe growing it yourself! Another aspect of The Eat Local Challenge is to get the message out about the farmers in your area. You can help advertise locally by blogging about what you've enjoyed and you can add photos you've taken to the flickr Eat Local Pool.
My family and I love to visit our local Farmer's Market on Saturday to drool over all the delicious fruits, vegetables, freshly baked breads, and wonderful cheeses, as well as all the beautifully handcrafted pieces! Then we usually sit down to enjoy a crepe or two while the kids dance to the country music. It's a lot of fun, hopefully we will make it this coming weekend and will post some photos! There is something great about community. I think what I love the most about the local markets is that you can shake the hand who planted the veggies you are going to take home to prepare a delicious meal for your family. So this is just a reminder, go and support your local farmers this September, shake their hand and tell them how much you appreciate all their hard work, because without them most of us would go hungry!
© Gear Live Media, LLC. 2007 – User-posted content, unless source is quoted, is licensed under a Creative Commons Public Domain License. Gear Live graphics, logos, designs, page headers, button icons, videos, articles, blogs, forums, scripts and other service names are the trademarks of Gear Live Inc.