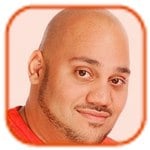 Posted by Andru Edwards Categories: Lists, Trends, America,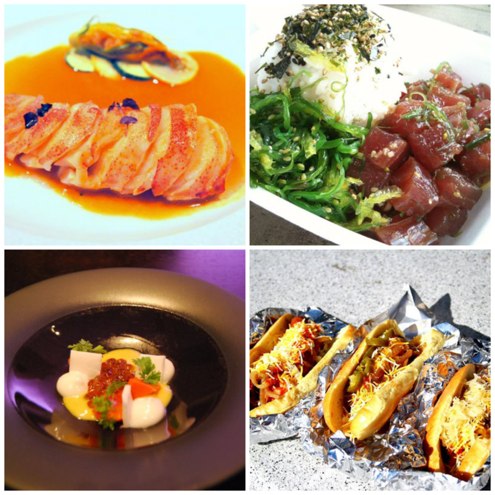 Digging into its wealth of user data, Yelp has compiled a list of the top 100 places to eat in the United States. Mining that data and using the Wilson Score technique, the 100 must-try spots feature a mix of some of the big boys that you've heard of if you're a true foodie, as well as a bunch of hole-in-the-wall spots that the locals try to keep to themselves. We've got the top 20 below, and you can head on over to the Yelp Blog for the full meal deal.
Click to continue reading Yelp names the top 100 places to eat in the US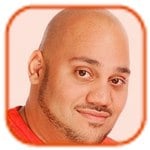 Posted by Andru Edwards Categories: Trends, Strange Food, Condiments, America,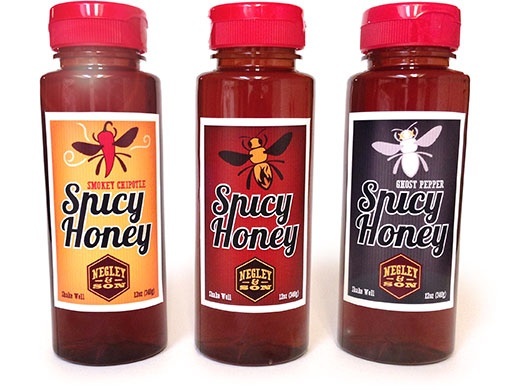 Set your beloved Sriracha aside, and prepare to hit your mouth with some bold, spicy sweetness from Negley & Son. The company offers three distinct flavors, all three of which aim to give your food a perfect kick. You have Classic Spicy, which is made from a secret blend of seven different peppers. Then you have the Smokey Chipotle, which adds smoke-dried jalapenos into the mix. Then, Ghost Pepper--flavored with one of the hottest peppers cultivated on the planet, the Bhut Jolokia. Yep, they've got our attention, too. We'll be looking to check it out soon, and will report back with our thoughts.
Read More

| Negley Honey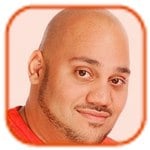 Posted by Andru Edwards Categories: Fast Food, Health, Trends, Videos, Food Trivia,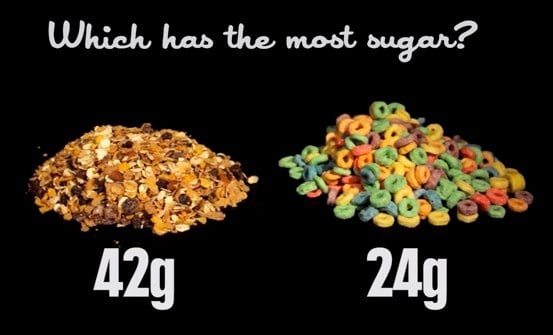 Did you know that a Hot n Spicy McChicken sandwich has 17 grams more sugar than a regular McChicken? Ot that light ranch dressing has twice the amount of sugar as regular old ranch? Yeah, sugar hides out in the most unexpected places. Check out the video below for a few more surprises.
Click to continue reading How much sugar is in random foods? [Video]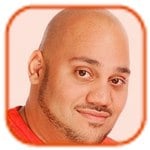 Posted by Andru Edwards Categories: Trends, Videos, Kitchen Gadgets, Slow Cooking, Sous-Vide,
If you consider yourself a foodie, you've likely heard of sous-vide cooking. These immersion circulators cook food at low temperatures for a long time in a bath of water set to a specific temperature, ensuring tender, even cooking from all sides of the food. The problem is that sous-vide cooking devices are expensive. This is where Nomiku comes in.
Nomiku aims to bring sous-vide cooking to the masses. It's a cyclindrical aluminum device with internal heat sink that you can clip to any pot that will then warm the water to any temperature, up to 100 degrees Celsius. It's also got a digital display at the top that gives you vital cooking information, along with a knob for controling the temperature (similar to what you'd find on the Nest thermostat.)
If you want to get one, you'll have to hit up the Nomiku Kickstarter page. It's already a success, surpassing it's initial goal of $200,000. Current pledges sit at $331,823, with another 6 days to go. If you're interested in picking one up, pledge $299 and you'll get the green Nomiku along with digital access to the Nomiku sous vide primer. The finished product is expected to ship in December 2012.
Read More

| Nomiku Kickstarter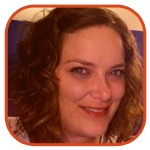 Posted by Jenny Lewis Categories: Features, Trends, Utensils, Kitchen Gadgets,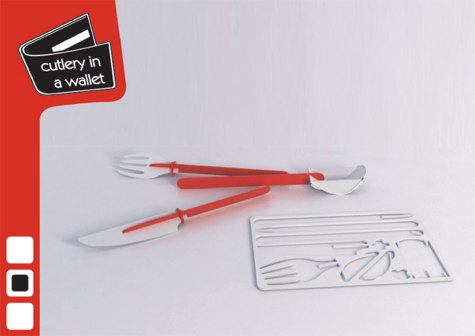 You may not think much of your silverware or your plates, but someone does. The results of designboom's Dining in 2015 design competition were announced a few months back, and there were a number of fantastic entries. Out of a total of 4843 entries from 98 countries, the five person jury narrowed it down to 3 first prize entries and an honorable mention from a shortlist of 160 amazing entries. My favorite entry from the shortlist, pictured above, is the "cutlery in a wallet," designed by Alberto Ghirardello of Italy. It was "designed to facilitate outdoor eating," and I can't think of an easier and more compact way to do exactly that.
Read More

|
Format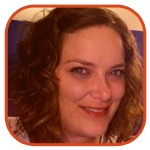 Posted by Jenny Lewis Categories: Trends, Food Trivia, History, America, Midwest, Beer,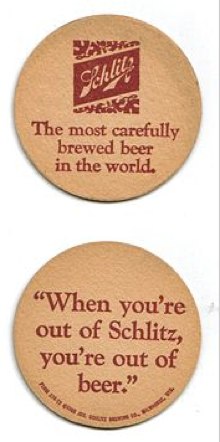 After a number of unsuccessful changes to the brand, the Schlitz brewery (one of the oldest of the old school breweries) closed in 1981. First brewed in 1849, Schlitz beer was successful for over 100 years before changes in production (and the overall quality of the final product) killed the product's popularity and, therefore, sales. The brand changed hands twice - once in 1982 to Stroh and earlier this year to Pabst - and is now being brewed again and is in such high demand that stores are reportedly limiting the numbers of cases customers can buy at one time.
Though brewing operations are on the east coast, Schlitz is currently only available in Milwaukee, Chicago, Minneapolis and Western Florida. Pabst is hopeful that the new old brew will be more widely available as brewing operations ramp up.
Read More

|
MSNBC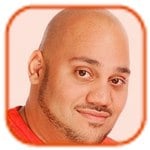 Posted by Andru Edwards Categories: Books, Shopping, Trends,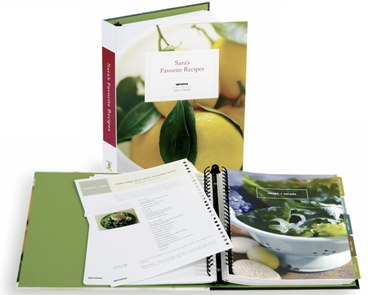 In case you haven't heard of TasteBook, think of it as iTunes for recipes. Basically, you head on over to the site, and you are able to fill your own customized recipe book with a certain number of recipes. You can choose from over 20,000 of them, and you can mix and match them in any way you like. You can even design your own cover! We've seen people create themed books, like vegetarian, chicken recipes, soups, etc., while other just go crazy and throw in anything that looks appetizing to them. The end result is a beaufitul, hard-bound cookbook with recipes that can be removed and put back in.
If interested, head on over to the TasteBook website using this TasteBook coupon and you'll get $10 off of a book. If you end up getting one, let us know what you chose, and what you think once you get it.
Read More

|
Save $10 on TasteBook

Posted by Jenni Burns Categories: Farming, Health, Trends, Organic, America,
Many people would love to buy organic produce, organic meat, and live a more wholesome life. But what stops most of us? Money, time and space. The mindset I've struggled with is, "I can't buy organic because it's too expensive," or "I don't have the space to have a garden because we have such a small yard." My husband, Chris, found this website called Path to Freedom, that really challenges those limiting mindsets. The website is put together by a family who lives in urban Pasadena, California. This family has turned their small 1/5 acre lot into a rich garden with around 400 varieties of edible plants, supplying nourishment for them as well as a sustaining organic produce company. I found this site interesting and extremely inspiring. Take a look at their site and see if it doesn't inspire you to turn your rose bushes into string beans!
Read More

| Path To Freedom


Posted by Jenni Burns Categories: Features, Trends, How To,
I have four children, four and under. Yes I typed that right, and no, I'm not crazy. Okay, maybe a little - but not completely. The six of us live in a 750 square foot house, two bedrooms, one bathroom. You are probably wondering by now what all of that has to do with food. Actually, quite a bit! With so many little mouths to feed, several times a day, together we create a lot of dishes. I think I ask my husband at least once a week, "Who made all this mess? And who's going to clean it up?!?" Me. I am the human dish washer. Not that my husband doesn't help, he does, but he can only do so much.
Click to continue reading Meal Time: Clean Up
Posted by Janie Franz Categories: Trends, Food Trivia, Coffee,
Coffee has replaced the malt or soda as the drink of choice among teens who want to hang out with their friends in a place with ambiance. Coffeehouses are springing up all over the country, providing rich brews mixed with lots of milk and whipped cream. Though there has been some concern about caffeine content, most teens aim for lattes, mochas, and cappuccinos, drinks with lots of steamed milk. Some are even savvy enough to order decaf. Recent research is showing that coffee, in moderation, may even help with concentration. And for some parents trying to get more milk into their teenagers, coffeehouse brews aren't that bad.
Not only are teens drinking more coffee, but they are also dispensing these savory drinks at local coffeehouses. In fact, some of these young baristas are so into coffee that they go on to compete in national latte art competitions. That is, they create images in the foamy milk: hearts, leaves, trees, etc.
© Gear Live Media, LLC. 2007 – User-posted content, unless source is quoted, is licensed under a Creative Commons Public Domain License. Gear Live graphics, logos, designs, page headers, button icons, videos, articles, blogs, forums, scripts and other service names are the trademarks of Gear Live Inc.