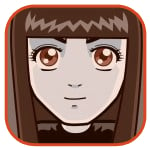 Posted by Sheila Franklin Categories: Accessories, Nintendo, Retro, Wii,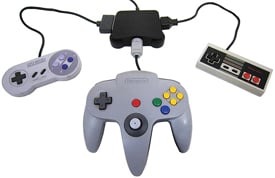 Developer Komodo has teamed with distributors Innex and created a Retro Adapter that lets you connect your NES, SNES or N64 controller (including the Analog Stick) with your Wii console. Plug into an open GameCube port and it will work with both 1st and 3rd party accessories. The Komodo adapter should be making its official debut at the E3 2009 and be available in mid-June for about $20.00.
Read More

| crave

Posted by Paul Hamilton Categories: Adventure, Nintendo, Platformers, Retro, Third Person Shooters, Virtual Console, Wii, Xbox 360, Xbox Live Arcade,
People with virtual currency burning pixelated holes in their alternate reality pockets can check out the Xbox Live Arcade and the Wii Virtual Console this week for some new (or perhaps old) titles. The most exciting offerings this week look to be the Jeff Minter shooter Space Giraffe and the wonderful SNES classic, Super Metroid.
Click to continue reading Console Downloads Feature Space Bounty Hunters and Also Giraffes
Read More

| Nintendo Press Release

Posted by Chris Pereira Categories: Action, Nintendo, Retro, Virtual Console, Wii,
Following several weeks of overall disappointing releases, Nintendo has dropped three top-notch titles onto the Virtual Console this week. Now available are Donkey Kong Country 2: Diddy Kong's Quest, Streets of Rage 2, and Blazing Lasers. You may not be familiar with that last one, but it's an excellent vertical-scrolling shooter – and it's definitely worth the price tag at $6. And unless you've played them to death, there's no reason to not pick up DKC2 and SoR2 for $8 apiece.
Descriptions after the break.
Click to continue reading Virtual Console 4/21: I'm Blown Away By The Awesomeness
Posted by Gamer Andy Categories: MMORPG, Mods/Hacks, PlayStation 3, Retro, Square Enix, Xbox 360, GamerAndy,
Hi there folks, Andy here of GamerAndy Live! As the new kid on the block here at PlayFeed and Gear Live, I'm happy to be bring you episode 78 of our little exodus into the gaming stratosphere. Along the way you'll be bumrushed by by the astral maurader known as "Edie" and the cosmic butt-pirate called George. Our topics are many and varied. Our methods are uncoventional. Our show is Uncensored. Very uncensored.
If you're new to the show, then don't let talk of the Bloodthirsty Macarena(tm) throw you off - Listen in for a few shows and you'll be able to proudly claim "I am the master of Chapple Banditry!" along with our Hardcores currently residing in the forums.
With that said, I'm warning you right now Big spoiler in this episode - NAZIS LOSE!
SHOW NOTES FOR EPISODE 78:
Retailers Violating Release Dates and the People Who Hate Them
In the GamerAndy Live! Mailbag:
What the hell is Tom Clancy's End Wars?
Any news on Fable 2?
Mass Effect delayed?
What do you think about the Silent Hill 5 interview?
Is the market ready for the next big MMORPG? Yes. Is it Lord of the Rings Online? No.
Sony Online Entertainment nukes accounts of lazy Star Wars Galaxies players
Kane and Lynch, Crossfire not XBox 360 exclusives anymore
80GB PS3 Rumor
Everybody loves Roscoe's Chicken and Waffles...
Posted by Christopher Sasaki Categories: Nintendo, Retro, Virtual Console, Wii,
Headlining this week's Virtual Console releases is the original Castlevania for the NES. At 500 points, gamers can explore the origins of the franchise as it appeared on the Nintendo Entertainment System. Those used to the later entries in the series will find this version somewhat limiting – the exploration elements and many of the control refinements wouldn't appear until later releases. Instead, gamers will get six levels of sidescrolling platform action.
The other two releases this week could best be defined as "cult classics." The Legend of the Mystical Ninja for the SNES probably didn't have a huge following on its original release, but for 800 points gamers can experience the US-localized version of the Goemon series from Japan. The gameplay is fairly strong and graphically the game holds its own. Shockman is another arcade like title that mixes standard platforming stages with 2D shooting. At 600 points, the Turbografx16 title adds another quirky entry into the Virtual Console catalog.
Nintendo's full press release continues below.
Click to continue reading Castlevania Heads To Virtual Console
Posted by Christopher Sasaki Categories: Nintendo, Retro, SEGA, Wii,

Nintendo continues to drop additional Virtual Console titles for the Wii; this week three new titles are available, one each for the NES, SNES, and Genesis. The biggest title this week would probably be Super Ghouls 'n Ghosts for the SNES at 800 Points. The game is one of the classic platformers for the SNES and was known for its graphical excellence on the console as well as its strong difficulty.
Sword of Vermillion at 800 Points for the Genesis is worth more as a novelty than anything else. The game is an early RPG, developed by AM2. AM2 is probably more well known for their arcade efforts, including Daytona USA and Virtua Fighter, but Sword of Vermillion does little but give some insight into the development team's history. There are some interesting action-RPG type elements in the game, but otherwise, the title isn't really that interesting.
Elevator Action for the NES at 500 Points steps back in time to early arcade-style gameplay. There's not a lot of depth here, and it might be worth tracking down the original arcade version rather than playing the NES port, but there are worse games than this for the NES.
Nintendo's full press release continues below.
Click to continue reading This Week's Virtual Console Titles
Posted by Christopher Sasaki Categories: Nintendo, Retro, Wii,
Nintendo's Virtual Console releases for the week include titles for the Super Nintendo, Genesis, and TurboGrafx-16. Of main interest to gamers will be Nintendo's Super Mario World, one of the original launch title for the Super NES and a strong entry in the Super Mario platformer franchise. The game, like other SNES titles, sells for 800 points. Also arriving this week is Gain Ground for the Sega Genesis at 800 points and VIGILANTE for the TurboGrafx-16 at 600 points.
Nintendo's full press release continues after the jump.
Click to continue reading Super Mario World Headlining Virtual Console Monday
Posted by Christopher Sasaki Categories: Nintendo, Retro, Role Playing Games, Wii,
Wii owners in North America should now be able to download the classic Legend of Zelda: A Link To The Past via Nintendo's online store for the virtual console. The title sells for the standard 800 point level set for Super Nintendo games on the service. Link To The Past is one of the high points of the franchise and the gameplay holds up well after all these years; 800 points for this is a bargain.
Read More

| Nintendo Gal
Posted by Christopher Sasaki Categories: Nintendo, Retro, Wii,
This "Virtual Console" Monday brings three new classic titles online for the Wii. This week, gamers get two shooters, Xevious for the NES at 500 points, R-Type III: The Third Lightning for the Super NES at 800 points, and a racing game, Moto Roader for the TurboGrafx-16 at 600 points. Gamers will probably be most familiar with Namco's Xevious and Irem's R-Type series, but Hudsonsoft's Moto Roader may be worth a look for the 5 player multiplayer racing.
Read More

| Nintendo
Posted by Christopher Sasaki Categories: Nintendo, Wii,
Nintendo of America today announced that Wii owners will have 32 Wii titles and 30 Virtual Console titles available within the first five weeks of the console's launch date. While third-party software publishers are still polishing Wii software that may or may not be available day-and-date with the console's launch, Nintendo promises that most or all of these will hit the launch window. As titles get locked down, Nintendo will release an official software launch list. Games appearing within the first five weeks of launch include Nintendo's Legend of Zelda: Twilight Princess and Excite Truck, along with a host of titles from premiere third-party publishers like Activision, Atari, EA, Konami, Sega, and Ubisoft.
Nintendo is also promising 30 Virtual Console games before the end of December, including classic games from the Nintendo Entertainment System (NES), Super Nintendo (SNES), Nintendo 64, Sega Genesis, and NEC's TurboGrafx16.
A full list of the launch window titles for both the Wii and the Virtual Console continue below in Nintendo's official press release.
Click to continue reading 62 Games In Wii's First Five Weeks
© Gear Live Media, LLC. 2007 – User-posted content, unless source is quoted, is licensed under a Creative Commons Public Domain License. Gear Live graphics, logos, designs, page headers, button icons, videos, articles, blogs, forums, scripts and other service names are the trademarks of Gear Live Inc.