Posted by Dennis Velasco Categories: Editorial, Fantasy, Front Office, NFL,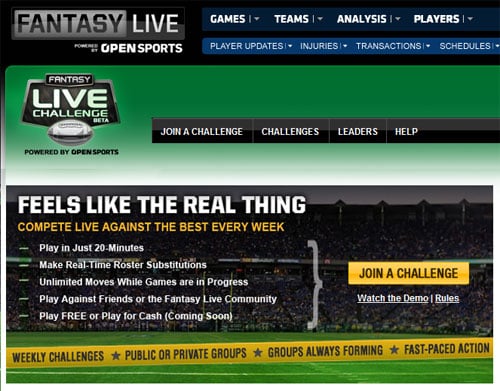 Sundays in the fall… for every red-blooded sports fan, it means being lost from noon to midnight in all things NFL, including pre-game and post-game analysis. For about 12 whole hours, NFL fans immerse themselves in the game that they love and if this describes you, do you think you have 20 minutes, 1/36 of your NFL time, to have some fun and win some great prizes? Let's be honest, your favorite NFL team will only play about three hours and you'll have some time, so spend it playing Fantasy Live's Fantasy Live Challenge!
Fantasy Live Challenge is a very abbreviated version of the ever-popular game of fantasy football. Instead of the tediousness of drafting, the feeling of disappointment because you missed out on a certain player, and the waiting game of knowing if you've won or not, Fantasy Live Challenge is a quick game of competitive satisfaction where you select players in games happening in real-time during a designated 20-minute period.
First off, you'll need to join a competition and then select one quarterback, two running backs, two wide receivers, one tight end, and one kicker and hope they all score as much as possible in your 20 minutes. You can even create your own challenge and play against friends to see which one of you knows their football and can prove it! Since there is a possibility of playing multiple games during the day, you can prove your football knowledge over and over again!
Fantasy Live's Fantasy Live Challenge is addictive and gets your attention whole-heartedly, so drop everything and play! It will be the best and most intense 20 minutes you'll spend on a Sunday.

Posted by Phil Partington Categories: Fantasy, NBA, NCAA, College Basketball,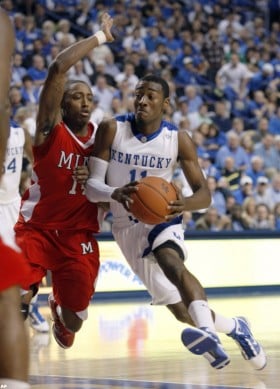 June is the month for the NBA Draft, when fans and experts alike chart players and teams to determine which future prospect will be taken by which team. The process is both exciting and captivating, as it hints at the future of many NBA ball clubs. Yet, NBA Draft buzz doesn't start in June. Even though the college basketball season is just underway, murmurings of where players might go in the 2010 NBA Draft have already surfaced. Here's an early look at how the draft might shape up.
1. New Jersey Nets select PG John Wall, Kentucky, 6-4, 195lbs
Wall is the consensus top pick at this point. Wall has great size and athleticism for a point guard. After six games, he's averaging 18.5 ppg, 7.8 apg, 4.0 rpg, 2.5 spg, while shooting 56% from the field and 80% from the line. He somewhat resembles Derrick Rose. Though the Nets have Devin Harris, it's hard to imagine them passing on a potential superstar like Wall.
Click to continue reading 2010 NBA Mock Draft December Version

Posted by Phil Partington Categories: Fantasy, NBA,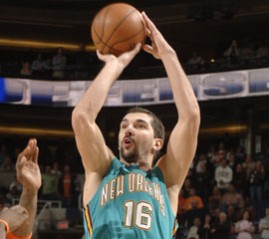 One month of the 2009-2010 NBA season is nearing an end and the rabid excitement of many fantasy basketball team owners has calmed a bit, which is why now is the perfect time to grab those waiver wire steals. There are several factors that can suddenly change the stripes of a fantasy player, including injuries to other players, trades, and other changes in circumstances. Here are players to nab if they're still available in your league's waiver wire or free agent listings:
Peja Stojakovic, New Orleans Hornets
Need three-point shooting? Peja's sunk 15 treys in the last three games. With Chris Paul out for a month, Peja's trying to be more of a leader and is getting more shots as a result. He barely gets any turnovers and usually shoots solid percentages, so go ahead and grab him if he's available.
Dahntay Jones, Indiana Pacers
Jones has earned a spot in the starting rotation and the return of Troy Murphy shouldn't hurt his minutes at all. Murphy's return will probably have more of a negative effect on center Roy Hibbert's minutes. Jones is a do-it-all forward, almost like a poor man's Danny Granger. In the last four games, he's averaged 19.5 ppg, 4.5 rbpg, 2.0 spg, and 1.8 bspg, while shooting 51% from the field.
Darren Collison, New Orleans Hornets
Collison is a rookie and he hasn't collected as many threes or steals as one might want in a point guard, but in Chris Paul's absence, he's been solid, averaging 15.0 ppg and 7.0 apg with low turnovers, while shooting 94% from the line in four games. He should only get better as he gains more and more confidence as the team's starting point guard.
Click to continue reading December 2010 NBA Fantasy Waiver Steals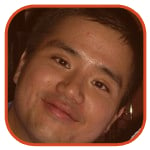 The Toronto Raptors have hit the road for most of November. My buddy Larry has been fuming over their lack of defense. Ironically he was loudest during a two-game stretch where they held their opponents to under 90 points. Granted, he makes a good point. When only the Golden State Warriors and New York Knicks rank below you in opposing team scoring, it should send a message that the D needs to be cranked up.
The Miami Heat came to town riding low on a similar three-game losing streak. These two downward trending teams meeting each other resemble the proverbial unstoppable force against the immovable object, only much less impressive. I had not been to a game since the thrilling season opener win against LeBron James and the Cleveland Cavaliers. Here are my first-hand impressions of the game, with of course some fantasy spin thrown in when possible.
Click to continue reading First hand review: Miami Heat at Toronto Raptors

Posted by Phil Partington Categories: Editorial, Fantasy, NBA,
At this early point of the NBA fantasy season, it's tough to know what to do. Whether to have a fire sale and completely rearrange a team, whether to make a few bold moves, or whether to sit tight. It all depends on the fantasy owner, but there are some rules of thumb to follow. Here are some suggested approaches to various rotisserie fantasy basketball situations. In some cases, the same might be applied to head-to-head.
Getting Crushed in One, Two, or Three Statistical Categories ("Stat Cats")
At this point in the season, it's important not to panic. Remember, it's a long season and fantasy basketball is a marathon, not a sprint. However, if at this point, your team is getting crushed in one to three stat cats, without possibility of remedy (perhaps a player who might help in that category is due back from an injury soon), it might be prudent to try to balance out the team with a trade. In head-to-head, balance isn't as important as it is in rotisserie.
Assess the situation. If your team is dominating in one or two categories, identify players on the team who perform well in those categories and make trade offers to teams who struggle in that stat cat. Be persistent. Trades can be tough to pull off, so don't give up after one or two tries. Also, ensure your team can afford to be without that player. For instance, if a manager tries to trade Chris Bosh because his rebounding isn't needed, keep in mind that he also scores points and shoots well from the field.
Click to continue reading NBA Fantasy Basketball Early Season Guide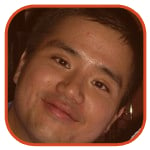 The NBA schedule saw a full slate of games last night, and I am up early to make sure the garbage gets to the curb on time. Let us blast through the box scores, focusing on one or two players from each team and their fantasy basketball relevance.
Indiana 108, Golden State 94. Even with all the dysfunction in Golden State, the team usually puts up 100 points a night, but the Pacers outpaced andoutgunned them this game. Anthony Randolph has made a fantasy comeback, and had 17 pts, 13 rebs, 3 stl and 2 blk on his line last night. Owners need to see what happens to him when Andris Biedrins comes back because coach Don Nelson has not shown him much love at all with his playing time. On the Pacers, Tyler Hansbrough managed to put up 12 shots and get to the line eight times in just over 16 minutes of play. He finished with 11 points and 8 boards with a block, so might be worth a gander in deep leagues as a final bench spot guy.
Click to continue reading NBA Score Boxing: November 12, 2009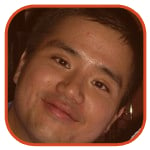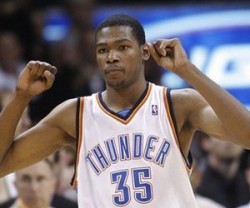 I appreciate musical mash-ups. Fantasy Alphabet will be my mash-up combining articles that look at hot waiver wire pick-ups, players of the week, and notable injuries. The format will consist of quick hits focusing on one player per team, and arranged in alphabetical order to help make quick scanning easier.

Dallas Mavericks: Erick Dampier. It looks like one crazy season ahead if Dampier can generate significant fantasy buzz. Since arriving in Dallas, he has never averaged double digits in points or rebounding, but so far he is doing just that. He has also pumped up his shot-blocking. Consider him as a sneaky play for the short-term as he could net you wins in the big ball categories (he has also been shooting 66%!), but the long-term outlook remains capped on the low side.
Click to continue reading NBA Fantasy Alphabet: Western Conference, Week 2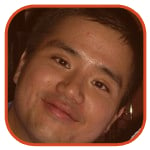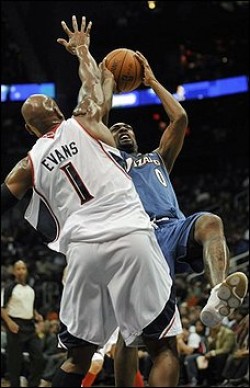 I appreciate musical mash-ups. Fantasy Alphabet will be my mash-up combining articles that look at hot waiver wire pick-ups, players of the week, and notable injuries. The format will consist of quick hits focusing on one player per team, and arranged in alphabetical order to help make quick scanning easier. This week, I arrange the teams in reverse alphabetical order because I want to shine the spotlight on the artist, I mean player formally known as Agent Zero.
Washington Wizards: Gilbert Arenas. I experienced immediate non-buyer's remorse on Arenas. Over his first four games, he averaged 36 minutes of playing time while putting up 26.5 ppg on 47.3% shooting and 6.3 apg. On the down side, he has coughed the ball up four times a game, and has shot less than 80% from the charity stripe. Yet his threats to curb his three-point shooting have not come to pass, as he has drained two moneyballs a game. I took Andre Iguodala over him in one league after much deliberation, and opted for Vince Carter in another, and feel okay about those selections, but will still shake my head in frustration any night Gilbert goes for 30-plus. He came back to earth a bit on Friday against the Pacers as the Wizards were down pretty much from the start, but he shot 50% for the game so there are still good signs from a down game.
Click to continue reading NBA Fantasy Alphabet: Eastern Conference, Week 2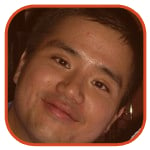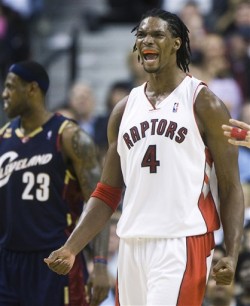 Most of the sports world focus rests in New York tonight, as the Yankees and Phillies kick off the World Series. I joined a packed house as the Toronto Raptors kicked off their season against the Cleveland Cavaliers. Some observations need to be made directly, and what follows are some overall impressions of the game, the teams, and the players, as well as some fantasy impact thrown in.
Click to continue reading First hand review of Toronto Raptors Season Opener 2009-2010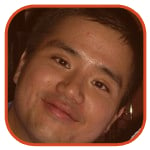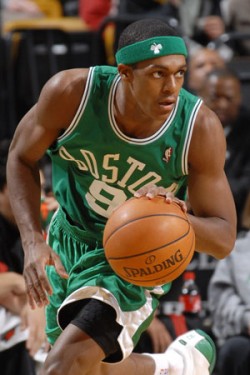 There is a lot of good talent available in the early middle rounds, but most of the players typically taken in this area have at least one tragic fantasy flaw. Otherwise people would nab them earlier on. This looks like a good year to pass on the top tiers of point guards, because a lot of useful players at that position are available now. Let us break down the players typically taken in the fifth round based on Yahoo's average draft position rankings. As always, the advice will focus on head-to-head leagues.
Click to continue reading Fantasy NBA: Analysis of Fifth Round
© Gear Live Media, LLC. 2007 – User-posted content, unless source is quoted, is licensed under a Creative Commons Public Domain License. Gear Live graphics, logos, designs, page headers, button icons, videos, articles, blogs, forums, scripts and other service names are the trademarks of Gear Live Inc.