Posted by Jeff Chan Categories: Athletes, Editorial, Gear, Kudos, NFL,
There is still doubt as to whether Reggie Bush will be able to wear his favorite number 5 on the back of his jersey come the start of the NFL season. Figures from retailers have cooled off in sales, because of the uncertainty. Although to us, that is not the big story. The big story is a heart-warming, charitable one. Bush will donate 25 percent of all royalties he will receive as a result of jersey sales toward Hurricane Katrina charities regardless of what number he has on his jersey. That wasn't the only good charitable act Bush has been apart of recently. Bush recently contributed $50,000 to the Holy Rosary School, a learning disabilities school in Louisiana that was in danger of closing. I just want to get give my applause to Reggie Bush for his good deeds in the age of the spoiled and pampered athlete.

Read More

| Darren Rovell
Reggie Bush shouldn't feel too bad about not being the number one pick in the NFL draft, he is already feeling the love from the New Orleans Saints fans. Reebok will be cashing in on an advance order of 15,000 Reggie Bush jerseys. This record breaking sales number is over double of the demand for last year's number one pick Alex Smith. Fans are hoping that Bush will be able to continue to wear number 5, despite the NFL's rule for running backs to be numbered 20-49.

Read More

| Darren Rovell
Under Armour, a sports apparel company usually has some entertaining commercials of a fictional team captain pumping up his team for a football game. These commercials brings the phrase "We must protect this house!" into the mainstream culture. Their newest commercial features either the most jacked kid I've ever seen besides the worlds strongest boy, or a team of muscular midgets causing a ruckus on the team bus. I think this commercial sends the wrong message to pee-wee football, I think it would encourage little 11 year old boys to start juicing on steroids.
Posted by Jeff Chan Categories: Athletes, Gear, NBA, Rumors,
This season Kobe Bryant had cleaned up his image from last year's Colorado rape accusations with his exceptional play. With his popularity on the rise again, we'll just see how much the fans will embrace him by how many people will go out and buy his jersey. Bryant will be changing his jersey number to 24, his old high school number. Darren Rovell, ESPN business writer thinks this is the most significant number change since Michael Jordan's switch of 23 to 45.

Read More

| Darren Rovell
A basketball sneaker that knows when your jumping to block that shot and to support your ankles when you come back down from the air? Impossible? Not anymore - on May 17, 2006, Adidas will unveil it's Adidas 1.1 B, the first basketball shoe with intelligent cushioning. This sneaker will actually have a microprocessor inside and runs on a light lithium battery. Adidas is banking this shoe will be as big of a hype as the Apple iPod has been. Being the first on the block with these will cost a sticker shock price of $250. This shoe has already made waves when it was originally announced, being mentioned in Popular Science and Time Magazine.

Read More

| Michael McCarthy
Wow, I thought this was a pretty cool product that Reebok decided to cash in with. Now fans can show their team pride on their feet, I'm just surprised this hasn't been though of earlier. Forget the traditional baseball cap or team jersey, your shoes will tell the story. Especially good for the socially inept fans, where now your shoes can start a conversation with the girl you have been too nervous to talk to, an instant ice-breaker. Or cool kids can have street cred by wearing a St. Louis Cardinal shoe not because they like baseball but because it's the home-town of rap star Nelly.

Read More

| Reebok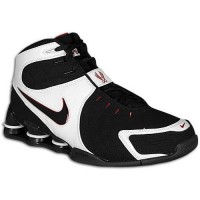 Nike recently unveiled the new Vince Carter Nike Shox VC V basketball shoe commercial. The commercial features some awesome dunks that Carter has done in his career, like the huge flush he did with Alonzo Mourning contesting the shot, and the famous dunk over Frederic Weis in the 2000 Olympics. What is unique about this commercial from other basketball themed sneaker commercials is the music of the song Slam by rap group Onyx being played in the background. The song, which was originally released back in 1994, may now gain exposure to some of the younger basketball fans. Other Onyx songs ended up being synonymous with street basketball, such as their 1998 hit, Shut 'Em Down. Want to be the envy of the other ballers on the court? Better get ready to shell out $109.
© Gear Live Media, LLC. 2007 – User-posted content, unless source is quoted, is licensed under a Creative Commons Public Domain License. Gear Live graphics, logos, designs, page headers, button icons, videos, articles, blogs, forums, scripts and other service names are the trademarks of Gear Live Inc.