Monday November 9, 2009 10:02 pm
NBA Fantasy Alphabet: Western Conference, Week 2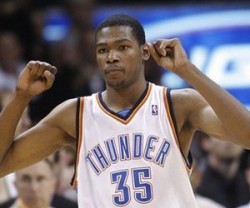 I appreciate musical mash-ups. Fantasy Alphabet will be my mash-up combining articles that look at hot waiver wire pick-ups, players of the week, and notable injuries. The format will consist of quick hits focusing on one player per team, and arranged in alphabetical order to help make quick scanning easier.

Dallas Mavericks: Erick Dampier. It looks like one crazy season ahead if Dampier can generate significant fantasy buzz. Since arriving in Dallas, he has never averaged double digits in points or rebounding, but so far he is doing just that. He has also pumped up his shot-blocking. Consider him as a sneaky play for the short-term as he could net you wins in the big ball categories (he has also been shooting 66%!), but the long-term outlook remains capped on the low side.
Denver Nuggets: Carmelo Anthony. Time to give 'Melo his props. He has repeatedly been dissed in fantasy circles who see him as an overrated player who scores and does nothing else. First of all, he continues to score this season, except he is doing it even more. Second of all, the six boards and three assists look healthy from the small forward spot. Thirdly, so far he has upped his three-point shooting to 1.2 treys a game, and his steals are up to 1.5 per contest. He certainly can rate comparisons to first roundersKevin Durant and Danny Granger at this point. The "Melo for MVP" chants are premature, but yet they are weighted in substance.
Golden State Warriors: Anthony Randolph. Don Nelson must comb through fantasy sites and blogs, right? He must have it in for us, the fantasy nation. Why else would you trot Randolph out there in the pre-season logging heavy minutes and showing us what he can do only to nail him to the bench one the real season starts? There are some signs of hope, as Randolph played more than 29 minutes on Friday, and scored 13 point while grabbing 14 boards, 2 steals and a block. Other sites have some tepid endorsement of cutting him outright. If you used a fifth or sixth round pick on him, that is one big, tough pill to swallow. I suggest riding it out. Ron Chow and I went with him as a fun pick in Dennis Velasco's expert league, and I would be lying if I said there were no regrets at this point.
Houston Rockets: Tracy McGrady. No news at all and he might not warrant a look even when he does come back. Just wanted to point that out.
Los Angeles Clippers: Baron Davis. It has been one yo-yo trip having Baron so far. He has a low of two points in the season opener, but a high of 25 points, though that was against the Warriors, and almost everyone can go for 20-plus against Golden State. Mostly shooting blanks from long-range, Baron has also coughed the ball up three times a game. All the warts are there, and his scoring is down, but he can still live up to his fourth-round fantasy draft pick status.
Los Angeles Lakers: Pau Gasol. Gasol missed the game on Friday. There had been some rumblings that he was due to return. Andrew Bynum missed the game against Memphis, so the front-court situation in Laker land definitely deserves monitoring.
Memphis Grizzlies: Allen Iverson. How much would you pay to attend a press conference where Iverson was forced to answer questions about "practice" and "the bench" for an hour? Hey, some people just do not have it in them to be the good soldier that falls into line. His line of 14 points and 4-5 dimes makes for a decent return for a ninth or tenth rounder. Rudy Gay and Mike Conley and O.J. Mayo are still on the fantasy radar, so fantasy-wise this situation has not been terrible at all. He has been in the league for seemingly forever, but is still "only" 34, and there have been many examples of elite players doing well into their mid-to-late 30s.
Minnesota Timberwolves: Kevin Love. News broke earlier this week that Love is feeling good and is targeting a November 20th return, which would cut his recovery time almost in half. Ron Chow picked him up and stashed him in our main league together only to promptly get hit with the Tyrus Thomas injury, so be careful if you want to play the hide away game. Besides, are we to believe that Love and his bones heal faster than anybody else's on Earth? Still, double-double machines with good percentages do not grow on trees, so consider it a win if he plays before the end of the month, and pat yourself on the back if you gave yourself a chance to reap the reward.
New Orleans Hornets: Julian Wright. It is not really happening for Wright. Granted, this is a biased opinion based on box score breakdown and number crunching. In a standard 12-team, 13-man roster league, more or less every starter in the league warrants a spot on a fantasy team. More or less. Wright is one of the few starters in the league who carries little fantasy relevance; he has very pedestrian averages of 5.7 ppg and 4.8 rpg so far. I spent a last pick on him hoping he would be an energy guy who could put up 12-13 ppg and 6-7 rpg with decent percentages. Alas, no.
Oklahoma City Thunder: Kevin Durant. Is Durantula worthy of fantasy top five status right now? Maybe not, surprisingly. It is early still. Yet, I fully expected his scoring average to easily clear 28 ppg. Though nice to see his work on the boards increase, his numbers in three-pointers, assists and steals are all under last year's averages. I expect a run of 30-plus point games very soon, and the other numbers should also work themselves out.
Phoenix Suns: Channing Frye. The consistency will not be there, but Frye and his new three-point range deserve a roster spot in every fantasy basketball league out there. He has averaged 2.7 moneyballs so far! Provided you have other big men who can bring home the bacon with their rebounding and shot-blocking, Frye works very well as a fantasy bench player.
Portland Trail Blazers: Andre Miller. Miller entered the starting lineup Friday against the Spurs, alongside Steve Blake. It is not his fault, but he will not live up to his average draft position. Even at his best his lack of a three-point shot was a significant limitation. Fantasy owners were able to overlook that because his scoring was decent, and his assist totals were monster.
Sacramento Kings: Kevin Martin. In case you missed it, on Friday news came out that Martin will opt for surgery and miss eight weeks of action. I was happy to have him fall to me and took him with the 35th pick overall and was truly enjoying his mega-production. It is a big blow, especially if you play in a league that allows daily roster moves. Tyreke Evans now has every opportunity to score, and Beno Udrih is worth a pick-up.
San Antonio Spurs: Tim Duncan. In a couple of easy wins to start the season, the Spurs limited TD's time on the court to less than 22 and a half minutes. However, the Spurs are now 2-3 and Tony Parker injured his ankle Friday night. Therefore, this notion that they can rest their stars and coast to a 60 win season might have to be tossed out the window. In which case, TD owners should expect a bump up in production.
Utah Jazz: Paul Millsap. The potential is there, if and when the Jazz make a move with Carlos Boozer. But until then, Millsap is pretty expendable, as his 10 and 6 can be found on the waiver on any given night. His blocks might save him from the chopping block, but right now if you need blocks, you might want to consider, yikes, Erick Dampier. I have not heard any hot rumors from Utah lately, so maybe the fantasy nation simply needs to wait until next season before Millsap rises to prominence for good.
© Gear Live Media, LLC. 2007 – User-posted content, unless source is quoted, is licensed under a Creative Commons Public Domain License. Gear Live graphics, logos, designs, page headers, button icons, videos, articles, blogs, forums, scripts and other service names are the trademarks of Gear Live Inc.