Posted by Dennis Velasco Categories: Editorial, NBA, Playoffs,
DV and Chris delve into each series of the Western Conference NBA Playoffs with the San Antonio Spurs versus the Memphis Grizzlies, Los Angeles Lakers against the New Orleans Hornets, Dallas Mavericks versus Portland Trail Blazers, and Oklahoma City Thunder versus the surging Denver Nuggets. Once again the Spurs are one of the favorites to take the west led by the trio of Tony Parker, Manu Ginobili, and Tim Duncan. However, Kobe Bryant, Pau Gasol, and the rest of the Lakers are the defending champs. The Dallas Mavericks came close to a title several years ago and the Oklahoma City Thunder look like they'll be contenders for several years with the core duo of Kevin Durant and Russell Westbrook. Who takes the Western Conference series? Peep the opinion of DV and Chris!
Also give a listen to the Eastern Conference NBA Playoffs Preview! Thanks for supporting the EndScore Report and don't forget to LIKE our Facebook page!

Posted by Dennis Velasco Categories: Athletes, Kudos, NBA, News,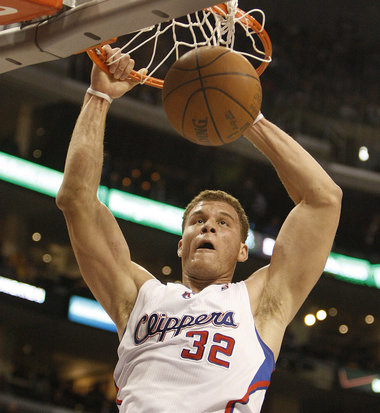 Los Angeles Clippers rookie and odds-on favorite for NBA Rookie of the Year honors, Blake Griffin, is being praised about half a season into his NBA career. Griffin was named one of the Western Conference's All-Star reserves, joining the San Antonio Spurs' Manu Ginobili and Tim Duncan, Dallas Mavericks' Dirk Nowitzki, Los Angeles Lakers big man Pau Gasol, Utah Jazz point guard Deron Williams, and fellow first-time All-Star, Oklahoma City Thunder guard Russell Westbrook.
Click to continue reading 2011 NBA All-Star reserves announced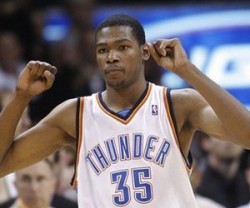 I appreciate musical mash-ups. Fantasy Alphabet will be my mash-up combining articles that look at hot waiver wire pick-ups, players of the week, and notable injuries. The format will consist of quick hits focusing on one player per team, and arranged in alphabetical order to help make quick scanning easier.

Dallas Mavericks: Erick Dampier. It looks like one crazy season ahead if Dampier can generate significant fantasy buzz. Since arriving in Dallas, he has never averaged double digits in points or rebounding, but so far he is doing just that. He has also pumped up his shot-blocking. Consider him as a sneaky play for the short-term as he could net you wins in the big ball categories (he has also been shooting 66%!), but the long-term outlook remains capped on the low side.
Click to continue reading NBA Fantasy Alphabet: Western Conference, Week 2

Posted by Phil Partington Categories: Editorial, NBA,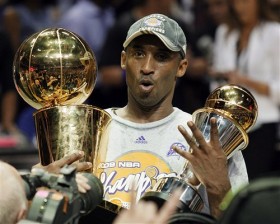 The Los Angeles Lakers are looking like a fantasy basketball team this year. Coach Phil Jackson has the ideal challenge of which star to play at what times. Beyond that, the NBA's Pacific Division should be competitive in 2009-2010. Steve Nash and Amar'e Stoudemire hope to lead the Phoenix Suns back to the playoffs after a disappointing season in 2008-2009; the Los Angeles Clippers look like a playoff team on paper if they can stay healthy; the Golden State Warriors have plenty of talent, but no chemistry, defense or size; and the Sacramento Kings also hope its stars can stay healthy and the younger talent can continue to improve. Ring the bell, the fight for the Pacific Division is about to start.
Click to continue reading 2009-2010 NBA Pacific Division Preview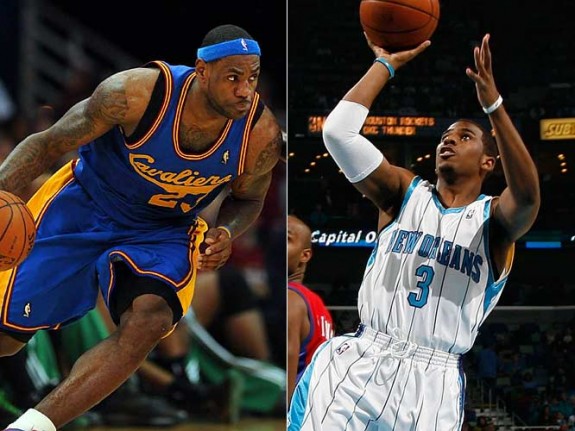 The one-man mock draft has been fun, but as "one man" writing, I would be lucky to get deep into the fourth round before the season opens. Thus, the focus will shift on topics such as analyzing average draft position (or ADP), which will hopefully benefit those still yet to draft.
Fantasy basketball writing, in general, is still dominated by emphasis on roto leagues. Let us take a look at typical first round selections, but from a head-to-head standpoint. Comments will be geared towards a H2H league that employs the standard nine categories (FG%, FT%, 3PTM, Pts, Rebs, Ast, Stl, Blk and TO).
Click to continue reading Fantasy NBA: Analysis of First Round
Kevin Garnett. Gilbert Arenas. Yao Ming. Steve Nash. Tim Duncan. Jason Kidd. Be it the injury bug or Father Time shortening the list of tried and true first round fantasy talent, there is a palpable drop in headlining players even though the second round has only just started. Thus, mock draft gurus have this next player going off the board within the top fifteen picks. For a roto league, this center-eligible player deserves early round consideration. In a head-to-head league, consistency remains important, but big game explosions can win match-ups almost by themselves. So let us examine whether drafting this player is merely a safe play; can he ride shotgun on your championship team?
Round 2, Pick 2: Pau Gasol, PF/C, Los Angeles Lakers
Click to continue reading One Man Mock Draft, Fantasy NBA 2009: Round 2, Pick 2
The first major injury disclaimer proclaimed in this mock draft, in the 50 games he played last season, this guy delivered. Battling back from an ACL injury can prove to be a tough task indeed, but the word on the street regarding his rehab has been quiet this summer, which hopefully indicates that it has gone well.
Drafting at the turn basically breaks down into two strategies when it comes to the top two picks: 1) Take one guard and one big man so you have the option of tailoring your team depending on what players are available in the later rounds or 2) Stacking two players who have similar strengths in an attempt to become very formidable in a few core categories at the expense of other categories you effectively punt. Generally at the top of a draft, the NBA players are so good that you do not have to give up on a category so early, with the notable exception being Dwight Howard and his free-throw percentage.
A friend of mine we call Dice, tabbed these two guys last year as his top two picks, so in a tribute to him, let's see how the one guard/one big guy tandem can work out for you.
Round 2, Pick 1: Al Jefferson, PF/C, Minnesota Timberwolves
Click to continue reading One Man Mock Draft: Fantasy NBA 2009: Round 2, Pick 1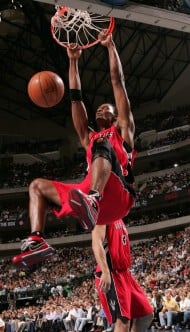 Part of the big free agent class of 2010, this next player is one of the three players most mentioned as guys who went off the board after the infamous Darko Milicic pick (Carmelo Anthony and Dwyane Wade are the other two guys). After two playoff appearances, everything went wrong with the Toronto Raptors last year. "CB4" however was a monster in head-to-head playoffs to close last season. In my friends and family league, a three-headed monster of Danny Granger, Troy Murphy and this player destroyed my team in the finals.
Round 1, Pick 11: Chris Bosh, PF/C, Toronto Raptors
Click to continue reading One Man Mock Draft, Fantasy NBA 2009: Round 1, Pick 11

Posted by Dennis Velasco Categories: Championship, Editorial, Kudos, NBA, Playoffs,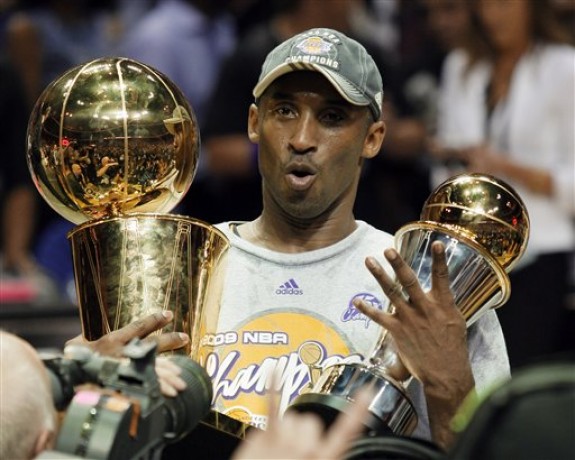 The Los Angeles Lakers beat the Orlando Magic four games to one in the NBA Finals, earning the team's 15th NBA title. Put in a historical perspective, they are now 15-15 in NBA Finals match-ups and are second only to the Boston Celtics and their 17 NBA titles for most championships by a franchise. Phil Jackson also moved ahead of Red Auerbach for the most titles by a head coach, winning his 10th NBA title, the fourth with the Lakers. His other six came with the Michael Jordan-led Chicago Bulls. Perhaps, most importantly, Kobe Bryant won a title with Shaquille O'Neal… okay, it's only important to all those that hated on Kobe and said he couldn't win a title without Shaq (this group includes Shaq himself), well, in your face!
Bryant was a symbol of will and determination and getting the job done. In fact, such ferocity and competitiveness hadn't been seen since Jordan took the court. And now, the monkey is off his back and if the Lakers can somehow sign both Trevor Ariza and Lamar Odom, the Lakers could win a few more championships. Pau Gasol and Andrew Bynum are locked in and provide great interior presences, Derek Fisher looks as if he can still play for a few years and it looks like Jordan Farmar will be ready to take up the PG mantle. Contractually, Jackson only has one more season left, but if the core group of players can stay intact, don't be surprised if he signs another extension. This season, Jackson seemed less stressed because of team chemsitry and the lack of two alpha males (Kobe and Shaq) going at it.
Congratulations to the Lakers and their fans. And to all the Kobe haters, bite it!
© Gear Live Media, LLC. 2007 – User-posted content, unless source is quoted, is licensed under a Creative Commons Public Domain License. Gear Live graphics, logos, designs, page headers, button icons, videos, articles, blogs, forums, scripts and other service names are the trademarks of Gear Live Inc.