Friday October 16, 2009 8:14 pm
Fantasy NBA: Analysis of First Round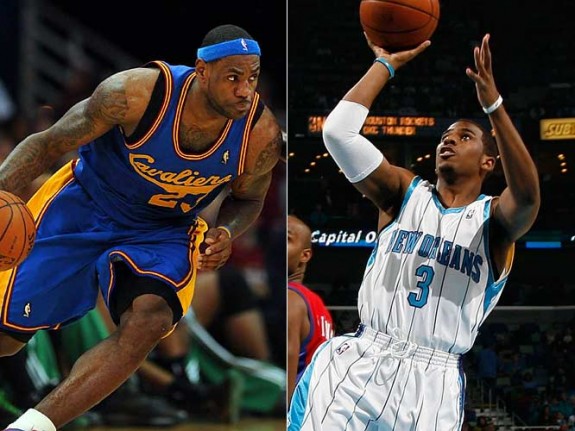 The one-man mock draft has been fun, but as "one man" writing, I would be lucky to get deep into the fourth round before the season opens. Thus, the focus will shift on topics such as analyzing average draft position (or ADP), which will hopefully benefit those still yet to draft.
Fantasy basketball writing, in general, is still dominated by emphasis on roto leagues. Let us take a look at typical first round selections, but from a head-to-head standpoint. Comments will be geared towards a H2H league that employs the standard nine categories (FG%, FT%, 3PTM, Pts, Rebs, Ast, Stl, Blk and TO).
Here is how the first round using Yahoo's average draft position numbers as of October 16, 2009.
1. Chris Paul, PG, New Orleans Hornets (1.5)
2. LeBron James, SF, Cleveland Cavaliers (1.8)
It remains a two-man race for top dog status in your league. A lot of people remain enamored by CP3 and his ability to lead the league in both assists and steals, and this love is well-founded. However, King James brings a lot of oomph in a H2H league and contributes more across the board. If Paul could hit 1.5 three-pointers a game, even the most loyal "witnesses" might have to give the nod to the current point god. If your league employs unusual categories like free-throws made, LeBron becomes the obvious pick.
3. Dwyane Wade, PG/SG, Miami Heat (3.4)
"Flash" should be the pick in the #3 spot. My brother-in-law told me he participated in a draft where someone picked Wade first overall, and even though it was only a mock draft, people skewered him. His three-point shooting has improved, and Wade rebounds and blocks well for a guard. Healthy last year, the injury risk is enough for me to agree with the masses; consider Wade the ultimate consolation prize if you miss out on the first or second pick.
4. Kobe Bryant, SG, Los Angeles Lakers (3.9)
5. Dirk Nowitzki, PF, Dallas Mavericks (5.8)
Kobe and Dirk represent the ol' reliable first-rounders. Many have called for a changing of the guard this year, and these guys have slipped out of the top six in a few mock drafts that I have seen. In any type of league, a first-round pick rarely wins you the grand prize, but it can certainly cost you a chance at the title. Ask anyone who drafted Allen Iverson or Elton Brand in the first round last year. Both of these players will continue to produce at a good clip, just not quite as good as in years past. That gives other players an opening to vault up into the top five.
6. Danny Granger, SG/SF/PF, Indiana Pacers (7.0)
7. Kevin Durant, SG/SF, Oklahoma City Thunder (7.4)
"Granny Danger" and "Durantula" are pretty similar players in terms of their fantasy numbers. Granger has more injury risk with his history of knee problems. Overriding that is the intriguing prospect of employing him as your starting shooting guard or starting power forward; he is a very unique play at those positions. Despite the criticism of his plus-minus numbers on ESPN, Durant is set to have a monster year. Do not expect him to be available in the seventh spot. I suspect leagues that drafted early went with Kobe and Dirk, but the mood has shifted towards these two up-and-comers.
8. Pau Gasol, PF/C, Los Angeles Lakers (9.4)
9. Amar'e Stoudemire, PF/C, Phoenix Suns (10.3)
10. Dwight Howard, C, Orlando Magic (10.8)
11. Chris Bosh, PF/C, Toronto Raptors (11.0)
These four players represent the first tier in center-eligible players. Al Jefferson seems to be holding up in the pre-season, so feel free to include him with this group as well (his ADP is 14.7). Equate Gasol to using a 5-wood off the tee, or perhaps taking an outside pitch and hitting it to the opposite field for a double. Roto heads love him and rightly so, but he lacks the big game potential the other three guys have here that proves very useful for H2H leagues. Having said that, if you plan to inherit risk later on in the draft, Gasol is a good player to nab early. Count me as among the group that considers Howard a top five pick for H2H leagues. Amar'e and CB4 should bring the goods, though both have some question marks surrounding their injury-riddled pasts.
12. Brandon Roy, PG/SG, Portland Trail Blazers (12.0)
Slightly behind guys like Kobe and Durant, and slightly ahead of guys like Joe Johnson and Andre Iguodala, Roy is a great value here. An all-around producer, Roy is one of my faves. I wonder why he has hesitated to commit to Team USA; he belongs in that group of next-gen players ready to carry the flag.
MORE ANALYSIS
First Round Analysis
Second Round Analysis
Third Round Analysis
Fourth Round Analysis
Fifth Round Analysis
Related Tags:
adp, amar'e stoudemire, amar'e stoudemire, amar'e stoudemire, amar'e stoudemire, amar'e stoudemire, amar'e stoudemire, average draft position, brandon roy, chris bosh, chris paul, danny granger, dirk nowitzki, dwight howard, dwyane wade, fantasy basketball, kevin durant, kobe bryant, lebron james, mock draft, nba, pau gasol, sidefeatured
© Gear Live Media, LLC. 2007 – User-posted content, unless source is quoted, is licensed under a Creative Commons Public Domain License. Gear Live graphics, logos, designs, page headers, button icons, videos, articles, blogs, forums, scripts and other service names are the trademarks of Gear Live Inc.