Posted by Dennis Velasco Categories: Athletes, Editorial, NBA, News,
In this edition of EndScore Report, DV and Chris look at what the two storied NBA franchises, the Boston Celtics and Los Angeles Lakers, could possibly do now that both are out of the NBA Playoffs. The Celtics lost to LeBron James, Dwyane Wade, and the rest of the Miami Heat, while the Lakers got swept by the Dallas Mavericks. In the case of the Lakers, would they trade two high-impact players to the Orlando Magic for Dwight Howard and an albatross contract such as Gilbert Arenas or Hedo Turkoglu's? A lot of it could depend on the head coach selection. Is there still another run for the Big Three of Paul Pierce, Kevin Garnett, and Ray Allen? We break down our thoughts HERE!
After listening, if you haven't already, you should LIKE our Facebook page!

Posted by Dennis Velasco Categories: Editorial, NBA, Playoffs,
The 2011 NBA Playoffs kicks off on Saturday, April 16th with the Eastern Conference's top-seeded Chicago Bulls matching up against the eighth-seeded Indiana Pacers at 1PM ET on ESPN. It's appropriate that the Bulls start the NBA postseason since they are also the NBA's top-seeded team, earning homecourt advantage throughout the playoffs with a regular season record of 62-20. So, how do the Eastern Conference series shake out for all of the playoff participants? Peep the preview below.
1. Chicago Bulls (62-20) vs. 8. Indiana Pacers (37-45)
The Bulls (36-5 at home; 26-15 on the road) are led by MVP-favorite Derrick Rose, but certainly have more than the dynamic point guard to thank for the organization's stellar success this season. The Bull have a good mix of scorers (Luol Deng, Carlos Boozer), defensive-minded big men (Joakim Noah, Taj Gibson) and solid role players (Ronnie Brewer, Kyle Korver). They were second overall in points allowed (91.3) and the new attitude of non-stop effort and defensive cohesiveness has a lot to do with new head coach, Tom Thibodeau, who has to be considered as the favorite Head Coach of the Year.
The Pacers (24-17 at home; 13-28 on the road) are almost a vagabond group that made the playoffs due to the overall weakness of the Eastern Conference as they are the only under-.500 team in the postseason. They made a spirited effort when assistant Frank Vogel was named interim head coach, going 20-18 and obviously made the playoffs. Danny Granger is the top talent in the group and while Darren Collison was a bit of a disappointment, other players stepped up their games, particularly Tyler Hansbrough, Josh McRoberts and Roy Hibbert. Rookie Paul George also showed flashes of big-time ability.
However, the Bulls will be too much for the Pacers who seem disjointed compared to the smooth-running machine that is the Bulls.
Prediction:
Bulls in four games.
Click to continue reading NBA Playoffs: Eastern Conference Preview

Posted by Dennis Velasco Categories: Editorial, NBA, Playoffs,
In this edition of the EndScore Report, DV and Chris look at all of the match-ups in the Eastern Conference NBA playoffs with the Chicago Bulls versus the Indiana Pacers, Miami Heat versus Philadelphia 76ers, Boston Celtics versus New York Knicks, and the Orlando Magic versus the Atlanta Hawks. Who will step up in the east? Derrick Rose and the Bulls look primed to take the conference, but the Heat and its Big Three of LeBron James, Dwyane Wade, and Chris Bosh won't go down easy. Neither will the "old" Big Three of the Celtics - Kevin Garnett, Ray Allen, and Paul Pierce - however, how will the trade of Kendrick Perkins affect the team. And, finally, how about the Magic and its big man, Dwight Howard. Are there implications to how the team's postseason results will affect his staying or leaving the team? Listen to what DV and Chris have to say!
Check out the Western Conference NBA Playoffs Preview and LIKE our Facebook page! Thanks for all of the listens and undying support... now tell your friends and family to listen!

Posted by Dennis Velasco Categories: Athletes, NBA, News, Trades,
The New Jersey Nets pulled off a coup by trading for Deron Williams of the Utah Jazz for Devin Harris, Derrick Favors, and two first round draft picks. The picks are the Nets' 2011 first round pick and the Golden State Warrior's 2012 first round pick, which the Nets received in the Marcus Williams trade. After a seven-month long serenade of Carmelo Anthony and ultimately failing, the Nets acted quickly in acquiring Williams, the superstar they hope to be the face of the franchise as they move into the Barclays Center in Brooklyn, New York. The hope is that Williams' presence will help lure other superstar free agents, particularly Dwight Howard of the Orlando Magic who can opt out of his contract after the 2011-12 season. The Nets hope that Williams is only the first step in many to come.
Read More

| ESPN New York

Posted by Dennis Velasco Categories: Athletes, NBA, News,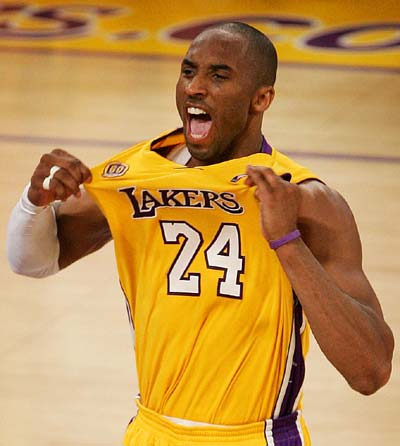 Kobe Bryant of the Los Angles Lakers is leading the overall voting for the 2011 NBA All-Star game, which is appropriate considering that the game will be played at the Staples Center in Los Angeles. Others leading the way for the Western Conference are Chris Paul at the one-guard, Kevin Durant and Carmelo Anthony at the forwards, and oddly, Yao Ming at center. Yao has been out for a bit now due to another injury issue and won't play in the game at all. When the coaches make their reserve selections, one of them will start in Yao's place. In the East, the leading guards in voting are Rajon Rondo and Dwyane Wade with LeBron James and Kevin Garnett in the lead in voting for forwards, and Dwight Howard at the five spot. The official starters will be named on January 27.
Read More

| ESPN

Posted by Phil Partington Categories: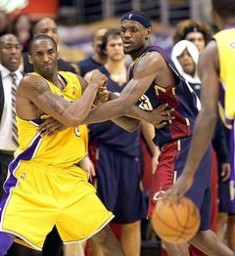 The first half of the season has brought many surprises and stories. The Lakers stand atop the NBA with a 37-12 record, and there's a five-way race between Carmelo Anthony, Kevin Durant, LeBron James, Kobe Bryant, and Dwayne Wade for the scoring title. With much of the second half of the season left to play, there's still a lot of basketball to determine who's most deserving of the NBA's prestigious individual awards. However, if the season ended today, here's how things might shape up.
Most Valuable Player Award
LeBron James, Cleveland Cavaliers - While plenty of arguments can be made for Kobe Bryant, the Cleveland Cavaliers aren't worth much without King James. While his turnovers could be lower (3.6 per game), he's averaging 29.5 ppg, 7.1 rbpg and 8.0 apg, while shooting over 50% from the field. He's also improved his shooting from beyond the arc to a more than respectable 36%.
Honorable Mention: Kobe Bryant, LA Lakers
Click to continue reading 2010 NBA Midseason Awards

Posted by Phil Partington Categories: Editorial, NBA,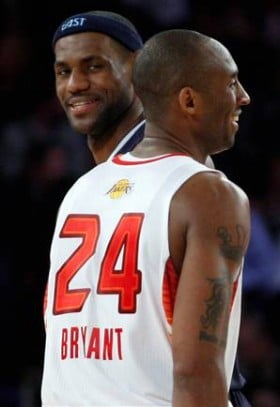 Fan voting is a major folly of the NBA All-Star Game. Each year, NBA fans are allowed to vote to determine which players start in the esteemed game. The problem with this format is that 1) fans on the whole don't know squat about which players actually deserve the honor, and 2) fans are biased. Since online voting has been allowed, Chinese players, such as Yao Ming, have had an unfair advantage due to their huge popularity in China. This leads to a tainted All-Star Game, where, in all likelihood Yao may be voted in as the starting center for the Western Conference, despite not playing in one single game this season to injury.
With that in mind, here are the players—after considering only the first month of the season—who deserve to start in the 2010 NBA All Star Game in February.
Click to continue reading December 2009 NBA All Star Potential Starters

Posted by Phil Partington Categories: Editorial, NBA,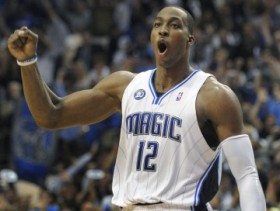 The Orlando Magic were so close to winning the 2009 NBA Championship, they could practically taste it. However, poor foul shooting by star big man Dwight Howard, and simply being overmatched by the Los Angeles Lakers snuffed that dream rather quickly. However, the Magic are back with renewed spirit and added depth in hopes of getting another shot. Meanwhile, the rest of the Southeast Division hasn't gotten any easier. Some believe it to be one of the toughest divisions in the league. The Washington Wizards also added depth and seem to be healthier than last year; the Miami Heat hope its young prospects can emerge to give Dwayne Wade a decent supporting cast; and the Atlanta Hawks look to take its immensely talented, but immensely unproven roster to the court again.
Click to continue reading 2009-2010 NBA Southeast Division Preview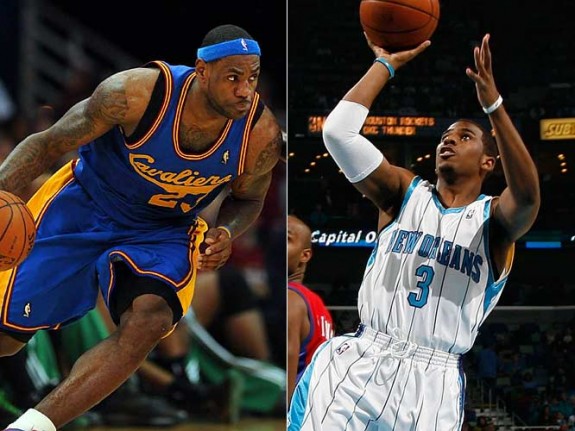 The one-man mock draft has been fun, but as "one man" writing, I would be lucky to get deep into the fourth round before the season opens. Thus, the focus will shift on topics such as analyzing average draft position (or ADP), which will hopefully benefit those still yet to draft.
Fantasy basketball writing, in general, is still dominated by emphasis on roto leagues. Let us take a look at typical first round selections, but from a head-to-head standpoint. Comments will be geared towards a H2H league that employs the standard nine categories (FG%, FT%, 3PTM, Pts, Rebs, Ast, Stl, Blk and TO).
Click to continue reading Fantasy NBA: Analysis of First Round
This is where you will find links to all the picks made in the mock draft thus far. Remember that this mock draft considers players for a head-to-head league using the standard nine categories (FG%, FT%, three-pointers made, points, rebounds, assists, steals, blocks and turnovers).
1.1 LeBron James, SF, Cleveland Cavaliers
1.2 Chris Paul, PG, New Orleans Hornets
1.3 Dwyane Wade, PG/SG, Miami Heat
1.4 Kobe Bryant, SG, Los Angeles Lakers
1.5 Kevin Durant, SG/SF, Oklahoma City Thunder
1.6 Dwight Howard, C, Orlando Magic
1.7 Danny Granger, SG/SF, Indiana Pacers
1.8 Dirk Nowitzki, PF, Dallas Mavericks
1.9 Amar'e Stoudemire, PF/C, Phoenix Suns
1.10 Brandon Roy, PG/SG, Portland Trail Blazers
1.11 Chris Bosh, PF/C, Toronto Raptors
1.12 Deron Williams, PG, Utah Jazz
2.1 Al Jefferson, PF/C, Minnesota Timberwolves
2.2 Pau Gasol, PF/C, Los Angeles Lakers
2.3 Gilbert Arenas, PG, Washington Wizards
2.4 Kevin Garnett, PF, Boston Celtics
2.5 Chauncey Billups, PG, Denver Nuggets
2.6 Steve Nash, PG, Phoenix Suns
2.7 Tim Duncan, PF/C, San Antonio Spurs
2.8 Jose Calderon, PG, Toronto Raptors
2.9 Andre Iguodala, SG/SF, Philadelphia 76ers
2.10 Joe Johnson, PG/SG, Atlanta Hawks
2.11 Devin Harris, PG, New Jersey Nets
2.12 Caron Butler, SF, Washington Wizards
3.1 Jason Kidd, PG, Dallas Mavericks
© Gear Live Media, LLC. 2007 – User-posted content, unless source is quoted, is licensed under a Creative Commons Public Domain License. Gear Live graphics, logos, designs, page headers, button icons, videos, articles, blogs, forums, scripts and other service names are the trademarks of Gear Live Inc.