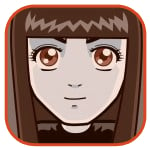 Posted by Sheila Franklin Categories: Hot Deals, Internet, Nintendo, Wii,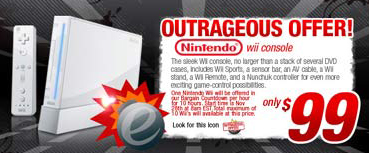 If you don't yet have a Wii, head over to eCost on Black Friday, where they will be offering one each hour for $99.00. Beginning tomorrow at 8:00 a.m. EST, the 10 units come with a sensor bar, stand, WiiMote, Nunchuck and Wii Sports. Look for it in the Bargain Countdown section. We're sure they will have other awesome deals so look around the site in case you miss out on the game system deal, but note that you will have to pay shipping.
Note: Because of the response, eCost will also be offering one Wii tonight from 8 p.m. to 10 p.m. for the same price, so eat quickly.
Read More

| eCost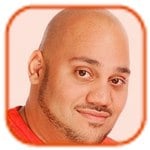 Posted by Andru Edwards Categories: E3, Hardware, Nintendo, Wii,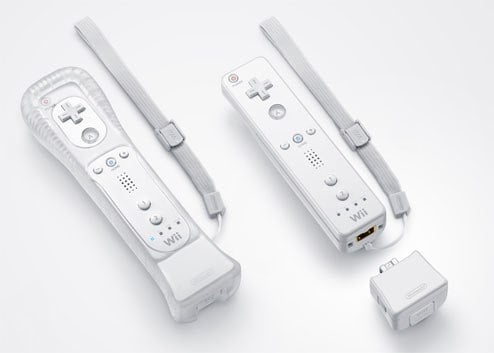 Right before this morning's Xbox Media Briefing here at E3 2008, Nintendo announced the new Wii Motion Plus controller add-on. Basically, Wii MotionPlus is an accessory that attaches to the end of the Wii Remote, allowing it to more accurately trace motion in 3D space by constantly monitoring and orienting the controller. Every movement you make with the WiiMote is rendered indentically onscreen, resulting in true 1:1 response. Basically, the device gives you the Wii Remote as it should have been since the start.
See the full release from Nintendo themselves after the jump. We are sure we will be seeing at least one title tomorrow morning that supports the new accessory during the Nintendo Media Briefing.
Click to continue reading Nintendo announces Wii MotionPlus controller add-on

Posted by Steve Van Neil Categories: Action, Survival Horror, Wii,
Tecmo has announced that the next installment of its Fatal Frame horror series is in development for the Wii. The earlier games didn't sell especially well upon release but have amassed a sizable cult following, or so I gather from the growing number of GameStops that have been unable to sell me a copy over the years. Now, with the burgeoning Wii phenomenon upon us, Tecmo has seen a way to give its underexposed franchise a second chance. You can certainly see where Tecmo is coming from, as snapping photos of ghosts is a staple game mechanic of the series, one that seems like a perfect fit for the Wii's motion controls.
Interestingly, Tecmo has enlisted Grasshopper Manufacture to produce the game; Grasshopper is the studio behind Killer 7 and next year's sure-to-be-bizarre Wii actioner, No More Heroes. Tecmo has remained mum on the subject of release dates, but for now just add Fatal Frame to the growing list of promising third-party Wii games.
Read More

| 1UP
It looks like the Wii is turning the corner as far as compelling third-party content goes. Joining Zach & Wiki, Manhunt 2, and Resident Evil: Umbrella Chronicles at the cool kids table in the not-too-distant future is Trauma Center: New Blood, the sequel to the popular medical/supernatural/arm-flailing/impossible-to-categorize DS and Wii game. Hot from the Atlus oven is this premiere trailer, which shows off more of that cool anime-inspired character design, a brand new co-op mode, as well as some pretty stilted voice acting. Looks like a must-buy. What other game lets you draw five-pointed stars on an unconscious patient's gaping wound to keep him from flatlining?
The Wii-exclusive Trauma Center: New Blood is slated to come out this holiday season.
Read More

| IGN

Posted by Steve Van Neil Categories: Action, Adventure, Eidos, Nintendo, Role Playing Games, Screenshots, Wii,
What's this now? A third-party Wii game that (a) isn't a lazy PS2 port and (b) actually looks pretty cool? Yes, it looks like Zach and Wiki will have some company on the Wii in the near future. Backbone, the developers of Death Jr. for the PSP, are cooking up a brand new IP exclusively for Nintendo's Wii. Monster Lab is a story-driven Action RPG that's all about customization. Indeed, the object of the game is to build, enhance, and accesorize monsters to fight against each other in turn-based combat. The Wii's motion control comes into play in the creation process through minigames, where players will throw brains into empty heads, hoping to maximize their monster's power. On hand to make sure that it all doesn't devolve into complete minigame aimlessness is comic book writer Adam Beechen, who is scripting the game.
The very promising Monster Lab will be published by Eidos and is being groomed for a Summer 2008 release.
Read More

| NeoGAF

Posted by Steve Van Neil Categories: Action, Adventure, Nintendo, Wii,
In this promotional trailer for the Wii version of Tomb Raider Anniversary, Producer Morgan Gray demonstrates some of the game's Wii-specific motion controls. Using their Wiimotes, budding Lara Crofts will be able to "touch the game world for the first time." Not in that way! No, instead players can use the controller as a pick-axe to remove obstructions or as a brush to clean off artifacts. Wiimote-specific control schemes for the various puzzles and combat sequences are obviously a given. All in all, this brief peek hints at motion control mechanics that are surprisingly well integrated with the core Tomb Raider gameplay. Gamers are understandably wary of some of these quickie PS2/PSP-to-Wii ports, but Tomb Raider Anniversary is one to keep an eye on.
Eidos has not given official word on a release date for the game besides "Coming Soon," but we're guessing it will hit in time for the holidays.
Read More

| Tomb Raider Anniversary
Posted by Edie Sellers Categories: Casual, Corporate News, E3, Editorial, Hardware, Microsoft, Nintendo, Nintendo DS, PC, PlayStation 2, PlayStation 3, PSP, Wii, Xbox 360,
It always seems a bit silly to declare a "winner" of E3. It's just so juvenile. This is a complex industry that can't be distilled down to the simple question of "who beat whom."
But we just can't help it, can we?
Comparing the three keynotes this year, however, really is a grab-bag of possible outcomes. All three offered something interesting, and picking a single "winner" this year more than ever depends how you define "winning."
My rundown is after the break.
Click to continue reading E3 2007: The Big Three: Who "Won" E3?

Posted by Chris Pereira Categories: Action, Adventure, CAPCOM, Casual, Corporate News, Driving, E3, Electronic Arts, First Person Shooters, Internet, Music, Nintendo, Nintendo DS, Party Games, Puzzle, Release Dates, Retro, Sports, Trailers, Virtual Console, Wii,
As with the Microsoft conference before it, I was confined to my hotel Wi-Fi to take in Nintendo's E3 press conference. But, unlike Microsoft's, I'm walking away thoroughly and utterly disappointed. I'm going to go ahead and spoil part of the full story from after the break: there was no mention of Smash Bros. being online. Me = worried much.
Set your expectations low before you view the rest after the break.
Click to continue reading E3 2007: Nintendo's Press Conference Recap And Impressions

Posted by Chris Pereira Categories: Casual, Electronic Arts, Nintendo, Sports, Wii,
Most gamers that play sports games, either casually or hardcore, have certainly run into the problem of attempting to explain complex controls to a friend – which usually results in your friend QB scrambling or shooting half court jumpers each time he or she gets the ball. But the new Family Play feature, which is debuting in this year's Wii versions of Madden 08, NBA Live 08 and FIFA 08, is aiming to make it easier for youngsters or game novices to jump in and play against friends and family who would otherwise wipe the floor with the competition.
When playing, you can choose either Advanced or Family Play. The former allows you to make use of both the Wiimote and Nunchuk, while the latter assists the player in-game and requires them to use only the Wiimote. Family Play users will control only the key actions, like shooting, passing, throwing, etc. And by simply plugging in a Nunchuk, someone playing with the Family Play style can easily try out Advanced mode.
This sounds like a truly fantastic idea – sports games have a huge market, especially Madden, and by opening the floodgates and allowing for an otherwise complicated game to be played by most anyone, EA Sports is poised to make quite a bit more money, while also allowing gamers to begin experiencing a new genre.

Posted by Chris Pereira Categories: Fighting, Nintendo, Wii,
If you haven't already heard, then you'll be excited to know that in addition to the previously-confirmed GameCube controller compatibility that Smash Bros. Brawl will feature, you'll also have three other controller options: Wiimote + Nunchuk, Wiimote turned on its side, or the Classic Controller. This was confirmed on the official Smash Bros. DOJO!! website on Friday, and while details weren't included, we can infer a few things based upon this news. The fact that the Wiimote only has the 1, 2 and A buttons on its face that are within easy reach (I doubt gameplay itself would require any use of the + or – buttons) and the B trigger underneath, the controls will have to be fairly simple. The news post alludes to more news coming on how exactly the controls will work with the Wiimote, but expect some sort of motion control to be involved. It'll be interesting to see how the different control schemes mesh with one another.
Read More

| Smash Bros. DOJO!!
© Gear Live Media, LLC. 2007 – User-posted content, unless source is quoted, is licensed under a Creative Commons Public Domain License. Gear Live graphics, logos, designs, page headers, button icons, videos, articles, blogs, forums, scripts and other service names are the trademarks of Gear Live Inc.