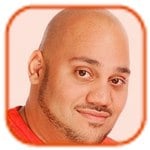 Posted by Andru Edwards Categories: Hardware, Microsoft, Rumors, Xbox 360,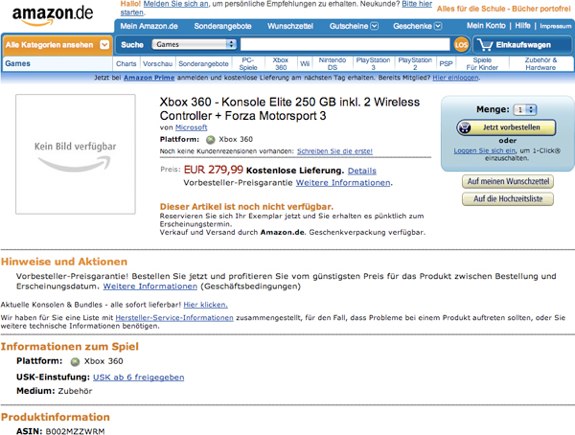 Okay, hang on, we just posted about the Xbox 360 Elite price cut news, and now we are getting word that there may be a 250GB version of the Xbox 360 that will be dropping soon? According to Amazon Germany, there will soon be an Xbox 360 bundle that includes a 250GB head drive (over twice the size of the currently available 120GB drive,) 2 controllers, and Forza Motorsport 3. It's priced at about $397, and we want it to be really. Very, very much.
[Thanks, Jason!]
Read More

| Amazon Germany via Engadget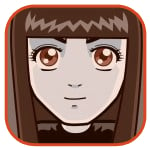 Posted by Sheila Franklin Categories: Corporate News, Nintendo, Nintendo DS, Portable/Mobile,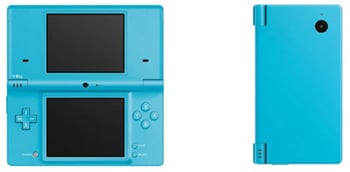 Nintendo has announced that the DSi will be coming to Europe April 3 and to North America April 5. Packed into the game system is thinner hardware, a larger screen, camera and an SD card slot. This version comes in black or blue and will cost $170.00, which is only $40.00 more than the DSLite and about $40.00 less than those selling overseas. No games titles have yet to be announced but we expect those will be coming along soon.
Read More

| BBPS

Posted by Paul Hamilton Categories: First Person Shooters, PC,
Splash Damage, developer for the upcoming multiplayer shooter Enemy Territory: Quake Wars based on the Quake property, announced that it will be releasing a PC demo of the game on Monday, September 10th in anticipation of the game's October 2nd release in North America.
Quake Wars was originally slated to be released in 2006 but was pushed back to allow for more testing and polish. The game is a team-oriented multiplayer skirmish game that takes place prior to Quake II in the game's chronology and features objective-based missions, vehicles and full bot support for solo play.
Enemy Territory: Quake Wars is due in Europe and Australia September 28th.
Read More

| Gaming Today

Posted by Chris Pereira Categories: Accessories, Action, Activision, Adventure, Bungie, CAPCOM, Casual, Corporate News, Driving, E3, Electronic Arts, First Person Shooters, Hardware, Microsoft, Party Games, PC, Puzzle, Release Dates, Retro, Role Playing Games, SEGA, Simulation, Special Editions, Sports, Strategy, Survival Horror, Take2, Third Person Shooters, Trailers, Ubisoft, Xbox 360, Xbox Live, Xbox Live Arcade, Xbox Live Marketplace,
Unfortunately, I wasn't able to attend E3 this year – instead, I'm on vacation in Cape Cod, using awful hotel Wi-Fi to watch streamed press conferences. Not the most glamorous way to take it all in, but exciting announcements, great games and new details are welcome no matter how you hear about them.
Here's my personal transcription (in very brief form) of all the announcements and showings, along with some reflection on what Microsoft had to show.
Click to continue reading E3 2007: Microsoft's Press Conference Recap And Impressions

Posted by Chris Pereira Categories: Strategy, Xbox 360, Xbox Live, Xbox Live Arcade,
The European board game you've probably never heard of has made its way to the Xbox Live Arcade. For 800 Microsoft Points ($10) you can download the virtual version of the strategic board game. Catan was very well received (especially by those GamerAndy folks), so hopefully Carcassonne catches on as well and we'll see more board games in the future.
Click to continue reading Xbox Live Arcade 6/27: Carcassonne
Read More

| Xbox.com

Posted by Chris Pereira Categories: Release Dates, Strategy, Xbox 360, Xbox Live, Xbox Live Arcade,
Unless you're from Europe, there's a good chance you've never heard of the board game Carcassonne before. I sure haven't, but after giving it a look – and keeping in mind the success of Catan – it looks like we're getting another solid XBLA release this week. And finally we get another game that makes use of the Vision camera. It still doesn't quite feel like it was worth $40, though.
The official word on Carcassonne:
Using strategic tactics and a little luck, one to five players take turns selecting from 72 tiles displaying various features of a city including roads, the walls of a castle or fields. The medieval countryside thrives as players and their opponents place tiles and complete towns, roads, and farms while competing to accumulate the most points.
Game Features
Special AI settings to challenge any skill level
Challenge your friends – Up to five players can play over Xbox LIVE or up to four players can play on the same Xbox 360
Interact with new and old friends alike over Xbox LIVE while you play "Carcassonne" with the Xbox LIVE Vision camera
Helpful step-by-step tutorial to teach you the game in minutes
Skill-based matchmaking for ranked games
The complete "Carcassonne" includes 72 tiles and all rule sets
"Carcassonne" includes the "Rivers II" expansion set - 12 additional tiles
Earn up to 200 Gamerscore and 12 Achievements
The game goes live this Wednesday, June 27, for 800 Microsoft Points ($10).
Posted by Christopher Sasaki Categories: Hardware, PSP,
Following the lead of the US PSP price cut, Sony Computer Entertainment Europe today announced that they would be officially dropping the price of their handheld as well. Currently 149.99 GBP, or 199.99 Euro, the portable console will drop in price to 129.99 GBP and 169.99 Euro on May 4. According to GamesIndustry.biz, Platinum Hits titles for the PSP will also drop to 14.99 GBP. The PSP has somewhat been languishing while Sony focused its energies on the PS3 launch, but now it appears that the company is starting to get more aggressive as it attempts to build more market share.
Read More

| GamesIndustry.biz
Posted by Christopher Sasaki Categories: Corporate News, Hardware, PlayStation 3,
According to a report by the Financial Times, Sony CEO Howard Stringer said that Sony was nearing 800,000 PlayStation 3 consoles sold in Europe. With 600,000 of those sales reportedly coming in the first two days of launch, this would seem to indicate a healthy 200,000 units being moved in the three weeks following. One assumes that this is the sell through number, since Sony had previously indicated that 1 million consoles would ship for launch. The numbers are interesting from a couple of perspectives – first, that there would seem to be more people than expected willing to pay the hefty exchange rate adjusted price of the PlayStation 3. The second interesting thing is that European sales are quickly closing in on the Japanese sales numbers. While Japan has taken months to reach nearly 900,000 units sold, Europe is nearly at that point only a month after launch.
Read More

| Financial Times
Posted by Christopher Sasaki Categories: Hardware, PlayStation 3,
It didn't take long for someone to dissect the European PlayStation 3 to see what makes it tick, and the hardware geeks at Beyond3D have analyzed the motherboard pictures and compared them with the US and Japanese PlayStation 3 to see if they can determine the exact differences, and where Sony might be going with their hardware design optimizations. The known difference is the removal of the Emotion Engine that provided hardware compatibility with the PlayStation 2. Other optimizations seem to have the Graphics Synthesizer connected between the RSX chip and the HDMI transmitter. Beyond3D seems to believe that the Graphics Synth chip will eventually be integrated into the RSX. Another unexpected development has the southbridge chipset shrinking for the PS3, indicating a possible move to the 65nm production process. While this has little to do with the game playing capabilities of the PS3 (other than backward compatibility), the article does give hardware design nerds some insight into Sony's ongoing quest to reduce costs.
Read More

| Beyond3D
Posted by Christopher Sasaki Categories: PlayStation 2, PlayStation 3,
Sony's backward compatibility database has gone online, and there is good news and bad news. The good news is that out of the door, Sony is listing 1,782 titles as compatible with the 1.60 firmware update. The bad news is that there are many high profile games not on the list, and many that are on the list are listed as having "noticeable issues." God of War 2 is listed as having no known issues, along with most of the games in the Grand Theft Auto series. Unfortunately, San Andreas is listed as having noticeable issues, as are Final Fantasy X and Final Fantasy X-2. Final Fantasy XII has minor issues, but Final Fantasy XI is nowhere to be found. Gran Turismo 4 Prologue is on the list, but the full game is not. The Metal Gear series looks to be compatible, though. And for those wondering, like the Xbox 360, Barbie Horse Adventures is fully compatible with the PlayStation 3. The full list is online here.
Read More

| GamesIndustry.biz
© Gear Live Media, LLC. 2007 – User-posted content, unless source is quoted, is licensed under a Creative Commons Public Domain License. Gear Live graphics, logos, designs, page headers, button icons, videos, articles, blogs, forums, scripts and other service names are the trademarks of Gear Live Inc.