In this edition of "In Your Face," we call out the US government for their mishandling of the case versus Roger Clemens. Great job, prosecution. We also call out Pittsburgh Steelers defensive stalwart, James Harrison for making disparaging comments about Rashard Mendenhall, Ben Roethlisberger and NFL Commissioner Roger Goodell. In your faces! LISTEN UP!
Thanks for supporting EndScore Report and don't forget to tell your friends to listen!

Posted by Dennis Velasco Categories: Athletes, NBA, News, NFL,
In this edition of "In Your Face," DV and Chris throw down on Scottie Pippen for his remarks last week of LeBron James being better than Michael Jordan. To paraphrase a new movie coming out, six titles is all the argument you need to say that Jordan is the best. Well, on top of everything else, like him transcending the sport of basketball like Babe Ruth for baseball. We also wag our finger at NFL Commissioner Roger Goodell for taking sides. Sure, he's employed by the owners, but when it comes to settling arguments between them and the players, he should at least try to be neutral to make sure there's football in the fall. LISTEN UP!
Thanks for supporting EndScore Report and remember to LIKE our Facebook fan page!

Posted by Dennis Velasco Categories: Athletes, Front Office, News, NFL,
In this edition of EndScore Report, DV and Chris speak on the madness that is the NFL lockout, which was lifted by a court decision on Monday, April 25th, which theoretically would have allowed players to report to their respective teams and begin workouts for next season. However some NFL teams did not comply to whatever degree and the NFL owners asked for a stay on the decision to keep the lockout going. When will this all end? How will this affect the currently copious amount of popularity surrounding the sport. How will the fans react? We also talk about the NFL Draft and the potential number one pick. GIVE IT A LISTEN!
Thanks for the support and don't forget to LIKE our Facebook page!

Posted by Dennis Velasco Categories: Athletes, Editorial, News, NFL,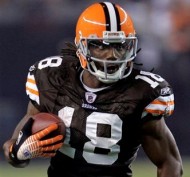 Cleveland Browns WR Donte Stallworth was suspended indefinitely by NFL Commissioner Roger Goodell pending a meeting between the commissioner and Stallworth's representatives. Stallworth pleaded guilty to a DUI manslaughter charge for killing Mario Reyes on March 14 after a night of drinking in Miami Beach, FL. Stallworth has started serving a 30-day sentence in jail, which will be followed by two years of house arrest, provisions for which Stallworth will be allowed to play football, and then eight years of probation.
Considering the indefinite suspension leveled on former NFL superstar QB Michael Vick for dogfighting and killing dogs, Goodell had to come down harshly on Stallworth who actually took a human life, however, by accident. Stallworth acted stupidly and he knew it and knows it now. There has been nothing but remorse on Stallworth's part, even agreeing quickly with the deceased's family on financial compensation, although, all the money in the world cannot replace Mr. Reyes. From the beginning, Stallworth has been cooperative with law enforcement. On the other hand, Vick tried to keep his illegal doings on the down low and has shown remorse only insomuch as to be able to get back on the football field.
Yes, what Stallworth did was incredibly stupid, incredibly dumb, and incredibly irresponsible. However, there was no maliciousness in his action (and I pray for Mr. Reyes' family), however, you cannot say the same for Vick. I'm hoping Goodell allows Stallworth to take the field a lot sooner than he does Vick because despite being a Vick fan before all of this dogfighting mess and still believing he has useful talent in the tank left, I wouldn't miss having an NFL without Michael Vick. It's been just fine without him. What the NFL needs are more Stallworths that take responsibility for their actions no matter how stupid they were.
© Gear Live Media, LLC. 2007 – User-posted content, unless source is quoted, is licensed under a Creative Commons Public Domain License. Gear Live graphics, logos, designs, page headers, button icons, videos, articles, blogs, forums, scripts and other service names are the trademarks of Gear Live Inc.