The anti-storybook season of Jorge Posada became more interesting this week. Not only did the veteran New York Yankees player celebrate his 40th birthday by striking out looking to end and lose a 5-4 game to the Kansas City Royals on Wednesday, he also announced that he's considering playing in 2012. The most interesting part is that there's a better chance that no pitcher will go down with another arm injury ever again than the Yankees signing Posada one more time.
Click to continue reading New York Yankees' Jorge Posada may not be ready for retirement
After one month of baseball, the Kansas City Royals had exceeded expectations with a 14-13 record and were second in the AL Central. Only the more unexpected Cleveland Indians were better. Since then, the Royals have returned to form, going 18-32 through May and June to this point and have fallen all the way to the basement in the division. It seems to be a fan of the Royals is synonymous with dashed hopes and dreams.
Click to continue reading Alex Gordon finally coming around
After the Kansas City Royals dealt Zack Greinke in the offseason, many thought the team was up for yet another reboot of the familiar rebuilding theme. Instead, the Royals find themselves with a .500 record and sit ahead of both the Chicago White Sox and Minnesota Twins in their division. A good part of their early success is due to breakout rookie reliever Tim Collins. The small lefty has been solid on the hill and helped his team eke out some of their early 20 victories.
Click to continue reading Tiny Tim tearing it up in Royals' bullpen

Posted by Dennis Velasco Categories: Kudos, MLB,
DV and Chris take a look at the MLB season thus far. Yes, barely one week in, they overreact to what's gone down thus far. The Kansas City Royals are on top of the AL Central, the Baltimore Orioles pitching staff looks unstoppable, and the New York Mets are tied with the Philadelphia Phillies for first place in the NL Central! Someone check to see if hell has frozen over! And, can you say, Alex Gordon for AL MVP? Listen here!
Make sure to check out all of the EndScore Report episodes and LIKE our Facebook page! Oh, tell your friends about ESR too!
The Kansas City Royals are entering a new era without Zack Greinke. In his stead, a group of virtual unknowns will take the reigns of the starting rotation. Among that group is a newcomer, Canadian-born left-hander Jeff Francis, who has spent his entire career that began in 2004 with the Colorado Rockies. He's got a lot to prove in Spring Training this year, and according to the Royals, he's prospering in his first week there.
Click to continue reading Jeff Francis prospering in first week with Royals
Zack Greinke, the newly-anointed ace of the Milwaukee Brewers is working out in Spring Training and for the first time in his career, preparing to compete with a team that actually has a chance to make some noise this year. There's some uncertainty regarding his ability, considering his numbers in the last three seasons have been inconsistent, but there's little doubt that he has some of the best raw talent in the league right now.
Click to continue reading Zack Greinke ready to recapture success with Milwaukee Brewers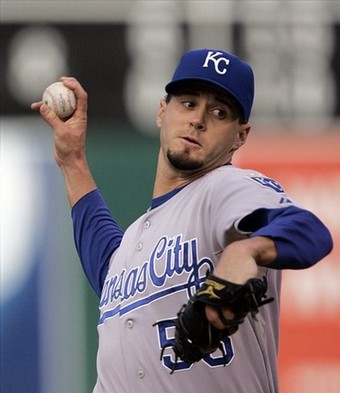 When Gil Meche retired from baseball earlier this week at the ripe age of 32, it may have been a blessing in disguise for the Royals. Due to shoulder issues, Meche wouldn't likely have pitched much or well unless he underwent surgery, meaning his 2011 was a goner anyway. Instead, the Royals have an unexpected cash infusion of $12 million. It's not a lot of money by baseball standards, but for a team that's not projected to spend more than $60 million in 2011, $12 million is quite a bit.
Click to continue reading Unexpected cash infusion may be good for Kansas City Royals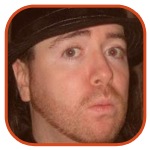 Posted by Adrien Griffin Categories: Athletes, MLB, Rumors, Trades,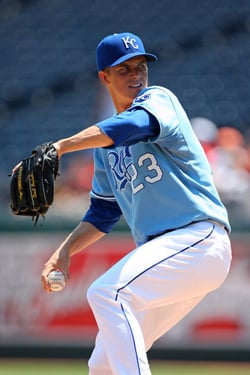 Zack Greinke's new uniform has been one of the biggest non-stories of the Winter Meetings. The Royals aren't interested in playing their ace until Cliff Lee chooses a new home. There's a lot of benefit in waiting for Lee to make up his mind, as most teams are interested in Lee before Greinke anyway. Once Lee's off the market, Greinke becomes America's most wanted and the Royals can barter for as much as they want. They'll find a buyer willing to overpay somewhere.
Click to continue reading Zack Greinke sitting tight while Cliff Lee is on market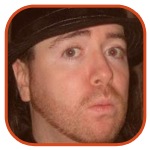 Posted by Adrien Griffin Categories: Athletes, MLB, Rumors,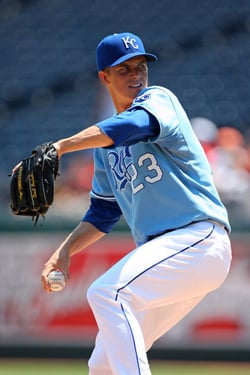 Royals right-hander Zack Greinke still has two years left on a four-year deal he signed in 2009, but a lot of talk is coming out lately about Kansas City entertaining offers for the 27-year-old pitcher. Greinke, the 2009 American League Cy Young Award winner can fetch a great return. His 2010 totals – 4.17 ERA, 220 innings pitched, 181 strikeouts, 1.25 WHIP – were also rather impressive, considering the team playing behind him.
Click to continue reading Zack Greinke being shopped by Kansas City Royals?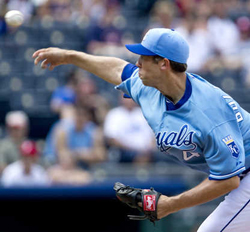 Bryan Bullington toppled the kings on Sunday afternoon. The Royals pitcher made his ninth career start and picked up just his first career win, taking down A.J. Burnett and his New York Yankees. Bullington stifled Yankee hitters for eight innings in an uncharacteristic show of dominance, earning a 1-0 win by allowing just two hits and a walk and collecting five strikeouts. The performance he delivered may earn him another start after making his first start of the season last Tuesday against the Angels.
Click to continue reading Bryan Bullington beats best for first career win
© Gear Live Media, LLC. 2007 – User-posted content, unless source is quoted, is licensed under a Creative Commons Public Domain License. Gear Live graphics, logos, designs, page headers, button icons, videos, articles, blogs, forums, scripts and other service names are the trademarks of Gear Live Inc.