Posted by Dennis Velasco Categories: Athletes, Editorial, NBA, News,
This must be a tough pill going down the throats of the New York Knicks and their fans as the team became victims of a Boston Celtics sweep, becoming the 2011 NBA Playoffs first victims. In the first two games (87-85 and 96-93 Celtics victories), the Knicks could have easily been the victors in both. However, in the end, it was the Celtics' championship pedigree and experience that helped them pull away and score just enough points to win. Emotionally, it had to be debilitating to come so close, but come up with the loss despite valiant efforts on the road.
Click to continue reading Don't Believe the New York Knicks and 'Melo Hype, It's a Sequel!
The 'Melo Drama is now over as Carmelo Anthony was traded to the New York Knicks in a blockbuster deal that sees him joining forces with Amar'e Stoudemire to hopefully change the landscape of the Eastern Conference. But, will it? The full deal has Anthony, who was scheduled to be a free agent in the offseason, Chauncey Billups, Renaldo Balkman, Anthony Carter, and Shelden Williams going to the Knicks and Raymond Felton, Danilo Gallinari, Wilson Chandler, Timofey Mozgov, a 2014 first round picks, additional picks (second rounders), and cash going to the Nuggets. In addition, the Knicks will send Eddy Curry, Anthony Randolph, and cash to the Minnesota Timberwolves for Corey Brewer, who was reported earlier to go to the Nuggets, so this still needs to be substantiated.
Click to continue reading Carmelo Anthony traded to the New York Knicks, but will it matter?

Posted by Phil Partington Categories: Athletes, Editorial, NBA,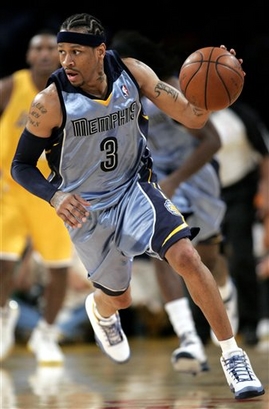 Allen Iverson may have had the biggest drop-off of any player in recent years. Just a season and a half ago, Iverson was having a superstar season by statistical standards, averaging 26.4 ppg, 7.2 apg, while shooting nearly 46% from the field and nabbing 2.0 spg. The following year, he looked more than human. The season after that nobody wanted him at all. The question on many fans' minds is what happened to Allen Iverson?
There are a couple of theories that might give indication to Iverson's recent struggles.
The Ball Hog Theory
Consider that Iverson is a volume shooter. This means that in order to be effective, AI needs to have the offense flow through him and he needs to be able to take a lot of shots. Some players are able to be effective even if they don't get a lot of touches by moving without the ball, setting up teammates, setting off screen picks, going for offensive rebounds. Allen Iverson is not one of these players. On the Denver Nuggets, he was paired with another player like this in Carmelo Anthony. While the two were able to boost their personal stats, this didn't really help the team win, as few other players got involved in the offense. When Iverson was traded to the Detroit Pistons, a team that was accustomed to playing "team" basketball, Iverson naturally didn't fit in with his style of dominating the ball. Therefore, he lost about five minutes of playing time per game and he was never able to adjust to a team that didn't want to rely solely on his quickness to get baskets. Consider that in Philadelphia, where Iverson had several years of success, the system was basically tailored to him. While the team was built to be a defensive team, the objective was to let him control the offense. That meant, surrounding Iverson with big men who could collect offensive rebounds and sharpshooting wing men who could hit the open shot when the defense collapsed on a penetrating AI. It may not be coincidence that the Denver Nuggets suddenly surged after trading Iverson for Chauncey Billups.
Click to continue reading The Fall of Allen Iverson

Posted by Phil Partington Categories: Athletes, Editorial, NBA,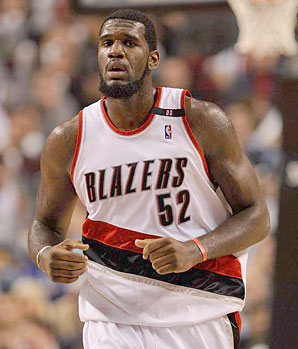 There are plenty of reasons for NBA fans to be interested in the Northwest Division with several captivating stories to pique their interest. For starters, will the Utah Jazz go with Carlos Boozer as its starting power forward, or will it opt for up-and-comer Paul Millsap, thereby making Boozer expendable? Will Chauncey Billups be able to continue the great leadership role he exhibited with the Denver Nuggets last season? Will Greg Oden make strides to becoming a top flight NBA center? Will Al Jefferson and Kevin Love be able to coexist in Minnesota? Will Russell Westbrook of the Oklahoma City Thunder be able to become a true point guard?
Click to continue reading 2009-2010 NBA Northwest Division Preview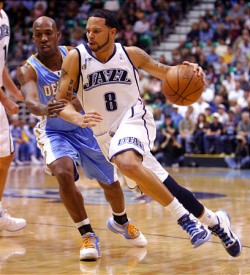 The first two picks usually define the direction your fantasy team builds towards. For example, matching Dwight Howard with Jose Calderon would not be the best play for a head-to-head league; although this pairing begins to cover all the various categories, the strengths of these players do not overlap. Punting categories gets too much attention in head-to-head articles; however the art of building up strength in certain categories is a requirement for success. And so, let us now look at the second round based on Yahoo average draft position (ADP) rankings, with some specific attention to how these players might complement certain players taken in the first round.
Click to continue reading Fantasy NBA: Analysis of Second Round
So who wins the bronze medal in fantasy point guards heading into this season? Chris Paul gets consideration for first pick overall, so calling him the first point guard to be taken comes across as a big understatement. Deron Williams sits solidly in the #2 position. As you prepare for week 1 of the NFL season, keep in mind that NBA teams will open their training camps in just a few weeks. At least four to five point guard-eligible players will come off the board in between the early second round and the beginning of the third round. I always like a point guard who can score as well as shoot the three, plus of course dish the rock in elite fashion. "Mr. Big Shot" took his trade to his home state team in stride and led them to the conference finals last season.
Round 2, Pick 5: Chauncey Billups, PG, Denver Nuggets
Click to continue reading One Man Mock Draft, Fantasy NBA 2009: Round 2, Pick 5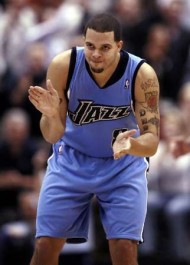 Following the all-time leader in assists and steals is a lot of pressure, both for the management who must try to find "the next one" and for the player who must work to fill the shoes of one John Stockton. Plus, the Utah Jazz picked this player over Chris Paul! The Portland Trail Blazers continue to receive ridicule for picking Sam Bowie over Michael Jordan, but the Houston Rockets generally get a pass because they drafted Hakeem Olajuwon, a player who became a two-time champion and MVP over a hall of fame career. Expect the noise to be as quiet as it was for Hakeem for this player, as he is on track to do almost as well as Paul, moving forward.
Round 1, Pick 12: Deron Williams, PG, Utah Jazz
Click to continue reading One Man Mock Draft, Fantasy NBA 2009: Round 1, Pick 12
© Gear Live Media, LLC. 2007 – User-posted content, unless source is quoted, is licensed under a Creative Commons Public Domain License. Gear Live graphics, logos, designs, page headers, button icons, videos, articles, blogs, forums, scripts and other service names are the trademarks of Gear Live Inc.