Posted by Dennis Velasco Categories: Editorial, MLB, Playoffs,
In this edition of EndScore Report, DV and Chris take a look around the MLB landscape to assess which divisions are in the bag and where the pennant and/or wild card races aren't. The Detroit Tigers and Philadelphia Phillies probably don't have anything to worry about, but Texas Rangers and possibly the Milwaukee Brewers may. Both wild card races could get interesting between the Boston Red Sox and Tampa Bay Rays, as well as the Atlanta Braves and St. Louis Cardinals, respectively. GIVE IT A LISTEN!
Now that Dan Uggla has gone hitless for once, can we please remember that the Atlanta Braves are in a playoff race? As everybody must know, Uggla went 0-for-3 against the Chicago Cubs on Sunday to snap his consecutive games with a hit streak at 33, but with all the attention Uggla's been getting over the last month and a half, you wouldn't know that the Braves currently have a four-game lead over the San Francisco Giants for the NL wild card.
Click to continue reading Dan Uggla's streak ends at 33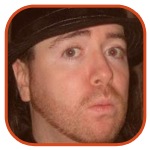 Posted by Adrien Griffin Categories: MLB,
The New York Mets have suddenly become one of the hottest teams in baseball, despite having recently traded players such as closer Francisco Rodriguez and center fielder Carlos Beltran. The Mets have won five in a row including a sweep over the Cincinnati Reds and are quickly closing the gap between them and the NL wild card leaders from the Atlanta Braves. They'll welcome the Braves to New York next weekend and again for the final weekend in August.
Click to continue reading New York Mets win streak runs to five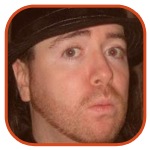 Posted by Adrien Griffin Categories: Athletes, MLB, Trades,
Heath Bell looks like one of the most attractive players who may be available at this year's non-waiver trade deadline. Reports are coming out of most cities saying that team so-and-so has inquired about Bell, but does that mean San Diego Padres GM Jed Hoyer is likely to trade him? Not necessarily. Many GMs will call Hoyer simply to find out the asking price for Bell, many of whom have no interest in actually putting together a deal.
Click to continue reading Heath Bell trade will set market value for league's relievers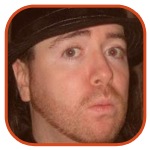 Posted by Adrien Griffin Categories: Athletes, MLB, News,
Jo-Jo Reyes of the Toronto Blue Jays took another one on the chin Wednesday afternoon, losing to the New York Yankees. For Reyes, it was his 28thd straight start without getting a win, which ties the mark for most consecutive winless starts set by Cliff Curtis of the Boston Braves in 1910-11 and Matt Keough of the Oakalnd Athletics in 1978-79. Reyes himself, who started with the Atlanta Braves in 2007 and was acquired by the Blue Jays this past offseason after a few years of injuries, hasn't won a game since June 13, 2008.
Click to continue reading Jo-Jo Reyes ties record with 28th-straight winless start
After the Kansas City Royals dealt Zack Greinke in the offseason, many thought the team was up for yet another reboot of the familiar rebuilding theme. Instead, the Royals find themselves with a .500 record and sit ahead of both the Chicago White Sox and Minnesota Twins in their division. A good part of their early success is due to breakout rookie reliever Tim Collins. The small lefty has been solid on the hill and helped his team eke out some of their early 20 victories.
Click to continue reading Tiny Tim tearing it up in Royals' bullpen
This week's "In Your Face" has DV and Chris putting on blast, former New York Mets star and current Atlanta Braves pitching coach, Roger McDowell. McDowell engaged in tomfoolery and straight-up stupidity at the ballpark and deserves the "in your face" treatment!
The other recipient has to go to the Atlanta Falcons for trading five picks (two first-rounders, one second, and two fourth-round picks) to the Cleveland Browns to move up 21 spots to select Julio Jones with the sixth overall pick, a wide-receiver to match up with Roddy White. I guess Jones is some sort of savior, which means that A.J. Green, the first wide receiver selected is a god then. Too many picks given up for one pick, no matter where it is. In your face, ATL... it's not a good week for you sports-wise. Thank goodness for the Atlanta Hawks! Listen to this week's "In Your Face"!
Thanks for supporting EndScore Report and remember to LIKE our Facebook page, fine readers!
Picked to finish in the mid-80s in wins by many experts, the Milwaukee Brewers got off to a rough start, losing their first four in a row, including the season opener by way of a walk-off home run. They're playing under-.500 so far and have already put themselves in a hole. While the season is still young, there are already a few disappointments making this difficult for the Brew Crew. First of all, Zack Greinke has yet to make an appearance (and likely won't until May) and secondly, Shaun Marcum has been anything but Marcum-esque.
Click to continue reading Shaun Marcum and the Milwaukee Brewers trying to right the ship
The Atlanta Braves announced that for the third consecutive season, they'll give the ball to Derek Lowe on Opening Day. The Braves will travel from sunny Florida up to Washington to take on the Nationals in one of this year's untraditional March 31 kickoff games. Even at the ripe age of 37, Lowe still has enough gas left in his tank for a 15th season as a major league pitcher. At least that's what the Braves organization is hoping for.
Click to continue reading Derek Lowe gets Opening Day call for third-straight season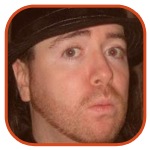 Posted by Adrien Griffin Categories: Athletes, MLB, Playoffs,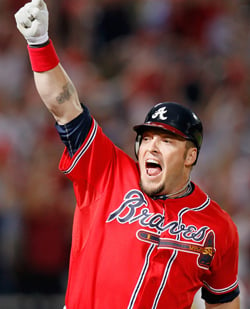 Eric Hinske has begun an unusually long offseason. After his Atlanta Braves were eliminated by the San Francisco Giants on Monday night, the 2002 American League Rookie of the Year finds himself unemployed yet again as his latest one year contract ended with the Braves hopes of making it back to the World Series for the first time since 1999. He'll now have to go home and watch the Series on television for his first time since 2006.
Click to continue reading Eric Hinske's World Series run is over
© Gear Live Media, LLC. 2007 – User-posted content, unless source is quoted, is licensed under a Creative Commons Public Domain License. Gear Live graphics, logos, designs, page headers, button icons, videos, articles, blogs, forums, scripts and other service names are the trademarks of Gear Live Inc.