Posted by Jeff Chan Categories: Editorial, MLB, Rumors, Trades,
I've been trying to get the pulse of Red Sox fans these days, and it is difficult to figure out. The shock of losing CF Johnny Damon has worn off and I think they will get over it because they acquired Coco Crisp, who comes younger and cheaper and seems eager to play. The problem now is that they still don't have a shortstop. There is still time left before the season starts but right now Alex Cora is the starting SS. Boston went from having options at shortstop, to it being their most glaring weakness. In the past three years they went through Nomar Garciaparra, Orlando Cabrera, Edgar Renteria, and had Hanley Ramirez waiting in the wings, and now all four are no longer with the team. The majority of Red Sox fans were fed up with Renteria and did not want to give him another season to redeem himself. On the positive side, at least they made a steal of a trade acquiring 2B Mark Loretta for back up catcher Doug Mirabelli. They have an excess of starting pitching which is never a bad thing, in Arroyo, Beckett, Clemente, Wakefield, Schilling, and David Wells. A decision also needs to be made as to who will catch games Wakefield pitches with personal catcher Mirabelli being shipped to the Padres.
The New York Mets are showing up for community events throughout the five boroughs of New York City this week. There are three more events left, so if you have some free time come and check them out:
BLOOD DRIVE AT SHEA STADIUM
Friday, January 27 - 11 a.m. - 3:30 p.m.
Every donor will receive two tickets to a Mets game during the 2006 season

MEET PAUL LO DUCA AT METS CLUBHOUSE SHOP
Friday, January 27th - 12:30 p.m. - 1:30 p.m.
11 West 42nd Street (between 5th and 6th Ave)

MEET CLIFF FLOYD AT METS CLUBHOUSE SHOP
Friday, January 27th - 3:00 p.m. - 4:00 p.m.
Roosevelt Field Mall in Garden City, Long Island
Posted by Edwin Soto Categories: Athletes, MLB,
This is the latest of insults to the baseball community to what some will have to regard as one of the greatest players of all time. Barry has released an official statement on his blog stating:
As it is every season, my main goal and main focus is for our team to win a championship. I need to be in the best physical shape for the 2006 season—in what could possibly be my last season. I owe it to the Giants organization, my teammates, and most of all to the fans of San Francisco to give 100 percent this season. I assure you, my decision was not an easy one, but based on my circumstances, I had to put my health and my team first. I wish Team USA the best of luck and even though I won't be in the dugout with them, I'll be definitely be cheering them on to bring our country a WBC title.
Which, of course, is an official cop out to the WBC and the spirit of baseball. Mickey Mantle was once regarded as a draft dodger in his time - as he said is was due to injury. This came before his rise to stardom in pinstripes. Since he primarily kept his nose clean after that - with exception to his drinking at the end of his career - Mantle survived the media. I'm not so sure Barry's headed down the same path of glory. Barry's attitude continues to be questionable and selfish. In his statement he claims it's in the best interest of the Giants' organization and its fans. Was it in the best interest when he chewed out his agent because he didn't want to bat second?
One opponent to having Roberto Clemente's number retired by Major League Baseball is Jackie Robinson's daughter, Sharon Robinson. Another who spoke his mind was a Roberto Clemente contemporary, Frank Robinson. Major League Baseball already recognizes Roberto with an award given annually to a player who demonstrates the values Clemente displayed in his commitment to community and understanding the value of helping others.
Both believing if Major League Baseball were to have Clemente's number retired, it would diminish the meaning of Jackie Robinson's struggle. While Clemente did some wonderful things in during his life, Major League Baseball should find another way to honor him.
Sharon Robinson was quoted saying:
"To my understanding, the purpose of retiring my father's number is that what he did changed all of baseball, not only for African-Americans but also for Latinos, so I think that purpose has been met,"

Read More

| ESPN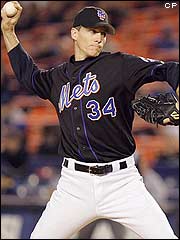 The Orioles acquired Kris Benson from the New York Mets for relief pitcher Jorge Julio and pitcher John Maine. Julio was the closer for the O's from '02-'04 and compiled 83 saves but lost his job to B.J. Ryan last year. Maybe this will show Miguel Tejada, the O's are a little more serious about this upcoming season, picking up a solid #2, #3 pitcher for the rotation.
I'm assuming the Mets organization did not want to deal with the off-field distractions of Anna Benson, who had been in the tabloids and press of the New York media since Kris joined the Mets in mid 2004. If you analyze this deal talent wise, the Orioles made out with the better player. The Orioles will pick up the tab on Benson's 7 million plus yearly salary, which prompted the starting pitcher market price to go up. The Mets will fill the spot in the rotation with Aaron Heilman, who finally started to show his promise last season.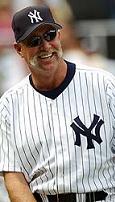 Goose Gossage made some comments earlier this week while upset when finding out he didn't make the cut for the Hall of Fame - again. The deserving candidate made some interesting, thought-provoking statements - particularly this one regarding home run hitter Barry Bonds:
"Hitting in a game is no different than hitting in a home run contest. It pisses me off to say Barry Bonds is the greatest hitter. He's playing in a wussy era. The game is soft. You never get thrown at today. Last thing a hitter has to worry about today is getting hit. The first thing Hank Aaron had to worry about is: Am I going to survive this at-bat because I'm black."

Read More

| WebCircle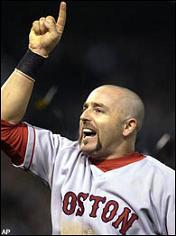 Another fan favorite of the 2004 World Series Champion Red Sox team will be wearing another uniform next season. Millar signs a 1 year deal, and will replace Rafael Palmerio, who Baltimore is trying to distance themselves from. This deal is still pending a physical examination. Boston is going to with J.T. Snow at first base, formerly of the San Francisco Giants, he brings a much better glove to first, and is a left handed bat, while Millar hits right handed. The San Francisco Giants are going to use a Mark Sweeney/Lance Niekro platoon at first base; they also are eagerly awaiting Barry Bonds' return this season, and want to show off their new #2 pitcher in the rotation, free agent signing Matt Morris.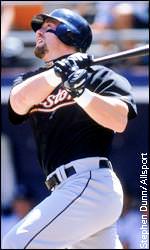 Jeff Bagwell is coming off an injury plagued 2005 season, and will be 38 years old this coming season. At first glance, you may think this is a selfish move by the Astros management - it's not. Let's not feel too sorry for Bagwell, who couldn't lead his Astros to the World Series during his prime, getting ousted by the Braves 3 times and by the Padres in '98 in the division round. The Astros finally got past the Braves for the first time two years ago in 2004, mostly in part by Carlos Beltran's heroics. Bagwell has earned an excess of $108,765,000 in salary throughout his career for the Astros, so he has been compensated extremely well for his services.
The Astros found out last year in the playoffs that they need an extra bat or two in their lineup to go all the way, having insurance company pick up the majority of Bagwells $17 million he will be owed in the '06 season would be a good place to start and free up some money to pursue a young big time hitter. Fans do not need to point out that Bagwell has been loyal to the team, and now the Astros aren't showing any loyalty in return, this is a business, and the $108 million should suffice.
I'll admit, I don't know a lot about sports collectibles, regarding what the going rates are, if one model is particularly scarce or a limited edition. Something struck me as very peculiar, a Nomar Garciaparra figure in a Red Sox uniform was on sale for $6.99, which makes sense because he is no longer with the team. So then why is the Garciaparra figure in a Chicago Cub uniform still retail price at $12.99? He never did anything worth mentioning in his career for the Cubs except getting his groin pulled. Well, I leave you with this and wonder how much this baby in the picture will go for now?
"Goodbye B.J. Ryan, Tejada wants to leave, and we still have Sammy Sosa. I need a hug."
A funny thing happened on my way to the mailbox today. I received a special invitation to get a jump on 2006 Oriole tickets. "A Special Invitation for our most loyal fans". Yes, for those who were wondering, I live in New York City. While I did attend two games at Camden Yards last year, I don't think this should qualify me as a loyal fan. I went to Baltimore twice this past summer to enjoy the weather and act like any other normal tourist and decide to catch a ballgame.
While I do enjoy the enthusiasm for new manager Sam Perlozzo, and pitching coach Leo Mazzone, and the O's spending a 37 cents postage stamp on me, I think they are reaching the wrong target audience. Hey O's fans, support your team and go to more than two games next year. Well if anyone else is interested call 888-848-BIRD.
© Gear Live Media, LLC. 2007 – User-posted content, unless source is quoted, is licensed under a Creative Commons Public Domain License. Gear Live graphics, logos, designs, page headers, button icons, videos, articles, blogs, forums, scripts and other service names are the trademarks of Gear Live Inc.