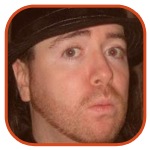 Posted by Adrien Griffin Categories: Athletes, Editorial, MLB, Trades,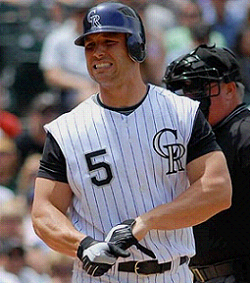 In the midst of yet another New York Yankees World Series victory, it's near impossible to find any headlines that deal with something not covered in pinstripes. But with the 2009 MLB officially behind them, it's time for 29 teams to say goodbye to their new free agents and start shopping around for the replacements they think they need to improve and contend in 2010. It's business as usual for the general managers, with the Yankees taking the weekend off to celebrate, beginning with the traditional parade down the Canyon of Heroes in downtown Manhattan planned for Friday. So who exactly is available to be sought and bought before Spring Training '10?
Click to continue reading Let loose the MLB free agents!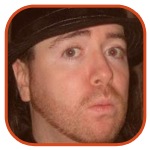 Posted by Adrien Griffin Categories: Athletes, MLB, Trades,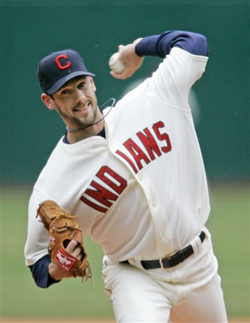 So the Philadephia Phillies have dropped out of the Roy Halladay sweepstakes with the acquisition of 2008 AL Cy Young award winner Cliff Lee from the Cleveland Indians. For those that don't know, Halladay finished second in voting to Lee in 2008. While Lee finished with a 22-3 record with a 2.54 ERA in 2008 to Halladay's 20-11 with a 2.78 ERA, you just need to take a closer look at the stats that a pitcher actually has control over to see that the Phillies may actually have settled for what should have been second place. Halladay out-pitched Lee in almost every category, including innings pitched (Halladay's 246.0 to Lee's 223.1), strikeouts (206 to 170), WHIP (1.05 to 1.11), complete games (nine to four), and shut outs (four to two).
The fact is that a win-loss record is as much a result of a pitcher's effectiveness as it is the team behind him. A pitcher can record a win even if they pitch terribly, just as long as their team picks him up. A pitcher can also get a loss while pitching fantastically. Halladay is 1-1 in his last three starts with just seven runs of support in those games. He should easily be 3-0. It was the same story last year as three of Halladay's nine complete games last year counted among his 11 losses on the season due to terrible run support from the offense. Give those fantastic performances back to Halladay and his record all of a sudden is 23-8. Is that worthy of the Cy Young?
There are so many "pitcher" statistics that a pitcher can't control. Hits against a pitcher is one example. How many times have you seen a blooper go for a hit? That counts against the pitcher, despite the fact that he more than likely crossed up the hitter. How about that ERA? As soon as the ball leaves the pitcher's hand, his job is over. Aside from the home run, earned runs against is more a measure of how effective the defense is behind the pitcher. The pitching stats that count should be strike outs, walks, and home runs, among a few others. Those categories are one-on-one battles between a pitcher and a hitter, which is exactly what every pitch is. Once a hitter puts a ball in play, the battle is over, regardless of where the ball lands. If the ball lands over the fence, then you can just say the hitter won that battle.
There shouldn't be a debate about this. Halladay is better than Lee. The only thing that makes sense about the Phillies actually getting Lee is that the Blue Jays were asking too much and the Phillies weren't willing to pay it. But since the beginning, Jays GM J.P. Riccardi said he wouldn't make a deal unless the other GM walked away thinking he overpaid, and he stuck to that. And in case you still don't believe that the Phillies settled for second best, know that in 2008 Halladay became just the second pitcher in history to record more than 200 strikeouts and less than 40 walks in a season. That should convince you.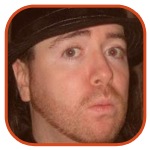 Posted by Adrien Griffin Categories: MLB, News, Trades,
The St. Louis Cardinals added some more pop to their lineup last week, trading with the Oakland Athletics to get Matt Holliday into the fold. The slugging corner outfielder made his impact immediately with his new club and his new fans.
Holliday's weekend was anything but a vacation. After hearing about the trade to the Cardinals, Matt and his family hopped on a train from New York (where the Athletics were playing against the Yankees) to Philadelphia (where the Cardinals were playing the Phillies), opting to avoid the interstate traffic. Holliday didn't miss a beat – or a game – as he returned to the National League in grand fashion on July 24. The only thing that was out of place was his equipment. He had to borrow a glove and shoes while his stuff was still being brought in from New York.
Holliday went 7-for-11 in the series, including four doubles and three RBI. Let's take a look at some of the other numbers. He's batting .636 and is slugging 1.000. Needless to say, he's leading his team in both categories. Even without having played in the National League before Friday, he certainly has made himself a contender for NL Player of the Week.
This guy is amazing. Okay, three games is a small sample size, but this is the same guy that a lot of people said would be nothing outside of Colorado. Granted, his time in Oakland this season wasn't spectacular, but he was still on pace to have a very good season. Now that he's back in the Senior Circuit, he looks like he's ready to explode; and who wouldn't be? Going from worst-place Oakland to first-place St. Louis would certainly put a pop in anyone's bat, although Holliday's terrific debut still wasn't enough to help the Cards from dropping the series and falling a half-game back of the Chicago Cubs in the NL Central.
But seriously, surrounded by players like Albert Pujols and Ryan Ludwick, it's only a matter of time before the Cardinals surge up the wins column and make their way into October. Let's face it; one Holliday is enough for St. Louis. They won't need any more until after the World Series.

Posted by Milo Taibi Categories: Athletes, MLB, Trades,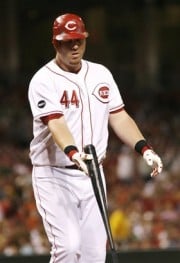 The non-waiver MLB trading deadline passed last month, but as the Arizona Diamondbacks proved, that does not mean that big deals can't still happen. Yesterday Arizona acquired slugger Adam Dunn from the Cincinnati Reds in exchange for a minor league pitcher and two players to be named later. The D-Backs had to answer to the Los Angeles Dodgers, who acquired Manny Ramirez at the trading deadline.
"It was one of those pleasant surprises," Dunn said on a conference call. "To come off the terrible month that we had in Cincinnati, and you get a phone call today saying you're being traded to a first-place team. As a player that's all you could ask for."
Click to continue reading Diamondbacks Acquire Adam Dunn

Posted by Milo Taibi Categories: Athletes, Editorial, MLB, News, Trades,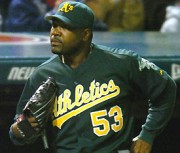 Arthur Rhodes was traded from the Seattle Mariners to the Florida Marlins on Thursday in exchange for minor league pitcher Gaby Hernandez. Rhodes, who's composed a 17 year career, is 2-1 on the 2008 season with 26 K's in 22 IP's. The more important statistic for the veteran southpaw Rhodes is the .195 BA left handed batters have suffered against Arthur this season.
"We wanted to add some depth to the bullpen, some experience," Marlins president of baseball operations Larry Beinfest said. "It's a deal we started talking about last weekend, and it came together this morning."
Click to continue reading Veteran Rhodes Traded To Florida

Posted by Milo Taibi Categories: Athletes, Editorial, MLB, Trades,

Ken Griffey Jr. will play out the remainder of the 2008 season with a contending ballclub, the Chicago White Sox. On Thursday, the day of the MLB trading deadline, the Cincinnati Reds dealt the Hall of Fame bound Griffey to the Chicago White Sox in exchange for Danny Richar and Nick Masset.
"One of the things that factored into this was a guy who has had a great career but has not won a championship and how motivated he's going to be to get on that stage," White Sox GM Kenny Williams said. "That is a factor and will always be a factor for me."
Click to continue reading Ken Griffey Jr. Traded To Chi-Sox

Posted by Milo Taibi Categories: Athletes, Editorial, MLB, Trades,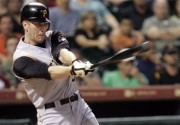 In a blockbuster trade, Manny Ramirez has been dealt to the Los Angeles Dodgers, Jason Bay has been traded to the Boston Red Sox and the Pittsburgh Pirates received four top prospects. Dodgers general manager Ned Colletti explained his reasoning.
"We figured we had to do it," Colletti said. "There was obviously a point in time that you have to make a major decision. We did and we were glad we did it. Hopefully it pays dividends. We're confident we've got one of the best hitters in baseball coming in here—one of the best hitters of his generation from the right side.
Click to continue reading Jason Bay Headed To Red Sox, Manny Ramirez Shipped To Dodgers

Posted by Milo Taibi Categories: Athletes, Editorial, MLB, News, Trades,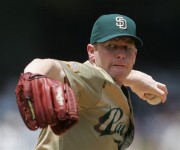 Randy Wolf was traded from the San Diego Padres to the Houston Astros on Monday in exchange for 26 year old pitcher Chad Reineke. On the season, Wolf is 6-10 with a 4.74 ERA and an unimpressive 1.42 WHIP. Houston Astros GM Ed Wade hasn't given up on the 2008 season (The Astros are 46-54 this season), and acquired Wolf to shore up the rotation.
"Randy is an experienced starter and a great competitor," said Wade, who had Wolf during part of his time as general manager of the Philadelphia Phillies. "We tried to sign him as a free agent during the off-season, but the chance for him to pitch close to home prevailed. I've known Randy since the day he signed his first professional contract, and I can say without hesitation that he brings every quality that you'd want in a member of your team, both on and off the field."
Click to continue reading Randy Wolf Shipped to Houston

Posted by Milo Taibi Categories: Athletes, MLB, News, Trades,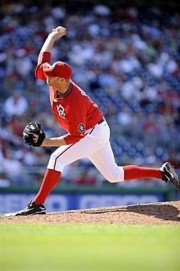 Jon Rauch will no longer be closing games, but he's going to be a part of a competitive team, the Arizona Diamondbacks. Though the D-Backs have a record at exactly .500 (50-50), they are on top in the NL West division. In exchange for Rauch, the Diamondbacks gave the Washington Nationals second base prospect Emilio Bonifacio.
"I'm extremely excited," Rauch said. "Coming over to a ball club like this who is winning their division—tied for first I believe right now. It's a good group of young and old. … I don't think it could have worked out any better."
Click to continue reading Jon Rauch Dealt To Arizona

Posted by Milo Taibi Categories: Athletes, News, NFL, Trades,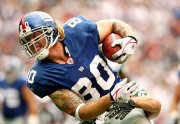 On Monday the New Orleans Saints acquired Jeremy Shockey from the New York Giants in exchange for two draft picks; one in the 2nd round, and one in the 5th round.
"I have had a relationship with coach Payton and I appreciate what he has done as a head coach," Shockey said in a statement released by the Saints. "The Saints have a lot of weapons starting with Drew Brees and I look forward to joining my teammates at training camp. This will be a fun year."
Click to continue reading Giants Trade Tight End Shockey To Saints
© Gear Live Media, LLC. 2007 – User-posted content, unless source is quoted, is licensed under a Creative Commons Public Domain License. Gear Live graphics, logos, designs, page headers, button icons, videos, articles, blogs, forums, scripts and other service names are the trademarks of Gear Live Inc.