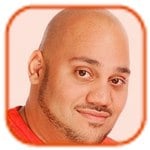 Posted by Andru Edwards Categories: E3, Hardware, Nintendo, Rumors,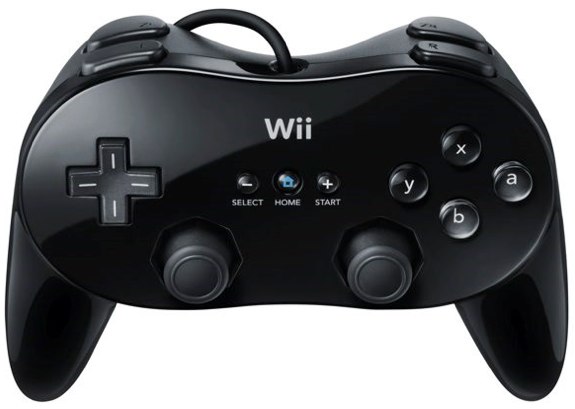 Time to start your wrist exercises: IGN has gotten its hands on new details about Nintendo's upcoming Wii 2 console, codenamed "Project Café," and the system's specs look pretty beefy on paper. But we should preface this all by saying that Wii 2 is just a nickname for Nintendo's Wii successor. According to IGN, Nintendo is floating around alternate names for the platform, including "Stream." This morning Nintendo confirmed that they'd be showing the console at E3 this June:
Nintendo Co., Ltd. has decided to launch in 2012 a system to succeed Wii, which the company has sold 86.01 million units on a consolidated shipment basis between its launch in 2006 and the end of March 2011.

We will show a playable model of the new system and announce more specifications at the E3 Expo, which will be held June 7-9, 2011, in Los Angeles.

Sales of this new system have not been included in the financial forecasts announced today for the fiscal term ending March 2012.
That name is itself interesting, as the Wii successor will finally have the power to be able to output high-definition video–1080p content–but it's still not expected to have a physical way to read HD content like Blu-ray discs.
The 1080p compatibility will be partially thanks to the custom-built tri-core IBM PowerPC chipset that'll serve as the Wii 2's brains. It's going to be the same kind of setup that you'll find on Microsoft's Xbox 360 console. Only, Nintendo will allegedly up the clock speeds to beat out the three 64-bit, 3.2-Ghz cores of Microsoft's competing device, among other enhancements.
Click to continue reading Nintendo confirms Wii successor to be shown at E3 in June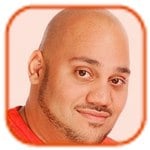 Posted by Andru Edwards Categories: Internet, Microsoft, Xbox 360, Xbox Live,
For those of you who weren't able to get into the Preview Program, you can now rest assured that the latest Xbox 360 features, including Facebook, Twitter, Last.fm, and Zune Marketplace with instant on 1080p streaming, will be arriving on all Xbox 360 consoles on November 17th. Yup, that's just five days away, which isn't that bad at all. To celebrate the launch of the new dashboard, all Xbox Live Gold features will be available to Xbox Live Silver members from November 20-23, allowing Silver members to sample Facebook, Twitter, Last.fm, and online multiplayer. Oh, what's that? You didn't know that only Xbox Live Gold members were able to use the new social networking aspects of the dashboard? Yeah, major fail, we agree.
We previewed the dashboard in a recent episode of Bleeding Edge TV, which you can check out at the top.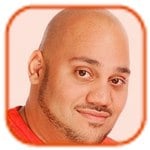 Posted by Andru Edwards Categories: Microsoft, Xbox 360, Xbox Live,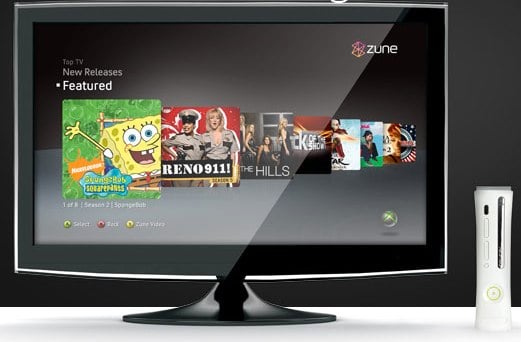 We just got word from our friends at Xbox LIVE that we'll be getting the new Fall 2009 Dashboard Update on Monday, which means we'll be bringing you a preview and walkthrough of all the upcoming Xbox 360 dashboard features, including Twitter, Facebook, Zune instant-on 1080p movies, Last.fm, and more. For a look at everything we'll be bringing you on Monday, hit the jump. Now go enjoy your weekend!
Click to continue reading Xbox LIVE Fall Update: We'll be previewing Facebook, Twitter, Zune 1080p for you on Monday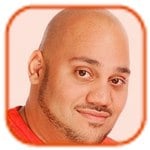 Posted by Andru Edwards Categories: Downloadable Content, Features, Microsoft, Reviews, Xbox 360, Xbox Live, Xbox Live Marketplace,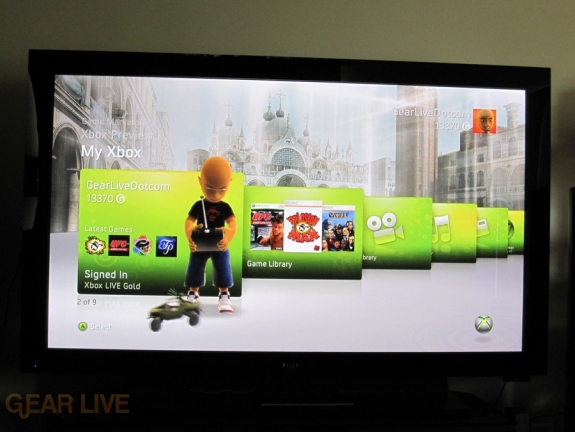 This morning, Microsoft hooked us up with an early preview of the next Xbox 360 Dashboard Update. We were able to get a look at the new Netflix features (which no longer require a PC,) the Avatar Marketplace, Game Ratings, Games on Demand, and more. While more coveted features like Twitter, Facebook, Last.fm, and Zune Marketplace won't be landing until the fall, the update is still a solid one. Here are our thoughts on the next update, which lands on your Xbox 360 on August 11 (or sooner if you apply for early access!)
Click to continue reading Hands-on with the August 11 Xbox 360 Dashboard Update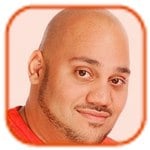 Posted by Andru Edwards Categories: Downloadable Content, Internet, Xbox 360, Xbox Live Marketplace,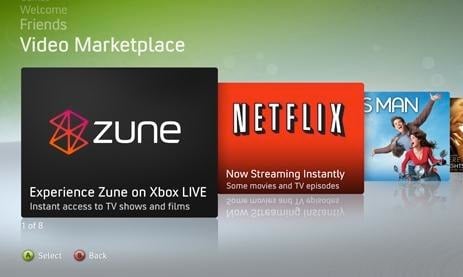 As we all know Zune Marketplace is coming to the Xbox 360. Through the magic of Microsoft Silverlight, instant-on 1080p content will be available when the Marketplace comes to the Xbox 360; but did you know that you could check out the 1080p streaming now? All that you need are a compatible web browser with Microsoft Silverlight installed. As you'll see in the demo, you can play around with the bit-rate to see exactly how the technology will work, and compensate for changes in your Internet speed. Check it out and let us know what you think, is this enough to replace Blu-Ray in your life?
Read More

| Experience Smooth Streaming

Posted by Paul Hamilton Categories: PlayStation 3, Sony,
Sony Computer Entertainment President Kaz Hirai has been speaking out about the PlayStation 3 including the reported development troubles some studios have had and Sony's commitment to the Japanese market.
Regarding the difficulty in development Hirai said he's seen this before when the PS2 drew similar criticisms early in its lifecycle and that it doesn't concern him. He said to The Official PlayStation Magazine that, in fact, he welcomes the news:
If they came back and told me, 'PS3? We can do this in a heartbeat,' that would be worrying because what it is telling me is that we're not pushing the envelope from a technology standpoint.
In another interview with a Japanese website he said that developers working on cross-platform games ought to take advantage of the PS3's extra capability to give PlayStation owners extra value. For example, "[W]ith the PS3, you've got the Sixaxis controller, or you could utilize the extra capacity provided by Blu-ray to add more levels, put on interviews with the developers or have your videos able to play in 1080p." He said he understood why developers were choosing to work cross-platform considering the cost of making modern games.
Later in the same interview he tried to reassure Japanese gamers that they weren't being overlooked:
Just because the foreign market is bigger than the domestic one, we don't intend to take strategy of just making what would have been considered previously as 'Western games' and saying 'We've got no choice but to do this' to our Japanese users. If we did that, there'd be no point in having the Japan Studio.
Read More

| Develop via Game | Life
Posted by Max Dickey Categories: Hardware, Hot Deals, Microsoft, Xbox 360,
Along with today's universal price cut on Xbox 360 consoles, Microsoft has added another nice little treat to the mix: a shiny HDMI port on all new premium systems. For many gamers, the promise of 1080p support made the Xbox 360 Elite a very tempting option for awhile, but now you don't need to break the bank if you're looking for the best video but don't need an extra 100GB of hard disk space. These units should be showing up at retailers any day now, so keep your eyes peeled if you're looking to grab a cheap(er) 360 with the best video you can possibly get…a bargain at $349.99. Systems with HDMI will now sport a nifty HDMI logo right on the box, so you shouldn't have to tear open 10 boxes to find yourself one. No word yet on whether Microsoft has also been generous enough to include an HDMI cable with the new systems, but we'll be sure to let you know as soon as we have more info.
Read More

| GamePro
Posted by Christopher Sasaki Categories: Electronic Arts, Sports, Xbox 360,
After Sega bragged about bringing true 1080P to the Xbox 360 for the first time, EA stepped up today to say that they would actually be the first to have a 1080P native title. Representatives from EA talked to Gamasutra, and they noted that the upcoming February release of NBA Street Homecourt would support the full 1080P resolution on the Xbox 360 at 30 frames per second and would beat Virtua Tennis 3 to market by a month. Perhaps during the two weeks before Street is released, someone else will step up and steal the 1080P crown yet again.
Read More

| Gamasutra
Posted by Christopher Sasaki Categories: PlayStation 3, SEGA, Sports, Xbox 360,
Sega updated gamers on Virtua Tennis 3 today, according to a report on Gamasutra. While the game was previously shown running at 1080P on the Playstation 3, it now appears that the Xbox 360 version will be the first game for that platform to run at full 1080P resolution. If that weren't enough to take the shine off of the Playstation 3 version, Sega also promises exclusive online support for the Xbox 360 version as well. In trade, Playstation 3 owners get support for SIXAXIS tilt support. Still, the dual-platform release may be more interesting than just for the feature differentiation; the Playstation 3 version is being developed by Sega's AM3 division, while the Xbox 360 version has been outsourced to Sumo Digital.
Read More

| Gamasutra
Posted by Michael Cardiff Categories: Action, Driving, Hardware, PlayStation 3,
Another day, another Sony PR fumble… The web is all a-titter this time with the controversy over whether or not Motorstorm for the PS3 will or won't run at 1080p and 60 frames per second. For all of you catching up on the history of this story, here's how it's gone down so far…
1080p resolution running at 60 fps has been the holy grail of gameplay for quite a while, and a spec that the PS3 can technically support (though it has only done so currently in relatively "empty" titles like Gran Turismo HD and NBA 2K07). This has been a bullet point touted by Sony for a while, since the Xbox 360 doesn't currently support games running at true 1080p. So when Peter Dille of Sony gave his keynote indicating that the already-beautiful Motorstorm would be running at 1080p and 60fps, the web was ablaze with Sony fans declaring victory. Motorstorm already looks amazing, with some great texture work and impressive physics, and having the game run at that high of a resolution and framerate almost sounded too good to be true. Still, even the attendees at the Sony CES booth were proclaiming that Motorstorm would be breaking this technical barrier. Well, after all this hubbub, it turns out that somebody either got it wrong, or was exaggerating the numbers, or just plain didn't talk to their technical staff. Motorstorm will be running at 720p and 30fps, at least according to the developers.
All of this has put ArsTechnica's Ben Kuchera in a pretty foul mood.
It's not like the gaming press made up the 1080p, 60fps Motorstorm story by ourselves. Sony employees were telling the press that would be the resolution and the framerate. Let's give them the benefit of the doubt, and say the people running the televisions at trade shows may get their facts wrong. Of course, the Senior Vice-President of Marketing for your company should know better.

In the CES keynote, which you can watch here, Peter Dille states that we'll see Motorstorm at 1080p running at 60fps. He makes this point strongly, in an attempt to prove the power of the PS3, before telling us it's the only "true" high definition system on the market. I would say that point is arguable at best, but there is no doubt he was selling Motorstorm as an example of their 1080p content.
Please Sony, just make sure you've got your facts right before you start touting your console's specs, mmmkay?
Read More

| 1up.com
© Gear Live Media, LLC. 2007 – User-posted content, unless source is quoted, is licensed under a Creative Commons Public Domain License. Gear Live graphics, logos, designs, page headers, button icons, videos, articles, blogs, forums, scripts and other service names are the trademarks of Gear Live Inc.