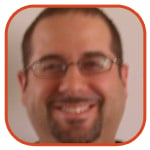 Tweet
Posted by David Torres Categories: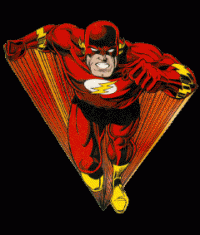 For years we have been hearing that Barry Allen, the Silver Age Flash, is coming back to life. The death of Barry Allen in Crisis on Infinite Earths angered many long-time DC fans. As you know, Wally West, the former Kid Flash, took on the mantle of the Flash. At first, Wally was not welcomed by the fans. Although many had loved him as Kid Flash fighting alongside Barry and then in the Teen Titans, to them Wally was not the Flash. It took a while, but finally many came to accept and even like that Wally was the Flash - a large part due to Mark Waid's classic first run on the Flash title.
Over the years we've seen Barry Allen return in some form. We would see him traveling through time just prior to his death in Crisis. He would show up, fight, but always return to his own time because he would have to die to save the universe. Now he's back again. With the current Final Crisis storyline we have seen Barry return once again, but this time it was announced that this would, in fact, be for good. Even the NY Daily News announced his return.
Click to continue reading Wally West Lives!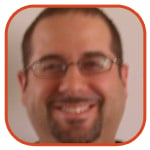 Tweet
Posted by David Torres Categories: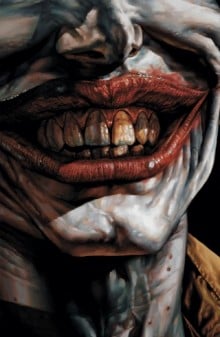 I was excited when I first heard Brian Azzarello was writing a graphic novel that featured the Joker. A graphic novel is a little out of my price range, but with the Joker I was all in.
The Joker is my favorite Batman villain. He is the most interesting; the most fun; the one villain you know that when he makes an appearance in a Batman story the stakes are much higher for those who may get caught up in the mayhem.
DC first announced this story a few months back – before "Dark Knight" hit the theaters. Some artwork accompanied the story and we saw that the artist, Lee Bermejo, was drawing the Joker like we see him in "Dark Knight" with the scars on the corners of his mouth to make a devious grin. Bermejo said he came up with the look prior to Dark Knight, but that's not important. What's important is if the story delivers and I'm afraid it doesn't.
Click to continue reading Review of "Joker" by Brian Azzarello
Read More

| Newsarama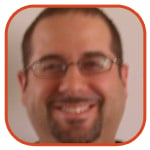 Tweet
Posted by David Torres Categories: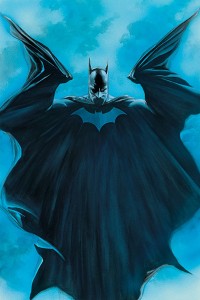 Grant Morrison began writing Batman for DC Comics in 2006 with the story arc "Batman and Son". The story debuted Bruce Wayne's son Damien whose mother is Talia al Ghul daughter of Ra's al Ghul one of Batman's deadliest villains. I thought this story was okay, which is how I feel of most of Morrison's run on Batman.
We are now coming to the end of what Morrison has said he has been building up to with "Batman: R.I.P." Now with a title like that, one would believe that this will be the end of Batman, but Morrison has already said that Batman will not be dying at the end of this storyline. What will happen is "so much better than death" Morrison was quoted saying. The result will be a "fate worse than death." That statement has intrigued fans over the past few months and has had them wondering what will be the big revelation at the end of "Batman: R.I.P."
Click to continue reading What's In Store For Batman Post R.I.P.?
Read More

| Comic Book Resources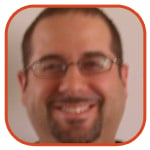 Tweet
Posted by David Torres Categories: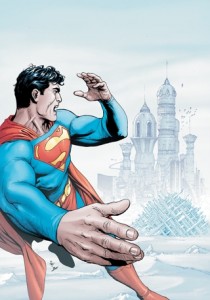 Great start to this new storyline. I finished reading "New Krypton" right after I finished reading the latest issue of "Final Crisis" and it was like a breath of fresh air. I could actually understand what was going on and enjoy the story.
I haven't enjoyed James Robinson's run on "Superman" so far and I was going to drop it, but with this new storyline, I'll be staying on. New Krypton will be going through the two main Superman titles as well as "Supergirl". I'm not happy about collecting an extra series like Supergirl for this storyline and the foreseeable future as the Superman titles along with Supergirl will act together as one long ongoing storyline. For you newbies, this was also done during the 90s.
Click to continue reading Review of DC Comics Superman: New Krypton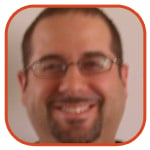 Tweet
Posted by David Torres Categories: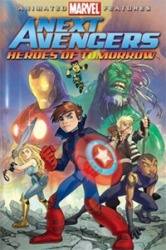 I first heard about Marvel Comics' direct to DVD feature "Next Avengers" in Wizard magazine. I thought it was going to be a cartoon starring kids as the Avengers instead of the adults as Captain America, Thor, etc. I also saw some images of what they looked like and I said a big "no" to myself. Why would I want to see kiddy versions of my favorite heroes when I would much rather see adult Avengers in a serious big-time action animated feature? However, a few days ago I found out that the plot of the film actually centered on the children of the Avengers who survive under the care of Iron Man after Ultron kills all of the original Avengers. That sold me.
I work as Librarian and through inter-library loan, I was able to obtain a copy of the film. I sat down last night and watched it and I thought it was really good. I have not seen any other direct to DVD features that Marvel has put out like "Doctor Strange: The Sorcerer Supreme," so I can't compare and say this is better or worse. All I can say is I give this movie a big thumbs up.
The film can be a bit juvenile at times. The son of Giant Man and the Wasp is a good example as most of his comedy relief is similar to Disney Channel programs like "That's So Raven" or "The Suite Life." I'm sure kids will like it, but more importantly, long-time adult comic fans will love it as well.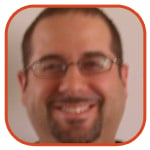 Tweet
Posted by David Torres Categories:
I have a four-year-old son named James who loves the old Super Friends cartoons. Like most comic book fans in their 30s and 40s, many grew up watching the Super Friends on Saturday mornings or weekday re-runs. There were many versions of the Super Friends from episodes staring Wendy, Marvin, and Wonder Dog to Gleek and the Wonder Twins. However, I believe the best episodes were the episodes that did not have any of these sidekick characters as the best episodes were the "Challenge of the Super Friends" where the Justice League battled the Legion of Doom.
Sometime ago I purchased these episodes on DVD for myself. Of course, I hoped James would get into them and sure enough he did. With Christmas around the corner, James is demanding various action figures. He already has Superman, Batman, and Robin and he now wants Wonder Woman, Green Lantern, the Flash, and… Black Vulcan.
Click to continue reading Black Vulcan vs Black Lightning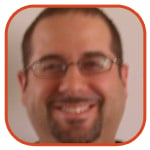 Tweet
Posted by David Torres Categories:
I've been reading comics on and off for almost 25 years. I began as a "Marvel Zombie." For those not familiar with that term, it means that I only read Marvel comics. That however all changed in 1989 with the release of the first Tim Burton "Batman" movie and then decided to start reading Batman, the comic book. The first issue I picked up was Batman #433. That was part one of John Byrne's "The Many Deaths of Batman." This was a "silent issue" meaning no dialogue or captions were printed to help tell the story - only pictures. I do believe Gordon said one word, but overall it was silent issue and I was hooked.
As time passed, I began reading other DC titles. I loved the "Death of Superman" storyline and Mark Waid made me love Wally West and the Flash. Then came James Robinson's Starman. That book is the bible to me. I love that book so much, I got a tattoo of the Starman symbol on my left shoulder. I stopped reading comics for a while, but I found my way back and I've been reading comics again for about six or seven years now - mostly DC books, by the way.
And one of those books is Booster Gold.

Click to continue reading DC Comics' Booster Gold Is Still Great!
Read More

|
Comic Book Resources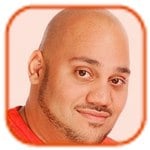 Tweet
Posted by Andru Edwards Categories: Announcements,
Alright, let's take a break for just a moment away from the standard news fare. We know that you guys love the gadgets, gizmos, and consumer electronics just as much as we do. These expensive and cool toys are often a marvel when you break them down to the technology that drives them. That's what makes what we do fun, and why we love the interaction we have with our readers. However, we want to focus a bit of attention on the young ones in our country who would be happy to have a calculator for use in class, and the teachers who work for districts that can't afford things like projectors for use in their schools.
Gear Live has joined the 2008 DonorsChoose Blogger Challenge, and we have chosen eight great causes that are centered around getting some basic technology and literature into classrooms located in our local area, as well as some of the hardest areas still suffering the affects of Hurricanes Ike and Katrina. We've chosen eight causes that we thought touched on what we believed in, and you can take a look at them and choose which one(s) you want to help. Our goal is to raise $5,000 for the children of our nation. Just know that the money you donate will go directly to that specific teacher request - not into some big pot of money that is then doled out by the organization.
Some of the most expensive purchases for schools are consumer electronics. We believe that all children need to get acquainted with the tools of the future as they learn so they when they are ready to hit the workforce, they can succeed alongside their peers. Please, help us in assisting teachers, children, and schools in low-income areas get the tools they need to help their children excel.
Read More

| Gear Live Gives Back 2008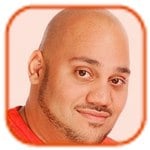 Tweet
Posted by Andru Edwards Categories: Announcements, Apple, Smartphones, Handhelds,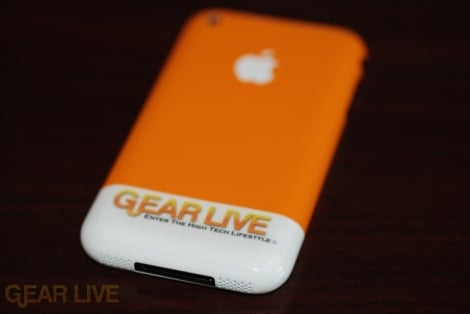 We wanted to shout out the winners of the customized Gear Live iPhone giveaway that we held a couple of weeks ago. We let three winners walk away with a piece of the action, with the grand prize, of course, winning our orange painted iPhone.
The grand prize went to

Kat

. She gets the iPhone, an LRG T-shirt, a couple of Monster Cable accessories, and a few LRG Monster iPhone cases. Second place went to x1xtomx1x. He doesn't get an iPhone or anything, but he does get a couple of the LRG Monster iPhone cases, the shirt, and the accessories. Third place went to Shan Gee, and he gets one less LRG case than x1 gets.
So there you have it, the end to another Gear Live contest. Stay tuned though, we still have a bunch of stuff that we plan on giving away to your readers. You know, like Wii Fit, Microsoft Zune, etc. In the meantime, be sure you are a Gear Live member.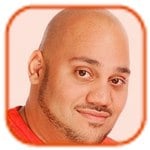 Tweet
Posted by Andru Edwards Categories: Announcements, Apple, Smartphones, Design, Features, Handhelds, Portable Audio / Video,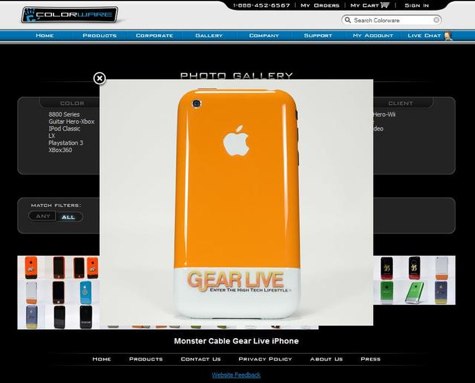 As Gear Live member x1xtomx1x discovered and shared with us on the forums today, the Gear Live iPhone that we are giving away is actually featured in the ColorWare gallery. Very nice find.
Remember, you are eligible to enter to win this customized iPhone. Check out the official rules to find out how.
© Gear Live Media, LLC. 2007 – User-posted content, unless source is quoted, is licensed under a Creative Commons Public Domain License. Gear Live graphics, logos, designs, page headers, button icons, videos, articles, blogs, forums, scripts and other service names are the trademarks of Gear Live Inc.