With Cliff Lee's win over the Boston Red Sox on Tuesday night, he capped what was one of the best months for a pitcher in baseball history and all-but-guarantees he'll be selected as NL Player of the Month for June. He posted a 5-0 record with an unbelievable 0.21 ERA in 42.0 innings pitched with 29 strikeouts, giving up one earned run on 21 hits and eight walks for a 0.69 WHIP. Opposing batters had a .151 clip against him.
Click to continue reading Cliff Lee and Roy Halladay competing for pitching's top honor
It wasn't a typical Roy Halladay start on Friday against the Houston Astros, going only six innings, but more true to form, he did limit the opposition to just one run on five hits. However, it took a walk-off victory to give the Philadelphia Phillies their first win in what many think will be another march to the World Series. And with a widely-publicized rotation that features Halladay, Cliff Lee, Roy Oswalt, and Cole Hamels (not to mention the best fifth-starter in baseball, Joe Blanton), who would argue?
Click to continue reading Philadelphia Phillies relievers are on the hot seat

Posted by Dennis Velasco Categories: Athletes, Kudos, MLB, Playoffs,
In this edition of the EndScore Report, DV and Chris make their selections for the division winners of the National League East, Central, West, and Wild Card, as well as the MVP and Cy Young winners. Will the preseason favorite Philadelphia Phillies take the east? How will the defending World Series champion San Francisco Giants do? Will a contract season help propel Albert Pujols to the MVP? Roy Halladay won the Cy Young last year with the Phillies, so will another Philly pitcher take the prize? Cliff Lee? Roy Oswalt? Cole Hamels? Find out here!
Also LIKE our Facebook page... it will make you a better baseball fan. No, really.

Posted by Dennis Velasco Categories: Athletes, Injuries, MLB, News,
The St. Louis Cardinals suffered a big blow to their success when it was reported that pitcher Adam Wainwright has a possible serious elbow injury and could miss the entire 2011 season. Saying that the loss of Wainwright is damaging to the Cardinals is an understatement as he's won 39 games the past two seasons, including 20 games in 2010, finishing with a 2.42 ERA and 213 strikeouts, as well as second in the voting for National League Cy Young, which Roy Halladay of the Philadelphia Phillies won. Wainwright is in the middle of his prime at 29-years-old, so losing a season hurts if it comes to that. However, he's still young enough to recover from elbow surgery, most likely Tommy John surgery if he needs to go under the knife. He's in the middle of getting a second opinion before surgery becomes a tangible option.
Read More

| ESPN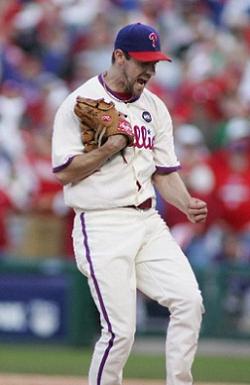 The Philadelphia Phillies may be the first team in history to go 162-0. In a stunning turn of events, Cliff Lee, the offseason's most sought-after free agent, has opted to return to Philly to join Roy Halladay, Cole Hamels and Roy Oswalt in the starting rotation. We've seen phenomenal threesomes in the past, but a group of four like this comes around once a generation. Hamels may be the number four starter on this team, which is incredible, considering he'd be an ace for half of the other teams in baseball.
Click to continue reading Cliff Lee signs with Philadelphia Phillies, creates best rotation ever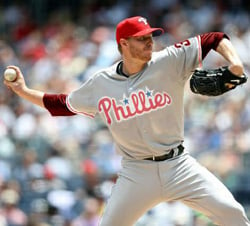 As predicted by many as soon as he first donned his Phillies uniform, Roy Halladay has won the National League Cy Young Award. Was there any doubt? Apparently not among voters. Halladay was a unanimous decision, picking up all 32 first-place votes for a total of 224 points. St. Louis's Adam Wainwright finished in a distant second with 122 points while two-time defending NL Cy Young winner Tim Lincecum – whose Giants defeated Halladay's Phillies in the postseason – was 11th in voting with two measly points.
Click to continue reading Roy Halladay wins second Cy Young in unanimous decision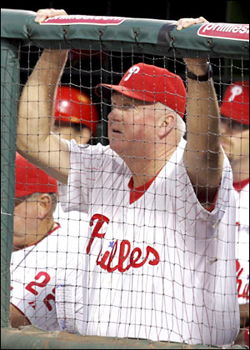 After executing the same bit of managerial tactics that didn't work for Joe Girardi, Charlie Manuel's Phillies find themselves down 3-1 in their championship series against the Giants and are facing elimination. Manuel decided against using his ace Roy Halladay on short rest and opted for Joe Blanton. Despite Blanton exiting with a 4-3 lead, Manual did end up using starter Roy Oswalt in relief, who blew the lead and took the loss. Now the Phillies need to win three in a row to win their third-straight NL pennant.
Click to continue reading Philadelphia Phillies and San Francisco Giants set for gigantic rematch in Game 5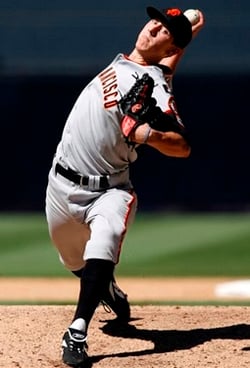 It is probable that the four best pitchers in baseball represent the four remaining teams in the playoffs. CC Sabathia, Roy Halladay, Cliff Lee and Tim Lincecum are the faces of New York, Philadelphia, Texas and San Francisco, respectively, and all four are fronting the charge to the World Series for their clubs. It's impossible to answer which ace trumps which ace, as any game featuring any two of these stars very well may end up with a 1-0 score or left to the bullpens to decide.
Click to continue reading Four aces set to duel in championship series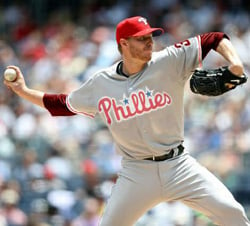 When people predicted that the National League's best offensive team might threaten the two-time NL defending champions, they were sorely wrong. The Phillies swept the Reds in what turned out to be a pushover for a divisional series, sweeping Cincinnati in three straight and celebrating with champagne in the locker room afterwards. While this kind of celebration isn't that common after winning a divisional series, it's also not common to throw two complete games, including a no hitter.
Click to continue reading Philadelphia Phillies beat Cincinnati Reds and cruise through opening round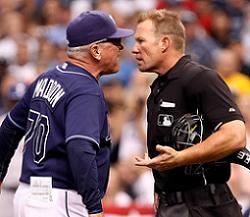 The MLB playoffs have been flying over these first two days. We've already seen fantastic pitching performances, timely hitting, and a pair of American League managers given the boot on justifiable arguments with umpires. Tampa's Joe Maddon and Minnesota's Ron Gardenhire took early showers on Thursday and had to watch from the clubhouse as their respective teams fell behind 0-2 in their ALDS against Texas and New York. Maddon and Gardenhire will have an extra day each to cool off, as the American League takes a break while the National League takes center stage on Friday.
Click to continue reading Joe Maddon and Ron Gardenhire take early showers
© Gear Live Media, LLC. 2007 – User-posted content, unless source is quoted, is licensed under a Creative Commons Public Domain License. Gear Live graphics, logos, designs, page headers, button icons, videos, articles, blogs, forums, scripts and other service names are the trademarks of Gear Live Inc.