Posted by Dennis Velasco Categories: Editorial, NFL,
In this episode of EndScore Report, DV and Chris take a look at the match-ups of the first week of NFL action for the 2011 NFL season. We recorded too late to predict the winner of the Green Bay Packers and New Orleans Saints game, but we have you covered for every other game. How will the mighty Philadelphia Eagles do with all of the expectations on them versus the St. Louis Rams? We start off quickly in regards to potential playoff implications between the Baltimore Ravens and Pittsburgh Steelers. LISTEN to find out our thoughts on these and the complete slate of games the first Sunday of the NFL season.
In this edition of "In Your Face," we call out the US government for their mishandling of the case versus Roger Clemens. Great job, prosecution. We also call out Pittsburgh Steelers defensive stalwart, James Harrison for making disparaging comments about Rashard Mendenhall, Ben Roethlisberger and NFL Commissioner Roger Goodell. In your faces! LISTEN UP!
Thanks for supporting EndScore Report and don't forget to tell your friends to listen!
For this week's "In Your Face," DV and Chris call out Los Angeles Lakers forward and enigma, Ron Artest, for getting suspended a game during a time where everybody is needed to overcome a daunting 0-2 (now 0-3) deficit. Also, we shake our heads at Pittsburgh Steelers running back and notorious tweeter, Rashard Mendenhall, for a questionable use of Twitter. Really, Rashard? Think it's time to delete the account! Give this week's "In Your Face" a LISTEN!!! Just click play!
Thanks for supporting EndScore Report and remember to LIKE our Facebook page, good people of earth!

Posted by Dennis Velasco Categories: Athletes, Championship, Super Bowl, Kudos, News, NFL, Playoffs,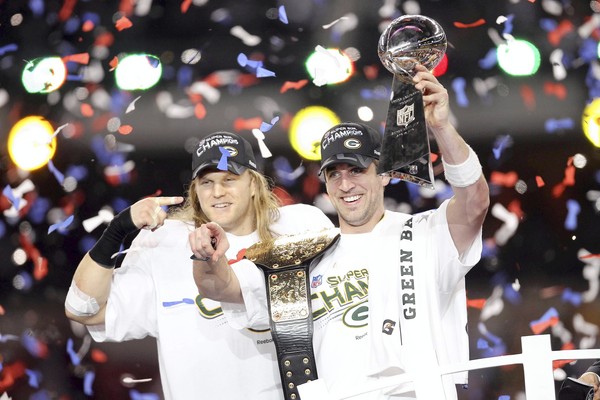 The Green Bay Packers defeated the Pittsburgh Steelers 31-25 to win Super Bowl XLV. The Packers went into halftime with a 21-10 lead after the Steelers scored a touchdown just before the end of the second quarter. It looked like the Steelers had all of the momentum heading into the second half. However, despite outscoring the Packers after the half, the Steelers couldn't make enough of a comeback to win. If they had, they would have owned the record to come back from the biggest deficit (18 points) in the Super Bowl. Packers QB Aaron Rodgers was the Super Bowl MVP after throwing for 304 yards and three touchdowns without any interceptions, but was also great all postseason, leading the sixth-seeded Packers through three rounds before taking the team to the promised land. Rodgers now has as many Super Bowl victories as former Packers QB Brett Favre, but in addition has something Favre doesn't - Rodgers has the Super Bowl MVP.
Read More

| ESPN

Posted by Dennis Velasco Categories: Athletes, Kudos, News, NFL,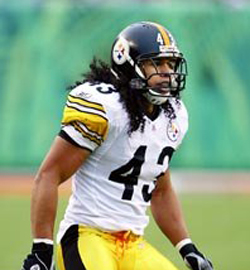 Pittsburgh Steelers defensive back Troy Polamalu was named AP's Defensive Player of the Year, Green Bay Packers linebacker Clay Matthews came in a very close second, losing to Polamalu by two votes. Both players are game-changers and helped lead the top two defenses in the NFL to this year's Super Bowl. However, Polamalu is probably more of a versatile defender, able to sack the quarterback and come up with a big-time interception or hit. Also, Matthews is only in his second season in the NFL and will have many years to win the award.
Read More

| ESPN

Posted by Dennis Velasco Categories: Championship, Super Bowl, Editorial, NFL, Scoreboard,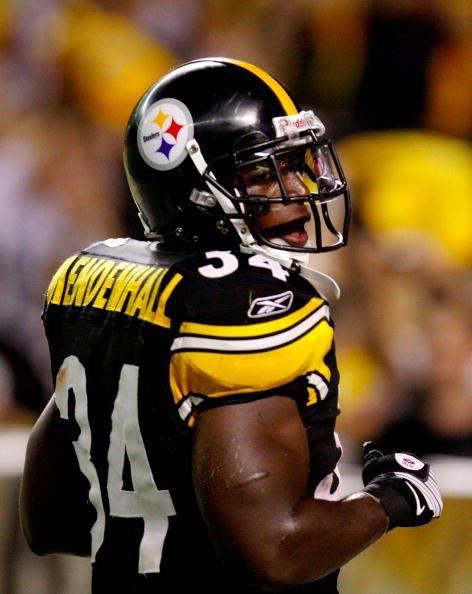 DV and Chris really go hard into why the New York Jets lost, but you can't take anything away from the PIttsburgh Steelers who have a chance to win their third Super Bowl in six years.
Download the MP3 to hear our thoughts!
Also check out our NFC Conference Championship Recap!

Posted by Dennis Velasco Categories: Championship, News, NFL, Playoffs,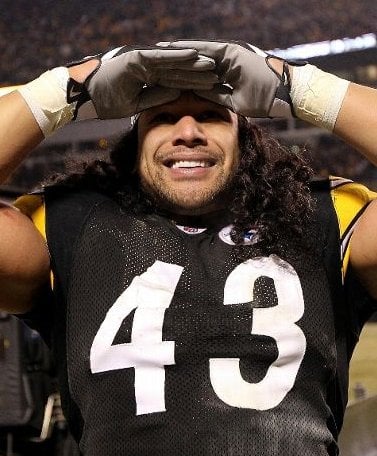 The Pittsburgh Steelers put up 24 quick points, heading into halftime versus the New York Jets with a 24-3 lead. However, the Steelers didn't score one point in the second-half, but the Jets only scored 16 more points, leaving the Steelers with a 24-19 AFC Conference championship victory, earning the right to play for yet another Super Bowl ring. Currently, the Steelers have the most NFL titles in history with six and could add another in two weeks should they defeat the Green Bay Packers.
Read More

| ESPN

Posted by Dennis Velasco Categories: News, NFL, Playoffs,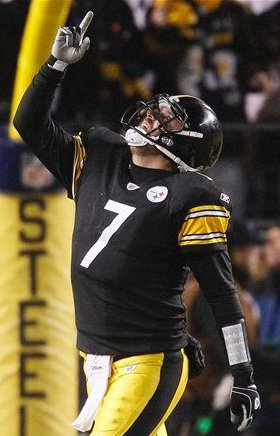 In what was being hyped up as a game that would be equivalent to a boxing match, as well as possible a lower scoring game, the Pittsburgh Steelers and Baltimore Ravens didn't disappoint in that it was a hard-fought game. However, no one saw the scoring that would happen with the Steelers beating the Ravens 31-24. The Ravens actually went into the half with a 21-7 lead, but the home team Steelers came out strong in the second half, outscoring the Ravens 24-3. Ben Roethlisberger threw for two touchdowns while Rashard Mendenhall ran for a couple of scores. Next up is the AFC championship for Pittsburgh.
Read More

| ESPN

Posted by Dennis Velasco Categories: NFL, Playoffs,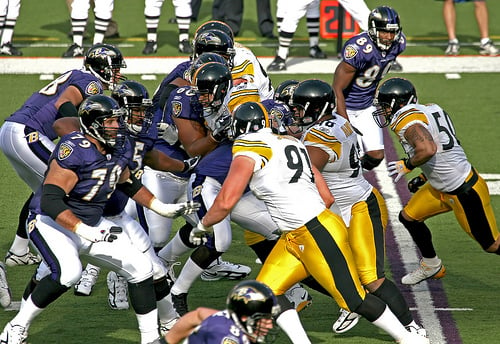 Chris Sannella and Dennis Velasco break down and make their picks for the AFC Divisional Series, which include the Baltimore Ravens versus Pittsburgh Steelers and New York Jets versus New England Patriots. The Ravens and Steelers matchup will be a boxing match as both teams play hard-nosed defense, but which offense will raise the team to victory? The Jets seek revenge for a 45-3 shellacking at the hands of the Patriots in New England earlier in the season. Can the Jets keep Tom Brady off the field long enough to score enough points and win against all odds?
Download the MP3 to hear our picks!
Also check out our NFC Divisional Series predictions!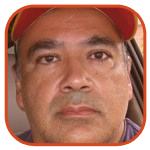 Posted by Frank Nevarez Categories: Editorial, NFL,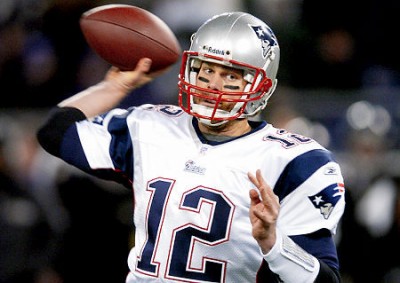 Predictably, I go 3–2 in the final week of the regular season. The season mark runs to 47-36. Wild Card Weekend provides three repeat match-ups from last weekend, but I only see one coming up with the same result. The home teams will get fat on home-cooking and victories this weekend.
Click to continue reading True Predictions: Home Teams Will Rule Wild Card Weekend
© Gear Live Media, LLC. 2007 – User-posted content, unless source is quoted, is licensed under a Creative Commons Public Domain License. Gear Live graphics, logos, designs, page headers, button icons, videos, articles, blogs, forums, scripts and other service names are the trademarks of Gear Live Inc.