DV and Chris review their predictions of NBA playoff series and how they're looking like thus far. At the time of this taping, only three match-ups are tied - Orlando Magic/Atlanta Hawks, Los Angeles Lakers/New Orleans Hornets, and San Antonio Spurs/Memphis Grizzlies - and the others being a 2-0 count - Chicago Bulls over Indiana Pacers, Miami Heat over Philadelphia 76ers, Boston Celtics over New York Knicks, Dallas Mavericks over Portland Trail Blazers, and Oklahoma City Thunder over Denver Nuggets. LISTEN UP!
Thanks for supporting the EndScore Report and don't forget to LIKE our Facebook page!
The 2011 NBA Playoffs kicks off on Saturday, April 16th with the Eastern Conference's top-seeded Chicago Bulls matching up against the eighth-seeded Indiana Pacers at 1PM ET on ESPN. It's appropriate that the Bulls start the NBA postseason since they are also the NBA's top-seeded team, earning homecourt advantage throughout the playoffs with a regular season record of 62-20. So, how do the Eastern Conference series shake out for all of the playoff participants? Peep the preview below.
1. Chicago Bulls (62-20) vs. 8. Indiana Pacers (37-45)
The Bulls (36-5 at home; 26-15 on the road) are led by MVP-favorite Derrick Rose, but certainly have more than the dynamic point guard to thank for the organization's stellar success this season. The Bull have a good mix of scorers (Luol Deng, Carlos Boozer), defensive-minded big men (Joakim Noah, Taj Gibson) and solid role players (Ronnie Brewer, Kyle Korver). They were second overall in points allowed (91.3) and the new attitude of non-stop effort and defensive cohesiveness has a lot to do with new head coach, Tom Thibodeau, who has to be considered as the favorite Head Coach of the Year.
The Pacers (24-17 at home; 13-28 on the road) are almost a vagabond group that made the playoffs due to the overall weakness of the Eastern Conference as they are the only under-.500 team in the postseason. They made a spirited effort when assistant Frank Vogel was named interim head coach, going 20-18 and obviously made the playoffs. Danny Granger is the top talent in the group and while Darren Collison was a bit of a disappointment, other players stepped up their games, particularly Tyler Hansbrough, Josh McRoberts and Roy Hibbert. Rookie Paul George also showed flashes of big-time ability.
However, the Bulls will be too much for the Pacers who seem disjointed compared to the smooth-running machine that is the Bulls.
Prediction:
Bulls in four games.
Click to continue reading NBA Playoffs: Eastern Conference Preview
In this edition of the EndScore Report, DV and Chris look at all of the match-ups in the Eastern Conference NBA playoffs with the Chicago Bulls versus the Indiana Pacers, Miami Heat versus Philadelphia 76ers, Boston Celtics versus New York Knicks, and the Orlando Magic versus the Atlanta Hawks. Who will step up in the east? Derrick Rose and the Bulls look primed to take the conference, but the Heat and its Big Three of LeBron James, Dwyane Wade, and Chris Bosh won't go down easy. Neither will the "old" Big Three of the Celtics - Kevin Garnett, Ray Allen, and Paul Pierce - however, how will the trade of Kendrick Perkins affect the team. And, finally, how about the Magic and its big man, Dwight Howard. Are there implications to how the team's postseason results will affect his staying or leaving the team? Listen to what DV and Chris have to say!
Check out the Western Conference NBA Playoffs Preview and LIKE our Facebook page! Thanks for all of the listens and undying support... now tell your friends and family to listen!

Posted by Phil Partington Categories: Fantasy, NBA, NCAA, College Basketball,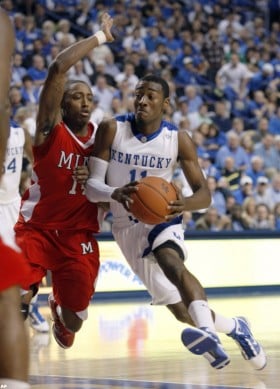 June is the month for the NBA Draft, when fans and experts alike chart players and teams to determine which future prospect will be taken by which team. The process is both exciting and captivating, as it hints at the future of many NBA ball clubs. Yet, NBA Draft buzz doesn't start in June. Even though the college basketball season is just underway, murmurings of where players might go in the 2010 NBA Draft have already surfaced. Here's an early look at how the draft might shape up.
1. New Jersey Nets select PG John Wall, Kentucky, 6-4, 195lbs
Wall is the consensus top pick at this point. Wall has great size and athleticism for a point guard. After six games, he's averaging 18.5 ppg, 7.8 apg, 4.0 rpg, 2.5 spg, while shooting 56% from the field and 80% from the line. He somewhat resembles Derrick Rose. Though the Nets have Devin Harris, it's hard to imagine them passing on a potential superstar like Wall.
Click to continue reading 2010 NBA Mock Draft December Version

Posted by Phil Partington Categories: Athletes, Editorial, NBA,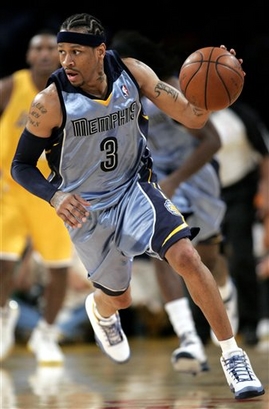 Allen Iverson may have had the biggest drop-off of any player in recent years. Just a season and a half ago, Iverson was having a superstar season by statistical standards, averaging 26.4 ppg, 7.2 apg, while shooting nearly 46% from the field and nabbing 2.0 spg. The following year, he looked more than human. The season after that nobody wanted him at all. The question on many fans' minds is what happened to Allen Iverson?
There are a couple of theories that might give indication to Iverson's recent struggles.
The Ball Hog Theory
Consider that Iverson is a volume shooter. This means that in order to be effective, AI needs to have the offense flow through him and he needs to be able to take a lot of shots. Some players are able to be effective even if they don't get a lot of touches by moving without the ball, setting up teammates, setting off screen picks, going for offensive rebounds. Allen Iverson is not one of these players. On the Denver Nuggets, he was paired with another player like this in Carmelo Anthony. While the two were able to boost their personal stats, this didn't really help the team win, as few other players got involved in the offense. When Iverson was traded to the Detroit Pistons, a team that was accustomed to playing "team" basketball, Iverson naturally didn't fit in with his style of dominating the ball. Therefore, he lost about five minutes of playing time per game and he was never able to adjust to a team that didn't want to rely solely on his quickness to get baskets. Consider that in Philadelphia, where Iverson had several years of success, the system was basically tailored to him. While the team was built to be a defensive team, the objective was to let him control the offense. That meant, surrounding Iverson with big men who could collect offensive rebounds and sharpshooting wing men who could hit the open shot when the defense collapsed on a penetrating AI. It may not be coincidence that the Denver Nuggets suddenly surged after trading Iverson for Chauncey Billups.
Click to continue reading The Fall of Allen Iverson

Posted by Phil Partington Categories: Athletes, Editorial, NBA,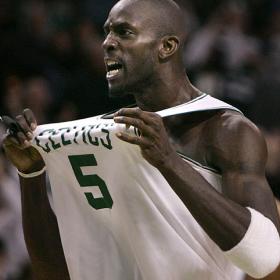 Atlantic Division Preview
The casual NBA fan may not recognize the new look of the league with so many players packing their bags and moving to different cities. It's almost as if the basketball gods took the names of every NBA player, placed them in a box and shook the box wildly before reassigning those names to new rosters. Who would have thought Shaquille O'Neal and LeBron James would pair up; that Rasheed Wallace would don a Celtics uniform; that Hedo Turkoglu would leave the Eastern Conference defending champion Orlando Magic for the Toronto Raptors? Many big-named players have gravitated to veteran teams with better chances of winning an NBA title, which creates opportunities for many young, up-and-comers to have breakout seasons. While it's too early to tell which teams will surprise and which will disappoint, it's apparent that NBA fans are in for a roller coaster season, filled with intriguing stories and exciting twists.
Click to continue reading 2009-2010 NBA Atlantic Division Preview
© Gear Live Media, LLC. 2007 – User-posted content, unless source is quoted, is licensed under a Creative Commons Public Domain License. Gear Live graphics, logos, designs, page headers, button icons, videos, articles, blogs, forums, scripts and other service names are the trademarks of Gear Live Inc.