The New York Islanders announced today that they've locked up former first-overall draft pick and current fan favorite John Tavares to a six-year, $33 million contract. The deal kicks in next summer when Tavares' entry level contract expires. This is great news for the fans of the Islanders, but the real question is how the heck can the franchise afford a deal as expensive as this one?
Click to continue reading John Tavares signs massive contract with New York Islanders
The New York Islanders have made a lot of headlines in the last two weeks, which is interesting considering the horrible state of their franchise. After the Isles faced the Penguins last week in a game that saw Pittsburgh goalie Brent Johnson shut out New York 3-0 and knock Islander goalie Rick DiPietro out with one punch and putting him on the bench for the next month or so, the two teams met again on Friday night with what couldn't be a more different ending.
Click to continue reading Pittsburgh Penguins meet New York Islanders for round two
Talk about redemption. The 6'6" Finnish New York Islanders goaltender Mikko Koskinen, who had no business being in the NHL, let alone as a starting goaltender in back-to-back games, made the most of a bad situation on Thursday night by taking the Canadiens to a shootout, notching a 4-3 win and securing two points. After making a rather embarrassing NHL debut on Tuesday against the Maple Leafs – in which he gave up two goals on his first two shots and losing 5-2 – he saved some face in a 37-save effort.
Click to continue reading Mikko Koskinen redeems himself after shaky debut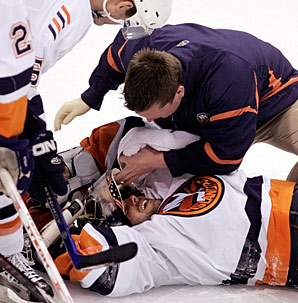 Whenever it seems like things could not get worse for the New York Islanders, things get worse for the New York Islanders. The latest blow came on Friday when the team announced that top goaltender Rick DiPietro is going to miss the next four-to-six weeks. This occurred after DiPietro got into a fight with Penguins goalie Brent Johnson, or more accurately, he got into a punch. Johnson skated the length of the ice, threw one left hook and DiPietro was finished.
Click to continue reading Rick DiPietro out again with busted face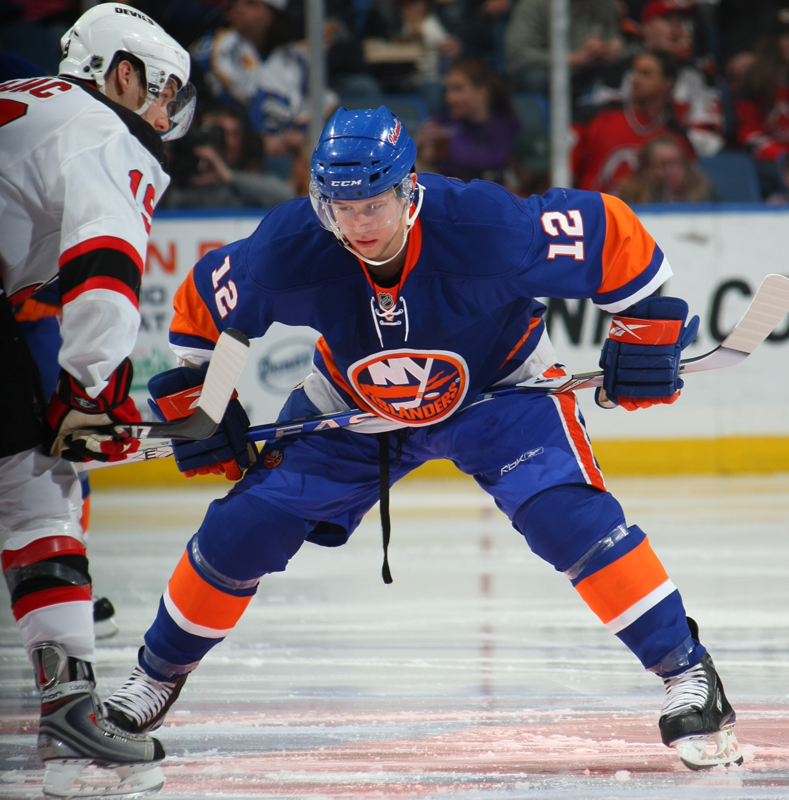 The New York Islanders are a mess in many ways and will continue to be messy for years to come. They have a terrible record this season, consistently picked in the top spots in the draft in previous years and still have few players they can boast as "elite." One positive they have is a core of young players who look like they'll develop into above-average NHL players who can help reshape the direction of the franchise. One of those players is forward Josh Bailey.
Click to continue reading Josh Bailey helping rebuild broken Islanders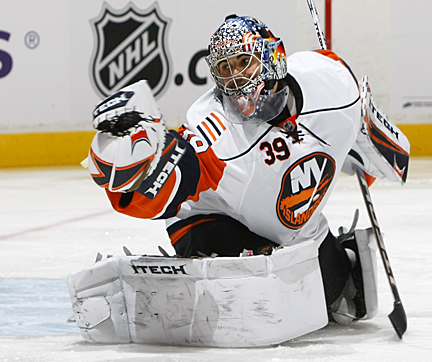 Things are not going very well for the New York Islanders these days. They have a league-worst 15 points and it doesn't look like anything will improve anytime soon. The team is having trouble winning inter-squad games, and the frustration of that is starting to boil over into contests that count. Once these kinds of negative emotions get into a player's head, it's almost impossible to get them out, and it certainly looks like the entire team has them.
Click to continue reading New York Islanders taking the low road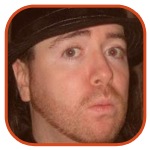 Posted by Adrien Griffin Categories: NHL,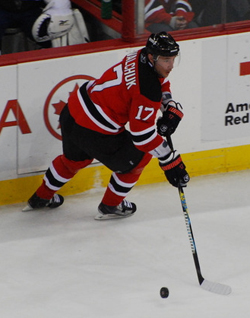 The New Jersey Devils' season is probably already over. They are convincingly the second-worst team in the league in the standings, marginally ahead of the New York Islanders. Even if they turned things around, the Devils would still easily be the most disappointing team this season. They can't win at home. They can't win on the road. They can't score goals at all. General Manager Lou Lamoriello put all of his eggs into one basket this past summer, and it seems he may have dropped the basket to the floor.
Click to continue reading New Jersey Devils not scaring anybody these days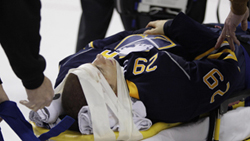 Colin Campbell was busy on Tuesday, handing out a number of suspensions. Among the hit list was James Wisniewski of the Islanders for his obscene gesture towards Sean Avery, as well as Niklas Hjalmarsson on Chicago for his blind hit from behind against Jason Pominville, which resulted in Pominville's being carried off the ice on a stretcher. Both Wisniewski and Hjalmarsson were suspended for a pair of games for their individual and fundamentally different rule infractions.
Click to continue reading Hand gestures and hits from behind worth equal suspensions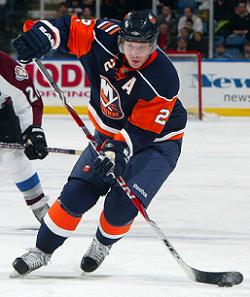 Mark Streit's season may be over before it started. The Islanders' defenseman will likely miss six months after injuring his shoulder during an intrasquad game after being hit by Matt Moulson and falling into the boards. Streit will undergo surgery to repair what initially appears to be a torn labrum and torn rotator cuff, but he may also have suffered a dislocation. The Islanders will have to scramble to find somebody who can fill Streit's skates and hopefully do at least half the job that he did.
Click to continue reading Islanders' Mark Streit gone with shoulder injury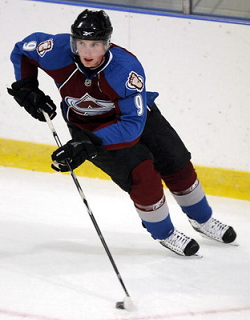 This year's NHL rookie race is heating up. With all of the hype surrounding last year's Entry Draft and the debate about whether John Tavares or Victor Hedman would be taken first (it was Tavares by the Islanders; Hedman went second to Tampa Bay), it was the third-overall pick, Colorado's Matt Duchene who is keeping the goal judge busy. His 21 goals and 24 assists both lead all rookies, and he's 10 ahead of second-place Tavares on the points list.
Click to continue reading Calder Memorial race is getting hot
© Gear Live Media, LLC. 2007 – User-posted content, unless source is quoted, is licensed under a Creative Commons Public Domain License. Gear Live graphics, logos, designs, page headers, button icons, videos, articles, blogs, forums, scripts and other service names are the trademarks of Gear Live Inc.