Posted by Dennis Velasco Categories: Athletes, NBA, Playoffs,
In this edition of EndScore Report, DV and Chris speak on the LeBron James situation in which he initmated he was better than us regular folk. Maybe it was just sour grapes on his part after his Miami Heat lost to Dirk Nowitzki and the Dallas Mavericks in the NBA Finals, but still, LeBron should have some class. I don't know how Dwyane Wade is going to deal with this for several more seasons. Yeesh! Anyway, give it a LISTEN!
Thanks for your support and don't forget to LIKE us on Facebook!

Posted by Dennis Velasco Categories: Athletes, NBA, Playoffs,
In this edition of "In Your Face," Chris throws down on Dwyane Wade and LeBron James for allegedly mocking Dirk Nowitzki being sick for Game Four, which the Dallas Mavericks won. Of course, the mocking didn't phase Nowitzki as he and the Mavs then took Game Five to go up in the NBA Finals, three games to two versus the Miami Heat. DV goes after the LeBron haters that think he suddenly stinks. Sure LeBron has only had eight total points in ever fourth quarter during the championship series, but you can't sleep on the production before then that keep the Heat in the games. He had a triple-double in Game Five! If that's disappointing, ask NBA players how they would like to get a triple-double in a regular season game, let alone during the NBA Finals! HEAR IT!
Thanks for listening to EndScore Report! LIKE our Facebook page too, please!

Posted by Dennis Velasco Categories: NBA, Playoffs,
It's entirely too hard not to speak about the NBA Finals once again in this edition of EndScore Report. DV and Chris are absolutely loving this match-up between the Dallas Mavericks led by Dirk Nowitzki and the Miami Heat led by Dwyane Wade. LeBron James has disappeared during the NBA Finals during the fourth quarter and he'll need to step it up in order for the Heat to take Game Six and force a final and deciding Game Seven. However, if players such as Jason Terry and J.J. Barea continue to produce, it may be an NBA title for the Mavs despite what the Heat do. LISTEN UP!
Don't forget to LIKE our Facebook page! And thanks for the support!

Posted by Dennis Velasco Categories: Athletes, Kudos, NBA, Playoffs,
In this edition of EndScore Report, DV and Chris rain praises upon the NBA Finals, which have been vastly entertaining due to the closeness of all the games, in particular, Games Two to Four. LeBron James has disappeared of late, but Dwyane Wade has come up big. However, is there anyone more important to his team than Dirk Nowitzki who helped the Dallas Mavericks win Game Four despite the burden of being sick with over 100 degrees fever. The series is tied between the Mavs and the Miami Heat with Game Five possibly foreshadowing the eventual NBA title champion. LISTEN UP!
Don't forget to LIKE our Facebook page!

Posted by Dennis Velasco Categories: Championship, NBA, News,
On the last day of May, the first game of the NBA Finals begins. In this edition of EndScore Report, DV and Chris break down the series and its important players such Dirk Nowitzki, LeBron James, Jason Kidd, Dwyane Wade, Jason Terry, and Chris Bosh. The duo make their predictions as to whom will win the NBA title and be crowned NBA champions, so LISTEN UP!

Posted by Dennis Velasco Categories: Athletes, NBA, News, Playoffs,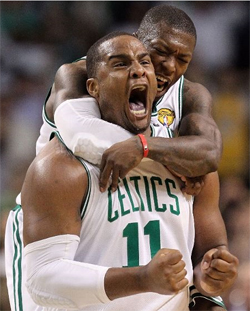 The Boston Celtics came back after defeat yet again in this NBA Finals series, beating the Los Angeles Lakers 96-89 in Game Four. The Celtics were led by Glen "Big Baby" Davis who has performed postseason heroics previously during the Celtics 2008 NBA Finals run and Nate Robinson, who has never been to the NBA Finals during his up-and-down experience with the New York Knicks. Both Davis and Robinson came off the bench, providing a spark that undoubtedly propelled the Celtics to victory. The duo combined to score 30 points with Davis getting 18 points and Robinson, 12 points. They shot 11-for-18 from the field and were the heroes of tonight's game. Game Five goes down Sunday night on ABC at 8PM ET.
Read More

| Yahoo! Sports
Posted by Brendon Lindsey Categories: Championship, NBA,
Game 4 of the NBA Finals begins shortly, and it shouldn't surprise anyone that the San Antonio Spurs are on the cusp of eliminating the Cleveland Cavaliers. The Spurs winning 4-0 would be fitting, given the great lengths the NBA has gone through to try and tie in the new Fantastic Four movie. (We get it, Duncan, LeBron, Manu, and Parker are like the Fantastic Four, but without superpowers, without saving the world, and competing against one another.)
So far this series, Duncan and Parker have been absolutely trashing the Cavs, while Manu has been fairly sporadic in his playing, like normal. Can the Cavs manage to win one at home in their first Finals in the Age of LeBron? Will the Spurs continue to make basketball boring for the casual fan? How many times will we be reminded about Robert Horry's accomplishments, and will we be treated to several more on-screen appearances by Brent Barry? Most likely: no, yes, seventeen, and yes.
Stick around EndScore and refresh this page every now and then, as I'll be constantly blogging my thoughts while watching the game unfold—unless I fall asleep, that is.
Click to continue reading Blogging our way through Game 4 of the NBA Finals

Posted by Chris Pereira Categories: Championship, NBA, Playoffs, Video Games,
The NBA Finals begin Thursday night, but Electronic Arts already has the outcome of the series, thanks to a simulation using NBA Live 07. The Spurs will take in the series and the championship in six games, with Tim Duncan being named MVP. It's certainly a possibility, and actually one that matches my personal prediction. But then again, NBA Live 07 is a horrible basketball game, so I wouldn't put much stock into what it says.
Only one game where LeBron scores more than 30? Bruce Bowen or not, I can't see that happening – Tayshaun Prince may not be as good a defender as Bowen, but LeBron didn't have much trouble lighting him up. It'll be fun to see how the final scores stack up against the results from each of the simulated games, though.
The "highlights" from each game can be seen over at Playfeed.
Read More

| Playfeed

Posted by Milo Taibi Categories: Athletes, Championship, Editorial, NBA,

On Saturday night the Cleveland Cavaliers advanced to the NBA finals with a resounding victory over the Detroit Pistons, 98-82. Cleveland rookie Daniel Gibson lead the way, scoring 31 points. Lebron James scored only 20 points, but grabbed 14 rebounds and had nine assists. Gibson attributed some of his game six success to King James himself.
"He told me he was going to make me something special," Gibson said. "He told me to keep shooting, don't hesitate. When a guy like that tells you that, you step to it with a lot of confidence and knock it down for him."
Click to continue reading Cavaliers Advance To NBA Finals
Read More

| Yahoo! Sports
© Gear Live Media, LLC. 2007 – User-posted content, unless source is quoted, is licensed under a Creative Commons Public Domain License. Gear Live graphics, logos, designs, page headers, button icons, videos, articles, blogs, forums, scripts and other service names are the trademarks of Gear Live Inc.