Posted by Dennis Velasco Categories: Editorial, MLB, Playoffs,
In this edition of EndScore Report, DV and Chris take a look around the MLB landscape to assess which divisions are in the bag and where the pennant and/or wild card races aren't. The Detroit Tigers and Philadelphia Phillies probably don't have anything to worry about, but Texas Rangers and possibly the Milwaukee Brewers may. Both wild card races could get interesting between the Boston Red Sox and Tampa Bay Rays, as well as the Atlanta Braves and St. Louis Cardinals, respectively. GIVE IT A LISTEN!
The Milwaukee Brewers announced on Thursday that they and All-Star left fielder Ryan Braun have reached an agreement to extend Braun's contract through the 2020 season, adding $105 million to his bank account. This deal is a bit surprising, if not confusing. There didn't seem to be any rush to lock up Braun long-term, but now that they have, there will be a lot of second-guessing the decision, especially the economic impact it will have on the Brewers long-term.
Click to continue reading Milwaukee Brewers extend Ryan Braun five years early
Picked to finish in the mid-80s in wins by many experts, the Milwaukee Brewers got off to a rough start, losing their first four in a row, including the season opener by way of a walk-off home run. They're playing under-.500 so far and have already put themselves in a hole. While the season is still young, there are already a few disappointments making this difficult for the Brew Crew. First of all, Zack Greinke has yet to make an appearance (and likely won't until May) and secondly, Shaun Marcum has been anything but Marcum-esque.
Click to continue reading Shaun Marcum and the Milwaukee Brewers trying to right the ship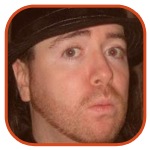 Posted by Adrien Griffin Categories: Athletes, Injuries, MLB,
Due to an extreme game of pick-up basketball, Zack Greinke has a hairline fracture in a rib on the left side of his body and will likely start the MLB season on the disabled list. Fans of the right-hander in Milwaukee will have to wait a few more weeks before they see their new ace in a Brewers uniform. It's the latest mini-tragedy for a team who has had more than their fair share of them over the last 30 years.
Click to continue reading Zack Greinke to start on DL with injured rib
Zack Greinke, the newly-anointed ace of the Milwaukee Brewers is working out in Spring Training and for the first time in his career, preparing to compete with a team that actually has a chance to make some noise this year. There's some uncertainty regarding his ability, considering his numbers in the last three seasons have been inconsistent, but there's little doubt that he has some of the best raw talent in the league right now.
Click to continue reading Zack Greinke ready to recapture success with Milwaukee Brewers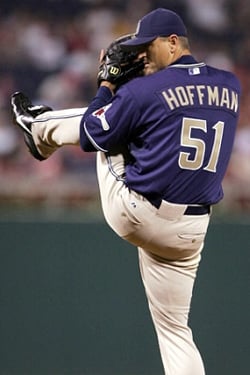 How long into a season should a team wait before considering a change? Well, if you're a fantasy team owner, you've probably already made a deal or two. If you were an MLB general manager, when would you think a change is appropriate? We're into week two of this young season, and already there are dozens of players suffering through midseason-worthy slumps. Whether Spring Training wasn't long enough or the players are just overwhelmed, they need to shape up and do so quickly.
Click to continue reading Slow starts may be costly for big leaguers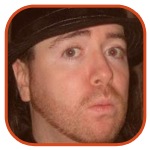 Posted by Adrien Griffin Categories: Athletes, Editorial, MLB,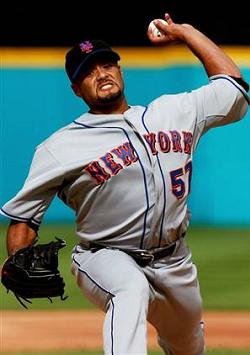 Is there anything worse than a cocky athlete? When Mets ace Johan Santana was asked who he thought the best pitcher in the National League East was, he took a moment to "think" about his answer before saying, "Santana… simple." Not only is that a slap in the face to the other teams in his division, but also to his teammates like Mike Pelfrey, John Maine and Francisco Rodriquez. Of course fans want the best players to play on their team, they just don't want those players to say they're the best.
Click to continue reading Santana claims he's best in the NL East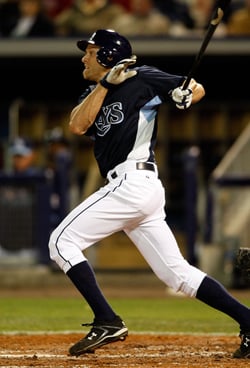 In late September, 2005, Gabe Kapler's major league career took a turn common to many others, but in a very uncommon way. While standing on first base, with teammate Tony Graffanino at the plate, Kapler watched as Graffanino launched a fly ball to left-center field. As the ball came down over the wall to give the Boston Red Sox a 3-2 lead over the Toronto Blue Jays, Kapler came down on the other side of second base.
Having thought the ball might land for a double, Kapler was hustling around the bases and ended up rupturing his left Achilles tendon and wound up being pinch…jogged for to complete the home run. Kapler went on the disabled list and his season was over. He returned in June 2006 and went on to have another successful season, but on December 12, 2006, his career took yet another road common to all players, but again in an uncommon way. At the age of 31, right in the prime of his career, Gabe Kapler retired from playing in the majors. Gabe quit playing and was offered a managerial position with the Red Sox's Single-A affiliate club, the Greenville Drive, where he would coach the team to a 58-81 record and finish seventh in the South Atlantic League's Southern Division.
At this time at least, a managerial career was not in Kapler's list of duties. In December of 2007, Kapler signed with the Milwaukee Brewers as a fourth outfielder. However, he played as if he were never injured, and his superior defense gave him a leg up over teammates Tony Gwynn Jr. and Gabe Gross. As the season went on, Gwynn was sent to the minors and Gross went to Tampa Bay, and Kapler became the fill-in outfielder for all positions when needed. After 2008, Kapler went to Tampa, signing a one-year contract with the team. He is currently splitting time in a platoon role with Gross, playing against lefties.
With six teams and parts of eleven seasons on his resume, Gabe Kapler has established himself as one of the best bench players in the game. While not one of the fastest guys on the base paths, his power and his defense more than makeup for his speed and his patience. Even at the age of 34, if Kapler can learn to hit righties better and show some plate discipline, he could find himself an everyday job to ride out the second leg of his already successful career.

Posted by Milo Taibi Categories: Athletes, MLB, Scoreboard,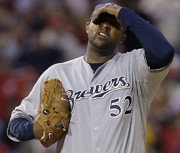 Thanks in part to a lousy showing from starting pitcher C.C Sabathia, the Milwaukee Brewers lost their second consecutive game in the NLDS round of the 2008 MLB playoffs. Now down two games to none, the Brewers must win three games in a row to advance to the NLCS.
"I don't think starting on three days' rest had anything to do with it," Sabathia said on the outing. "I just didn't make pitches when I needed to."
Click to continue reading Phillies Put Brew Crew On Brink Of Elimination

Posted by Milo Taibi Categories: Athletes, MLB, News,

First base coach for the Tulsa Drillers and former Major League Baseball player Mike Coolbaugh died on Monday after being struck in the head by a line drive hit by Tino Sanchez. The game was suspended after Coolbaugh was knocked unconcious. Coolbaugh is survived by his wife Amanda and his children Joseph and Jacob. Coolbaugh played in 2001 and 2002 for the Milwaukee Brewers and the St. Louis Cardinals. He had two career home runs 15 career hits and seven career RBI's.
© Gear Live Media, LLC. 2007 – User-posted content, unless source is quoted, is licensed under a Creative Commons Public Domain License. Gear Live graphics, logos, designs, page headers, button icons, videos, articles, blogs, forums, scripts and other service names are the trademarks of Gear Live Inc.