Posted by Dennis Velasco Categories: Athletes, Editorial, NBA, Playoffs,
In this excellent edition of EndScore Report, DV and Chris make their predictions in the NBA Conference Finals. In the east, we have the Derrick Rose-led Chicago Bulls versus LeBron James, Dwyane Wade, Chris Bosh, and the rest of the Miami Heat. In the west, Dirk Nowitzki and the Dallas Mavericks have had a long wait after sweeping the Los Angeles Lakers, but they finally have an opponent, the Oklahoma City Thunder led by the dynamic duo of Kevin Durant and Russell Westbrook. DV and Chris have differing opinions on the conference winners, LISTEN to find out whom they selected!
Don't forget to LIKE our Facebook page!

Posted by Dennis Velasco Categories: Editorial, NBA, Playoffs,
The 2011 NBA Playoffs kicks off on Saturday, April 16th with the Eastern Conference's top-seeded Chicago Bulls matching up against the eighth-seeded Indiana Pacers at 1PM ET on ESPN. It's appropriate that the Bulls start the NBA postseason since they are also the NBA's top-seeded team, earning homecourt advantage throughout the playoffs with a regular season record of 62-20. So, how do the Eastern Conference series shake out for all of the playoff participants? Peep the preview below.
1. Chicago Bulls (62-20) vs. 8. Indiana Pacers (37-45)
The Bulls (36-5 at home; 26-15 on the road) are led by MVP-favorite Derrick Rose, but certainly have more than the dynamic point guard to thank for the organization's stellar success this season. The Bull have a good mix of scorers (Luol Deng, Carlos Boozer), defensive-minded big men (Joakim Noah, Taj Gibson) and solid role players (Ronnie Brewer, Kyle Korver). They were second overall in points allowed (91.3) and the new attitude of non-stop effort and defensive cohesiveness has a lot to do with new head coach, Tom Thibodeau, who has to be considered as the favorite Head Coach of the Year.
The Pacers (24-17 at home; 13-28 on the road) are almost a vagabond group that made the playoffs due to the overall weakness of the Eastern Conference as they are the only under-.500 team in the postseason. They made a spirited effort when assistant Frank Vogel was named interim head coach, going 20-18 and obviously made the playoffs. Danny Granger is the top talent in the group and while Darren Collison was a bit of a disappointment, other players stepped up their games, particularly Tyler Hansbrough, Josh McRoberts and Roy Hibbert. Rookie Paul George also showed flashes of big-time ability.
However, the Bulls will be too much for the Pacers who seem disjointed compared to the smooth-running machine that is the Bulls.
Prediction:
Bulls in four games.
Click to continue reading NBA Playoffs: Eastern Conference Preview

Posted by Dennis Velasco Categories: Editorial, NBA, Playoffs,
In this edition of the EndScore Report, DV and Chris look at all of the match-ups in the Eastern Conference NBA playoffs with the Chicago Bulls versus the Indiana Pacers, Miami Heat versus Philadelphia 76ers, Boston Celtics versus New York Knicks, and the Orlando Magic versus the Atlanta Hawks. Who will step up in the east? Derrick Rose and the Bulls look primed to take the conference, but the Heat and its Big Three of LeBron James, Dwyane Wade, and Chris Bosh won't go down easy. Neither will the "old" Big Three of the Celtics - Kevin Garnett, Ray Allen, and Paul Pierce - however, how will the trade of Kendrick Perkins affect the team. And, finally, how about the Magic and its big man, Dwight Howard. Are there implications to how the team's postseason results will affect his staying or leaving the team? Listen to what DV and Chris have to say!
Check out the Western Conference NBA Playoffs Preview and LIKE our Facebook page! Thanks for all of the listens and undying support... now tell your friends and family to listen!

Posted by Dennis Velasco Categories: Athletes, NBA, News,
Multiple NBA MVP winner and current Charlotte Bobcats owner Michael Jordan named Chicago Bulls point guard Derrick Rose as this season's Most Valuable Player. Jordan, arguably and mostly thought of as the greatest NBA player ever, has won numerous awards during his career in the regular season, All-Star game, and NBA Finals, so if anyone should know how much better a player is than anyone else in the league, it's going to be Jordan.
"I wish man," Rose said. "It's great that he said that. It's an honor. I'm speechless. But I'm just trying to keep winning. The award will come if we keep winning. I'm just trying to play hard and aggressive and with an edge."
It's refreshing that Rose is as humble as he is, but his game has noticeably improved this season. He's shooting from beyond the arch more consistently, finding and setting up his teammates more often, and he's simply taking over games becoming a real presence on the floor. Rose has the Bulls in contention in the east, as well as possibly taking it all this postseason and run the table, winning an NBA championship. Something the team hasn't won since that Jordan guy played.
Read More

| Chicago Tribune

Posted by Phil Partington Categories: Fantasy, NBA, NCAA, College Basketball,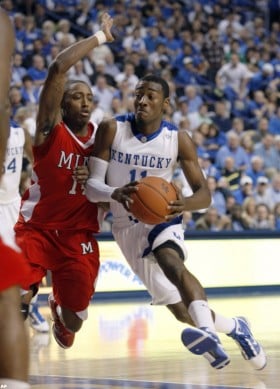 June is the month for the NBA Draft, when fans and experts alike chart players and teams to determine which future prospect will be taken by which team. The process is both exciting and captivating, as it hints at the future of many NBA ball clubs. Yet, NBA Draft buzz doesn't start in June. Even though the college basketball season is just underway, murmurings of where players might go in the 2010 NBA Draft have already surfaced. Here's an early look at how the draft might shape up.
1. New Jersey Nets select PG John Wall, Kentucky, 6-4, 195lbs
Wall is the consensus top pick at this point. Wall has great size and athleticism for a point guard. After six games, he's averaging 18.5 ppg, 7.8 apg, 4.0 rpg, 2.5 spg, while shooting 56% from the field and 80% from the line. He somewhat resembles Derrick Rose. Though the Nets have Devin Harris, it's hard to imagine them passing on a potential superstar like Wall.
Click to continue reading 2010 NBA Mock Draft December Version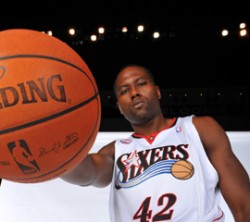 The saying is way too simplistic to capture how sophisticated some strategies are in fantasy sports, but for hoops, the first three rounds more or less involve drafting so-called "best available" talent. People have their preferences, but no one really goes too off the board. Generally in fantasy basketball, early draft picks end up as busts due to injury, not poor play. Match-ups are not as important as in football; for example, LeBron James might struggle against a good defensive team like the Spurs, but he will still get 25 points one way or the other. Contrast that to football where a high draft pick this year like Steve Slaton continues to struggle.
The middle rounds are where people try to mold their team. Injuries are out of anyone's control, so if a top three pick succumbs to an unexpected health problem, there is not much you can do. However, you can soften the blow by hitting on a few of your picks from the fourth to eight rounds. These picks are often the ones that separate the strong teams in your league from the weak ones. Here is how the fourth round is shaping up using Yahoo's average draft position rankings as of today. These numbers change often, and as we move past the early rounds, the stats will vary day to day, so use this tool yourself for the latest updates.
Click to continue reading Fantasy NBA: Analysis of Fourth Round

Posted by Phil Partington Categories: Editorial, NBA,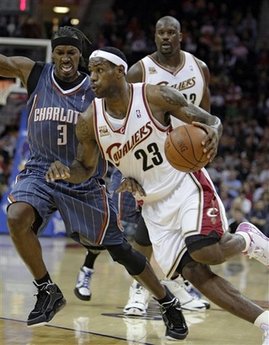 The pairing of LeBron James and Shaquille O'Neal for the Cleveland Cavaliers is grabbing the headlines for the NBA's Central Division. Two of the biggest personalities in professional sports should create a Hollywood stir in Cleveland next season. Meanwhile, 2009 Rookie of the Year winner, Derrick Rose, strives to build on an exceptional first year with the Chicago Bulls.
Click to continue reading 2009-2010 NBA Central Division Preview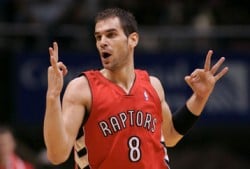 This player might best exemplify the difference between drafting for a roto league and a head-to-head league. Although picking players who shoot well ranks importantly across the board, shooting percentages will fluctuate week to week. Thus, a high percentage, but low volume shooter like this lead guard who plays north of the border may not be quite as valuable in a head-to-head league. Yet, in mock drafts that I have seen so far, he continues to be confidently targeted by prospective fantasy GMs. Let us put his game under the microscope as training camp opens this week.
Round 2, Pick 8: Jose Calderon, PG, Toronto Raptors
Click to continue reading One Man Mock Draft, Fantasy NBA 2009: Round 2, Pick 8
© Gear Live Media, LLC. 2007 – User-posted content, unless source is quoted, is licensed under a Creative Commons Public Domain License. Gear Live graphics, logos, designs, page headers, button icons, videos, articles, blogs, forums, scripts and other service names are the trademarks of Gear Live Inc.