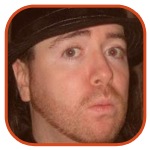 Posted by Adrien Griffin Categories: Athletes, Injuries, NHL,
Calgary Flames captain Jarome Iginla got out for his team's first on-ice practice at training camp on Saturday, and less than 30 minutes later, he was back in the dressing room. Iginla complained of back spasms, which have sidelined the all-star winger since. He said that this is something that he's battled with throughout his career, but has played through it for the most part during the season. For him, who has been in the NHL for 15 years, this is only training camp.
Click to continue reading Calgary Flames' Jarome Iginla sidelined with back spasms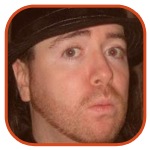 Posted by Adrien Griffin Categories: Editorial, NHL,
So the Calgary Flames continued their hot streak in the freezing cold, beating the Montreal Canadiens 4-0 in the 2011 Heritage Classic, held at McMahon Stadium in Calgary. Throughout the game, the announcers could only talk about the dropping temperature, how bad the ice was and what the players had to do to adjust to the outdoor conditions. Despite the success of the Winter Classic in recent years, aren't these games getting a little out of hand?
Click to continue reading How many is too many for outdoor NHL games?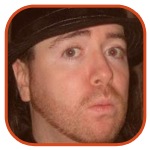 Posted by Adrien Griffin Categories: Athletes, Injuries, NHL,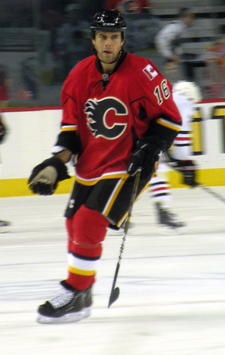 When Calgary's Tom Kostopoulos hit Detroit's Brad Stuart in the head during a game last week, NHL disciplinarian Colin Campbell came down quickly with a six-game suspension. Whether you think six games is too few considering Stuart will be gone six weeks is open to debate, but you have to give the NHL credit for at least recognizing the growing concern and danger surrounding head hits and attempting to abate them. Whether that's working or not is a different matter.
Click to continue reading Tom Kostopousos receives six games, Brad Stuart receives six weeks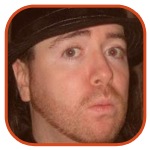 Posted by Adrien Griffin Categories: Athletes, NHL, Rumors,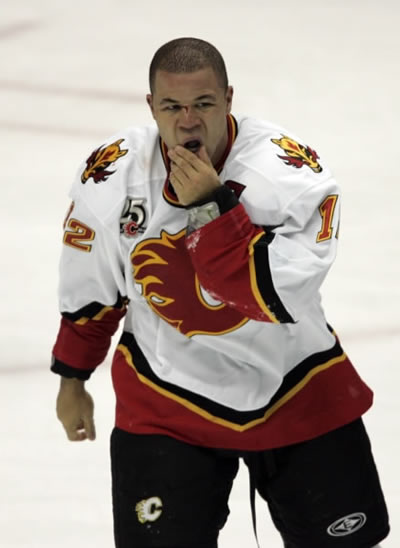 Jarome Iginla's time in Calgary has to be coming to an end. Rumors continue to pour in that the Flames are entertaining trade offers for Iginla, but the longer they wait before making a deal, the worse Iginla's trade value becomes. For a team that appears to be going nowhere fast, the longer they wait to pull the trigger on a deal for Iginla, the lower the return they're likely to get back in trade.
Click to continue reading The Calgary Flames need to trade Jarome Iginla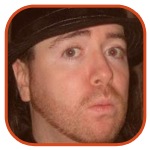 Posted by Adrien Griffin Categories: Athletes, NHL,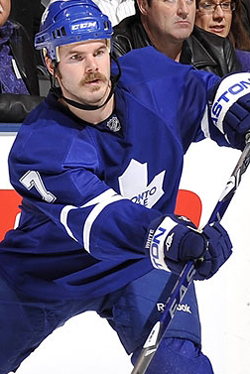 When Ian White retires, he'll be able to look back on his NHL career and say that he once led the league in at least one category. With the regular season over, White has played more games than any other NHLer. Thanks largely to a midseason trade between his former Toronto Maple Leafs and the Calgary Flames, White played 83 games this year. Going the other way was Dion Phaneuf. Both defenseman are 25 years old, separated by less than two months, but that's about all the parallels you'll find.
Click to continue reading White leads the league at least once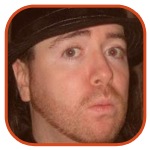 Posted by Adrien Griffin Categories: NHL, Playoffs,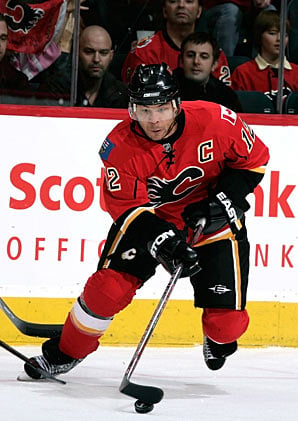 A lot of teams are counting on a Calgary Flames loss tonight. Not the least of which are the Colorado Avalanche, who welcome the Albertans into the Pepsi Center in a pivotal Western Conference match that may have a tremendous impact on the playoff standings. As it stands now, Colorado is on a three-game losing streak and are struggling to hold on to eighth place while the Flames, winners of two in a row, currently sit ninth, two points back.
Click to continue reading Calgary Flame-out will clinch two more playoff spots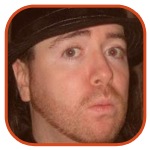 Posted by Adrien Griffin Categories: Athletes, NHL, Playoffs,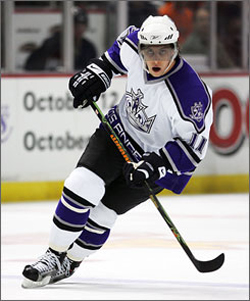 The Los Angeles Kings' freefall continues. They dropped their fourth straight game on Monday; third straight in regulation, losing to Minnesota 3-2. The last time they got a point was a 4-3 shootout loss to Colorado. Since the Olympic break, the Kings are 5-7-2, which has seriously hurt their playoff positioning and with seven games left in the regular season, some are beginning to wonder if they'll be able to hold on to their playoff spot.
Click to continue reading Kings court crumbling quickly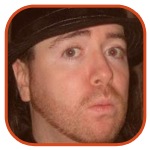 Posted by Adrien Griffin Categories: Athletes, NHL, Playoffs,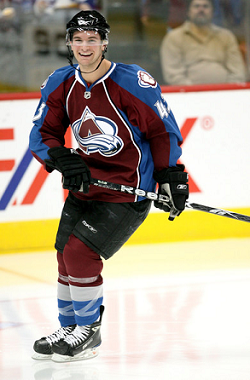 The Colorado Avalanche have got young and got good. After missing the playoffs last season and not advancing past the second round since 2002, the Avs are in the final stages of a rebuild and may squeeze themselves into the playoffs, currently holding on to the eighth and final spot in the Western Conference, but they do have some breathing room between them and Calgary. They're also only five points back of third place, so things are still very much up in the air for Colorado.
Click to continue reading Youthful Avalanche trying to turn around misfortunes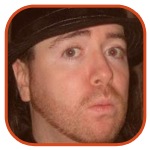 Posted by Adrien Griffin Categories: Athletes, Front Office, NHL, Olympics,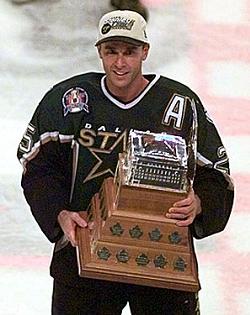 If you were asked to name the greatest players of all-time, would Joe Nieuwendyk make your list? He's one of those players who played exactly at the right time in his era, and could carry a team if needed, but rarely did he need to. He was born and raised in the Durham Region just east of Toronto. Nieuwendyk was one of the best lacrosse players in his country before he turned his attention to the ice. He has enjoyed success at every level of the game, from NHL to internationally to the front office.
Click to continue reading Nieuwendyk's hockey career in a nutshell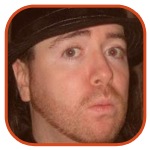 Posted by Adrien Griffin Categories: Athletes, Editorial, NHL,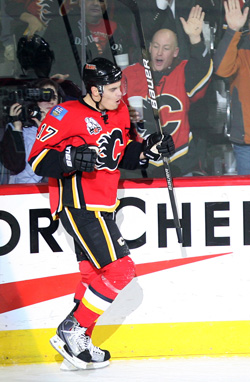 In today's NHL, it's pretty hard to be surprised by young talent. With years of advance scouting and televised junior games, it's not common that a young player slips under the radar. By the time the NHL Entry Draft comes around every year, all of the best young skaters are pretty well-known. Every now and then, however, a player falls through the cracks. Calgary's Rene Bourque is one of those players. The 28-year-old Albertan broke into the NHL in 2005 and nobody knew how or why.
Click to continue reading Undrafted Bourque's Flame burning out in Calgary
© Gear Live Media, LLC. 2007 – User-posted content, unless source is quoted, is licensed under a Creative Commons Public Domain License. Gear Live graphics, logos, designs, page headers, button icons, videos, articles, blogs, forums, scripts and other service names are the trademarks of Gear Live Inc.