Posted by Dennis Velasco Categories: Athletes, Kudos, MLB, News,
In this edition of EndScore Report, we speak on Minnesota Twins' Jim Thome joining an elite club by hitting his 600th home run of his career. There are only seven other players that have achieved the feat - Barry Bonds, Hank Aaron, Babe Ruth, Willie Mays, Ken Griffey, Jr., Alex Rodriguez, and Sammy Sosa. Who else will be able to reach this great MLB milestone? After the St. Louis Cardinals' Albert Pujols, we don't see anyone else joining the group for a long time. LISTEN UP!
Derek Jeter hit his 3,000th career hit on Saturday in grand fashion with a home run, which helps solidify his future place as a member of Cooperstown. But a calf injury will keep him out of Tuesday night's MLB All-Star Game in Arizona. Jeter made the announcement on Friday that he decided – on his own – to vacate his spot on the American League's starting roster and will watch from home instead. He joins teammates Alex Rodriguez and Mariano Rivera as All-Star selections who won't participate.
Click to continue reading Derek Jeter the 3,000 hit man opts out of All-Star Game
In past baseball eras, certain statistics virtually guaranteed a player admittance to the Hall of Fame. 300 wins for a pitcher is a benchmark, but many have started to question whether the time of the 300-win pitcher is over. Similarly, but getting less attention is the 500-home-run plateau for hitters. Only 25 players in history have reached that mark, and every one of those eligible have a place in the Hall of Fame. Three of those 25 are currently active.
Click to continue reading Is Jim Thome bound for Cooperstown?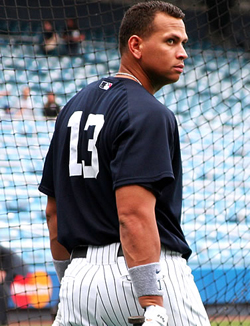 Another day, another oh-fer for Alex Rodriguez. The Yankees third baseman continues to chase home run number 600. A-Rod has been stuck on 599 for almost two weeks and in that time, interest in him achieving that milestone has been overshadowed by interest in him not hitting it. Countless numbers of pictures have been taken of Rodriguez's swings, but not one has been truly worth anything, and the annoyance is starting to show as of late.
Click to continue reading A-Rod misses home run number 600 for the 46th time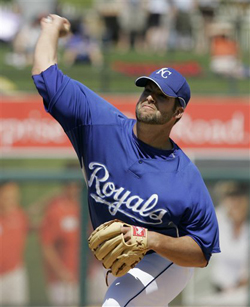 Kyle Davies had to be feeling a little extra pressure on Saturday afternoon. Not only was he just pitching against the New York Yankees, but Alex Rodriguez was among those he would face. Going into the game, Rodriguez was at a well-publicized 599 career home runs and looking for elusive number 600. What must have made things a little worse for Davies was the fact that he was the man off whom Rodriguez blasted homer number 500.
Click to continue reading Kyle Davies doesn't give up Alex Rodriguez's 600th home run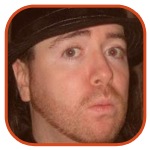 Posted by Adrien Griffin Categories: Championship, Editorial, MLB, Playoffs,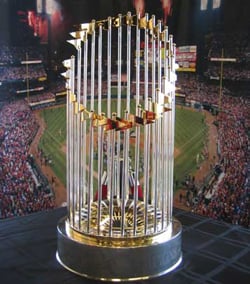 If the playoffs were to end before the first pitch of the World Series, who would be the Most Valuable Player? Who is even worth mentioning? What defines a "most valuable player"? Is it even fair to have a "Most Valuable Player So Far" (MVPSF)? These are important questions to ask, as is, if offense is any more important than pitching or vice versa. So let's do both.
Click to continue reading The Most Valuable Player So Far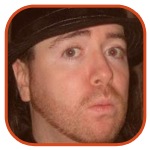 Posted by Adrien Griffin Categories: Athletes, Editorial, MLB, Playoffs,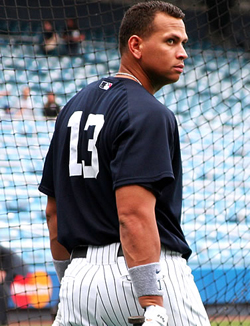 Love him or hate him, Alex Rodriguez came to play. As a notoriously poor playoff performer, A-Rod's expectations going into the 2009 playoffs were low, and not only has he managed to raise the bar, he's setting the standard for those around him as well. But will a hot October bat be enough for the much-maligned Rodriguez to finally shed himself of some of his negative steroid publicity?
Click to continue reading Alex Rodriguez Heating Up the Cold October Air

Posted by Dennis Velasco Categories: Athletes, Editorial, Fantasy, MLB,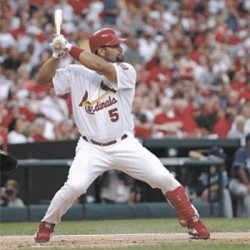 I am a huge Albert Pujols fan. I'm also glad that he is wrecking the ball because I own him in my fantasy baseball keeper league (seven years running!). Obviously, that last part doesn't really affect you unless you're in said keeper league. In any case, the question sometimes arises in fantasy baseball, especially nowadays, whether or not you care if one of your players is taking some kind of performance enhancing drug (PED). The obvious answer is two-fold: 1) not as long as he's putting up crazy numbers and 2) only if he gets caught.
Which brings us back to Pujols.
He is one of those players under scrutiny as every ballplayer that does well is. It's just natural in today's game because of the steroids mess that started with Jose Canseco bringing it to the spotlight to Alex Rodriguez's use. So, is there any way not to think that Pujols is juicing? I'd like to think so. Sure, I can pull up the consistency of his stats, his command of the strikezone, and the fact that he was never named on any list as being under suspicion. In fact, Pujols was erroneously mentioned as being a user at one point. But because I say what I believe doesn't mean that you'll believe it too.
In fact, I'd like to take back my, "I'd like to think so" statement above and say, "I believe so."
Maybe I'm turning a blind eye or choosing to be ignorant, but with Pujols' current chase of the NL Triple Crown (lead the league in Batting Average, Home Runs, and Runs Batted In), as well as the almost accepted opinion that all players juice, I'd like to think… no… I believe that Pujols is doing something special. Why? Because I love baseball and have since I was five-years-old and with the presence of steroids in the game, I need something to believe in.
And Albert Pujols is as good a bet to believe in as anything else.

Posted by Dennis Velasco Categories: Editorial, Injuries, MLB, News,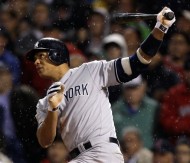 The much maligned New York Yankees 3B Alex Rodriguez is "fatigued," so he will be taking tonight and tomorrow off when the Yankees go down to play the Florida Marlins. Rodriguez, who played high school ball in South Florida and almost attended the University of Miami before the Seattle Mariners signed the then 18-year-old, is quite a celebrity in the Miami area and his playing against the Marlins is considered somewhat of a homecoming… only, unless he pinch-hits, won't happen until Sunday.
However, let's call this rest period what it really is, a benching. For the month of June, A-Rod is only batting .145 in 55 at-bats and is mired in an 0-for-15 slump, mostly coming at the hands of the powerful pitching arms of the Washington Nationals… and, yes, that was sarcasm if you missed it. It could be argued in this day and age and considering Rodriguez's admission of not knowing he used steroids for however long, that without the PEDs, Rodriguez won't perform up to par. Well, it certainly seems so, doesn't it?
However, in 38 games thus far, he does have nine dingers and 26 RBIs, which in a full season would put him at about 37 HRs and 105 RBIs, which aren't too shabby numbers. Personally, I don't like A-Rod and I'm a Yankees fan. Yes, I'm one of those that doesn't feel like he's earned his stripes yet and unfairly or not, I'm going to juxtapose him to the greatness of Derek Jeter, whom I've followed since day one when he played with the big club. Do I think that A-Rod is still juicing? No. Do I think he's going to be as great as he was? No. But, I also don't think he's this bad. Remember, there was a period where we can assume he wasn't on steroids or used PEDs and was still a pretty good hitter. I think right now, he's in a slump as every hitter goes through and he is just coming back from hip surgery.
But enough with the double-talk. Haven't we learned from Alex Rodriguez's preseason press conference that the double-talk doesn't work when it comes to A-Rod? He's being bench because he stinks right now. If anyone is fatigued is those of us that know about semantics and reading between the lines.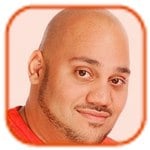 Posted by Andru Edwards Categories: Athletes, Editorial, Kudos, NBA, News, NFL, NHL, Videocasts,
In this edition of the End Score Report, Dan Devone gives his take on the latest news from the world of sports:
Kentucky Derby: Horses built and bred to run, what we feel about it. Dan is pulling for Scat Daddy.
April-Rod: Alex Rodriguez can't be Mr. April in NY and have success. He has to be in it for the long haul.
Keyshaun Johnson, the Mouth of the South.
Sydney Crosby: The second coming of Wayne Gretzky, Crosby is going to bring attention back to the NHL and hockey.
Dirk Nowitzki of the Mavericks: Dirk needs to take the Mavs to the Promiseland, and start going to the hoop to start making moves. You can't be a 7-foot tall jumper.
Agree or disagree? Let us know your thoughts on the End Score forums.
© Gear Live Media, LLC. 2007 – User-posted content, unless source is quoted, is licensed under a Creative Commons Public Domain License. Gear Live graphics, logos, designs, page headers, button icons, videos, articles, blogs, forums, scripts and other service names are the trademarks of Gear Live Inc.