Posted by Dennis Velasco Categories: Athletes, Editorial, NFL,
On this episode of EndScore Report's "In Your Face," we call out New York Jets head coach Rex Ryan for basically telling Dallas Cowboys fans it wasn't a good idea to show up at MetLife Stadium, insinuating that they may get hurt. What? Idiot. We also blow up Green Bay Packers QB Aaron Rodgers' spot for his comments about Jets QB Mark Sanchez. Maybe the Super Bowl champion is getting too big for his britches? HEAR the words that are coming out of our mouths!

Posted by Dennis Velasco Categories: Athletes, Championship, Super Bowl, Kudos, News, NFL, Playoffs,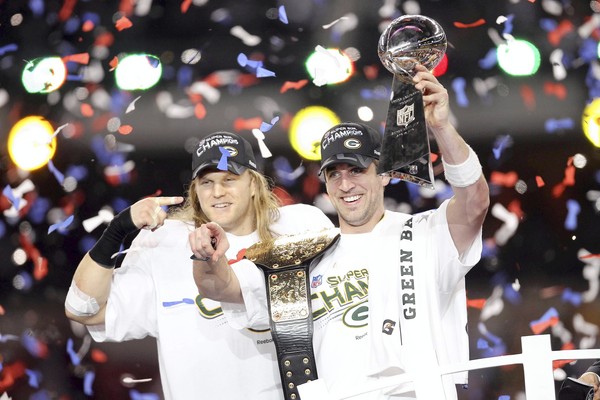 The Green Bay Packers defeated the Pittsburgh Steelers 31-25 to win Super Bowl XLV. The Packers went into halftime with a 21-10 lead after the Steelers scored a touchdown just before the end of the second quarter. It looked like the Steelers had all of the momentum heading into the second half. However, despite outscoring the Packers after the half, the Steelers couldn't make enough of a comeback to win. If they had, they would have owned the record to come back from the biggest deficit (18 points) in the Super Bowl. Packers QB Aaron Rodgers was the Super Bowl MVP after throwing for 304 yards and three touchdowns without any interceptions, but was also great all postseason, leading the sixth-seeded Packers through three rounds before taking the team to the promised land. Rodgers now has as many Super Bowl victories as former Packers QB Brett Favre, but in addition has something Favre doesn't - Rodgers has the Super Bowl MVP.
Read More

| ESPN

Posted by Dennis Velasco Categories: Championship, News, NFL, Playoffs,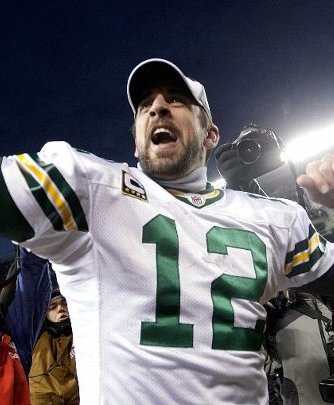 The Green Bay Packers went into Soldier Field to play the Chicago Bears and came out the victors in one of sports' greatest rivalries. It was the 182nd meeting between the two NFC North teams and it was a match-up as good as it was going to get - a game that determined who would go to the Super Bowl. In the end, it was the Packers with a 21-14 win, led by Aaron Rodgers and the much ballyhooed Packers defense led by Clay Matthews and a B.J. Raji interception run back for a touchdown. The Packers will meet the Pittsburgh Steelers for the right to be called Super Bowl champions.
Read More

| ESPN

Posted by Dennis Velasco Categories: News, NFL, Playoffs,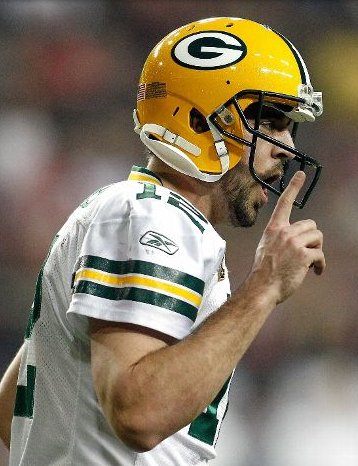 Maybe it is destiny for Aaron Rodgers and the Green Bay Packers. The Packers, on the road, handed the Atlanta Falcons a 48-21 beating and will move to the NFC conference championship next week, playing the winner of the Chicago Bears and Seattle Seahawks matchup. Rodgers threw for 366 yards and three touchdowns without any interceptions. Falcons quarterback, Matt Ryan, threw for only 186 yards and two picks, one of which was returned for a touchdown. Rodgers and company move on as they look to win a Super Bowl for the first time since Brett Favre left the team.
Read More

| ESPN

Posted by Dennis Velasco Categories: NFL, Playoffs,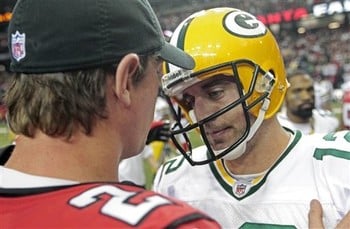 Chris Sannella and Dennis Velasco break down and make their picks for the NFC Divisional Series, which include the Green Bay Packers versus Atlanta Falcons and Seattle Seahawks versus Chicago Bears. Can Matt Ryan AKA Matty Ice stay cool enough in the face of the Packers defense led by monster backer Clay Matthews in order to win this game? Or will Aaron Rodgers and the rejuvenated running game thanks to James Starks reign supreme on the road? Speaking of on the road, can the Seahawks bring last week's home magic on the road and get another upset win? Or will the Bears and Jay Cutler get revenge for a loss earlier in the season?
Download the MP3 to hear our picks!
Also check out our AFC Divisional Series predictions!

Posted by Dennis Velasco Categories: Editorial, NFL, Playoffs, Super Bowl,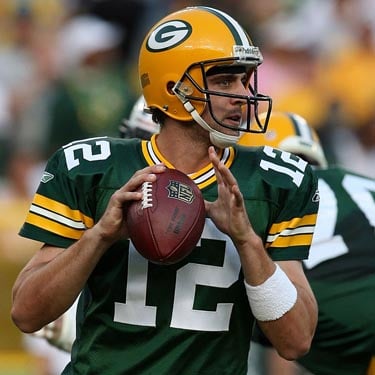 The NFC Wild Card weekend kicks off with the defending Super Bowl champion New Orleans Saints and Seattle Seahawks mixing it up in the Great Northwest on Saturday, January 8th at 4:30PM ET. There has been much ballyhoo about the Seahawks making it into the postseason as NFC West division champions with a losing record (7-9), the first time that's happened in the NFL's history. Feel bad if you're a Tampa Bay Buccaneers or New York Giants fan, both of whom finished with 10-6 records, but because of the current playoff system will be watching instead of playing.
Click to continue reading NFC Wild Card Weekend Preview - Saints, Seahawks, Packers, Eagles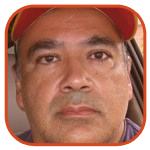 Posted by Frank Nevarez Categories: Editorial, NFL,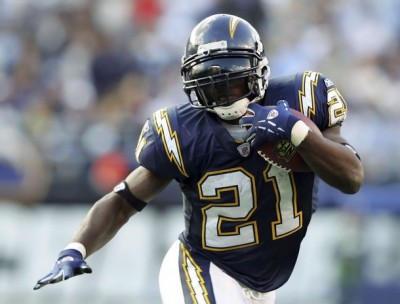 Many thanks to Bill Belichick whose much-discussed fourth quarter decision against the Indianapolis Colts put the clincher on another 3-2 weekend for me. My season record now runs to 27-19. Belichick has earned the right to make the call he did, but he obviously liked his offense's chances of getting two yards a lot better than thinking that Indy could be held back. The Cincinnati Bengals pulled the minor upset over the Pittsburgh Steelers. Maurice Jones-Drew went all-universe in the Jacksonville Jaguars' win over the New York Jets. The Arizona Cardinals and San Diego Chargers took expected victories.
Click to continue reading True Predictions: the Belichick Decision, the Turner Factor, and the Colts Going 10-0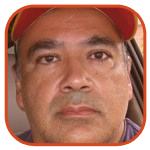 Posted by Frank Nevarez Categories: Editorial, NFL,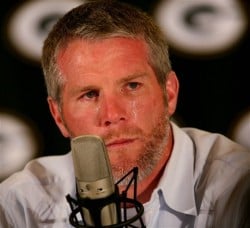 I went 4-2 this past weekend and 7-4 for the season. The Atlanta Falcons cannot make a statement and lose to the New England Patriots. You tell me if the San Francisco 49ers last second loss to Brett Favre and Minnesota Vikings equals "ugly" as I predicted. I think it counts more as "heart-breaking." While it was a magical NFL moment to see Favre hoist that ball and to see Greg Lewis snatch it, I am of the mind that Favre will break down at some point during the season. I will either be right on this call or we may be seeing a John-Elway-like end to his career.
Click to continue reading True Predictions: Vikings, Jets, Ravens, and Sea Monsters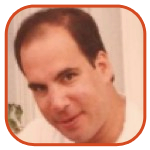 Posted by Charles Mitri Categories: NFL,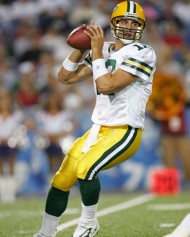 Better get the wagons in a circle. Looks like its gonna be a long year in Lion Land.
Aaron Rodgers riddled the Detroit secondary for 328 yards on 24 of 38 passing and three TDs as the Packers walloped the Lions 48-25. In a game that resembled a scrimmage more than a gridiron contest, Green Bay jumped out to an early 21-0 lead before the Lions knew what hit them. James Jones took a 9 yard lob from Rodgers capping a 15 play 86 yard drive and a 7-0 lead. Donald Driver then padded the lead to 14-0 when he took a 2 yard Rodgers chippie, polishing off a 5 play 82.
Jordy Nelson did the finishing honors when he scorched the Lions secondary with a 29 yard bullet capping a 4 play 63 yard march. Lions booter Jason Hanson put the home team on the board with a 38 yarder to close out first half scoring 21-3 Packers. Third stanza scoring was nothing special. Hanson added impressive three pointers of 49 and 53 yards, cutting the Packer lead to 21-9. Pack kicker Mason Crosby answered with a 25 yard chip shot boosting the margin to 24-9.
Click to continue reading Green Bay Packers Demolish Detroit Lions 48-25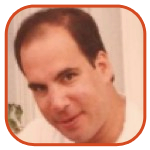 Posted by Charles Mitri Categories: NFL,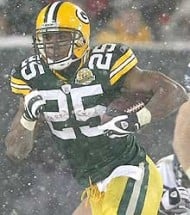 NFC NORTH
Predicted Order Of Finish:
1. Green Bay Packers
2. Chicago Bears
3. Minnesota Vikings
4. Detroit Lions
Top Offensive Player: Aaron Rodgers, QB, Green Bay Packers
Top Defensive Player: Brian Urlacher, MLB, Chicago Bears
Top Rookie: Kenneth Moore, WR, Detroit Lions
© Gear Live Media, LLC. 2007 – User-posted content, unless source is quoted, is licensed under a Creative Commons Public Domain License. Gear Live graphics, logos, designs, page headers, button icons, videos, articles, blogs, forums, scripts and other service names are the trademarks of Gear Live Inc.