Tuesday August 18, 2009 8:17 pm
One Man Mock Draft: Fantasy NBA 2009: Round 1, Pick 4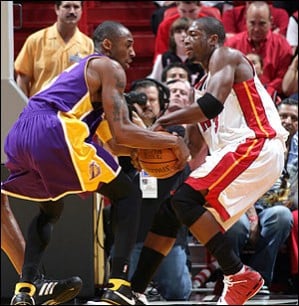 LeBron James, Chris Paul, and Dwyane Wade have been taken in this mock draft. To review, this mock draft involves consideration of a standard nine-category head-to-head league.
The player these guys looked up to during the 2008 Beijing Olympics is being taken now. LBJ and CP3 will likely inherit the top two picks in drafts this year, but there is room to debate starting with the third pick overall. Let us look at the argument from the Kobe side of the coin.
Round 1, Pick 4: Kobe Bryant, SG, Los Angeles Lakers
Just for easy reference, here again are the numbers and league ranks of both Wade and Kobe Bryant from last season.
Field goal percentage: 0.491 (31st) for Wade vs. 0.467 (58th) for Bryant
Free throw percentage: 0.765 (99th) vs. 0.856 (26th)
Three pointers made: 88 (1.1 per game) (76th) vs. 118 (1.4 per game) (39th)
Points: 30.2(1st) vs. 26.8(3rd)
Rebounds: 5.0(65th) vs. 5.2 (60th)
Assists: 7.5(8th) vs. 4.9(26th)
Steals: 2.19(2nd) vs. 1.46(12th)
Blocks: 1.34(16th) vs. 0.45(74th)
Turnovers: 3.44(2nd) vs. 2.56(23rd)
Wade shot better from the field, led the league in scoring, and outperformed Kobe in the popular assist, steal and block categories. Kobe has grown into the "what you see is what you get" pick at the beginning of the first round, a title that was owned for years by Dirk Nowitzki. Starting with the 2005-06 season, Kobe has suited up to play at least 77 games in each of the last four seasons, and played every game over the last two years. In those seasons, he also played well into the post-season. He has not averaged less than 24.0 ppg over the last seven years, and his 26.8 ppg last year represented a a five-year low for him. He has the highest basement in the league; at his worst he will rank only in the top five in scoring and check in around 25 points per game, while in a best case scenario, he remains on the short list for players who can challenge for the scoring title.
Kobe represents a fantasy hoops prototype for his position. He scores, he does not own a terrible percentage, he shoots daggers from the free throw line, he rains in moneyballs, he rebounds enough, and he steals the ball. Frankly, I cannot fault you if you take Kobe over Wade because you cannot stomach the risk of Wade getting injured. As an NBA fan, I hope both players stay healthy all year, and rip it up like they did last year.
Although the focus rightfully belongs to Wade and Kobe right now, do not think that there are no other players to consider at both the third and fourth pick in the draft. If you like big ball, Dwight Howard is the man to consider here. His scoring average needs to be a bit higher before he becomes a no-brainer top five pick in head-to-head leagues. Yes, yes, his free throw shooting reeks.
If you are really, really, feeling a monster break-out campaign from Kevin Durant, by all means, grab him. Durant might end up being an amalgam of Wade and Kobe's fantasy games: good percentage shooting with three-point range, lots of scoring, great work on the boards from a guard-eligible player and hustle stat production. KD or "Durantula" as some call him, could very realistically rank ahead of Kobe in fantasy circles at the end of the the 2009-10 season. Obviously in terms of career achievements, the kid has a long way to go before he can be included in the same sentence as #24 on the Lakers.
In my ultra-competitive friends and family league, someone tried to be a hero last year and took Amar'e Stoudemire with the third pick in the draft, bypassing Kobe in the process. That worked out really well! Fantasy football drafts continue throughout the summer; players like Michael Turner, Maurice Jones-Drew, and Matt Forte are generally among the top five players taken. I can understand the potential with each of these running backs, but compare them and their respective track records to drafting Kobe for fantasy hoops. On draft day, remember that there is nothing wrong with taking the proven commodity, and taking players with more upside later on. Ideally, every pick in the first round should be picks that are the most sure things with little gamble involved, particularly in the front end. LeBron and CP3 are no-brainers, and so is Kobe with the aforementioned Wade and Durant being the upside sure picks. Continuing the football analogy, Kobe might be Peyton Manning - consistently one of the top players year-in and year-out with the durability and production to prove it.
© Gear Live Media, LLC. 2007 – User-posted content, unless source is quoted, is licensed under a Creative Commons Public Domain License. Gear Live graphics, logos, designs, page headers, button icons, videos, articles, blogs, forums, scripts and other service names are the trademarks of Gear Live Inc.