Monday August 17, 2009 8:53 pm
One Man Mock Draft, Fantasy NBA 2009: Round 1, Pick 3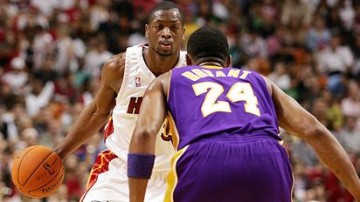 Yesterday the PGA Championship proved that nothing is a sure thing in sports. Tiger Woods had been money in the bank winning 14 out of 14 majors when heading into Sunday with the lead. He did not play his best. Congrats to Y.E. Yang for stepping up. As the saying goes, that is why they play the games.
I am turning the third and fourth pick of this mock draft into a head-to-head battle. It comes down to what kind of risk you want to take, and how much of a "sure thing" you need. For these purposes, let us roll the dice, relatively speaking.
Round 1, Pick 3: Dwyane Wade, PG/SG, Miami Heat
Here are the numbers and league ranks of both Wade and Kobe Bryant from last season. These two players will likely go off the board at this stage in your draft this season.
Field goal percentage: 0.491 (31st) for Wade vs. 0.467 (58th) for Bryant
Free throw percentage: 0.765 (99th) vs. 0.856 (26th)
Three pointers made: 88 (1.1 per game) (76th) vs. 118 (1.4 per game) (39th)
Points: 30.2(1st) vs. 26.8(3rd)
Rebounds: 5.0(65th) vs. 5.2 (60th)
Assists: 7.5(8th) vs. 4.9(26th)
Steals: 2.19(2nd) vs. 1.46(12th)
Blocks: 1.34(16th) vs. 0.45(74th)
Turnovers: 3.44(2nd) vs. 2.56(23rd)
A summary of the scorecard would show Kobe winning easily in free-throw percentage and three-pointers, winning turnovers and edging Wade in rebounds with "Flash" taking down the rest of the categories. Last year showed that Wade is the better fantasy player at this point
if both have healthy seasons
. Kobe has been one of the most durable superstars in NBA history; he does not reach Kareem Abdul-Jabbar level, but he just might reside in the same stratosphere when the time comes for him to hang 'em up.
Wade made four times as many three-point shots compared to his previous career-best total (22 three-pointers made in 2007-08). His moneyballs did not put a big dent into his field-goal shooting, and the improved prowess behind the arc should give Wade the nod over Kobe in drafts this year. He ranks as an early second round pick in the blocks category. He still retains his point-guard eligibility. He trailed only Chris Paul in steals last year while winning the scoring title. The one hang-up to picking him is concern over his health. Prior to last year when he played 79 games, he missed 31 games in both 2006-07 and 2007-08. The personification of a high-risk but high-reward, or make that high-reward, but high-risk player, Wade made fantasy owners very glad they picked him in the latter stages of the first round last year. Going into this season, he stands just outside the top two discussion.
Wade led the league in turnovers last year, so let us focus on that for a second. Turnovers in a fantasy hoops league should be used as a check against rotating or "streaming" rosters. For example, both Wade and Kobe qualified to rank around 60th in rebounds last year, but on any day of the season, you can find a guy off of the waiver wire that can grab you five boards. Thus if you added an active player every day for the week, you could more than double the production of the guy who employed Wade or Kobe in the same roster slot. Thus, the use of a negative stat was born because streaming your rosters in this fashion means you would lose turnovers. Ideally, turnovers are used in a league that employs daily rosters i.e. you can set your lineups every day and not just once a week. Then on the last day of your head-to-head week, you could potentially sit a high-turnover fantasy superstar like Wade if you already have enough categories in hand to win the week. Daily roster leagues also allow for some interesting dilemmas to pop up. For example suppose you were down by 25 points, but up by four turnovers; you have Dwyane Wade still left to play and the other team has nobody. Do you play Wade in an attempt to win both categories? Or do you bench him at the last minute and accept the win in turnovers but a loss in points? Decisions like this can add fun to your league, and being right on them rewards the fantasy owners that spend that little bit of extra time finding an edge for their team.
Imagine a "draft" of comic book superheroes. Many would tab Superman or Batman as the first two picks. What about Flash? The guy can run at the speed of light. He could punch you a million times before you even knew he was there. He can run around the world in the time it takes you or me to sneeze. Does that not sound like a powerful superhero to you? "Flash" versus "Black Mamba" sounds like it's right out of a comic book. Look for the Kobe side of the story with the next post.
Draft the "Flash" of the NBA and you stand a good chance of whizzing around your competitors this year. After all, Flash needs a new contract after the season!
© Gear Live Media, LLC. 2007 – User-posted content, unless source is quoted, is licensed under a Creative Commons Public Domain License. Gear Live graphics, logos, designs, page headers, button icons, videos, articles, blogs, forums, scripts and other service names are the trademarks of Gear Live Inc.