Wednesday August 26, 2009 1:05 pm
One Man Mock Draft, Fantasy NBA 2009: Round 1, Pick 12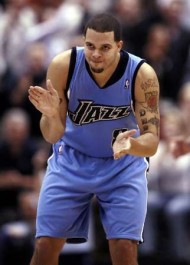 Following the all-time leader in assists and steals is a lot of pressure, both for the management who must try to find "the next one" and for the player who must work to fill the shoes of one John Stockton. Plus, the Utah Jazz picked this player over Chris Paul! The Portland Trail Blazers continue to receive ridicule for picking Sam Bowie over Michael Jordan, but the Houston Rockets generally get a pass because they drafted Hakeem Olajuwon, a player who became a two-time champion and MVP over a hall of fame career. Expect the noise to be as quiet as it was for Hakeem for this player, as he is on track to do almost as well as Paul, moving forward.
Round 1, Pick 12: Deron Williams, PG, Utah Jazz
Here are the numbers and league ranks for Williams last season. He did not play enough games or post up enough numbers in some categories to qualify for league ranks, so in those cats, a double-asterisk is used to designate his ranking had his average been ranked.
Field Goal Percentage: 0.471 (56th)
Free Throw Percentage: 0.849 (31st)
Three-pointers made: 70 (1.0 per game) (100th)
Points: 19.4 (*24th*)
Rebounds: 2.9 (did not significantly rank)
Assists: 10.7 (2nd)
Steals: 1.1 (*37th*)
Blocks: 0.3 (*93rd*)
Turnovers: 3.35 (3rd)
Using Yahoo! for player positions, Williams ranked fourth in scoring average among point guards. Seventeen point guards averaged more steals per game, and 20 point guards averaged more three-pointers per game. Most fantasy leagues have ten to twelve teams, which means most of your opponents will have two point guards who will outperform Williams in these key small ball stats. Yet he still garners first-round consideration because 1) the combination of his stellar percentages, scoring and assists are top-notch and 2) only 25 years old, he could still show some growth in his game that translates into more moneyballs and more ball thievery for fantasy owners.
My friend, Dice, drafted Williams 10th overall last year. You may remember that Williams started the year injured, which put Dice and his team in a big hole. One month into the season, he sat in last place. Then his team caught fire, as Williams and his other key players (Al Jefferson, Kevin Durant, Jameer Nelson) caught fire and for the middle ten weeks of the season, he was the class of the league. Injuries to his team ultimately derailed him and he missed our playoffs. Yet the dominance his team displayed when his team was firing on all cylinders left an impression and to me, it showed that Williams can definitely be the headliner of a head-to-head squad. Once the Carlos Boozer situation gets settled, he should easily clear 20 ppg. Until that happens, settle on the fact that he is the only player in the league you can say will challenge Chris Paul for the assist title and it will not draw any sneers or snickers.
The next point guards likely to get picked in drafts this year include Steve Nash, Chauncey Billups, Joe Johnson and Devin Harris. Nash should bounce back from last season, and still shoots the ball extremely well from anywhere, but his steal numbers are more pedestrian than Williams' and at this stage in their careers, Deron will score more. Billups shoots more three-pointers and will swipe about 40-50 more balls over the course of a full season, but again, Deron outscores him and has the ability to double him up in assists. The Hawks have to work Jamal Crawford into their guard rotation this year, and that may impact Joe Johnson and his fantasy game. Also, compared to most of this group of guards, Johnson could hurt you the most in FG%. Harris scored more than Williams last year but otherwise had similar stats to Williams, except in dime dropping, where again, Williams really throws the hammer down on your opponents.
After the next pick, twenty two players come off the board before this team gets to select another player. Though important not to pigeon-hole yourself into drafting based on positions, filling the point guard slot with a proven winner like Deron Williams relieves some pressure. The next step will be grabbing a center who can fill up the big ball portion of the stat line.
For a summary and links of all the players picked thus far, check out the master list.
© Gear Live Media, LLC. 2007 – User-posted content, unless source is quoted, is licensed under a Creative Commons Public Domain License. Gear Live graphics, logos, designs, page headers, button icons, videos, articles, blogs, forums, scripts and other service names are the trademarks of Gear Live Inc.