Wednesday August 26, 2009 12:51 pm
One Man Mock Draft, Fantasy NBA 2009: Round 1, Pick 11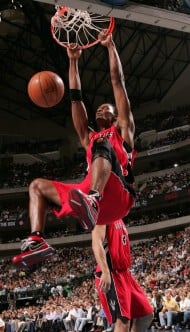 Part of the big free agent class of 2010, this next player is one of the three players most mentioned as guys who went off the board after the infamous Darko Milicic pick (Carmelo Anthony and Dwyane Wade are the other two guys). After two playoff appearances, everything went wrong with the Toronto Raptors last year. "CB4" however was a monster in head-to-head playoffs to close last season. In my friends and family league, a three-headed monster of Danny Granger, Troy Murphy and this player destroyed my team in the finals.
Round 1, Pick 11: Chris Bosh, PF/C, Toronto Raptors
Here are the numbers and league ranks for CB4 last season.
Field Goal Percentage: 0.487 (35th)
Free Throw Percentage: 0.817 (54th)
Three-pointers made: 12 (did not significantly rank)
Points: 22.7 (9th)
Rebounds: 10.0 (6th)
Assists: 2.5 (71st)
Steals: 0.9 (73rd)
Blocks: 1.0 (27th)
Turnovers: 2.26 (30th)
Players who averaged 20 points and 10 boards last year were Dwight Howard, Al Jefferson, and Zach Randolph, plus Bosh. Yao Ming averaged 19.7 ppg and 9.9 rpg, but is a non-factor for this year. The lack of hustle stats from Randolph have been well-documented. Bosh provides modest production in steals and blocks. He shoots a decent percentage, and if he stopped settling for mid-range jumpers, that FG% would go up for sure. At the bottom end of the draft order, you cannot win your league with the first round pick, but you certainly can end up losing if the pick ends up as a bust. In basketball, usually busts occur due to injury. Bosh suited up 77 times last year, his best showing since playing in 81 games during his sophomore campaign. From 2005-2008, he missed at least 12 games a season for three straight years. Chances are you will have to navigate through two to three weeks of the season without Bosh, but hopefully like last year, he peaks at the right time during the fantasy playoffs.
Bryan Colangelo easily wins the busiest general manager of the season award. Except for Bosh, Jose Calderon and the extended contract that comes with Andrea Bargnani, Colangelo overhauled the rest of the roster. Hedo Turkoglu joins the starting lineup. Jarrett Jack, a college buddy of Bosh, signed as a free agent and will back up Calderon. After Jermaine O'Neal joined the team last year, the fanbase expected a big year from the team. This year, expectations are tempered, but the roster makeover should excite fans, if only to see how it all works out. Bosh remains the centerpiece of the franchise and in a big year for him career-wise, he should come through with his best stat-line to date. Bosh has averaged 22-23 ppg for four straight seasons; I think he clears the 23 ppg threshold this year while also playing more than 70 games.
Deron Williams and Pau Gasol will get strong consideration at this point in the draft. Gasol takes less shots now that he plays for the Lakers, obviously because that team has an undisputed number one option ahead of him. If everything goes right for both Bosh and Gasol, Bosh beats him by about 10% in points and rebounds, while Gasol dishes off more assists. I like Deron for this year, but the next tier of point guards runs pretty deep. I will destroy any suspense and announce that Deron is the next pick, so look for that post for further discussion. Al Jefferson could end up having a better year than Bosh, but Al Jeff has to come back from knee surgery.
Dr. A calls Bosh a "nice player" but he is "not a fan and would have much rather had Brandon Roy." The mock draft he participated in worked under the presumption of a roto league. This mock draft is for a head-to-head league, but the league format does not change the fact that Roy and Bosh fall under the same tier in fantasy hoops. As always when you pick a big man early, the guards you draft will have to bring lots of long-distance shooting and ball-hawking thievery to the table.
With the pick out of the way, the lingering question remains, with whom does Bosh sign next summer?
© Gear Live Media, LLC. 2007 – User-posted content, unless source is quoted, is licensed under a Creative Commons Public Domain License. Gear Live graphics, logos, designs, page headers, button icons, videos, articles, blogs, forums, scripts and other service names are the trademarks of Gear Live Inc.