Thursday August 13, 2009 8:34 pm
One Man Mock Draft, Fantasy NBA 2009: Round 1, Pick 1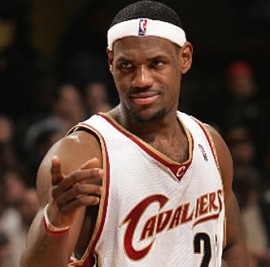 For his song "Changes", Tupac Shakur sampled Bruce Hornsby and the Range; the chorus has a line that read, "That's just the way it is." The next line is "Some things will never change" but here in the Gear Live family, there have been a ton of changes. My Dropping Dimes colleagues have moved on to other things in life. I wish them all well. I myself have been away from blogging for an extended period of time, but summertime has given me an itch to write about hoops again.
This marks the fourth time a fantasy basketball mock draft appears within Gear Live Media. Unlike other sites, we strived to do a full entry on every player selected. Also unlike other sites, this mock draft will assume a standard head-to-head league with nine categories. Many experts like to post roto mock drafts perhaps because it is so easy to ridicule the free throw shooting of Dwight Howard and Shaquille O'Neal, but most would agree that a head-to-head league is more fun and more interactive. With that said, let's kick things off with the obvious pick.
Round 1, Pick 1: LeBron James, SF, Cleveland Cavaliers
Here are LeBron's numbers and league ranks in the nine major categories for the 2008-09 season:
Field goal percentage: 0.489 (34th)
Free throw percentage: 0.780 (93rd)
Three-pointers made: 132 (1.6 per game) (25th)
Points per game: 28.4 (2nd)
Rebounds per game: 7.6 (27th)
Assists per game: 7.2 (9th)
Steals per game: 1.69 (8th)
Blocks per game: 1.15 (23rd)
Turnovers per game: 3.0 (12th)
Drafting LeBron means your team has a big leg up on points right away. He shoots a high percentage, which is an asset at the small forward position for fantasy teams. No other player in the league today can give you this combination of big ball and small ball production. Dwyane Wade comes close, but he does not hit as many three-pointers and he carries a bigger injury risk than LeBron. Chris Paul is really the only other player to seriously consider if you land the first pick this year. In a rotisserie league, the argument for CP3 is very strong. For a head-to-head league, LeBron outdistances Paul easily in boards and blocks. Paul led the league in assists and steals last year and will be a great bet to do so again, but LeBron can provide top ten production in those stats traditionally dominated by point guards. In most weeks, the NBA schedule has teams playing either three or four games. During weeks when the Cavs have four games and the Hornets have only three, LeBron pretty much matches Paul in assists and steals, but the same cannot be said if the Hornets have the one-game advantage i.e. LeBron would still outdistance Paul in categories like points, boards and blocks, even with one less game played.
The Cavs look like they really, really, want to win in 2010. Everyone knows about the Shaquille O'Neal trade at this point. The additions of Anthony Parker and Jamario Moon also add a lot of depth to the team. With Boston and Orlando also loading up this off-season, the Eastern Conference should be a three-team race. That should keep the Cavs and therefore LeBron, playing meaningful games late into the season. Consistency rules roto leagues. In head-to-head play, consistency remains important, but big game potential is what can ultimately put your team over the edge. LeBron heads into this season as the biggest fish in the free agent class of 2010. Bet on him having an awesome season and watch as he single-handedly keeps you in weeks you should have otherwise lost.
The big knock on LeBron's game has been his free throw shooting. He will never rank in the top ten here, but last year he took significant steps forward in improving this facet of the game by shooting 0.780 from the charity stripe. Putting this in perspective, the 50th ranked player in FT% last year shot a little over 82%, 0.8235 to be exact. LeBron averaged 9.4 free throw attempts last year, and averaged 7.3 free throws made per game. For him to average 82%, he would have had to make 7.7 free throws per game i.e. he was 0.4 free throws made a game from making the top fifty in a category he has historically been handed a lot of criticism. LeBron ranked first overall in free throws made last year, which means the volume of bricks at the line will not kill your team anymore. We are all witness to the improvement, to riff off of his famous ads.
There may be a certain allure in passing on LeBron this year for the chance of looking like a genius in picking someone else. After all, LeBron is similar to Kobe in that he has many rabid fans, but also his share of loud detractors. Dunkgate and not shaking hands following his playoff exit gave the guy some bad press this year. Get past that and one can see that LeBron is the safe and best pick. I say this even though Ronald Chow and I drafted Chris Paul last year in the Dropping Dimes expert league and we won the title. Last year, his FT% was more suspect. One year later, free throw shooting is less of a concern. If he can shoot in the high 70s again, your team will challenge in that category week in and week out. LeBron would get a max contract even if he missed the entire year due to serious injury but the motivation of being the biggest free agent signing in the history of sports and securing that by having a season for the ages makes him a no-brainer first pick in head-to-head leagues, and almost a no-brainer in other types of leagues.
Now the real question is, will LeBron leave Cleveland at the end of the season?
© Gear Live Media, LLC. 2007 – User-posted content, unless source is quoted, is licensed under a Creative Commons Public Domain License. Gear Live graphics, logos, designs, page headers, button icons, videos, articles, blogs, forums, scripts and other service names are the trademarks of Gear Live Inc.