Friday September 5, 2008 10:34 pm
NFL Preview: St. Louis Rams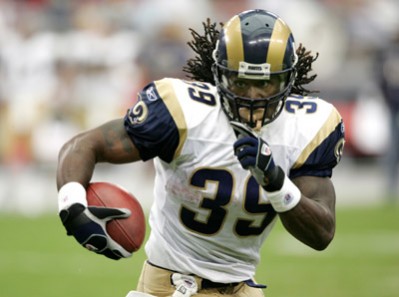 ST. LOUIS RAMS
2007 RECORD: 3-13
Overview: The St. Louis Rams were tied with the Miami Dolphins as the worst team in the NFL last season when it comes to won-loss record. It seemed like every starting player on offense and defense was injured for at least a week or two during 2007. RB Steven Jackson and QB Marc Bulger had one of the worst season of their respective careers to date. Now with the loss of future Hall of Famer Isaac Bruce to the rival San Francisco 49ers, the Rams need to figure out their identity. Identity is very important in this league. You can't be team that has no identity or purpose of playing, and expect to be successful. There needs to be some sort of rallying point, or common bond between each player in order to not only win games, but be a champion. It appears after letting Mike Martz go, the Rams lost that identity and have been searching for a new one ever since. Now it's up to head coach Scott Linehan to try and figure out what makes this team succeed. Tough challenge you say? Absolutely, but this is the NFL, nothing in this league is supposed to be easy.
Offense: The Rams are nowhere near their once "greatest show on turf" days, and Linehan knows that. He was given a team that kept the majority of their players from that era, but quickly began to age. In 2007, the offensive line took the biggest hit. Every player on the line was out with an injury at one point during the season. Strength and conditioning coach Dana LeDuc has his hands full in 2008, attempting to improve his players' mental and physical problems that will arise throughout this long and demanding season. This offense all boils down to three main components: How well this offensive line unit can stay healthy and in sync, how can Bulger come back from an atrocious and injury-prone season, and what type of physical and mental state will Steven Jackson have going into the season. He is the core of the team, the main bright spot of this low-balling offense, along with WR Torry Holt, but because of this preseason's holdout, he may not be in football shape. Right now it seems as if this side of the ball needs the biggest reinventing, but the bigger question seems to be: Are the Rams able to regain the greatest show on turf title anytime soon?
Defense: The defensive unit for the Rams is trying to bounce back from a horrendous season last year. Headed by veteran La'Roi Glover and Leonard Little, the base four lineman hope to achieve something that has been non-existent for the last two-plus seasons, a strong pass rush. With the addition of rookie DE Chris Long, the Rams looked to beef up that line, and help the often injured and softer secondary. It appears that the veterans in this unit are beginning to show the signs of aging and have lost that proverbial "step." With all of that said, this team has a good balance of young players and veterans that have talent, but I just don't see this defense intimidating opposing offenses.
Rookies: The Rams had a less than surprising draft in 2008. They had eight choices this year and chose to split the acquisitions into four offensive players, and four defensive players. First round choice went to DE Long to help out that older defensive line in stopping the run and getting to the quarterback. Second round choice wide receiver Donnie Avery out of Houston was drafted to fill in the vacant spot left by Isaac Bruce. They also chose two offensive linemen, John Greco and Roy Schuening to add depth to that part of the team that desperately needs it. All in all, the Rams needed to fill spots on their team that desperately needed a new face. 2008 seems to be a great draft year for the Rams.
Prediction: This team seems to be in rebuild mode, but at the same time have players that are able to compete and win now. The hardest part about trying to predict anything in the NFL is that one injury or suspension of a player can destroy a team's hopes for winning. If we take a look back to last season, nobody expected the Rams to be one of the worst teams in the league, as a matter of fact, they were supposed to strongly compete against the Seahawks for the NFC West division. I can say this about this team though, if they remain healthy throughout the season and can keep their opponents to a low scoring game, the Rams can win this weaker division.
© Gear Live Media, LLC. 2007 – User-posted content, unless source is quoted, is licensed under a Creative Commons Public Domain License. Gear Live graphics, logos, designs, page headers, button icons, videos, articles, blogs, forums, scripts and other service names are the trademarks of Gear Live Inc.