Monday November 9, 2009 9:56 pm
NBA Fantasy Alphabet: Eastern Conference, Week 2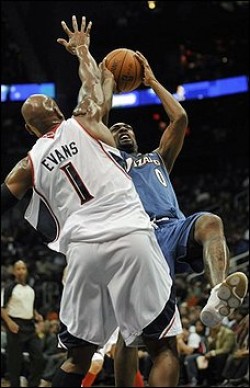 I appreciate musical mash-ups. Fantasy Alphabet will be my mash-up combining articles that look at hot waiver wire pick-ups, players of the week, and notable injuries. The format will consist of quick hits focusing on one player per team, and arranged in alphabetical order to help make quick scanning easier. This week, I arrange the teams in reverse alphabetical order because I want to shine the spotlight on the artist, I mean player formally known as Agent Zero.
Washington Wizards: Gilbert Arenas. I experienced immediate non-buyer's remorse on Arenas. Over his first four games, he averaged 36 minutes of playing time while putting up 26.5 ppg on 47.3% shooting and 6.3 apg. On the down side, he has coughed the ball up four times a game, and has shot less than 80% from the charity stripe. Yet his threats to curb his three-point shooting have not come to pass, as he has drained two moneyballs a game. I took Andre Iguodala over him in one league after much deliberation, and opted for Vince Carter in another, and feel okay about those selections, but will still shake my head in frustration any night Gilbert goes for 30-plus. He came back to earth a bit on Friday against the Pacers as the Wizards were down pretty much from the start, but he shot 50% for the game so there are still good signs from a down game.
Toronto Raptors: Andrea Bargnani. The Raps dropped their next two games after a promising win against the LeBrons, but Il Mago has been delivering the stats big time for fantasy owners. He has been money from the line, and more than 60% of his three-point bombs have found the mark. Kudos if you were bullish on this guy and foresaw the 20-plus points a game potential.
Philadelphia 76ers: Marreese Speights. My buddy Dice took Elton Brand in the third round ahead of quite a few notable players, including Arenas. Speights has outplayed Brand so far on the scoresheet. In 23 minutes off the bench, he has averages of 14 ppg and 7.8 rpg with a block so far. If/when Brand and/or Samuel Dalembert land on the sidelines with injury, Speights could reach even greater heights statistically. In the Friday win against the Nets, Brand only logged 18+ minutes while Speights was in there for 17-plus in a close game.
Orlando Magic: Rashard Lewis. 'Shard has served four games of his suspension. With six more games to go, it looks like a good time to float a reasonable offer to his unsuspecting owner in your league.
New York Knicks: Danilo Gallinari. I had Gallinari pegged as a last-round flier early on, but in my main league, opted for Julian Wright of the Hornets because Wright was starting. I managed to right that wrong by picking up Gallinari for Wright after his first game of the season. I have never seen any player ever average 10.5 three-point attempts a game at any point in a season. Gallinari has been hitting on almost half of them so far, and even though he is bound to cool off, he looks like a leading candidate for best waiver wire pick-up or late round draft pick of the year.
New Jersey Nets: Yi Jianlian I believed in Yi enough to spend an 11th round pick on him this year in my main league. Early returns were inconsistent but promising overall. His MCL injury is a buzzkill, but in that draft spot, it does not hurt too much to just drop him. I have yet to make a move. With Devin Harris and a bunch of their other players out as well, not sure who will step up for the Nets, so check their box scores often.
Milwaukee Bucks: Brandon Jennings. Everyone missed on Jennings this year. I, like most, had him listed below the point guard tier that include the likes of Aaron Brooks, Rodney Stuckey and Louis Williams. Ron Chow, my ol' Dropping Dimes chum, managed to snap him up in our main league. The guy is playing like a fantasy 2nd or 3rd rounder. Check out these stats: 22.0 ppg, 4.0 rpg, 5.3 apg, 1.7 spg, 2.3 3pg and 48.2% shooting. He seemed a bit flaky when he did not come to the draft at first because he did not have a team guaranteeing they would take him, and then it looked like he would come off the bench. But maybe Coach Scott Skiles has given him the reins and he now looks like the favorite for Rookie of the Year. Of course, just as everyone is coming up with their own Jennings jingle, his shot went cold and he logged only nine points and three assists against the Wolves.
Miami Heat: Michael Beasley.
So far this season Beasley has scored almost two points less than his points per game average last year while getting five more minutes of playing time. That mega-scoring game he had in college has not yet translated into the pro game. Looking at his stats, the conclusion has to be he does not have NBA three-point range, nor is he looking to attack the basket; otherwise you could see his free-throw attempts tallying more than they are. Dwyane Wade will always run the show, but there should be room for Beasley to step up an be an 18-20 ppg scorer as well. So far he is not worth that seventh or eighth round pick people spent on him.
Indiana Pacers: Roy Hibbert. One of the hot pre-season late round sleepers, Hibbert has delivered with a double-double and more than two blocks a game. Foul trouble keeps him from logging extra minutes, but at least he is showing he can produce with less than 30 minutes of playing time.
Detroit Pistons: Will Bynum. Bynum already warrants attention in very deep or large leagues. Off the bench he has averaged 11-12 points and 3-4 assists a game. Should the back-court in Motown ever sustain an injury, Bynum immediately becomes a high-ceiling fantasy replacement.
Cleveland Cavaliers: LeBron James. Yes, looking back I still favor 'Bron over CP3 as the number one pick. The FT% has dropped from last year to about 71%, but he has brought elite-level point guard production with his assist and steal numbers, while grabbing 7-8 boards a game and scoring his usual 26-plus points. He has also averaged 1.7 three-pointers so far. Across the board in a head-to-head league he causes more damage to the opposing team. Paul remains really nice, of course, and his three-point shot is a pleasant surprise this year, but so far it has come at the expense of his steal totals. Granted, if Paul decides he wants to try to lead the league in scoring and keeps up this 28.5 ppg pace, he may yet win me over.
Chicago Bulls: Tyrus Thomas. Thomas broke his left forearm Friday and is scheduled to have surgery on Saturday, November 7. Estimated time missed could be as long as 4-6 weeks. What an injury pileup around the league this week. Thomas had already missed a couple of games with the "flu" which we could speculate means "sucking out" but who knows without inside information. Thomas was dropped for Andres Nocioni in one of my leagues. He is not someone you have to hang onto at all costs and especially if you have other injuries on your roster, cut him and do not look back.
Charlotte Bobcats: D.J. Augustin. Enjoying the roller coaster riding being an Augustin owner so far? From being stuck behind Ray Felton, to the mega-boost in playing time if Raja Bell had surgery, to producing well early on even though he continued to come off the bench…to the last game where Raja went bonkers shooting 9-for-12 with five moneyballs. D.J. still played half the game and checked in with 11-3-3 and two long bomb buckets of his own, but man, it could be much more. He is the biggest potential breakout player if said player was guaranteed 30-plus minutes every night.
Boston Celtics: Kevin Garnett. Hip hop hooray, someone beat the Celtics. If you live in Boston, absolutely it's a team to love. For every other NBA team, the "intensity" and the cockiness and the swagger have them as the current version of an "Eff You" team, as Bill Simmons calls it. This is the part in a fantasy sports article where we note that real life stuff does not matter because in fantasy the numbers rule. In seven games, rounding up, KG has hit for about 13 points, 8 rebs and 3 dimes a game, with one steal and 1-2 blocks sprinkled in. My sister, the two-time champ in my main league, rolled the dice on KG in the third round. I speculate she wants to see at least a 10-15% increase in those stats. But hey, at least the man is playing. He is not helping your team wholeheartedly, but he is not killing it either.
Atlanta Hawks: Joe Johnson. Let us end this edition talking about my main man, Joe. There have been some articles out there floating the idea that his reign of fantasy stardom is over. Sure, Jamal Crawford is doing well, but after six games, Joe continues to sing his usual tune (21.5 ppg, 5.5 apg, 4.0 apg). His three-point shot currently runs cold, and he has averaged one less attempt from three-point land so far, but Joe will be just fine. It is a contract year, after all.
© Gear Live Media, LLC. 2007 – User-posted content, unless source is quoted, is licensed under a Creative Commons Public Domain License. Gear Live graphics, logos, designs, page headers, button icons, videos, articles, blogs, forums, scripts and other service names are the trademarks of Gear Live Inc.