Wednesday October 21, 2009 9:48 pm
Fantasy NBA: Analysis of Fourth Round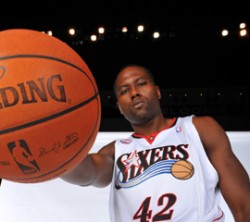 The saying is way too simplistic to capture how sophisticated some strategies are in fantasy sports, but for hoops, the first three rounds more or less involve drafting so-called "best available" talent. People have their preferences, but no one really goes too off the board. Generally in fantasy basketball, early draft picks end up as busts due to injury, not poor play. Match-ups are not as important as in football; for example, LeBron James might struggle against a good defensive team like the Spurs, but he will still get 25 points one way or the other. Contrast that to football where a high draft pick this year like Steve Slaton continues to struggle.
The middle rounds are where people try to mold their team. Injuries are out of anyone's control, so if a top three pick succumbs to an unexpected health problem, there is not much you can do. However, you can soften the blow by hitting on a few of your picks from the fourth to eight rounds. These picks are often the ones that separate the strong teams in your league from the weak ones. Here is how the fourth round is shaping up using Yahoo's average draft position rankings as of today. These numbers change often, and as we move past the early rounds, the stats will vary day to day, so use this tool yourself for the latest updates.
37. Elton Brand, PF/C, Philadelphia 76ers (38.3)
For whatever reason, it seems easier to ignore Brand than it is to ignore guys like Kevin Garnett or Gilbert Arenas. All of those guys attempt to come back from injury this year. Brand was a surefire mid-first round pick last year, even though he had injuries in 2007-08 too. This year, he has dropped to the end of the third round. He will have to prove that his 20-10 days are not behind him, but getting him here means he "only" has to average about 17-8 and two blocks to return good value. That center-eligibility will lead to people taking a chance on him for head-to-head leagues. He would be a good target for an all-in big ball team that has already drafted two big men.
38. Josh Smith, SF/PF, Atlanta Hawks (39.1)
J-Smoove has lured fantasy owners into using a high second round pick on him in the last couple of seasons, but the actual production has fallen short of the perceived potential. He gets a lot of steals and blocks, but his points-per-game average has a relatively low ceiling. He has been a slow starter in years past.
39. LaMarcus Aldridge, PF/C, Portland Trail BLazers (40.0)
In the fantasy-mold of David West, his numbers might not be great, but Aldridge produces good stats across the board for a big man. Greg Oden has gained some momentum through the preseason, but the Blazers still have Aldridge entrenched as the number two scoring option. A safer option than Brand, you sacrifice the blocks if you draft Aldridge instead.
40. Derrick Rose, PG, Chicago Bulls (40.9)
Any NBA fan loves to watch this guy play. Expect a big jump from his rookie numbers, but a lack of three-point shooting and steals has him looking like Tony Parker for fantasy basketball purposes, and no one drafts Parker this high.
41. Ray Allen, SG, Boston Celtics (42.6)
Allen will overtake Reggie Miller in all-time three-pointers one of these days. He can still fill it up from behind the arc and his free-throw percentage remains golden.
42. Jason Richardson, SG/SF, Phoenix Suns (43.4)
J-Rich should benefit from a full season of the run and gun attitude in the desert. Would I take J-Rich over Jesus Shuttlesworth? It's close, but I think I would take Allen.
43. Carlos Boozer, PF/C, Utah Jazz (43.7)
Boozer still does not have a good reputation with fans because of the way he was perceived when he left Cleveland, but you know what you get from him…about 20 and 10 with decent shooting and no blocks. What you do not know is how long he stays on the court. He could have been a free agent this past summer, but chose to stick it out in Utah for a little longer.
44. Baron Davis, PG, Los Angeles Clippers (46.3)
No player's ADP fluctuates more year to year. He has been everything from a solid second-rounder to completely undraftable. He outdoes Rose in three balls and steals, but the uncertainty in his play makes it almost impossible to ignore Rose in favor of Davis.
45. David Lee, PF/C, New York Knicks (46.3)
Early birds ran some risk in drafting Lee, because he only recently signed a one-year deal to return to the Knicks. He should be a double-double machine again, and definitely take him over Boozer and maybe Aldridge as well. Lee vs. Brand is a tougher call because Lee is not a shot-blocker.
46. Manu Ginobili, SG, San Antonio Spurs (46.8)
A sublime player, hopefully the focus returns to what he might do on another team while healthy and playing starter minutes and not how long the latest injury keeps him out of commission.
47. Monta Ellis, PG/SG, Golden State Warriors (48.9)
More recent mock drafts I participated in have ignored Ellis into the sixth and seventh rounds. Nellie ball is not for the faint of heart.
48. Andris Biedrins, C, Golden State Warriors (50.2)
Probably the most reliable fantasy option on the Warriors, Biedrins has been coming off the board pretty early; centers like Marcus Camby, Nene, Al Horford remain available when Biedrins gets drafted onto fantasy teams. With Kevin Love and his injury thinning the ranks at the position a little bit, it will take at least an early fifth round pick to secure Biedrins. There were some rumours that Biedrins would highlight a trade package involving Chris Bosh and the Toronto Raptors, but those whispers seem a little too convenient in timing; Stephen Jackson has made demands for a trade and these rumours were reported on the day after the Jax news did.
MORE ANALYSIS
First Round Analysis
Second Round Analysis
Third Round Analysis
Fourth Round Analysis
Fifth Round Analysis
© Gear Live Media, LLC. 2007 – User-posted content, unless source is quoted, is licensed under a Creative Commons Public Domain License. Gear Live graphics, logos, designs, page headers, button icons, videos, articles, blogs, forums, scripts and other service names are the trademarks of Gear Live Inc.