Friday October 23, 2009 7:37 pm
Fantasy NBA: Analysis of Fifth Round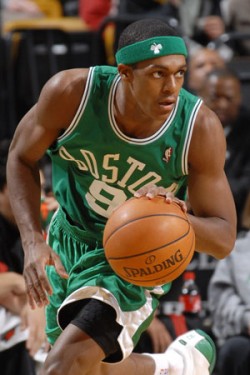 There is a lot of good talent available in the early middle rounds, but most of the players typically taken in this area have at least one tragic fantasy flaw. Otherwise people would nab them earlier on. This looks like a good year to pass on the top tiers of point guards, because a lot of useful players at that position are available now. Let us break down the players typically taken in the fifth round based on Yahoo's average draft position rankings. As always, the advice will focus on head-to-head leagues.
49. Rajon Rondo, PG, Boston Celtics (50.4)
A monster in the steals department, circle Rondo's name if you drafted Dwight Howard. Able to keep pace with Jason Kidd in rebounds, assists and steals, Rondo does not shoot the three-ball. However, he does hit more than 50% of his shots, which is why you should target him for a big ball team.
50. Marcus Camby, C, Los Angeles Clippers (50.8)
Big time in boards and blocks when he plays, injuries are a part of the game with this second overall pick from the Allen Iverson draft. Camby would be another guy to look at if you have drafted Howard already.
51. Mehmet Okur, PF/C, Utah Jazz (52.3)
Contrast Camby with Okur. With his good percentages and three-point shot, Okur fits in with an efficient small ball team. His 0.7 blocks and 7.7 boards per game from last season will not win you those categories, but consider that someone in your league already drafted LaMarcus Aldridge 2-3 rounds earlier, and his production in those categories is not much more than Okur, but Okur can still play his ace in the hole with the moneyball.
52. Michael Redd, SG/SF, Milwaukee Bucks (54.0)
Redd comes back from injury, and has demonstrated in the past that he can fill up the hoop to the tune of 25 ppg. There is no in-between with Redd. He could be the reason you win your league if he puts in a healthy campaign, or he could end up a bust again because of injury.
53. Stephen Jackson, SG/SF, Golden State Warriors (55.1)
Looking at just the numbers, SJax is still a 20-5-5 with three-point range. With all the drama going on with the Warriors, drafting him is risky. Will he get traded? What will his role be on his new team? For sure he will drop in your draft, and some of the reasons for that are out of his control. But will you blink when he remains available in the sixth round? Seventh? Sooner or later, the draft position starts to balance out the risks involved.
54. Rudy Gay, SF/PF, Memphis Grizzlies (55.3)
55. O. J. Mayo, SG, Memphis Grizzlies (55.4)
Gay and Mayo are the two main reasons why fantasy owners cringed when the team added Zach Randolph and Allen Iverson to the team. Just last year, there were numerous "versus" type articles comparing Gay to Danny Granger. Now, Granger is a first-round lock, and Gay has dropped to the end of the fifth round. If he can maintain last year's numbers, he is not a bad pick here. Mayo had a very productive rookie season, and Iverson is currently injured. Picking between Redd, SJax, and Mayo will be tough.
56. Jameer Nelson, PG, Orlando Magic (56.7)
57. Tony Parker, PG, San Antonio Spurs (56.8)
Health issues aside, Nelson is a better fantasy player than Parker, even though Parker has the higher real-life profile. Parker's scoring is negated by his lowish FT% and lack of three-point shooting. Nelson was on his way to a great year when he sustained an injury. In Orlando, he plays as the fourth scoring option, while Parker is the best bet to lead his team in scoring, so who you pick depends on your team makeup at this point in your draft. Both look like better options than Derrick Rose in that Rose might cost up to a second round pick.
58. Hedo Turkoglu, SG/SF, Toronto Raptors (57.6)
Between Turkoglu and SJax, I will take Turkoglu this year. Hedo still has to log time on the court with Chris Bosh so they can figure out how to mesh together best, but he will approximate the 20-5-5 SJax can provide with less risk involved. Small forward in fantasy ball should shoot lots of threes, and Turkoglu does just that. His rebounding makes him a mediocre forward, but a good play at shooting guard, where he is eligible to play in fantasy ball.
59. Nene, C, Denver Nuggets (59.6)
Drafting guards and wing men in the early rounds would pay off if you could guarantee a center like Nene is there for you at the end of the fifth round. Injuries will always be a front and center concern, but Nene showed everyone what he is capable of.
60. Andrea Bargnani, PF/C, Toronto Raptors (60.8)
Bargs can be a maddeningly frustrating player to own. He goes through major shooting slumps, does not rebound a lot, and sometimes looks lost on the court. But he shoots the three and blocks shots, a rare combination and that is what makes him a good pick here. Bargnani, CB4, and Turkoglu make up a tall front line for the Raps and potentially all three could simultaneously be big-time fantasy ballers.
MORE ANALYSIS
First Round Analysis
Second Round Analysis
Third Round Analysis
Fourth Round Analysis
Fifth Round Analysis
© Gear Live Media, LLC. 2007 – User-posted content, unless source is quoted, is licensed under a Creative Commons Public Domain License. Gear Live graphics, logos, designs, page headers, button icons, videos, articles, blogs, forums, scripts and other service names are the trademarks of Gear Live Inc.