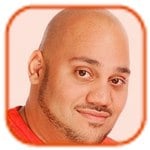 Posted by Andru Edwards Categories: Acquisitions,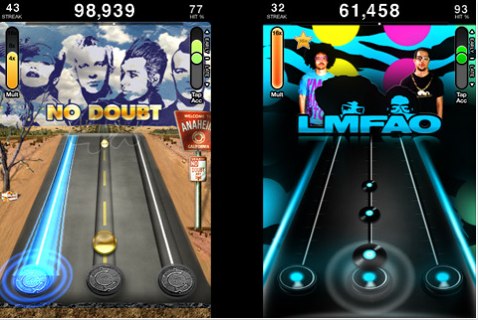 Tapulous, the iPhone add development company that built it's name on the back of Tap Tap Revenge, has been purchased by Disney. Tapulous set up shop in 2008, and purchased the rights to Tap Tap Revenge from creator Nate True. They ventured into some other areas, releasing two Twitter clients (Twinkle and Tweetsville) that never really took off, photo sharing app Fortune Cookies, and info exchange app FriendBook, that they quickly pulled due to security concerns (it's back now.) From there, they forged full steam ahead with multiple variants of Tap Tap Revenge, with two sequels, a bunch of downloadable song packs, and tons of artist-exclusive versions. Riddim Ribbon came later, which was just another rhythm-based music title with different play mechanics. Thing is, Tap Tap Revenge has consistently been a top-seller in the App Store, and Disney must have realized the potential of the brand. Tapulous will likely become a part of Disney Interactive.
Since Nate True is a personal friend of ours, and we knew Tap Tap Revenge would be a huge hit way before Taplulous even knew it existed, we wanna throw out a big congrats to him. Nice work!
Read More

| Mashable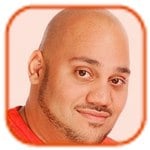 Posted by Andru Edwards Categories: Announcements, Internet, Videos,
Please consider using the Facebook Share and Retweet buttons above to share this post with others
---
The Short Version:
If you donate to Haiti relief by SMS by texting "HAITI" to the number 90999, or by texting "YELE" to 501501, we will match your donation multiple times. Just leave a comment telling us how much you donated, and we will take care of the rest. We are currently matching donations 14 times.
---
Over the past couple of days, while trying to carry on with "business as usual," I've personally found it hard to focus on tech, gadgets, and all of the CES 2010 goodness that we have yet to bring you, as the world is focused on the disastrous aftermath of the earthquake in Haiti. We're sure you've seen the imagery, but if you haven't, or if you aren't quite sure, I encourage you to watch this AP report:


Gear Live & Friends Will Match Your Haiti SMS Donations!
We felt it was time to do our part to help, so with the support of a bunch of Gear Live friends, we are announcing that we will match SMS donations made by Gear Live readers and viewers. As many of you know, the Red Cross has made it super-simple to donate $10 to help out by simply texting the word HAITI to 90999. In fact, this has been so successful that it's already earned $11 million in just a few days. That is fantastic - but the damage to the country is far greater than that, and every little bit helps. So here's what we're gonna do:
Starting now, if you send an SMS donation to either the Red Cross (by texting the word HAITI to 90999) or to YELE (by texting the word YELE to 501501) Gear Live will match it, up to $500. In addition, we have a bunch of our friends joining in as well:
David Geller of Eyejot and WhatCounts will match up to $2500
Leslie Camacho, President of EllisLab (which makes the fantastic ExpressionEngine CMS) and Roger Rustad (wondering network guru) will personally match up to $600 $1200
Nate True of Tap Tap Revenge and iPhone hacking fame will match up to $500
Jeremy, Adam, and the team at Stage Two will match up to $500
Dave Taylor, the man behind AskDaveTaylor.com, will match up to $250
Don McAllister of Screencasts Online will match up to $250
Robert Scoble, the face behind Building43, will match up to $200
Local Gear Live fan Shauna Causey will match up to $100
Parnassus Ventures, the folks behind 140: The Twitter Conference, will match up to $100
Jason Neudecker, a Gear Live Twitter follower, will match up to $100
Hadley Stern and Apple Matters will match up to $100
Xavier Lanier and Notebooks.com will match up to $100
Amisha Gandhi-Lanier and Served Raw will match up to $100
Kevin Urie from Social Media Club Seattle will match up to $100
TechieDiva.com will match up to $50
Eric Siegfriend and DanceHop will match up to $50
In total, so far, that's
$4500
$5400
$5650
$6550
$6700 in pledged matching donations! For each donation you make, each entity above will match it, until their limit is reached. In other words, with our current
eight
eleven
twelve contributors, your $10 donation will actually be matched
six
nine
eleven
twelve
fifteen
seventeen times, resulting in a
$70
$100
$120
$130
$160
$180 payment. So, what do you need to do? This is the easy part. Just scroll down and leave us a comment letting us know that you made a donation, and whether it was a $5 or $10 contribution. If you do it multiple times, let us know that too. Even better, if you want to be on our list as a person or company that will match donations, let us know!
Now, what if you don't have any money to donate? We will make it easy. Just comment with a link to an article on from any of the following websites that you found interesting or helpful, and we will donate $10 on your behalf:
Gear Live, Notebooks.com, AskDaveTaylor.com, Gear Diary, Mobility Minded, Technologizer, WindowsPhoneThoughts, Served Raw, SlashGear, or GeekRoom.
I have to give a big thank you to my pal Xavier over at Notebooks.com. He came up with the idea and invited me to donate. I then asked a few friends, and never thought we'd get the support that we did, so we kicked off our own campaign. Together with Notebooks.com, we have
$10,500
$11,400
$11,650
$12,550
$12,700 in matching donations for your SMS contributions!


The time is now! Leave a comment after donating, tell your friends, forward this around, and share this on Facebook and Twitter using the buttons at the top of the article. Make us spend every penny of the matching funds that are available.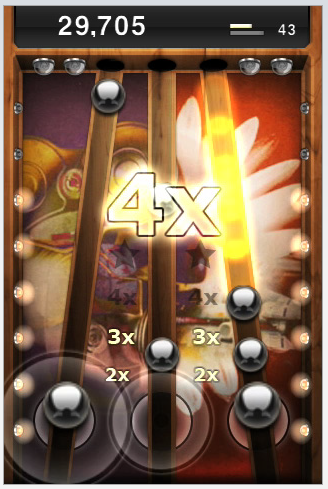 Tap Tap Revenge has really become an iPhone staple, and today it just keeps on coming with Tap Tap Revenge: Dave Matthews Band. If you're a fan of Dave Matthews Band music, and also happen to love rhythm games, you'll want to grab this game, which costs $4.99 in the App Store. Here's the track list:
Funny The Way It Is
Shake Me Like A Monkey
Tripping Billies
Everyday
Ants Marching
American Baby
Crash Into Me
What Would You Say
So Much To Say
Two Step
See? A lot of the Dave Matthews classics. Tap Tap Revenge: Dave Matthews Band is available now in the App Store.
Read More

| Tap Tap Revenge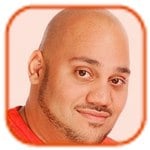 Posted by Andru Edwards Categories: Games, Reviews, Tapulous, $4.99,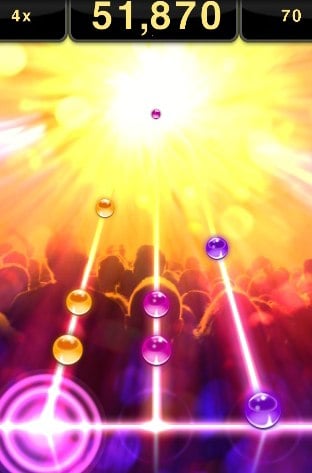 Just a quick not to let you guys know that we think the new Tap Tap Dance iPhone game is fantastic. Tapulous has put out a couple versions of Tap Tap Revenge already, so we didn't think this one would be that big a deal - we figured same game with different music. Plus, we aren't big fans of dance music anyway. However, this game just works. We love the background visuals (of which there are quite a few), the music actually adds a lot to the game (it features tracks by artists like Daft Punk and the Chemical Brothers.) We also like the whole progression system, where you need to meet certain requirements to unlock some of the more advanced tracks and challenges. Overall, very fun. We recommend it. You can pick up Tap Tap Dance in the App Store.
Read More

| Tap Tap Dance


Posted by Nate True Categories: Full Episodes, Apple, Cell Phones, Handhelds, Peripherals, Portable Audio / Video, Videocasts, Videos,
We were quite nearly first in line at the Alderwood Mall Apple Store in Lynnwood, WA for the launch of iPhone 3G. Sure the purchasing experience was a fiasco, but overall the night was great fun. We had an exclusive Tap Tap Revenge tournament, along with a giveaway of the excellent Monster LRG iPhone cases, and even an impromptu listening demo of the Beats by Dr. Dre headphones, which we recently unboxed.
We must admit, towards the end we were kind of jaded over the whole thing, since between everyone in our group we had a 15 iPhone mixture of original iPhones and iPhone 3G units, all of which didn't work due to the activation issues - but to be fair, the employees at the Alderwood Mall Apple Store location were all top-notch. Check out the full adventure in the video.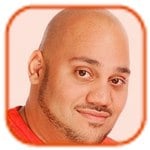 Posted by Andru Edwards Categories: Accessories, Announcements, Apple, Cell Phones, Handhelds, Portable Audio / Video,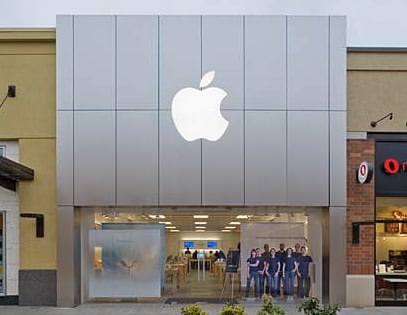 Hey Seattle iPhone 3G line-waiters - Gear Live is gonna be in full effect at the Alderwood Mall Apple Store starting tonight at midnight. We are gonna be in line to make sure we get our hands on a white iPhone 3G, and we figured that instead of sitting around like a bunch of geeks who sit in line waiting for a cell phone launch (which we totally aren't), we would have some fun. We will have a bunch of iPhone accessories available that we will be giving away, and we will have an early preview of Tap Tap Revenge to show off. We will do some one-on-one games in Tap Tap, and winners will get some cool gear.
We will also have our cameras with us as well so we can get all your opinions and thoughts on all things Apple for Bleeding Edge TV. So if you are in the area and plan on waiting in line for iPhone 3G to launch in the morning, hit up the Alderwood Mall location with us. We promise that our awesomeness won't kill you.
EDIT: I am andruedwards on Twitter. I know a bunch of you are on that.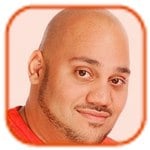 Posted by Andru Edwards Categories: Apple, Cell Phones, Handhelds, Software, Video Games,
My pal Nate True has been hard at work on improving his iPhone game, tap Tap Revolution. He made the game in his spare time after jailbreaking his phone early on, and then it got bought up by a new iPhone App company called Tapulous. They went into sweatshop mode, and it turns out that the game (which they are hoping makes it into the App Store at launch) has come a long way from the version you will find in Installer.app.
First of all, it has received a name change. Tap Tap Revolution has become Tap Tap Revenge, and it features improved graphics, the addition of shakes (where you shake the phone to do certain actions), and a hot-looking two player mode. Check the video above for proof. The game will ship with a a few songs, and you can download add-ons (a la Rock Band and Guitar Hero) for free. Down the road, there should be tracks available for purchase as well. The reason for having to download tracks is because Apple has stupidly put more silly restrictions on iPhone developers, and Apps don't get access to the iTunes library. Sigh.
If you like rhythm games, this is gonna be one to download. It will be available for free, and you can download it from the App Store on July 11th.
Read More

| cre.ations.net

© Gear Live Inc. – User-posted content, unless source is quoted, is licensed under a Creative Commons Public Domain License. Gear Live graphics, logos, designs, page headers, button icons, videos, articles, blogs, forums, scripts and other service names are the trademarks of Gear Live Inc.