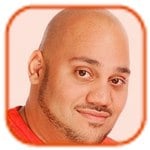 Posted by Andru Edwards Categories: Blogging, Corporate News, News,

Tumblr is facing some security issues, according to a post on the staff blog.
"A human error caused some sensitive server configuration information to be exposed this morning," read the blog post. "Our technicians took immediate measures to protect from any issues that may come as a result."
Tumblr said that it's unlikely users' personal information was compromised, but that independent auditors will be consulted to confirm this.
"We're certain that none of your personal information (passwords, etc.) was exposed, and your blog is backed up and safe as always. This was an embarrassing error, but something we were prepared for," Tumblr continued.
The company didn't give many concrete details as to what the breach actually effected and said that even though sensitive information was not compromised, "the fact that [this problem] occurred at all is still unacceptable." Tumblr pledged that its team is "seriously evaluating and adjusting our processes to ensure an error like this can never happen again."
Comments on the blog post didn't suggest that users were particularly upset by the security issue. One user said "you guys need a better coding staff." Another user applauded Tumblr's speedy response: "Deal with these things. Good job Tumblr."
Reps from Tumblr did not immediately respond to a request for comment on the problem.
In December, Tumblr suffered from an outage that it blamed on a maintenance error. After the site was restored, Tumblr admitted that it has struggled to keep up with the site's growth. The site now averages more than 500 million monthly page views.
Click to continue reading Tumblr experiences server breach due to human error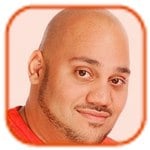 Posted by Andru Edwards Categories: Corporate News, Marketing, News,
On Wednesday Google opened a forum where site owners could solicit feedback on the changes. In less than 24 hours it has received 131 complaints, mostly from mom and pop websites whose traffic and search ranks plummeted as a result of the algorithm change.
Last Friday, Google altered its search algorithm to demote "low-quality" sites in its search results. The change was widely dubbed a "farmer update" because it targeted content-farming websites that aggregate unoriginal content.
At the time Google warned that around 12 percent of its search results would change following the "farmer update" last week. Google has previously said that it changes its algorithm 500 times a year, but rarely makes an announcement.
Click to continue reading Traffic plummets 50 Percent for some sites after Google's search algorithm update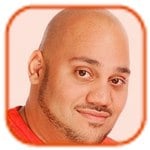 Posted by Andru Edwards Categories: Acquisitions, Corporate News, News,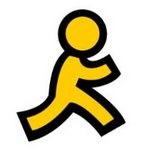 AOL said Sunday night that it will acquire The Huffington Post for $315 million, which will place Arianna Huffington at the helm of all of AOL's media properties as editor in chief.
Boards of both companies have approved the transaction, AOL said in a press release. About $300 million will be paid by AOL in cash.
With the move, Huffington will oversee all of AOL's editorial content, including Engadget, TechCrunch, MapQuest, and other properties.
Although The Huffington Post is private, the site records 25 million unique visitors per month, generating an undisclosed number of pageviews. The site also generates 4 million comments per month, according to AOL. Combined, the AOL properties will deliver 270 million visitors per month around the world, with 117 million in the U.S., AOL claimed.
Click to continue reading Huffington Post acquired by AOL, Arianna Huffington named EIC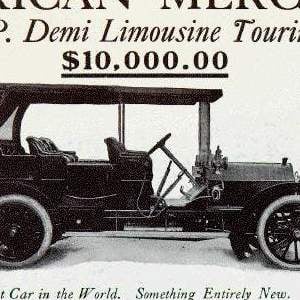 Posted by Drea Avellan Categories: Design, News, Productivity,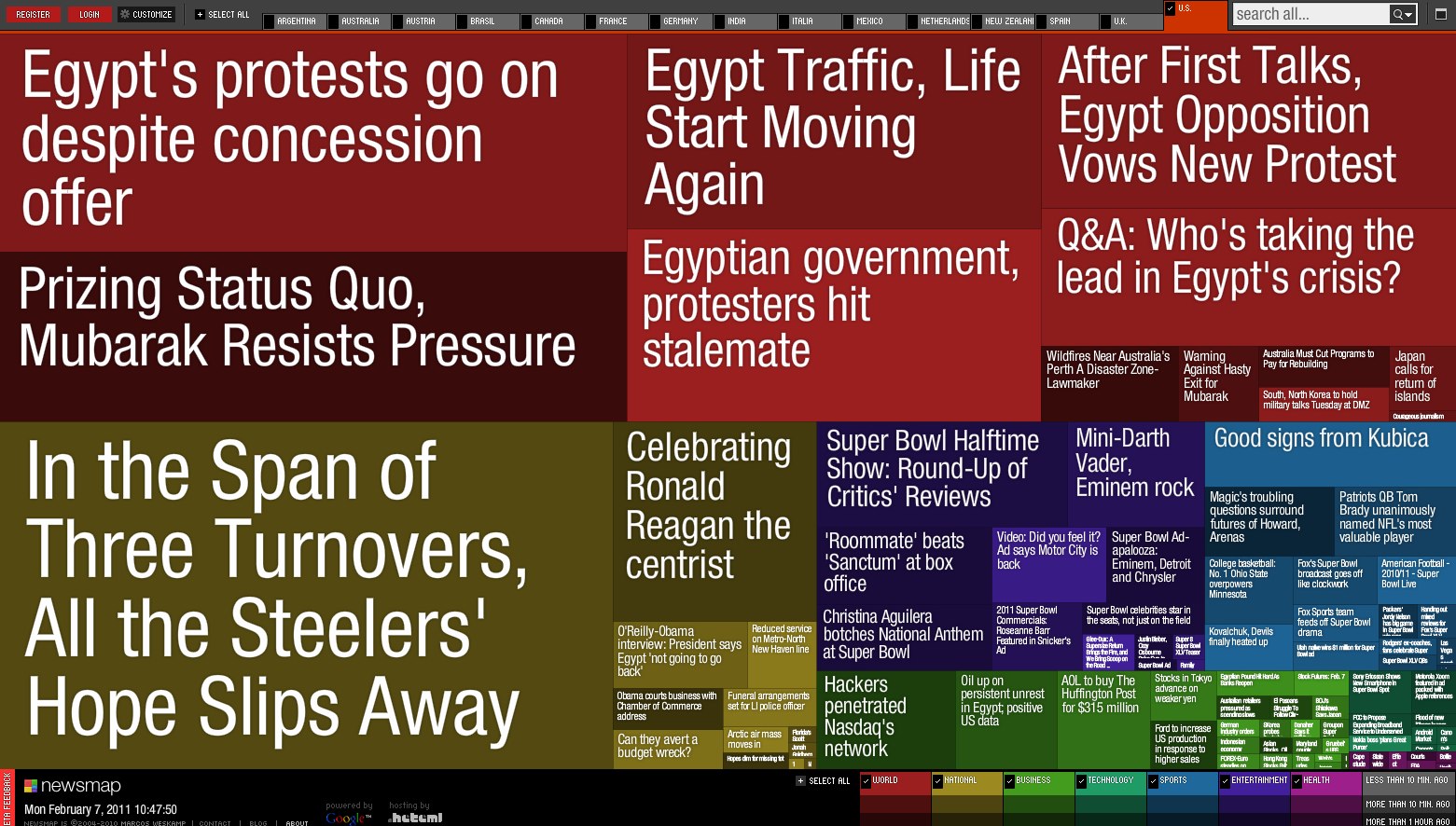 In a connected world such as the one we live in today, we are constantly bombarded with news non-stop. This is why we sometimes need a way to distinguish what's important and current from the rest of the fluff. Newsmaps helps us visualize the world of news in a easy to understand format. This tool visualizes Google News results using a treemap visualization algorithm that helps display all the information in a user friendly way. Bigger font? Popular story. Colors? Categorize the topic of the story. Color intensity? How fresh or old the story is. We can customize our news by interest and even location. Although the colors and fonts can seem a little harsh on the eyes, it gets our attention to what is important.
Do you use a similar tool such as this? Feel free to share it with us in the comments.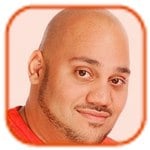 Posted by Andru Edwards Categories: News, Planning, Startups,
Andrew Mason, founder and CEO of Groupon, has issued an apology to customers in Japan by way of a YouTube video today. The apology is in relation to a New Years deal that ended up being a catastrophe. Food delivery business Bird Cafe has been featured on Groupon in the past, but the restaurant was overwhelmed by the volume of orders that came with the New Years osechi meal. Many meals were delivered late, while others were on time, but in "terrible condition." Groupon reimbursed all customers for the purchased and apologized in an email, but it's great to see Mason step up and personally apologize on video. Leaders of other companies might take notice--this is how you step up and own a mistake your company made.
Groupon is in the process of educating its merchants on "capacity planning" to avoid similar problems in the future.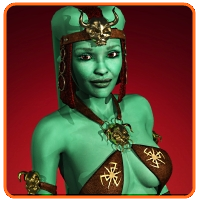 Posted by Patrick Lambert Categories: News, Social Networks,
Facebook released some interesting data about how people use their status updates. They analyzed around one million status updates and broke them down into categories. First they see the relationship between age and some key words, then with the time of the day that the updates were made. Some interesting facts could be found, such as 4am is when people talk about sleep the most, and positive emotions seem to occur around 7am, while negative ones center around 1am. As the day progresses, negative emotions seem to increase while positive ones decrease. The chart shows a positive correlation between friend count and pronouns, total word count, communication, religion, swear words and sex. Then, there's also a negative correlation between friend count and past tense verbs, family and emotions.
Read More

| Facebook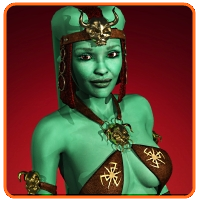 Posted by Patrick Lambert Categories: Corporate News, News,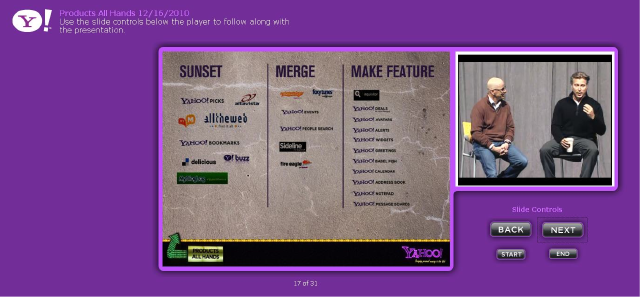 What started off as a leaked screenshot on Twitter, which launched a large amount of speculation, turns out to be a number of products being merged or killed by Yahoo! Following their recent round of layoffs, it appears that the company announced at an internal meeting that they will be refocusing their efforts, and this includes cutting down on their number of products and services. According to the screenshot, products to be shut down include MyBlogLog, Yahoo! Picks, AltaVista, Yahoo! Bookmarks, Yahoo! Buzz and Delicious. Others will be merged into other offerings.
While there is no official announcement yet, a Yahoo! spokeperson said: "Part of our organizational streamlining involves cutting our investment in underperforming or off-strategy products to put better focus on our core strengths and fund new innovation in the next year and beyond. We continuously evaluate and prioritize our portfolio of products and services, and do plan to shut down some products in the coming months such as Yahoo! Buzz, our Traffic APIs, and others. We will communicate specific plans when appropriate." The reactions have been quite vivid on Twitter and Facebook, especially as it pertains to Delicious, a social bookmarking service.
Read More

| Yahoo! News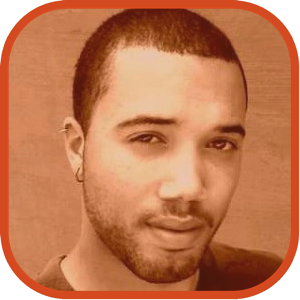 Posted by John Kilhefner Categories: News, Social Media, Social Networks,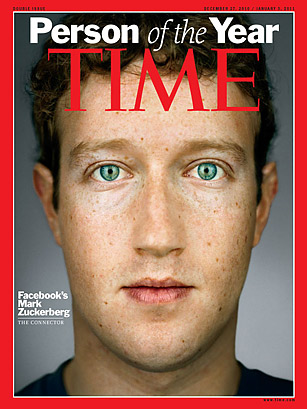 TIME Magazine can't stress enough the fact that their Person of the Year award "is not an honor". In 1938, Adolf Hitler was named TIME Magazine's Person of the Year. Unlike Hitler, however, Mark Zuckerberg fast tracked the world to complete connectivity through a global social network. And at a baby-ish 26 years of age, billionaire college dropout Zuckerberg is responsible for leading 550 million (or 1 out of every 12 people) into the social network at an astounding rate of 700,000 a day. If 700,000 is too big a number to comprehend, imagine that if you lived for 700,000 days you'd be 1,918 years old; which by that time Facebook would have added over 490 billion members, or about 72 times the Earth's current population. Starting to get the picture? There's no doubt that Facebook is a social revolution that won't go the way of the dinosaur - *cough* MySpace *cough*. But the bigger question is where will it go?
Click to continue reading Mark Zuckerberg: TIME Magazine Person of the Year
Read More

| Time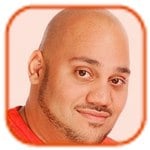 Posted by Andru Edwards Categories: Corporate News, Legal, News,
PayPal is the latest WikiLeaks opponent to be hit with a denial of service attack by anti-piracy group Operation Payback, joining the growing ranks of WikiLeaks opponents that have been targeted.
Operation Payback has also indicated that Amazon is its next target.
"The attacks slowed the Web site itself down for a short while, but did not significantly impact payments," said a PayPal spokesperson.
Last week, PayPal permanently restricted the account used by WikiLeaks "due to a violation of the PayPal Acceptable Use Policy." In a blog post on Wednesday, PayPal general counsel John Muller said that the company's "difficult decision was based on a belief that the WikiLeaks Web site was encouraging sources to release classified material, which is likely a violation of the law by the source."
Muller said PayPal will release the remaining funds to the foundation that was raising money for WikiLeaks, though the organization's account will remain restricted.
Click to continue reading WikiLeaks supporter 'Operation Payback' targets PayPal, Amazon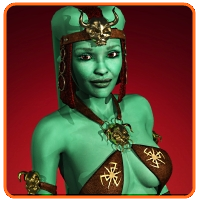 Posted by Patrick Lambert Categories: News, Social Media, Social Networks,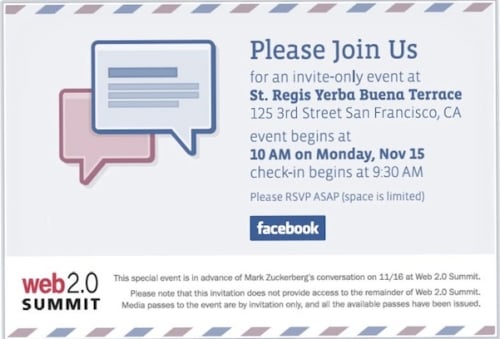 Facebook sent an invitation recently to news agencies for another announcement coming this Monday. While there is no direct mention as to what that announcement is, TechCrunch believes that this may be a major play on a new email service, aimed at competing with Google's Gmail service. Based on the invitation image, it seems likely that the announcement has to do with messaging, since that's what the graphic shows. Then, references to a secret project called Project Titan came up again recently. Finally, just this week, we reported on how Google and Facebook have started an all-out war concerning the exporting of contacts and friends information. It's all still rumors for now, but it will be very interesting to see if a Facebook based email service would take a big chunk out of services like Gmail. Since Facebook has done everything it can to become your primary contacts platform, it would sure make a lot of sense.
Read More

| TechCrunch

© Gear Live Media, LLC. 2007 – User-posted content, unless source is quoted, is licensed under a Creative Commons Public Domain License. Gear Live graphics, logos, designs, page headers, button icons, videos, articles, blogs, forums, scripts and other service names are the trademarks of Gear Live Inc.