Monday January 12, 2009 1:01 am
2009 Golden Globe Awards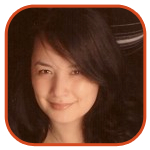 Tweet
Posted by Veronica Santiago Categories: Award Shows, Prime Time, Cable, HBO, NBC, News,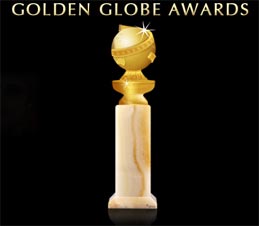 One year after a strike-induced absence, the drinking resumed. Although the 66th Annual Golden Globe Awards drew its usual set of followers tonight, this year's program carried even more significance than usual. The reason? Heath Ledger.
With or without the Dark Knight nomination, the ceremony would have been interesting. Was this going to be the year a film about an Indian game show (Slumdog Millionaire) won top prize? Would either Meryl Streep (Mamma Mia, Doubt) or Kate Winslet (Revolutionary Road, The Reader) walk away with two awards? Could Mickey Rourke's comeback performance in The Wrestler earn him a surprise win over Sean Penn (Milk)?
To find out the answer to these questions (and many more), you can read our detailed coverage after the jump!
7:00 pm: Why is Nancy O'Dell wasting our time with the Jonas Brothers? Are they somehow related to any of the films or shows nominated tonight?
7:03 pm: Brooke Burke is now talking to Miley Cyrus. When are we going to hit the real thespians?? That said, I really do like Miley's white Marchesa gown.
7:07 pm: Musician Peter Gabriel told us why he likes the Golden Globes so much: "It's short, there's food and there's alcohol." Sounds like my kind of party!
7:08 pm: America Ferrera (Ugly Betty) has once again worn another stunner. Her silvery-grey dress is to die for.
7:10 pm: Love…Aaron…Eckhart. Two-faced or half a face, I don't care.
7:11 pm: Waiting to see how long it takes Sean Combs to say he's destined for an Oscar. Thankfully/Unfortuately, he's too busy promoting Notorious.
7:16 pm: Eva Mendes just plugged her line of home decor. Hopefully, she'll be bumping Jessica Simpson out of the next round of Macy's commercials.
7:21 pm: I hate to start baby bump rumors, but I'm dying to know if Rachel Griffiths (Brothers & Sisters) is pregnant. She looks especially radiant in her gold gown. UPDATE: Aha! I knew she was pregnant!
7:28 pm: Vanessa Hudgens and Zac Efron? Will they also be sitting at the kids' table?
7:30 pm: Drew Barrymore looks fantastic with her Marilyn Monroe-esque hair and lavender dress. She shouldn't have a problem lining up a new boyfriend soon.
7:31 pm: One thing I've learned tonight? Mercury poisoning may keep you from working, but it won't keep Jeremy Piven from partying.
7:47 pm: Nancy mistakenly believes a bearded Sting is nominated for an award. I mistakenly think he's Robin Williams.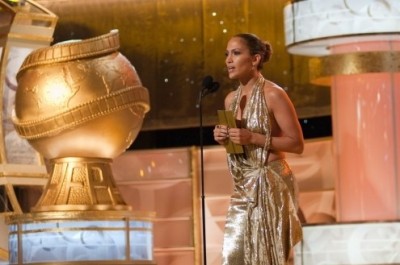 8:01 pm: Jennifer Lopez, in a sexy gold halter, tries to get the crowd's attention. (There was a time when her dresses did that for her.) She presents the award for Best Supporting Actress/Motion Picture to The Reader's Kate Winslet. (That's a major shocker given Penelope Cruz's domination of the awards up until this point.) Kate then apologizes to her husband for being so "mental" during filming. Very cute.
8:06 pm: Sting - taking a page out of Joaquin Phoenix's book - gives the award for Best Original Song to Bruce Springsteen (The Wrestler). The winner jokes that this may be his last time competing against Clint Eastwood. He's lucky he came out alive.
8:14 pm: Eva Longoria Parker and Simon Baker have the unfortunate honor of presenting Rumer Willis as this year's Miss Golden Globe. They then present the award for Best Supporting Actor/Series, Mini-Series or Made-for-TV Movie to Tom Wilkinson (John Adams). Piven should be able to go home and rest now.
8:18 pm: Laura Dern (Recount) is then handed the award for Best Supporting Actress/Series, Mini-Series or Made-for-TV Movie. Just now realizing why she and Jennifer Aniston are good friends: Dern also lost a man (Billy Bob Thornton) to Angelina Jolie!
8:28 pm: Hayden Panettiere and Zac Efron name an absent Gabriel Byrne (In Treatment) as the Best Actor/TV Drama winner. I was half-expecting Steve Carell to run up and take the statue.
8:31 pm: Star Trek's Chris Pine and Zachary Quinto give the Best Actress/TV Drama award to Anna Paquin (True Blood). Fortunately, the Oscar winner's career didn't go downhill post-The Piano after all.
8:36 pm: Ricky Gervais tells the rude crowd to "Ssshh." (Only he could get away with something like that.) Claims he told Kate Winslet to star in a holocaust movie to ensure an award. I'm still trying to understand why he wasn't given the next Oscars gig.
8:39 pm: The Jonas Brothers present the award for Best Animated Film to Wall-E. I'm hoping an awkward encounter between Nick and Miley will follow.
8:42 pm: Johnny Depp gives the Best Actress/Motion Picture Comedy or Musical globe to Sally Hawkins (Happy-Go-Lucky). Although the stunned actress was on the verge of fainting, she managed to deliver the most heartfelt speech of the night so far.
8:53 pm: John Adams wins the award for Best Mini-Series or Made-for-TV Movie. Should I be surprised that Tom Hanks (the executive producer) has racked up another award?
8:57 pm: After taking time out to critique her daughter's posture, Demi Moore announces Heath Ledger (The Dark Knight) as the Best Supporting Actor/Motion Picture winner. I find myself emotional as the audience watches an extended clip of the actor's performance. Director Christopher Nolan then accepts the award on his behalf.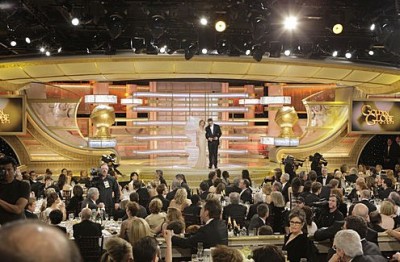 9:06 pm: A less-skinny Colin Farrell jokes that his sniffing is due to a cold and "not the other thing it used to be." (Good to know.) He then presents the Best Foreign Language Film award to Waltz with Bashir.
9:09 pm: Maggie Gyllenhaal and Aaron Eckhart gives the Best Actress/Mini-Series or Made-for-TV Movie statue to Laura Linney (John Adams). Is it too soon to say that the HBO program will sweep?
9:18 pm: Elizabeth Banks (who looked fantastic in her gorgeous gown) and a slimmed-down Seth Rogen present the award for Best Screenplay to Slumdog Millionaire. I think we can guess how this will all end now.
9:21 pm: Patrick Dempsey and Amy Poehler give the Best Actor/TV Comedy prize to Alec Baldwin (30 Rock). I witness Kevin Connolly (Entourage) trying to put on a brave face. (As if he had a chance.)
9:28 pm: Renee Zellweger - I almost forgot about her - wakes up from a very long nap to talk about The Reader.
9:30 pm: Terrence Howard and Megan Fox make HBO's sweep official by presenting Paul Giamatti (John Adams) the Best Actor/Mini-Series or Made-for-TV Movie award.
9:33 pm: Glenn Close and Laurence Fishburne hand the Best Comedy Series globe to 30 Rock. Tracy Morgan takes the mic and says he will now be accepting all their awards in the Barack Obama era. (I don't think Tina Fey could possibly write one more Thank You speech.)
9:44 pm: Sean Combs and Kate Beckinsale (in a beautiful white dress) announce the award for Best Original Score. Slumdog Millionaire takes another one.
9:46 pm: Jane Krakowski and David Duchovny (who makes a slightly awkward reference to his wife) give the Best Actress/TV Comedy award over to Tina Fey (30 Rock). Fey then proves she can write another acceptance speech.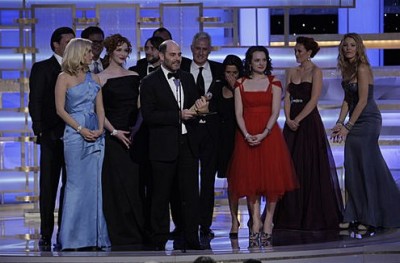 10:01 pm: Steven Spielberg accepts the Cecil B. DeMille Award for lifetime achievements. All those hoping to score a job with him stand up and applaud.
10:12 pm: Emma Thompson and Dustin Hoffman jointly present the award for Best Director. Slumdog Millionaire's Danny Boyle nabs the win.
10:18 pm: Sandra Bullock gives the Best Actor/Motion Picture Comedy or Musical to Colin Farrell (In Bruges). Colin jokes that they must have done the counting in Florida.
10:28 pm: Sacha Baron Cohen - with an accent that just doesn't seem real - gives the Best Motion Picture/Comedy or Musical statue to Vicky Cristina Barcelona. Mamma Mia! will just have to settle for the box office records.
10:37 pm: Cameron Diaz and Mark Wahlberg step up to give the Best Actress/Motion Picture Drama statue to Kate Winslet (Revolutionary Road). The breathless actress somehow managed to outshine Meryl Streep tonight!!! She's flustered (she forgets Angelina Jolie's name!) but refuses to wrap it up. Winslet then bests Hawkins in the heartfelt speech department.
10:43 pm: After telling the audience that he and Blake Lively are "TV actors," Rainn Wilson and the Gossip Girl present the Best Drama Series award to Mad Men. The crew is finally allowed to make up for last year's missing speech.
10:50 pm: Susan Sarandon gives the Best Actor/Motion Picture Drama statue to Mickey Rourke. (No Sean Penn!) My enthusiasm for his win - I love this film - overshadows any comments I would like to make about his hair and wardrobe.
10:59 pm: Tom Cruise caps off the night with the Best Motion Picture/Drama category. (Must he always be the last presenter of the evening?) The final answer? Slumdog Millionaire!
Related Tags:
2008-09 awards season, 30 rock, 66th annual golden globe award, 66th annual golden globe awards, 66th annual golden globes, aaron eckhart, adslice, alec baldwin, america ferrera, amy poehler, anna paquin, awards, awards season, best actor, best actress, best animated film, best director, best foreign language film, best most picture, best original score, best original song, best screenplay, blake lively, brooke burke, bruce springteen, cameron diaz, chris nolan, chris pine, christopher nolan, colin farrell, comedy, danny boyle, david duchovny, demi moore, doubt, drama, drew barrymore, dustin hoffman, elizabeth banks, emma thompson, eva longoria, eva longoria parker, eva mendes, gabriel byrne, glenn close, golden globe, golden globe award, golden globe award, golden globe awards, golden globe nominations, golden globes, happy go lucky, happy-go-lucky, hayden panettiere, heath ledger, hfpa, hollywood foreign press association, in bruges, in treatment, jane krakowski, jennifer lopez, jeremy piven, john adams, johnny depp, jonas brothers, kate beckinsale, kate winslet, laura dern, laura linney, laurence fishburne, mad men, maggie gyllenhaal, mamma mia, mark wahlberg, meryl streep, mickey rourke, miley cyrus, musical, nancy o'dell, nancy odell, nominations, patrick dempsey, peter gabriel, rachel griffiths, rainn wilson, recount, renee zellweger, renee zellwegger, revolutionary road, ricky gervais, rumer willis, sally hawkins, sandra bullock, sean combs, sean penn, seth rogen, sidefeatured, simon baker, slumdog millionaire, steve carell, steven spielberg, sting, supporting actor, supporting actress, susan sarandon, terrence howard, the dark knight, the reader, the wrestler, tina fey, tom cruise, tom hanks, tom wilkinson, tracy morgan, true blood, vanessa hudgens, vicky cristina barcelona, wall-e, walle, waltz with bashir, zac efron, zachary quinto
© Gear Live Media, LLC. 2007 – User-posted content, unless source is quoted, is licensed under a Creative Commons Public Domain License. Gear Live graphics, logos, designs, page headers, button icons, videos, articles, blogs, forums, scripts and other service names are the trademarks of Gear Live Inc.